CINEBENCH R15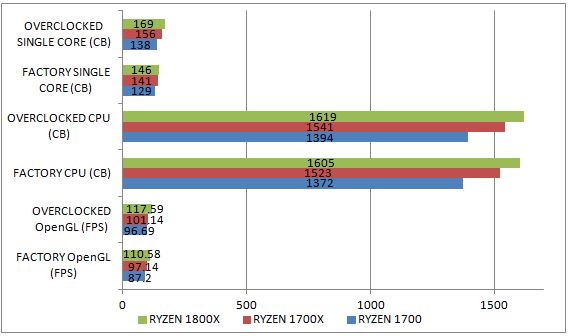 With Cinebench R15 the 8 core and 16 threads really shined with the multithreaded stage of the benchmark. The single core performance was not quite as stellar but it was still respectable when you consider the overall performance and as time goes on Single core threaded applications are going by the wayside.
UNIGINE HEAVEN 4.0
Heaven Benchmark, with its current version 4.0, is a GPU-intensive benchmark that hammers graphics cards to the limits. This powerful tool can be effectively used to determine the stability of a GPU under extremely stressful conditions, as well as check the cooling system's potential under maximum heat output. It provides completely unbiased results and generates true in-game rendering workloads across all platforms.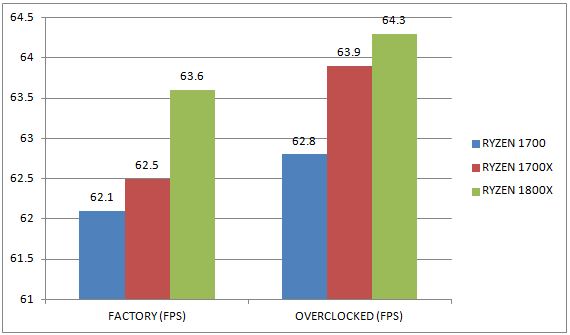 Overall the new RYZEN 7 series did admirably in UNIGINE HEAVEN 4.0 with very little different between the chips and also in overclocked configuration. Since this test stresses the GPU the most and the RYZEN 7 do not feature an on-board graphics solution the results of this test are primarily as result of the EVGA GTX 970FTW card that we used in the test rig.
Handbrake
One of the benchmarks we utilize that stresses the CPU to its absolute limit and properly judge performance in video editing workload scenarios. We transcoded 900k Big Buck Bunny movie from AVI  to MP4 on 3 runs and then we added up each run and calculated the average.
Built-in Device Presets—Get started with HandBrake in seconds by choosing a profile optimized for your device, or choose a universal profile for standard or high-quality conversions. Simple, easy, fast. For those that want more choice, tweak many basic and advanced options to improve yours encodes.
Supported Input Sources—Handbrake can process most common multimedia files and any DVD or Blu-ray sources that do not contain any kind of copy protection.
Outputs:

File Containers—MP4 and MKV
Video Encoders—H.264 (x264), MPEG-4 and MPEG-2 (libav), and Theora (libtheora)
Audio Encoders—AAC, CoreAudio AAC/HE-AAC (OS X Only), MP3, Flac, AC3, or Vorbis/li>
Audio Pass-thru—AC-3, DTS, DTS-HD, AAC and MP3 tracks

Additional features:

Title/ Chapter Selection
Queue up Multiple Encodes
Chapter Markers
Subtitles (VobSub, Closed Captions CEA-608, SSA, SRT)
Constant Quality or Average BitRate Video Encoding
Support for VFR, CFR, and VFR
Video Filters—Deinterlacing, Decomb, Detelecine, Deblock, Grayscale, Cropping, and Scaling
Live Video Preview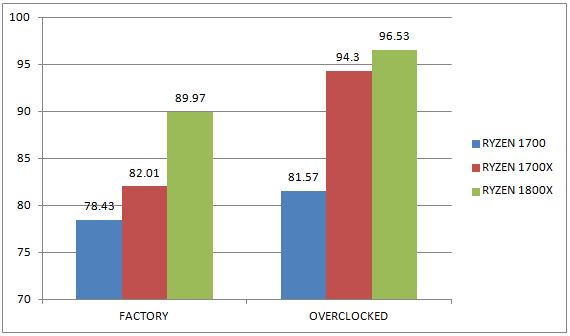 In our test, we calculated the average FPS that it was encoding to give you an idea of the speed in which the new RYZEN series CPUs accomplish this task. This is more important than calculating the given time required to accomplish the task because of the simple fact that any given video will vary in size. Overall the speed in which it encoded FPS was very impressive especially when overclocked!