Super PI MOD 1.9WP
Super Pi is a single threaded benchmark that calculates Pi to a specific number of digits. It uses the Gauss-Legendre algorithm and is a Windows program designed by Yasumasa Kanada in 1995 to compute Pi to 232 digits.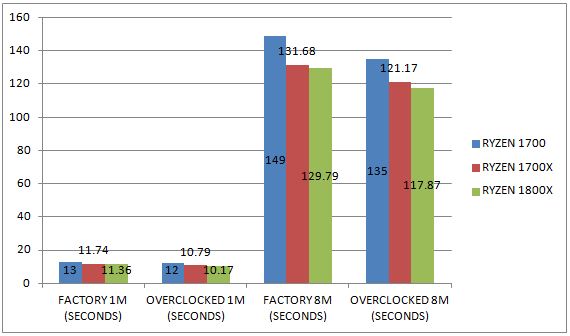 In Super PI MOD 1.9WP the lower the time the better and overall the results we viewed were on par for what we expected and the Overclocking made a difference but it was not as drastic as we expected and we feel that this is because of it is an only single threaded application.
WPRIME
wPrime is a leading multithreaded benchmark for x86 processors that tests your processor performance by calculating square roots with a recursive call of Newton's method for estimating functions, with f(x)=x2-k, where k is the number we're squaring, until Sgn(f(x)/f'(x)) does not equal that of the previous iteration, starting with an estimation of k/2. It then uses an iterative calling of the estimation method a set amount of times to increase the accuracy of the results. It then confirms that n(k)2=k to ensure the calculation was correct. It repeats this for all numbers from 1 to the requested maximum.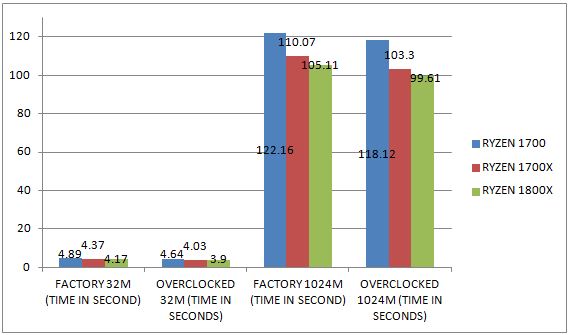 In WPRIME the lower the better because in the test that it is calculating you want it to be able to calculate it faster in less time and the RYZEN 7 series CPUs has made leaps and bounds over the last generation of AMD CPUs.
3DMARK
3DMark provides virtually everything you need to benchmark your hardware in one application. So whether you're gaming on a smartphone, tablet, notebook, laptop, desktop, or a high-performance gaming PC, 3DMark includes a benchmark designed specifically for your type of device. And it's not just for Windows. You can compare your scores with Android and iOS devices too.
3DMark CloudGate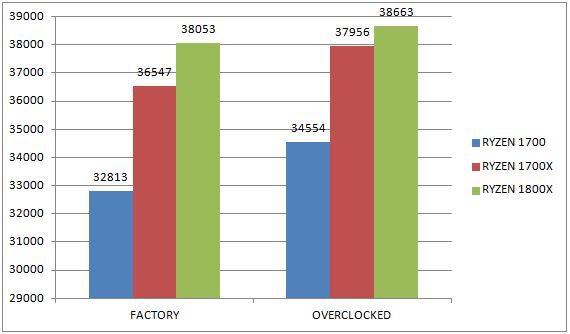 We ran this test on all three RYZEN CPUs in both factory settings and overclocked and once again higher is better and we were able to see a noticeable gain when we overclocked them as we mentioned in our Overclocking section!
FireStrike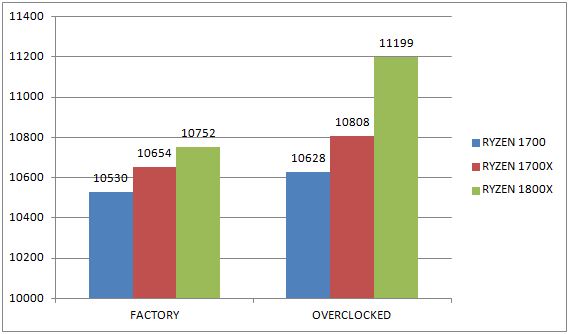 Running the FireStrike benchmark we achieved respectable results in factory speeds, however, we noticed impressive results when overclocked. Also noticeable when overclocked the 1700X performed better than the 1800X at stock speeds. However, the 1800X was the real winner when overclocked and showed significant gains.
SkyDiver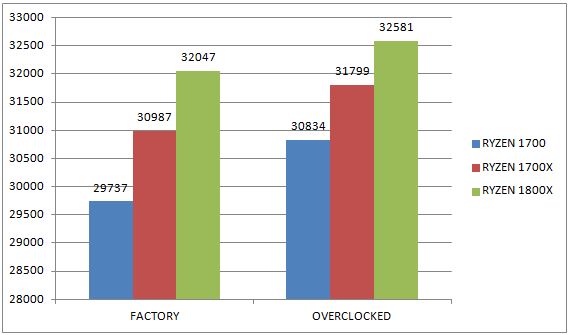 As in the tests before higher is better and the numbers were completive with what Intel is offering and when overclocked is where RYZEN really shines.