The new AMD RYZEN chip is AMD's first CPU going back what is ages in the industry that is able to go toe to toe with what Intel has fielded. Up until now, AMD focused more on the budget minded consumers, however that has all changed with RYZEN!


The RYZEN 7 Series are the first of the new RYZEN chips to come out and RYZEN 5 will be coming out next month. So what makes the 7 series chips so special? Well, for starters it is the first AMD chip to utilize DDR4 memory, because of this the RYZEN uses the new AM4 chipset and runs on the latest X370 boards. All RYZEN 7 CPUs feature an unlocked more multiple and is enabled through the motherboard. The chips are able to overclock themselves using Extended Frequency Range (XFR). This allows the CPU to overclock itself considerably higher than stock speeds providing it stays within thermal parameters,  so look into an upgraded cooler. The 8 core and 16 threads that all RYZEN 7 CPUs offer gives the new CPU a leg up on its Intel counterparts as more and more programs utilize multiple threads for multitasking, video and photo editing, gaming and programs like CAD.
All AMD RYZEN 7 Series CPUs include:
8 cores with 16 threads
14nm FinFet Process
16MB L3 Cache
Dual Channel DDR4 Memory controller
3 Year AMD Warranty
Packaging and CPU
The packaging for the RYZEN 7 is fairly simple featuring a gray box with orange and red accents utilizing white print for text. Inside the box, the contents depend entirely on the SKU you select, some SKU's include an air cooler whereas others do not include one giving users the option to go with a performance cooler of their choosing. The RYZEN 7 CPUs we tested did not include a cooler and instead, we installed the EKWB Predator 240 in our test rig.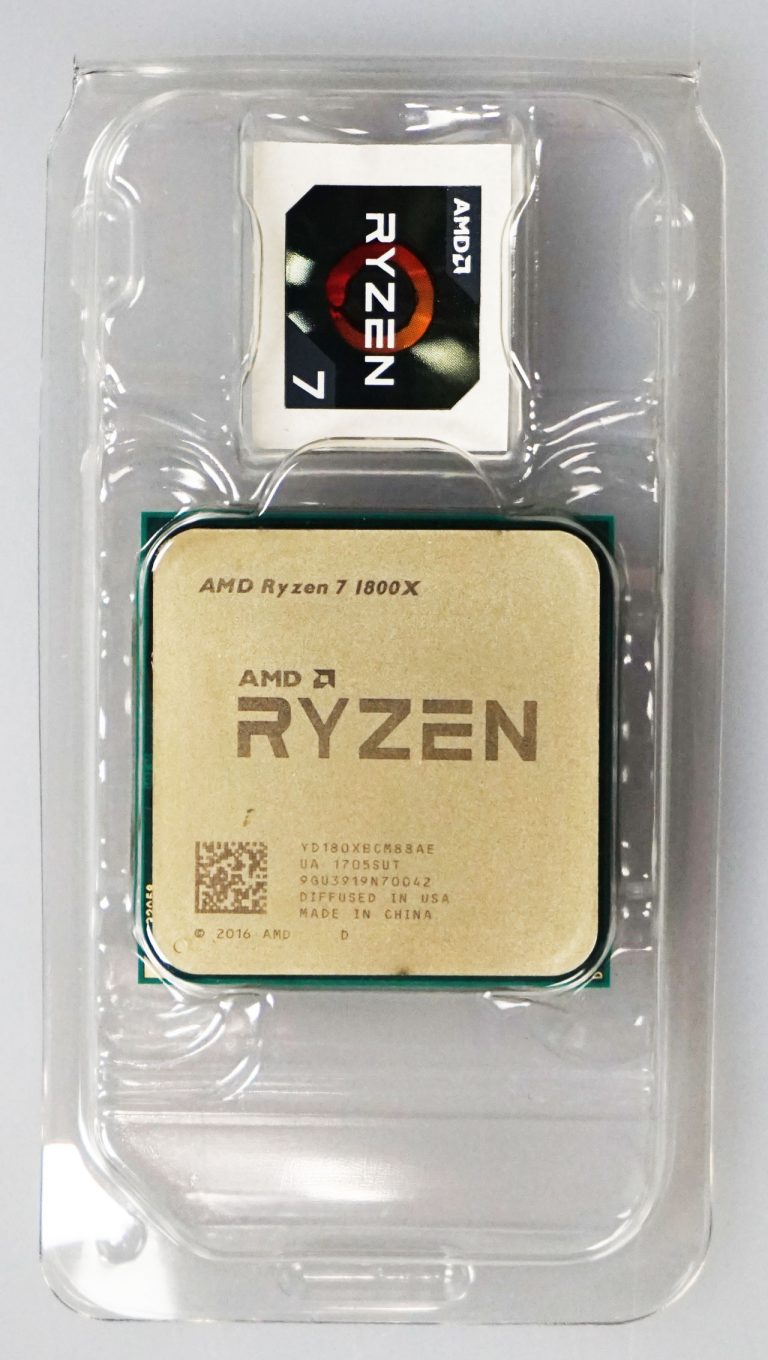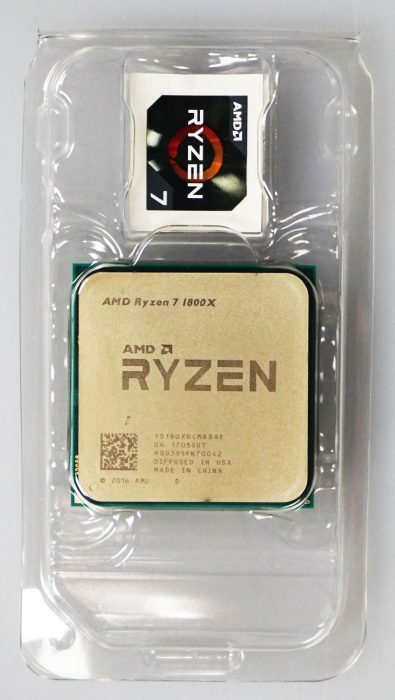 Opening up the box reveals the incredible RYZEN 7 CPU in its plastic casing with its shiny new RYZEN case badge. One thing that is very apparent is the reduction in a die size of the RYZEN series CPU's  and with this, it ushered in a number of new key features that have previously been lacking on AMD chips.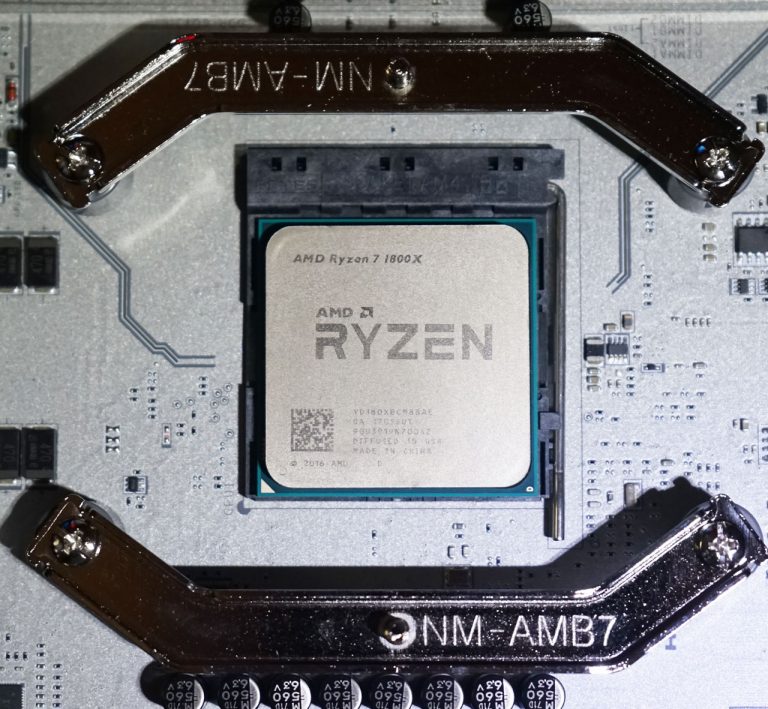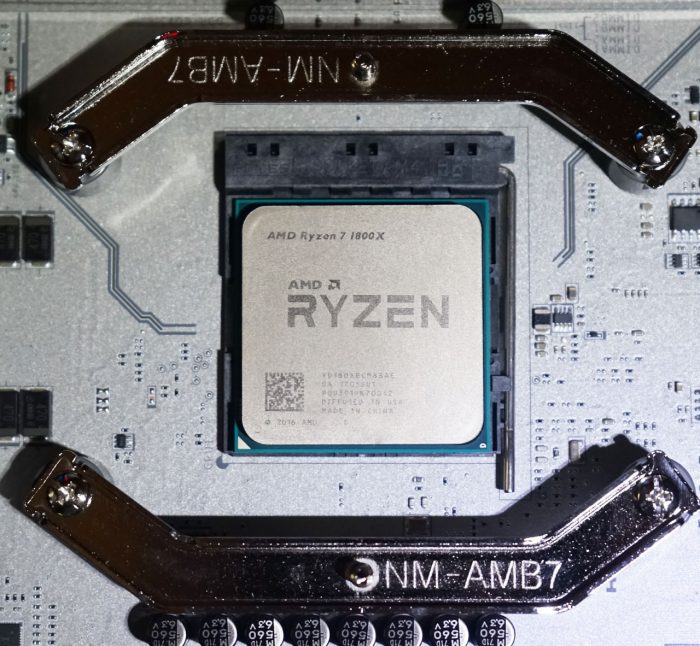 From the top of the new RYZEN 7 CPU, we immediately see the large panel surface that helps will hopefully assist in transferring heat to whatever heatsink/cooler you decide to go with your build.
RYZEN 7 Series architecture
RYZEN is not something new but instead something that has taken AMD years to develop and refine till the current time when it was finally released. It is the first new architecture that AMD has released since the Bulldozer architecture and we feel that this was a sound move by AMD in order to bring more modern features to the chipset. This chipset is based on its new 14nm FinFet die that allows increased performance in a smaller package while requiring less power and is composed of two Quad-Core CCXes which are linked via its infinity fabric. Now when you factor each Core features 2 threads what you end up with is a 8 core CPU with 16 Threads that is truly a monster that loves multithreaded tasks.
RYZEN 7 CPUS
The initial launch of RYZEN was centered around the three 7 series CPUs which all feature 8 cores as previously mentioned. They also include 16MB of cache, feature unlocked multipliers and are the first AMD CPU to utilize DDR4 memory natively. They are also the first to utilize the new AM4 socket so all you AMD fanboys, sorry but you will need a new board. These CPU's are also strictly a CPU and do not feature any onboard graphics so users will have to keep that in mind when building an RYZEN system. The base RYZEN 1700 features a 65Watt TDP and the 1700X and 1800x have a 95W TDP.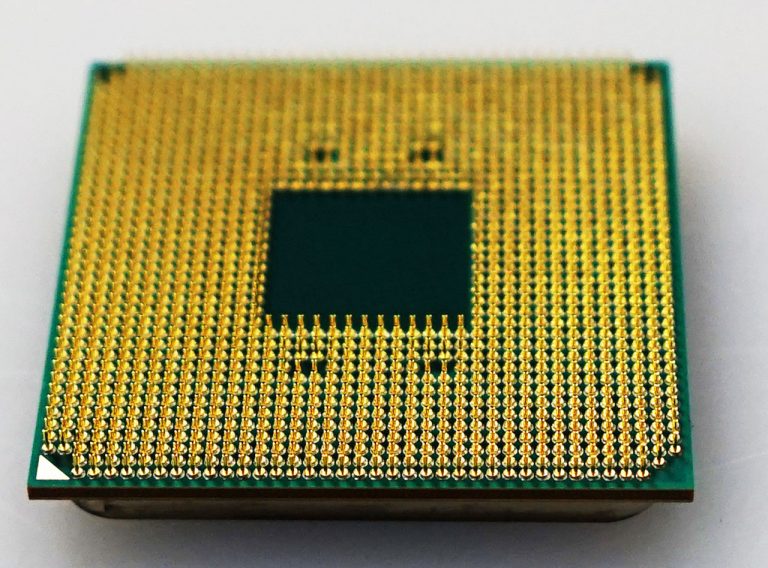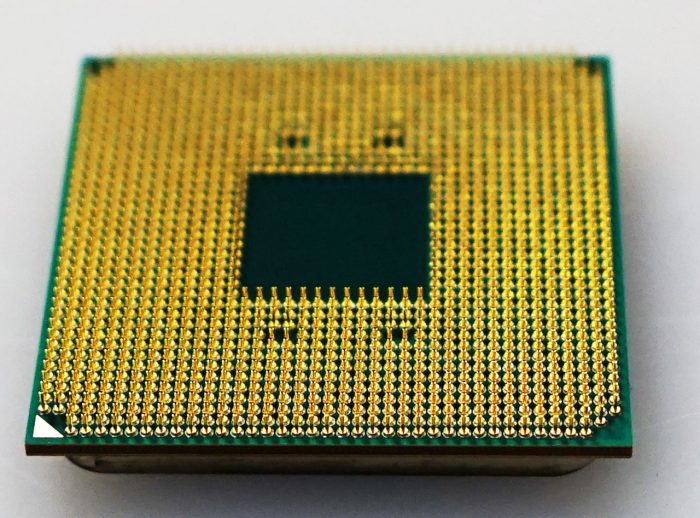 Overclocking
For Overclocking we utilized the new AMD RYZEN Master software that you download and install along with your drivers and other key utilities. During our Overclocking within the software, we dialed the CPU voltage up to 1.5 and increased the speed via the software interface before hitting apply. However, we would like to warn you if you plan on overclocking and increasing voltages to make sure you do install a performance CPU cooler to handle the extra heat!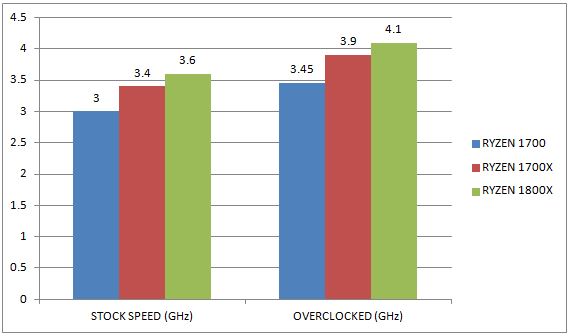 Temperatures
The new RYZEN 7 series ranged between 33 degrees C at idle and went all the way up to 82 degrees C at 100% load during a burn in we ran. However, we stress the importance of spending the extra money on a good cooler if you plan on Overclocking your RYZEN CPU. Even with this all we might advise using a lower voltage if you're concerned about high temperatures or the ability of your cooler and or case to dissipate the heat.
Memory
As previously mentioned the new RYZEN CPUs feature native DDR4 memory and what is part of the need for a new socket and board. Now it is important to note that at the time of out testing memory support was limited and there is need of bios updates to get the memory to perform better and up to speed. In our testing, we ran a 3000MHz kit, however, the fastest we could get it to run at 2400MHz 12-13-13-30. The new boards feature A-XMP that is basically an AMD version of Extreme Memory Profile, in theory, this will allow the bios to properly clock the memory kit you install in your system and in our MSI board this was not functioning yet. Listed below are the non A-XMP speeds that are capable chip side!
| | |
| --- | --- |
| RYZEN MEMORY SUPPORT | MHz |
| Dual-Channel/Dual-Rank/Four-DIMM | 1866 |
| Dual-Channel/Single-Rank/Four-DIMM | 2133 |
| Dual-Channel/Dual-Rank/Two-DIMM | 2400 |
| Dual-Channel/Single-Rank/Two-DIMM | 2677 |
Motherboards
The new RYZEN Series CPUs utilize the new AM4 socket and as result, it requires new boards and memory. however, this has been a change that was long needed and wanted by users all over. These changes have finally allowed AMD to compete with its Intel competition that has been running DDR4 for several years. There is a wide range of motherboard options depending on user requirements that support the new AM4, ranging from the entry level boards up to the extreme user looking to overclock!