Handbrake
One of the benchmarks we utilize that stresses the CPU to its absolute limit and properly judge performance in video editing workload scenarios.  We transcoded 900k Big Buck Bunny movie from AVI  to MP4 on 3 runs and then we added up each run and calculated the average.
Built-in Device Presets—Get started with HandBrake in seconds by choosing a profile optimized for your device, or choose a universal profile for standard or high-quality conversions. Simple, easy, fast. For those that want more choice, tweak many basic and advanced options to improve yours encodes.
Supported Input Sources—Handbrake can process most common multimedia files and any DVD or Blu-ray sources that do not contain any kind of copy protection.
Outputs:

File Containers—MP4 and MKV
Video Encoders—H.264 (x264), MPEG-4 and MPEG-2 (libav), and Theora (libtheora)
Audio Encoders—AAC, CoreAudio AAC/HE-AAC (OS X Only), MP3, Flac, AC3, or Vorbis/li>
Audio Pass-thru—AC-3, DTS, DTS-HD, AAC and MP3 tracks

Additional features:

Title/ Chapter Selection
Queue up Multiple Encodes
Chapter Markers
Subtitles (VobSub, Closed Captions CEA-608, SSA, SRT)
Constant Quality or Average BitRate Video Encoding
Support for VFR, CFR, and VFR
Video Filters—Deinterlacing, Decomb, Detelecine, Deblock, Grayscale, Cropping, and Scaling
Live Video Preview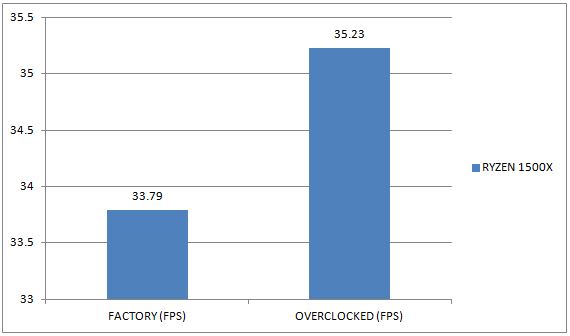 In our test, we calculated the average FPS that it was encoding to give you an idea of the speed in which the new RYZEN series CPUs accomplish this task.  This is more important than calculating the given time required to accomplish the task because of the simple fact that any given video will vary in size.
SiSoft Sandra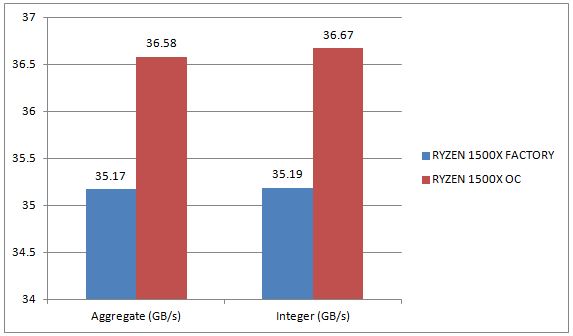 Sisoft Sandra memory bandwidth test was somewhat revealing and highlighted the memory issues currently going on with the RYZEN platform, we expect this we be solved with new drivers and BIOS updates and we feel that had we been able to run the memory to run at the 3200MHz and the timings it was designed to perform at. This has been noticeable considering in the last month alone there has been several updates and the memory compatibility list has steadily been growing.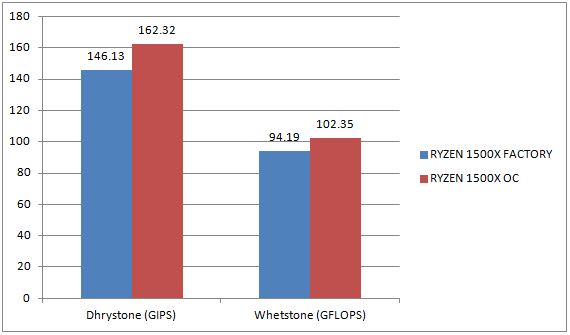 In the CPU Arithmetic tests, the RYZEN 1500X series performed well in this test and the 4 cores and 8 threads really come in handy in this test and helped it do pretty well considering its price point. We think this will only get better as new drivers and BIOS updates come out.
TrueCrypt
TrueCrypt is a discontinued source-available freeware utility used for on-the-fly encryption (OTFE). It can create a virtual encrypted disk within a file or encrypt a partition or (under Microsoft Windows except Windows 8 with GPT) the entire storage device (pre-boot authentication).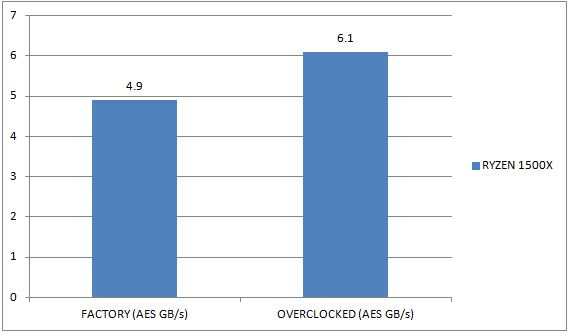 In this test we were able to observe a decent boost in the performance when we overclocked the 1500X and we are confident with a better cooler that we could achieve a better result.