3DMARK
3DMark provides virtually everything you need to benchmark your hardware in one application. So whether you're gaming on a smartphone, tablet, notebook, laptop, desktop, or a high-performance gaming PC, 3DMark includes a benchmark designed specifically for your type of device.  It's not just for Windows, you can also compare your scores with Android and iOS devices too.
CloudGate
We ran this test on the RYZEN 1500X in both factory settings and overclocked and once again higher is better and we were able to see a noticeable gain when we overclocked them as we mentioned in our overclocking section!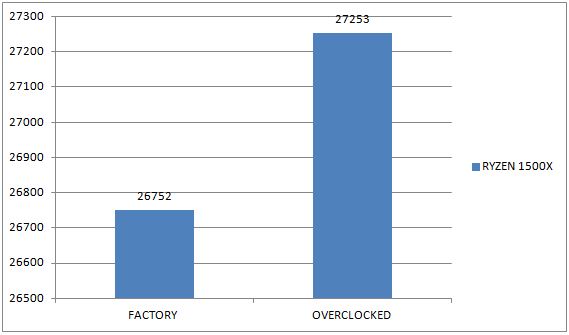 In this benchmark the higher the score the better and we noticed decent performance boosts when we overclocked the 1500X. However, a more powerful GPU would have had a more significant performance increase.
FireStrike
While running the FireStrike benchmark on 3DMark we achieved decent results in factory speeds, however, we noticed improved impressive results when overclocked.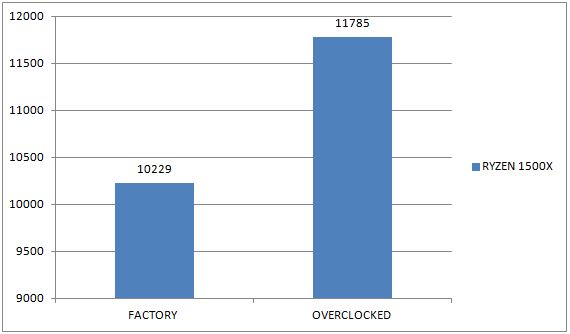 We were surprised by the performance jump on this test when we overclocked but we were happy to see such results and we feel that these results would significantly improve with a better GPU.
SkyDiver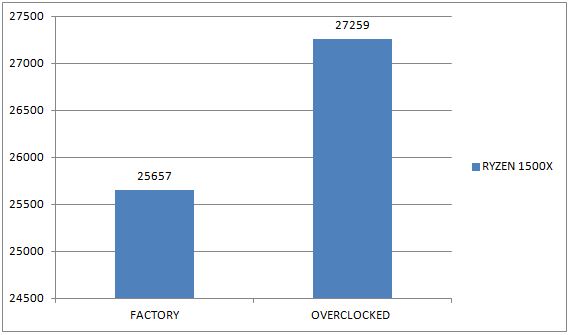 As in the tests before higher is better and the numbers were nearly competitive with what Intel is offering.
CINEBENCH R15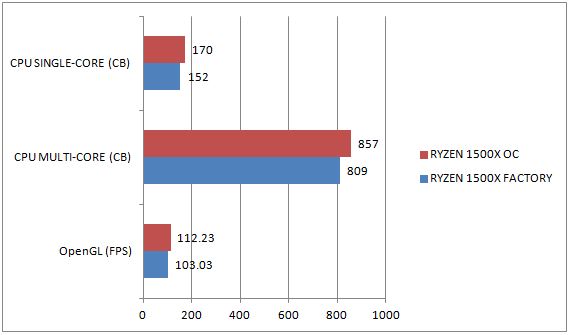 With Cinebench15 the 4 core and 8 threads shined with the multi-threaded stage of the benchmark. The single-core performance was not quite as stellar but it was still respectable when you consider the overall performance and as time goes on, single-threaded applications are going by the wayside.
UNIGINE HEAVEN 4.0
Heaven Benchmark, with its current version 4.0, is a GPU-intensive benchmark that hammers graphics cards to the limits. This powerful tool can be effectively used to determine the stability of a GPU under extremely stressful conditions, as well as check the cooling system's potential under maximum heat output. It provides completely unbiased results and generates true in-game rendering workloads across all platforms.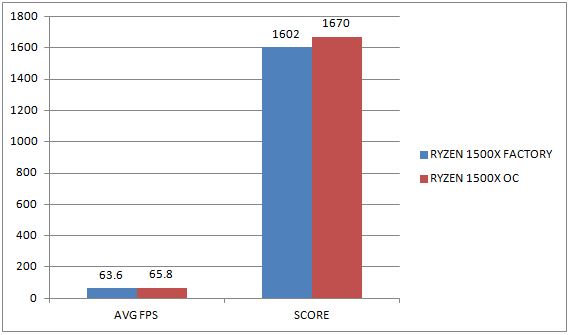 Overall the new RYZEN 1500X series did pretty good in the UNIGINE HEAVEN 4.0 benchmark, with very little difference between factory and overclocked configuration. Since this test stresses the GPU the most and the RYZEN 1500X and other RYZEN CPUs do not feature an onboard graphics solution, the results of this test are primarily as result of the EVGA GTX 970FTW card that we used in the test rig.