Overclocking
For Overclocking we utilized the new AMD RYZEN Master software that you download and install along with your drivers and other key utilities. During our overclocking within the software, we dialed the CPU voltage up to 1.4 and increased the speed via the software interface before hitting apply. However, we would like to warn you if you plan on overclocking and increasing voltages to make sure you do install a performance CPU cooler to handle the extra heat!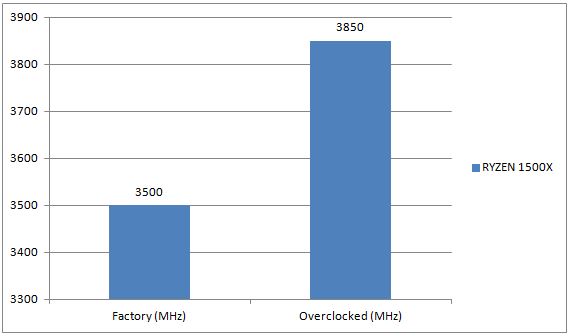 This overclock we found to be respectable considering we were using a stock air cooler and we were able to get it stable at this speed. With a better cooler we suspect that a higher overclock is achievable.
Memory
As previously mentioned, the new RYZEN CPUs feature native DDR4 memory and what is part of the need for a new socket and board. Now it is important to note that at the time of out testing memory support was limited and there is need of BIOS updates to get the memory to perform better and up to speed. In our testing, we ran a 3200MHz kit, however, the fastest we could get it to run at 2933MHz 16-17-17-36. The new boards feature A-XMP that is basically an AMD version of Extreme Memory Profile. In theory, this will allow the BIOS to properly clock the memory kit you install in your system, and in our Gigabyte board this was not functioning yet.  Listed below are the non A-XMP speeds that are capable chip side.
| | |
| --- | --- |
| RYZEN MEMORY SUPPORT | MHz |
| Dual-Channel/Dual-Rank/Four-DIMM | 1866 |
| Dual-Channel/Single-Rank/Four-DIMM | 2133 |
| Dual-Channel/Dual-Rank/Two-DIMM | 2400 |
| Dual-Channel/Single-Rank/Two-DIMM | 2677 |
Test system
| | |
| --- | --- |
| Motherboard | Gigabyte AB350-Gaming 3 |
| RAM | 16GB Geil 3200MHz 16-16-16-36 running @ 2933MHz 17-17-17-36 |
| CPU Cooler | Stock AMD Aircooler |
| Graphics Card | EVGA GTX 970FTW |
| Power Supply | Corsair AX1200 1200Watt |
| SSD | Samsung 960 EVO M.2 500GB |
| Chassis | Fractal Define R5 |
| Operating System | Windows 10 Pro 64bit |
Test Software
3DMark
AIDA64 Engineer
Cinebench
HandBrake
Prime95 Wprime
PCMark 8
SiSoft Sandra
Super Pi
Truecrypt
Unigine Heaven
Wprime
Test Procedure
Here at Bjorn3D, we strive in excellence and during our testing, we run each test 3 times and average the 3 runs in order to get a real baseline of its true performance. With CPU reviews this benchmarking process is fairly straightforward and utilizing the latest drivers and BIOS.