Testing
We run Intel's Burn Test to test our ID-COOLING ICEKIMO 240W White AIO setup and the testing is pretty straight forward. We run Intel's Burn Test for 15 minutes, make a note of the temperature, then wait 30 minutes and run it again. We repeat the process three times and average the results.
Test Rig
Test Rig
"Quadzilla"
Case Type
CPU
Intel Core I7 5820K 4 – 4.4GHz
Motherboard
Asus Pro X99
RAM
Kingston HyperX Savage 3000MHz DC (15 16 16 39)
CPU Cooler
ID-COOLING ICEKIMO 240W
Hard Drives
Optical
Liteon DVD Burner
GPU
ASUS ROG Strix GeForce GTX 1070 8GB
Case Fans
1 x 180mm Mosfet / CPU / RAM cooling fan
1 x 120mm PCI-E Cooling Fan
Docking Stations
None
Testing PSU
Legacy
None
Mouse
Keyboard
Any Attempt Copy This System Configuration May Lead to Bankruptcy
Testing Results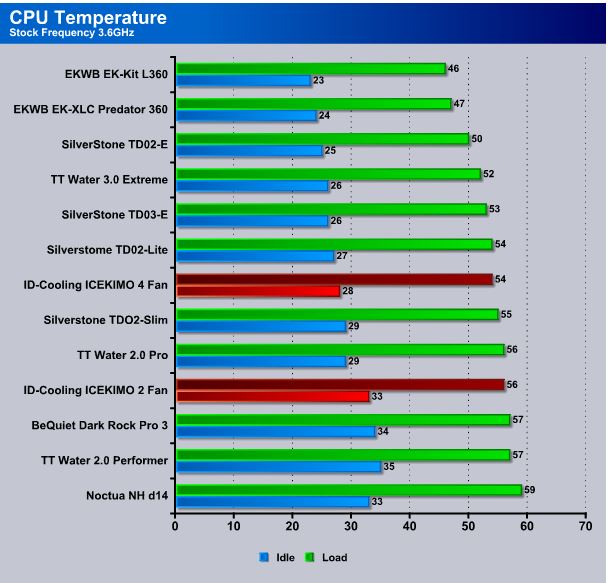 At stock speed, with the 5620K, the ICEKIMO 240W held the line with two fans at 33 Idle and 56 Load which is in line with other dual-radiator IAO coolers.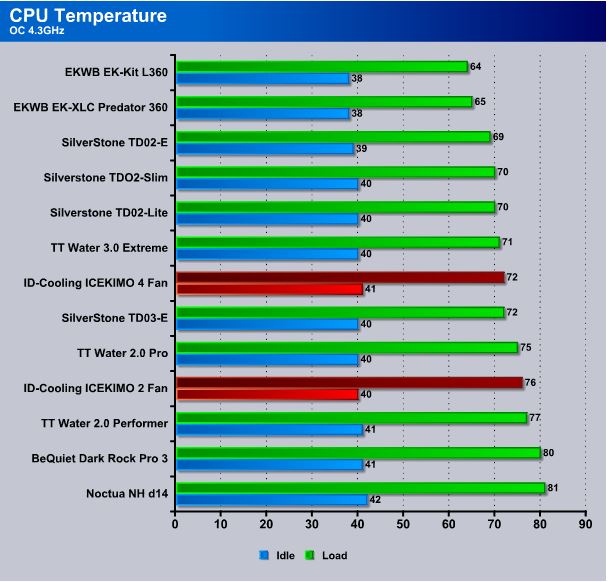 Here at 4.3GHZ the 5620K was heating up some and we got 40°C Idle and 76°C Load with two fans. Swap up to four fans and we dropped a healthy 4°C to 72°C, but this is as high as the ICEKIMO would go on our 5620K, as it gets a little voltage hungry at 4.4GHz and all the dual-radiator coolers we tested failed, reaching our cutoff temperature of 90°C.