Performance
For this review we put in two Samsung HD103 1 TB HDD's in the NAS. We set up RAID-0 as we wanted to make sure that we have the best possible performance of the HDD's. RAID-0 means that data gets written to both drives, some data on drive 1 and some data on drive 2. This allows us to get increased read and write speed. RAID-0 however is NOT fault tolerant so if one drives crashes you loose everything. If you want some fault tolerance RAID-1 is better as all the data then is written to both drives. If one drives crashes you should be able to put in a new drive and rebuild.
One thing to remember though is that RAID is not backup. In our case we use the Asustor drive as our "first-line" NAS which is used for media streaming as well as being the backup target from our house-hold computers. To us speed is more important than fault tolerance. The Asustor is then backed up every week to a 5-drive Synology running RAID-10. This NAS in turn backs up the most important files that we never ever want to loose to an off-site Synology in our summer-house. Yeah, it's probably a bit over-complicated but the beauty of these new NAS-units, both from Synology and Asustor, makes it really easy to set up these types of backup-settings.
Copying files to and from Asustor AS3202T
The Asustor AS3202T is connected to the network via a Gigabit switch and the computer where all the file-copying tests are done sits on the same switch via a Gigabit-cable.
| | | |
| --- | --- | --- |
| | Read from NAS | Write to NAS |
| One big 4.5 GB file | ~100 MB/s | ~65 MB/s |
| Folder with 5.5 GB of smaller files | 3 – 100 MB/s | 3 – 65 MB/s |
Moving a big file gives us a good idea of the max transfer rate. Reading from the NAS means we are taking full advantage of RAID-0 and we are basically saturating the Gigabit-connection. Writing gives us slight lower results but still very respectable. As we move to a folder with 8600 files of different size the performance changes. We see a few very low transfer rates, possibly as it copies small files and needs to start copying the next file and then various degrees of faster performance. Overall it is obvious that the Asustor AS3202T does not have any obvious bottlenecks and can take full advantage of the Gigabit-connection.
Media streaming and playback
To test media streaming we used a bunch of ripped movies in 1080p in various containers (mkv, mp4). We tested streaming via Plex and the AiVideo-app as well as local playback via Kodi. The devices we streamed to was both a iPad pro 9.7″ as well as a Samsung Galaxy S7 Edge.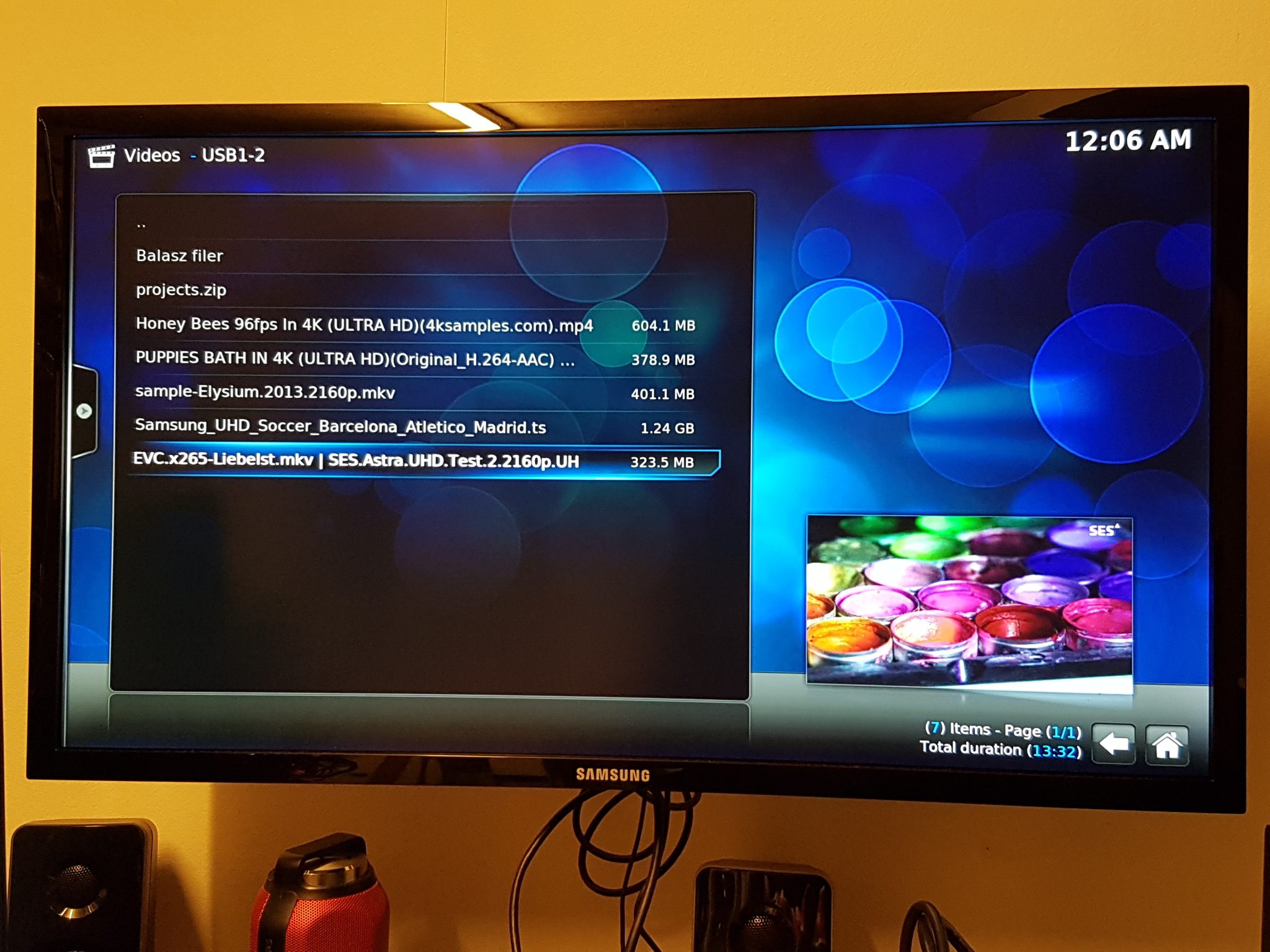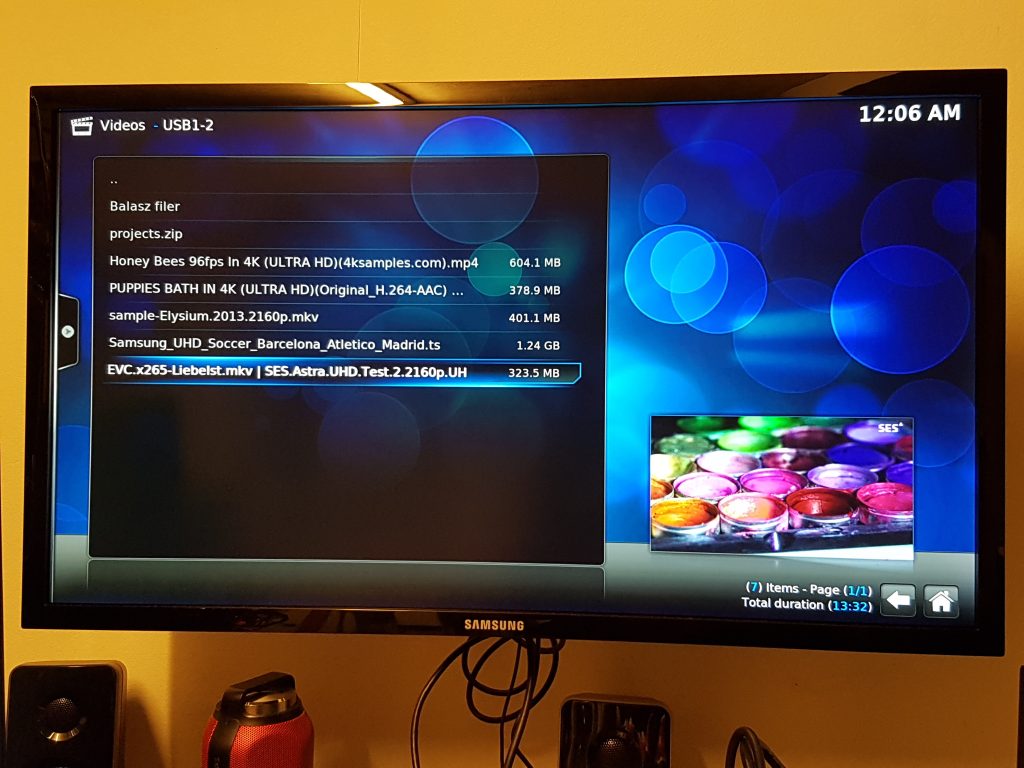 Kodi and Plex
We really like Kodi and Plex. Both players give us a nice GUI that is Luddite-friendly and while makes it easy to not only browser between movies and TV-shows but also add things like subtitles. We had no issues watching movies on our TV hooked up directly to the Asustor AS3202T and as expected Kodi supports lots of file-formats and containers. If the fileformat/container is supported it can even hardware accelerate playback meaning the CPU use of the AS3202T is kept low and nice around 20-25%. Streaming movies via Plex works like a charm. We tested streaming a movie in in the MKV-container (x264, AAC sound) to a iPad Pro which means Plex transcode it and it worked like a charm. the CPU-usage stayed at around 15%.
AiVideo
We can also use something like the app AiVideo to stream to a mobile device. While Android devices usually have little issues with MKV, X264 etc as long as the codecs are installed IOS is a bit harder to play back those files on. We noticed we did have some issues on some files where it took time for the playback to start but overall it worked fine as soon as the file started playing.
As a side note you can actually use an app on the NAS that allows you to convert media from one format to another. This works well and might be useful if you need media for IOS and do not want to do on-the-fly transcoding. With the newest beta of AiVideos and the app LookGood on the NAS you can even set up the transcoding jobs inside the app.
4K-playback
One of the advertised features is of course 4K video support. We decided to test it by hooking the Asustor AS3202T to a Samsung U28E590D 28″ 4K-monitor.  The first thing we noticed was that for some reason when setting the display option in AsusPortal to "auto" the resolution was set to 1080p. We had to force it into 4K to get the TV to use 4K. Afterwards we could start Kodi in 4K resolution and also test a bunch of test-clips.
Using Kodi we had no issues at all playing the mp4-clips. CPU usage stayed around 25%, just as in idle.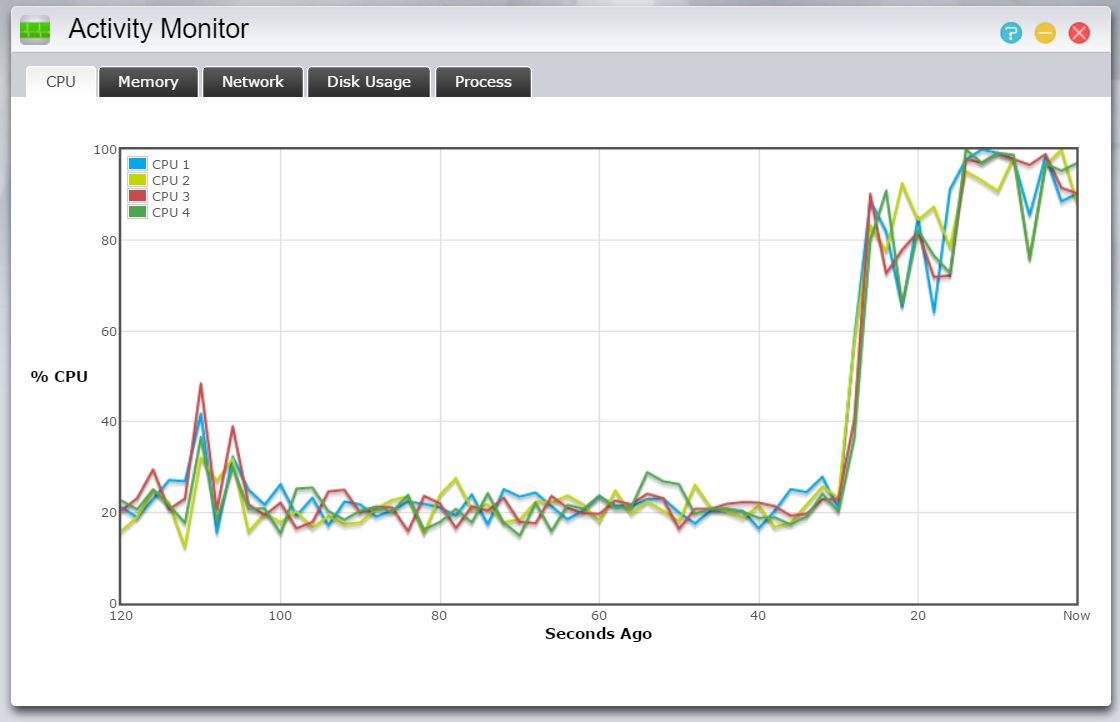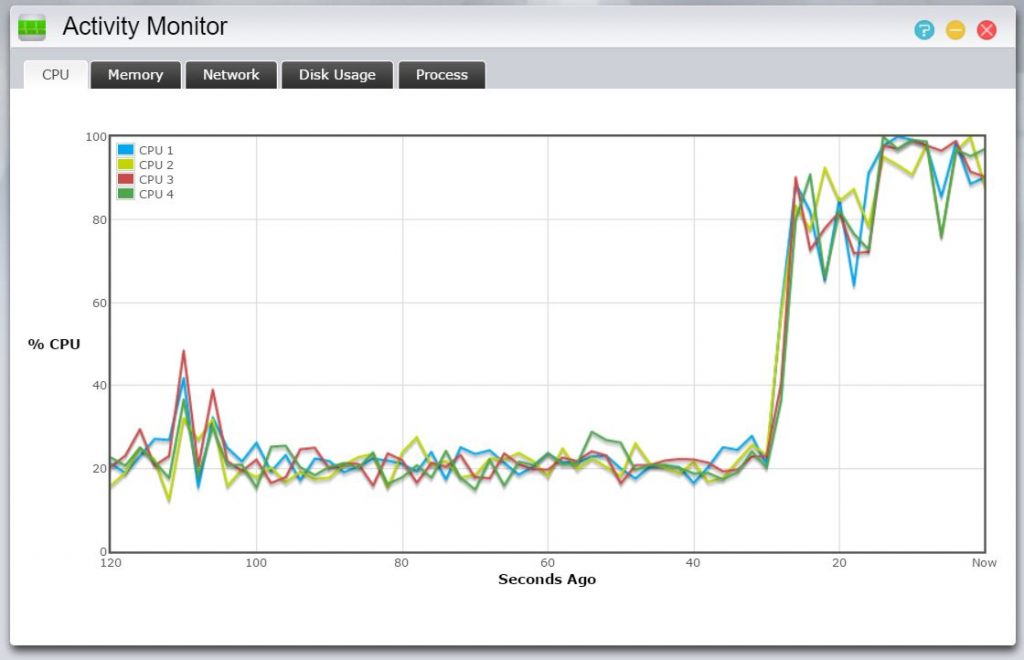 This is what happened when we tried to play either of the MKV/X265-files (the above is from the Elysium clip). Basically it was unplayable. It is obvious that this particular type of file is not hardware accelerated and thus overwhelms the CPU.
Audio
We haven't talked a lot about audio but of course the AS3202T supports a lot of different ways to stream audio. We tested the iTunes server which worked fine. There is an Spotify app which we have no clue how it actually works as it is listed in the app store and can be installed but then there is no icon or anything. But there is enough other ways to stream and consume audio, podcasts, webradio. We tested two of the audio players that Asustor supplies themselves, SoundsGood and Hi-res Player. It is a bit weird that they have two different apps but both work fine.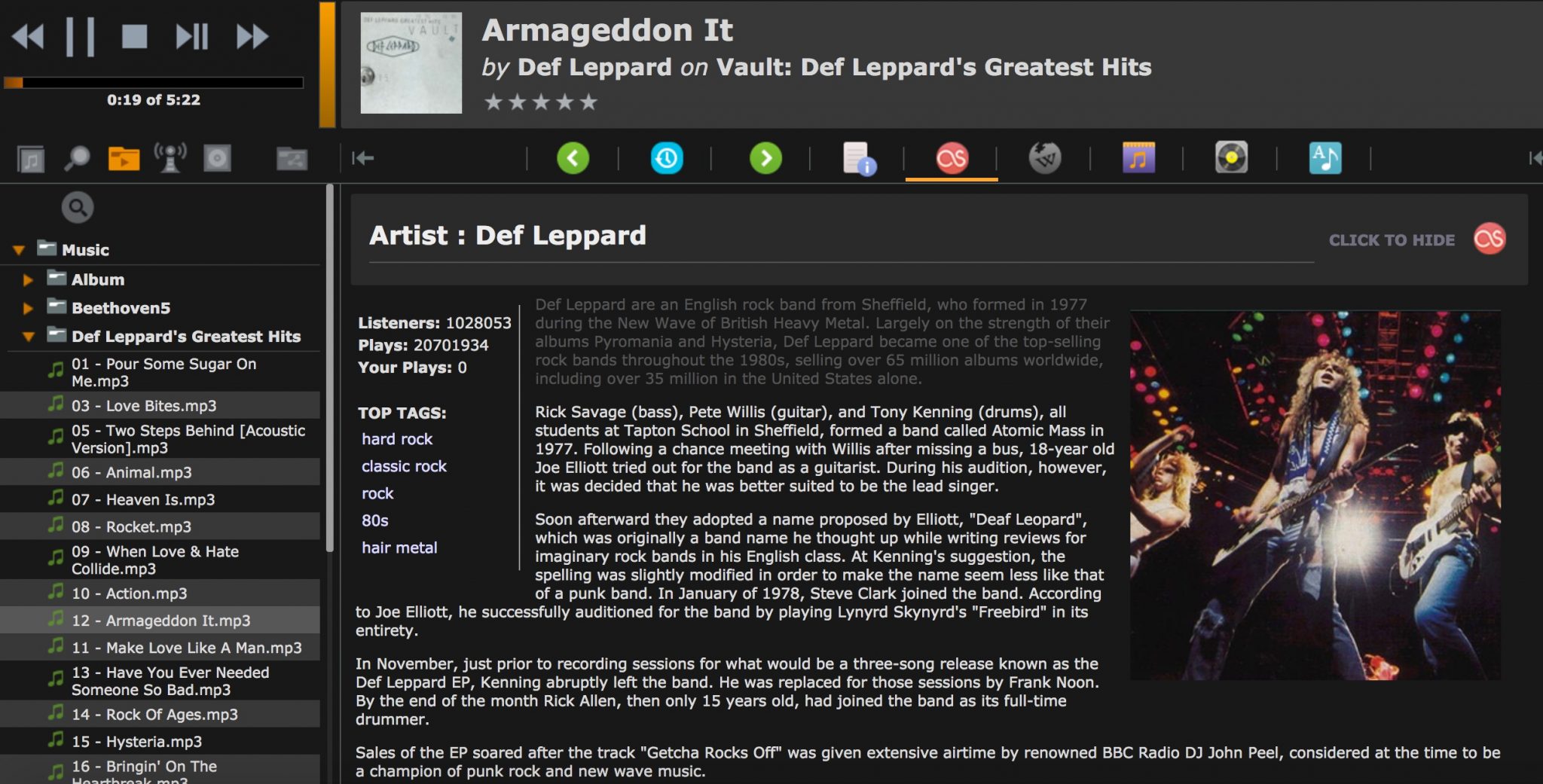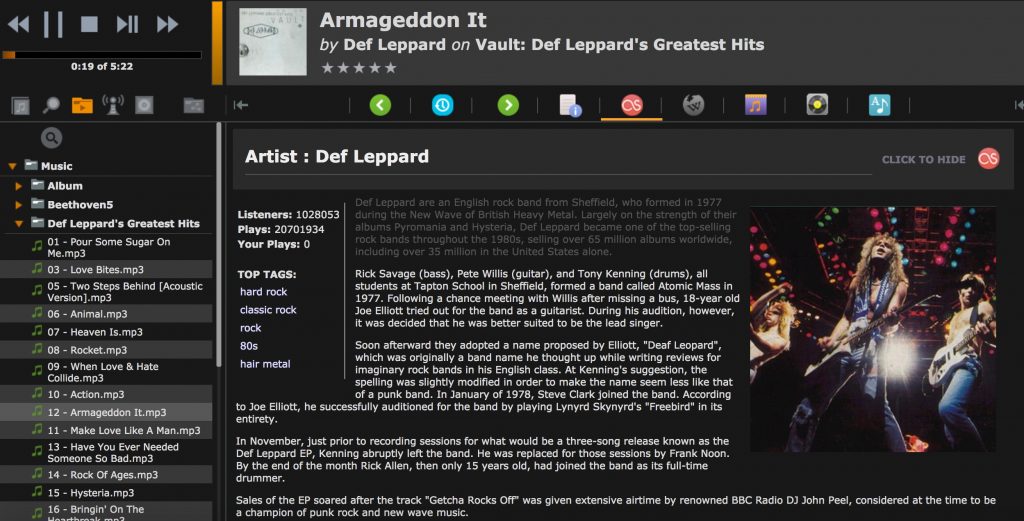 The Hi-Res Player-app actually supports high performance DSD transcoding and 11.2 MHz audio output so you can hook the AS3202T up to a receiver and get very high quality audio playback. This is nothing we could test.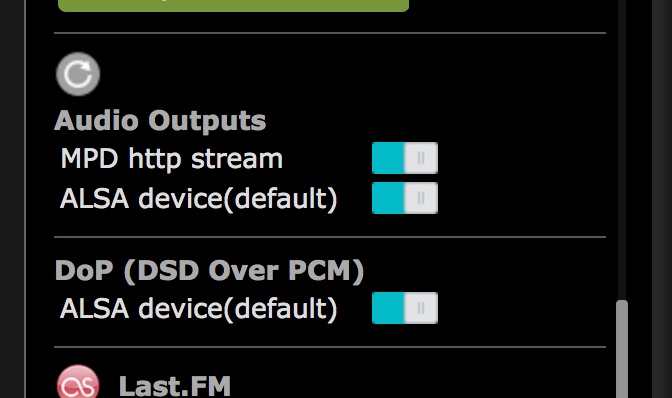 For some reason we could not get the Hi-Res player to output audio via the browser on our Mac but it had no problems outputting sound via HDMI.