Conclusion
The two VisionTek 240GB TLC 7mm SATA III SSD's we got for review put up a champion's performance at a bargain price and we couldn't be happier with them. The Silicon Motion SM2256 controller not utilizing compression makes it an extremely attractive choice for SSD's controllers.They represent an exceptional value and in RAID0 the set often ran above 1000MB/s. You could pick up one drive at $65 and in a week or two pick up a second drive and experience NVME like speeds on an inexpensive RAID0 array. Really there's nothing wrong with running a single VisionTek 240GB TLC 7mm SATA III SSD as the speeds provided are plenty fast for most end users. The Mega fast drives we've had hands on are nice but unless your doing prolonged data copy they can only speed up a machine so much. Most reads and writes just aren't that large and SSD's will prop up machines starting to get long in the tooth. Laptops across the board seem to benefit from SSD use but an SSD that runs 10x the speed of a laptop drive doesn't speed up the laptop 10x times.
You take a look at the cost of upgrading to an SSD and your current systems speed and if the price of the SSD(s) are low enough to fit the budget and provide the extra speed you want then you pull the trigger. VisionTek's 240GB TLC 7mm SATA III SSD provides the flexibility and speed you need at a price most can afford. Now we wouldn't recommend TLC (Triple-Level Cell) SSD's for frequent update end users, databases and frequent update business purposes need MLC consumer or SLC Enterprise drives but the average Joe end user can latch onto one of these jewels and the 3 year warranty should tell you that you are going to enjoy a nice long lifespan on a more than adequate speed drive or RAID0 array.
It's not often but once in a while you find the diamond in the rough bargain but the VisionTek 240GB TLC 7mm SATA III SSD is that diamond in the rough and if your system is sagging or your laptop dragging this is a good one to jump on the SSD bandwagon with.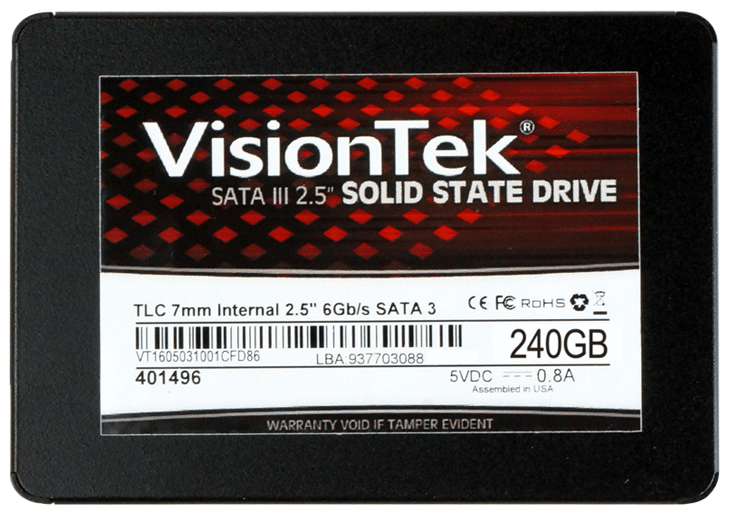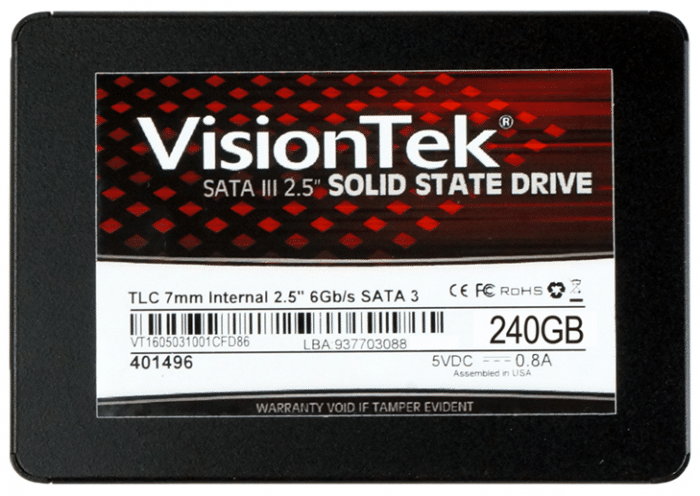 Pros
Cons

Price
Ease Of Installation
Balance Of Speed & Storage Space
Price vs Storage Punch
Silicon Motion SM2256 Controller
Great Single and RAID0 Speeds
3 Year Warranty

Not For Frequent Update Applications