Test Rig & Setup
There's really no big need to go into the entire test rig we used, we used an Asus Maximus VIII Extreme motherboard with a 6700K Skylake processor under triple radiator water cooling to prevent any throttling. We set a 550MB/s SSD as the boot drive using Windows 10 fully updated with the latest drivers and all updated software. We ran the Rig at stock speed as well as the GPU at stock speed for all the VisionTek 240GB TLC 7mm SATA III SSD testing. You can scrape a little more speed out of the drive in some instances OC'd but since you don't OC the drive itself we went with a stock speed system. Now we normally use a 480GB PCI-E M.2 ultra fast drive but that's just not reality for most end users so we cloned that drive to a normal SSD.
We also test on a desktop rig as Laptop chipsets sometimes fall short on being able to run drives at their full speed. Using a desktop shows you the potential of the drive to it's fullest extent. If you happen to have an aging 4 or 5-year-old laptop your chipset might not give you prime speeds from any modern drive. Most laptops built in say the last 3 years should have improved chipsets capable of driving most HDs to their full speed.
We run each test 3 times and take the median run and present it here. Since this is a RAID review we won't be comparing to other drives. We will be comparing VisionTek 240GB TLC 7mm SATA III SSD single drive operation to RAID 0.
Here's the CPU-Z System report for our test Rig.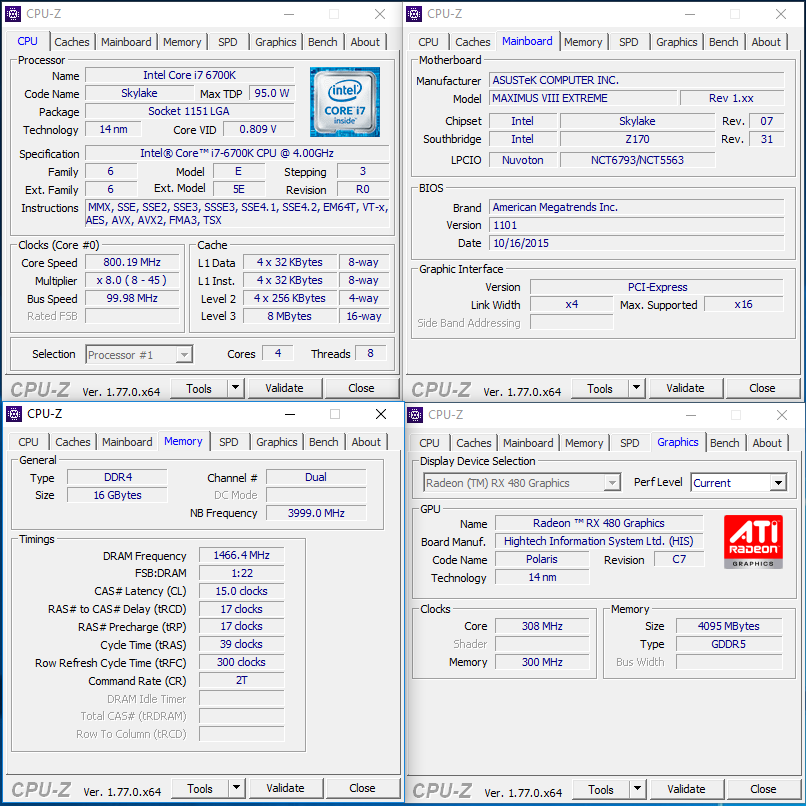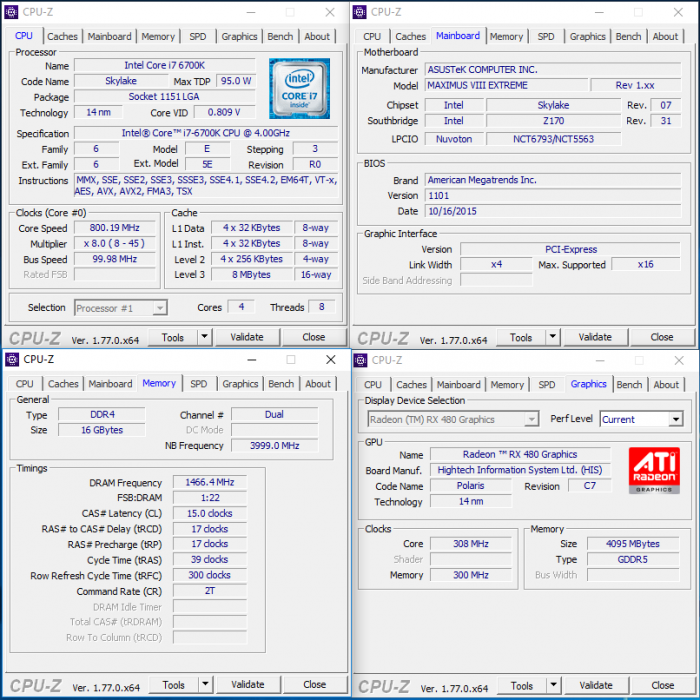 For those that absolutely must have the extreme lowdown on the Test Rig:
Test Rig
"Quadzilla"
Case Type
CPU
Motherboard
CPU Cooler
Hard Drives
Optical
Liteon DVD Burner
GPU
HIS RX 480 8GB IceQ Turbo
Case Fans
1 x 180mm Mosfet / CPU / RAM cooling fan
1 x 120mm PCI-E Cooling Fan
Docking Stations
None
Testing PSU
Legacy
None
Mouse
Keyboard
Any Attempt Copy This System Configuration May Lead to Bankruptcy