VisionTek 240GB TLC 7mm SATA III Internal 2.5″ SSD RAID 0
The VisionTek 240GB TLC 7mm SATA III SSD features a Silicon Motion SM2256 controller specifically built for TLC Nand flash. The SSD industry has been talking about Triple-Level Cell for several years but the lack of a strong enough controller that is readily available has negated the cost savings that Triple-Level Cell Nand flash offers. TLC is about 30% less expensive than MLC Nand flash but requires a stronger controller because it inherently has more errors than MLC. With the introduction of the Silicon Motion SM2256 SSD controller, the industry has a strong controller and can produce less expensive SSD's using the savings offered by TLC Nand flash. Using Silicon Motions proprietary NANDXtend error-correcting code (ECC) technology the SM2256 provides superior data protection weeding out any inherent increase of errors on TLC and extending the life of TLC as much as 300% over previous controllers.
Touching on SLC (Single-Level Cell) Nand each cell gets one Bit of data, target toward Enterprise class drives. MLC (Multi-Level Cell) each cell gets two Bits of data and has been the go-to for most SSD's a good compromise between price and storage space. Now after several years of talking about TLC (Triple Level Cell) an SSD can have 3 Bits of data per cell. Storing two Bits in an MLC dropped the cost of SSDs, going to TLC and having a readily available controller further drops the price of SSDs. The VisionTek 240GB TLC 7mm SATA III SSD we are looking at today typically has a price of around $55.66 (Amazon) and we are seeing SSD's dropping enough in price to be readily available for mainstream use. the VisionTek 240GB TLC 7mm SATA III SSD offers an economical 23.2¢ per Gigabyte of storage.
The Silicon Motion SM2256 differs from most SSD controllers in that during writes it doesn't use compression to enhance speeds but that is a double-edged sword and means that it doesn't slow down with compressed data like images, video, and sound making it ideal for photography, video and music power users.
What we want to see is not only the performance of a single drive, we want to run up a RAID 0 array using the VisionTek 240GB TLC 7mm SATA III SSD and see if the $111.32 price tag makes the speed you get worth the price. Considering the price of 480GB M.2 and NVME PCI-e drives we would have to hazard a guess that people are interested in low-cost RAID arrays; especially those with systems with no provisions for M.2 drives and limited PCI-e lanes.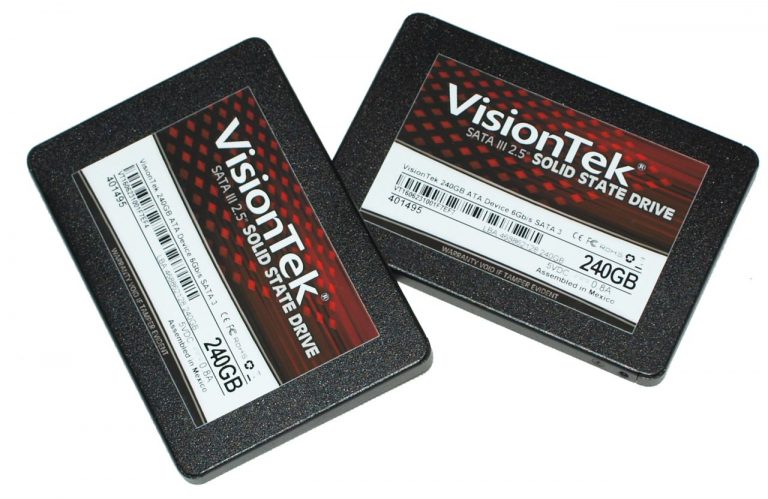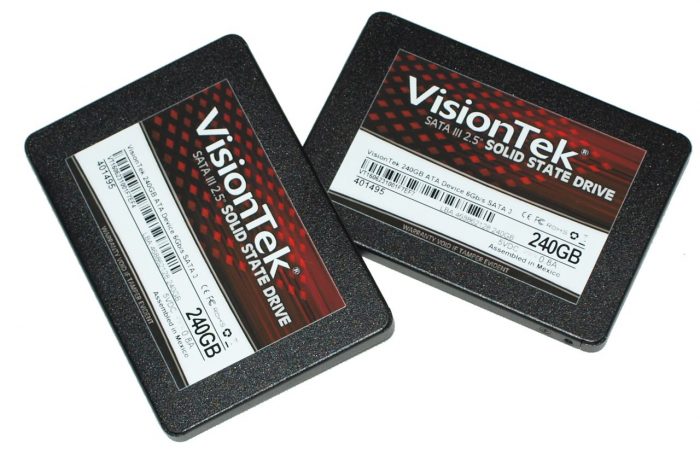 As the image above shows this is indeed the VisionTek 240GB 6Gb/s SATA 3 240GB SSD and it features Tier 1 synchronous TLC capable of 530MB/s read and 400MB/s write. The write speed on Silicon Motion SM2256 a littler lower than current MLC SSD's but it doesn't use compression writing but that also means it doesn't slow down with compressible data.
VisionTek 240GB TLC 7mm SATA III SSD Specifications
Sustained Peak Data Rates: Up to 530MB/s (read), 400MB/s (write)
Controller: Silicon Motion (SMI) SM2256
Capacity: 240GB total flash memory*
NAND Flash Memory Type: Tier 1 synchronous TLC
Form Factor: 2.5″ 7.0mm height
Interface: SATA 3.0 compliant to support SATA 6Gb/s, 3Gb/s and 1.5Gb/s applications
Format: Unformatted
Key Technology Features: S.M.A.R.T. reporting technology, global wear levelling, early weak block retirement
Native Command Queuing (NCQ): Up to 32 commands
Security: Chip Based Data Encryption: 256-bit AES-compliant
Nonrecoverable Read Errors: Less than 1 sector per 1016 bits read
Trim Support: OS Dependent
Interfaces: 1 x Serial ATA-600 – 7 pin Serial ATA
Compatible Bays: 1 x internal – 2.5″
Size: .37″ (D) x 2.6″ (W) x 3.9″ (H)
Weight: .26lbs
Certifications: CE/FCC/RoHS
Included Accessories: 2.5mm spacer to allow drive to better fit in a 9.5mm space
Warranty: Three years
Key Features
No moving parts: Silent, cool, energy efficient operation.
Tough: Excellent shock, vibration, and temperature resistance.
Fast: Access time up to 50x faster than HDD.
Flexible: Designed to deliver SATA 6G speeds, yet backward compatible to SATA 3G and 1.5G.
Efficient: Optimized for low power consumption for longer "unplugged" computer use.
Reliable: Advanced dynamic global wear-levelling and bad block management.
Use with nearly any computer: Compatible with Windows, Mac, and Linux systems with a SATA interface
US Tech Support: Backed by free lifetime US-based Tek support.
TAA Compliant: Assures government contractors and government buyers this product is assembled in compliance with the Trade Agreements Act.
Best Fit Uses
Power Users
Home Offices
Gamers
Digital Photographers
Creative Professionals