ATTO
Assess the performance of your HDD and run thorough hard disk drive tests to determine read and write speeds by using this powerful application
In case you notice it takes a considerable amount of time to read or write data, you might want to put it to the test and see if everything is in order. ATTO Disk Benchmark is a software solution designed to help you measure the performance of your system, by running a series of tests to determine hard disk speed.
ATTO is almost the industry standard for reporting drive speed from the manufacturer and we will be running multiple passes of ATTO to check on the learning portion of the SSD.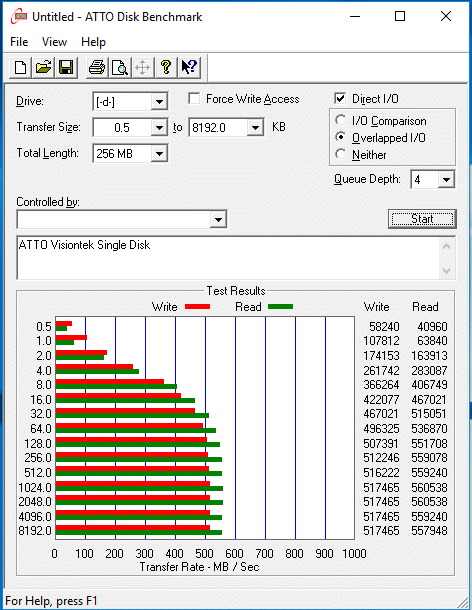 ATTO is pretty much the standard for reporting off the shelf drive speeds and uses uncompressed data which is good for the manufacturers but not so good for end users with drives that rely on compression for Writes. In our case the VisionTek 240GB TLC 7mm SATA III SSD and it's Silicon Motion SM2256 doesn't use compression for Reads or Writes hence it's advantage it doesn't slow down for compressed data. Going to the high end of ATTO's reading we get 517.465MB/s Write and 557.948MB/s Read.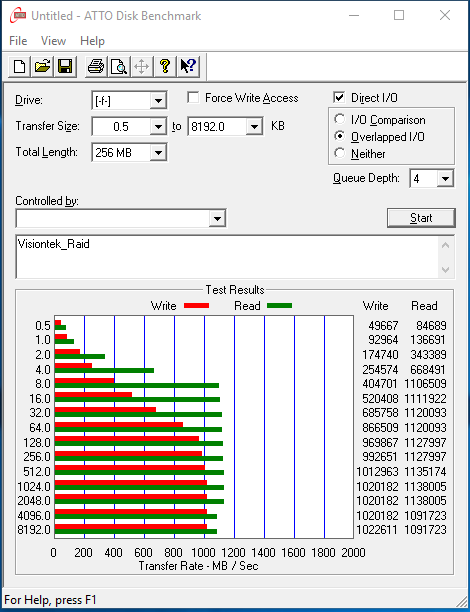 The RAID0 array of VisionTek 240GB TLC 7mm SATA III SSD's shows a tremendous 1022.611MB/s Write and 1091.723MB/s Read and the VisionTek Silicon Motion SM2256 controller drives finishes testing with a strong burst of speed and it's affordable speed.