EVGA GeForce GTX 1070 FTW GAMING ACX 3.0
Once again, EVGA has graced us by sending the EVGA GeForce GTX 1070 FTW GAMING ACX 3.0. This time it's the EVGA GeForce GTX 1070 FTW GAMING ACX 3.0 with it's Pascal GPU. The Pascal GPU is NVIDIA's most advanced GPU core ever produced and utilizes a 16nm FinFET process from the Taiwan Semiconductor Manufacturing Company. TMSC uses a third generation High-k/Metal Gate process, and a fifth generation transistor strain process with a 193nm lithography. As a result of the 16nm  process used in Pascal GPUs, you can achieve the same or greater GPU capabilities with less power. TSMC's 16FF technology can provide up to 65% greater speeds at around 2 times the density or 70% less power usage than its 28HPM technology.
Now combine TSMC's 16FF technology with NVIDIA's Pascal GPU and let EVGA put their unique spin to it, and you have one heck of a mind-blowing EVGA GeForce GTX 1070 FTW GAMING ACX 3.0. The core clock runs at 1607MHz, with a 1797MHz boost clock, and is powered by two 8-pin connector. The card also features dual BIOS chips, 10 + 2 phase power and a 215 watt TDP.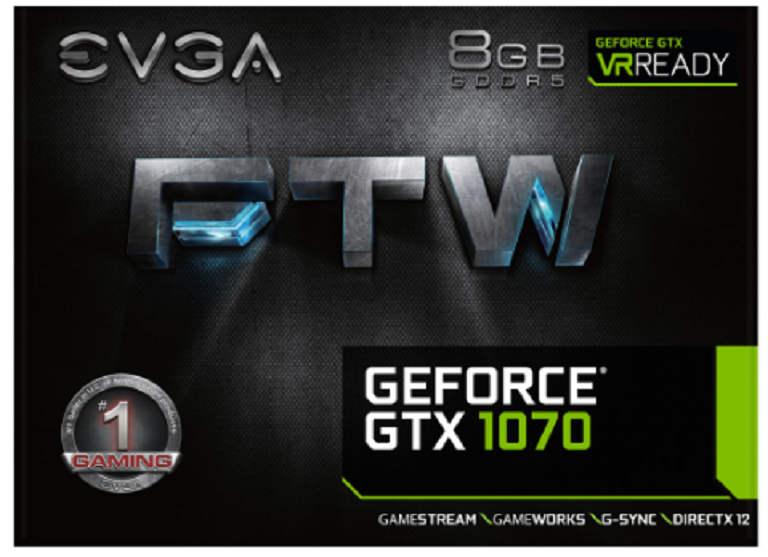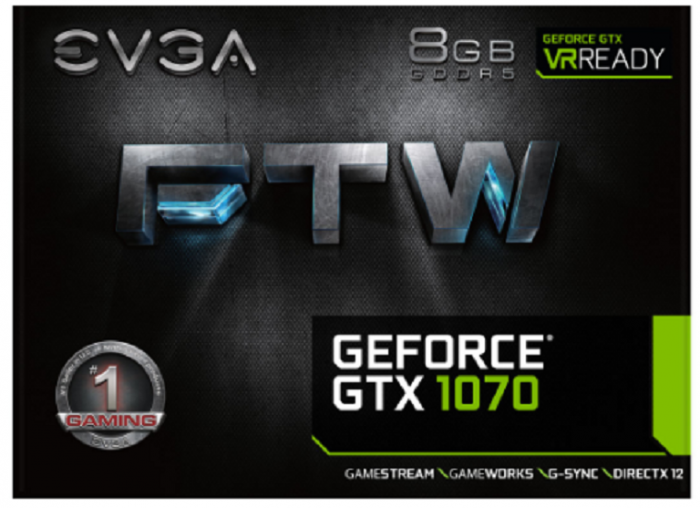 Now that's not all the goodies packed into this son of a beast, that's just the core specs and some details about the FinFET process. EVGA throws on more than double the phase power of a reference design which on most models is 4 + 1 phase power. We especially like the dual BIOS; no bricking on flash upgrades. Flash a BIOS and get a failure? Just switch to the backup BIOS and re-flash the bad BIOS and you're running non-stop.
We'll get into in-depth shortly, but you are going to love the RGB colors and the ACX 3.0 cooling. You'll be hard pressed to find a GTX 1070 better equipped than the .
Highlighted Features & Specifications
1797 MHz boost clock for outstanding performance and gaming experience.
ACX 3.0 Double Ball Bearing Fans 400% Lifespan Compared to normal bearing fans.
MMCP Memory Mosfet Cooling Plate 15% cooler Memory, 13% cooler Mosfets.
Adjustable RGB LEDS to Coordinate System Colors.
DVI-D x 1, HDMI x 1, Display Port X 3 for maximum connectivity.
Precision XOC built for Pascal GPU's Use those 10 + 2 Phase Power Circuits.
NVIDIA ANSEL for a revolutionary new way to capture in-game screenshots.
NVIDIA GameWorks™ provides an interactive and cinematic experience, as well as incredibly smooth gameplay.
GPU Comparison Table
 GPU
EVGA GeForce GTX 1070 FTW Gaming ACX 3.0
NVIDIA
GeForce GTX 1080 8GB
NVIDIA
GeForce GTX Titan X 12GB
NVIDIA
GeForce GTX 980 Ti 6GB
NVIDIA
GeForce GTX 980 4GB
Architecture
Pascal
Pascal
Maxwell
Maxwell
Maxwell
Codename
GP104-200-A1
GP104
GM200
GM200
GM204
Base
Clock
1607MHz
1,607MHz
1,000MHz
1,000MHz
1,126MHz
Boost
Clock
1797MHz
1,733MHz
1,075MHz
1,075MHz
1,216MHz
Stream
Processors
1920
2,560
3,072
2,816
2,048
Layout
3 GPCs, 15 SMs
4 GPCs, 20 SMs
6 GPCs, 24 SMMs
6 GPCs, 22 SMMs
4 GPCs, 16 SMMs
Rasterisers
3
4
6
6
4
Tesselation
Units
15
20
24
22
16
Texture
Units
120
160
192
176
128
ROPs
64
64
96
96
64
FP64
Performance
1/32 FP32
1/32 FP32
1/32 FP32
1/32 FP32
1/32 FP32
Transistors
7.2
Billion
7.2
billion
8
billion
8
billion
5.2
billion
Die
Size
314mm2
314mm2
601mm2
601mm2
398mm2
Process
16nm
16nm
28nm
28nm
28nm
Memory
Amount
8GB
GDDR5
8GB
GDDR5X
12GB
GDDR5
6GB
GDDR5
4GB
GDDR5
Frequency
1GHz
(8GHz effective)
1.25GHz
(10GHz effective)
1.75GHz
(7GHz effective)
1.75GHz
(7GHz effective)
1.75GHz
(7GHz effective)
Interface
256-bit
256-bit
384-bit
384-bit
256-bit
Bandwidth
256GB/sec
320GB/sec
336GB/sec
336GB/sec
224GB/sec
Card Specifications
Power
Connectors
2 x 8-pin
1 x 8-pin
1 x 6-pin, 1 x 8-pin
1 x 6-pin, 1 x 8-pin
2 x 6-pin
Stock
Card Length
267mm
267mm
267mm
267mm
267mm
TDP
215W
180W
250W
250W
165W
Key Features
Simultaneous Multi-Projection
VR Ready
NVIDIA Ansel
NVIDIA SLI w/ HB Bridge Support
NVIDIA G-SYNC
NVIDIA GameStream
NVIDIA GPU Boost 3.0
Microsoft DirectX 12
Vulkan API
OpenGL 4.5 Support
PCI Express 3.0
Max Digital Resolution – 7680×4320
HDMI 2.0b, DisplayPort 1.4 and Dual-Link DVI
Built for EVGA Precision XOC