Final Thoughts & Conclusion
We spent a copious amount of time with the Kingston MobileLite Wireless G3 and Pro and found a lot of things both good and bad.

The bad things are connecting to the MobileLites via PC is backwards and convoluted and includes typing in IP numbers to your browser or mapping network drives. Those just aren't handy and face it you will have to write down the IP number and store it in your wallet. Not many of us can rap off a variety of IP numbers to our devices off the top of our heads. (network administrators excluded). File formats supported by the device are limited but adequate for mobile support.
We like the MobileLite products for Mobile connectivity on phone and tablet but it almost seems direct PC support was an afterthought. In the recharging and wireless mobile access the MobileLite series shines like a beacon. Tablets and Phones are what the product is targeted at. Tablets and Phones have limited storage and even with a microSD space is really still lacking. If you want to get crazy at home you can plug an external (self powered) HD into the MobileLites and have a couple of TB of home storage for your phone and tablets media needs while still accessing the internet. That's a hidden value making the MobileLite Wireless products a portable mass media storage device. We often carry a 1TB external 3.5 inch drive with us, the little 2.5 inch drive can be plugged into the MobileLite's and we have a plethora of media handy. Combine a MobileLite and your Droid or IOS phone with a long doctors visit and you have plenty of power and storage for your entertainment needs. It beats the pile of magazines in the corner with a stick.
Ready to impromptu party? Connect your phone to the MobileLite slam a playlist down and use any one of dozens of wireless bluetooth speakers and you just became the DJ for the party. Your sure to get your moneys worth, recharging your phone, streaming music and video, storage only limited by the size drive you connect. The range is a tad short and within 20 feet we had no connectivity issues but up around the 30 foot range we would get some stutter in videos but 20 – 25 foot from a personal media server when you carry it with you is nothing.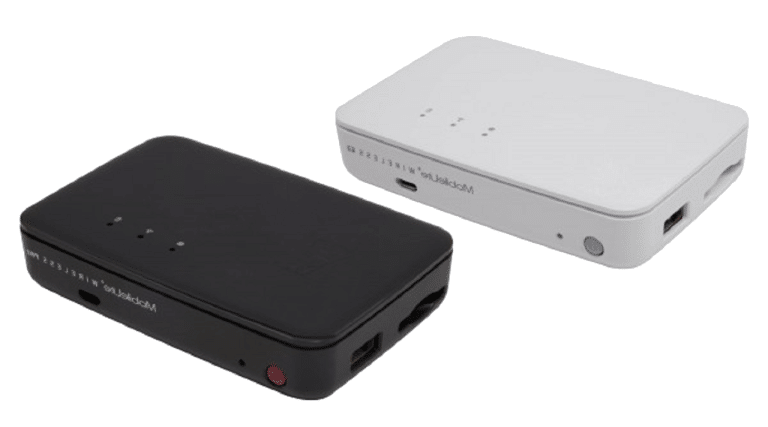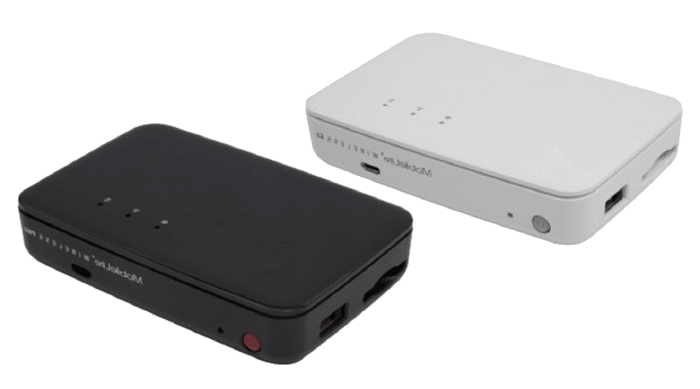 Overall mobile use we could share files seamelessly with 3 people (total) play songs access files and do everything we wanted. In the PC corner we're looking for manuals and mapping network devices. If we could direct access from PC and play entire folders of music and create playlists we would say we had a product worth a Gold Award, but without those functionalities we have to go with Silver Award.
Pros
Cons

Price
Variety Of Storage Devices
microSD Adapter Included
Excellent Mobile Phone & Tablet Capabilities
Pro Has 64GB Internal Storage

Battery Will Drain While Device isn't Being Used
PC Connectivity Convoluted
No Easy Playlist function
All Music Is In One Large Page (not sort-able by artist or album)