Internal
Opening the TS-451+ is very easy. You just have to remove all four hard drives and then take off the four screws on the back, and the casing slides off the unit. Inside, we can see that despite the lack of metal chassis, the internal of the TS-451+ is rather sturdy with strong metal cage for the hard drive bay.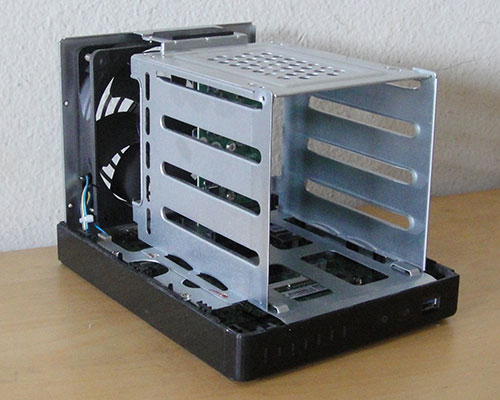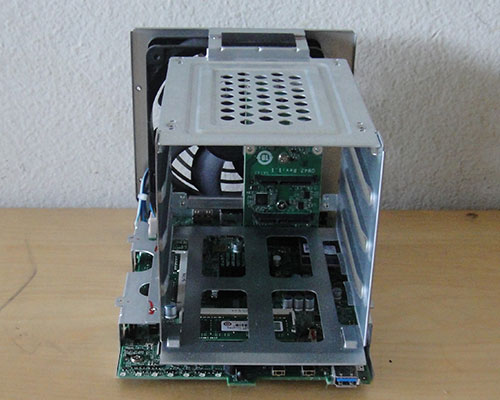 Accessing the DIMM slot for the memory upgrade requires disassembling the entire unit. This is yet another difference from the Pro models where we often have the convenience of just adding more RAM by removing the outer chassis.  While one of the RAM slots that is facing the front of the NAS is actually possible to gain access to if you are nimble enough, the other DIMM slot is placed at a 90 degree angle that definitely requires complete disassembly of the unit. The good news is that it's not too difficult to completely take the unit apart, as you just have to unscrew a few screws holding the drive bay. Afterwards, a few more screws to remove the metal frame from the bottom of the chassis, and then few more screws to release the motherboard from the metal frame. The entire process can be done in less than 10 minutes.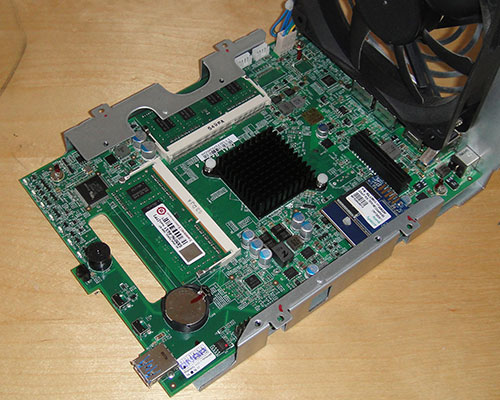 QNAP uses a very small heatsink to cool the SoC. The Intel J1900 is built with a 22 nm process that has a rated TDP of 10W, so a small heatsink is all we need to keep it cool. The only active cooling of the NAS is provided by the single 120 mm rear fan that exhausts hot air from the SoC and the hard drives out of the unit.
An add-on card is used to provide the SATA connector, courtesy of the Marvell 88SE9215 controller. The add-on uses 1 x PCI Express 2.0 interface. The controller unfortunately does not support hardware-assist AES encryption, nor does the Intel J1900 SoC used for the NAS. Considering that the TS-451+ is aimed toward home use, it is probably okay that the NAS lacks the hardware assisted encryption, as many home users may not consider encrypting their data for added protection. The fact that the unit lacks the hardware encryption means that it has limited the NAS to only home use and may not be the best unit for small business, and if you plan to use encryption, expect the performance to be impacted, as all of the workloads would be done via the SoC. There is no other PCI Express slot available for additional add-on cards.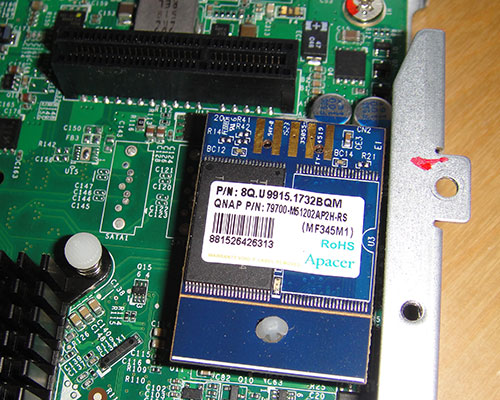 QNAP employees an Apacer USB Disk Module for the on-board flash memory. The unit comes with 512MB of on-board memory for the system firmware.