Final Thoughts & Conclusions
The ASUS MAXIMUS VIII EXTREME is the most solid feature packed EXTREME we've seen from ASUS so far! We've had hands on quite a few EXTREMES over the

years and all of them are really nice boards but in this case ASUS got in tune with their customers and gave them what they wanted. A top end Flagship board with one click overclocking using 5 way Optimization. We were amazed to the point of choking on our coffee when 5 Way Optimization kicked us out at 4.8GHz and no one won the lab pool on one click overclocking. Sure we expected 4.6GHz but 4.8GHz was just mind-blowing.
Ocing in BIOS was extremely easy and we almost felt like a robotic arm making the adjustments. We decided to go into BIOS and manually enter the settings from 5 Way Optimization and see what happened. What happened was we got a 4.8 GHz of scary good overclocking. With our triple radiator setup we were running 90°C but we achieved 4.8 GHz which no other board could give us. Other boards we tinkered for hours trying to get 4.8 GHz stable and the best they offered was semi stable and some benches would run. The ASUS MAXIMUS VIII EXTREME gave us 4.8 GHz on a silver platter. Now the voltage was a little north of where we are comfortable so we backed down to 4.7GHz. As you know as you increase frequency on a CPU you will reach a voltage tipping point where you have to apply to much voltage to make that last 100MHz worth it. Other boards we had to push 1.42V to hit 4.7GHz, the ASUS MAXIMUS VIII EXTREME did it with 1.34V which should show you the Digital Power Controller on the ASUS MAXIMUS VIII EXTREME with its dual PWM controllers and OptiMOS MOSFETS backed by MIcroFine Alloy Chokes and 10K Black capacitors are delivering a cleaner CPU power and doing it with less Vdroop than we've seen on other boards. Extreme Engine DIGI+ is one of the best if not the best arrangement we've seen on CPU power delivery to date.
We do miss having 16x16x Graphics using a PLX chip but truthfully the single card solutions out there right now with the GTX 980Ti and the R9 Fury single graphics card do the job quite nicely. Still 16x16x is something you expect on a flagship board but that's really our only harp on the board.
The OC Panel II is like Xmas in July no matter how you use is and this version features a couple of new buttons, ReTry and SafeBoot and let us tell you the ReTry button combined with MemOK are a God send for any serious overclocker. While manually overclocking and getting the feel of the boards OCing abilities we hit ReTry and in several cases the machine went ahead and booted into a stable OC. Running high-speed memory can be a chore at times but get a little to adventurous with the Memory settings MemOK will go ahead and boot you into JEDEC or a safe known good configuration.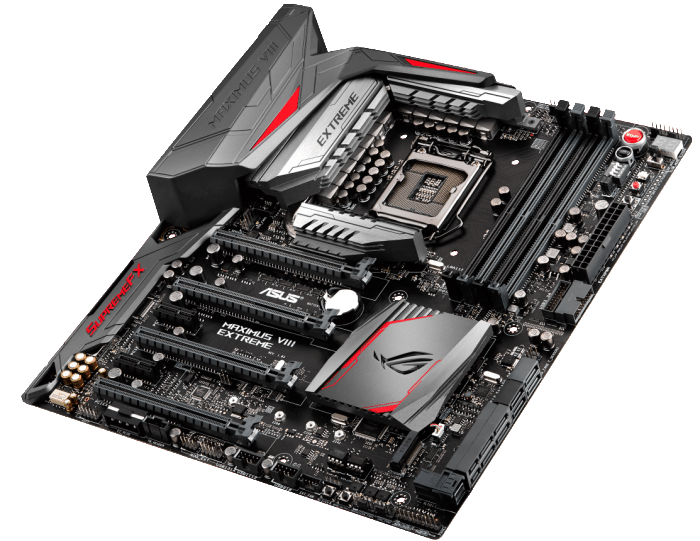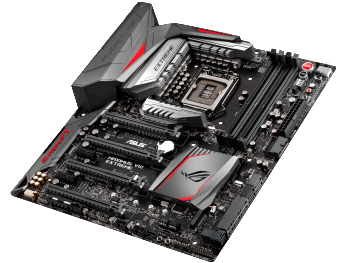 The ASUS MAXIMUS VIII EXTREME awed and amazed us and it never fails to surprise us how ASUS just makes it better every new socket. The addition of 5 Way Optimization to the ASUS MAXIMUS VIII EXTREME is a smart move on ASUS's part it invites less skilled overclockers to enjoy the luxury of a top end flagship board without having to have a degree in overclocking.
The features on this board just never end SupremeFX Sound, Sonic Studio II, fine gold NICHICON caps, de-pop circuit, shielded sound chip, OC Panel II, three included thermal sensors, ASUS Pro Overclock technology allowing a BCLK up to 400. M.2 socket and included a PCI-e adapter for a second M.2 drive, an Internal U.2 connector for NVMe and a thunderbolt rear I/O connector. ASUS even got the USB side of things right all USB 3.0 and 3.1 on the back panel to the tune of 8 external connectors not including front panel.
The ASUS MAXIMUS VIII EXTREME offers more features than any one person could hope to use nd give one heck of a thrill ride OCing but remember to back away from this beauty and spend some time with your family this holiday season, at least when the turkey comes out of the oven and opening presents time. Having the ASUS MAXIMUS VIII EXTREME is a life altering experience but you can do without a spousal head slap so give up a little ASUS MAXIMUS VIII EXTREME time and spend some hot chocolate time with the family (Or Else).
Pros
Cons

Overclocks Like A Champion
SupremeFX Audio
Familiar BIOS Layout
Great RGB Lighting
Extreme DIGI
Ultra High Quality Components
Asus's Commitment to Quality
ASUS Pro Clock Technology
8 External USB 3 & 3.1 Connectors
OC Panel II
U.2 and Thunderbolt
M.2 and PCI-e M.2 Adapter
Glorious Bundle
Great OC Rush
5 Way Optimization

Graphics limited to 16x or 8x 8x