ASUS ROG MAXIMUS VIII EXTREME Features
Normally we don't do a dedicated "Features" page very often but the ASUS MAXIMUS VIII EXTREME is so feature packed that it's just not feasible to cover all of them in the depth we'd like to on the "Closer Look" page(s). We won't be covering all the features so you may want to visit the ASUS MAXIMUS VIII EXTREME web page.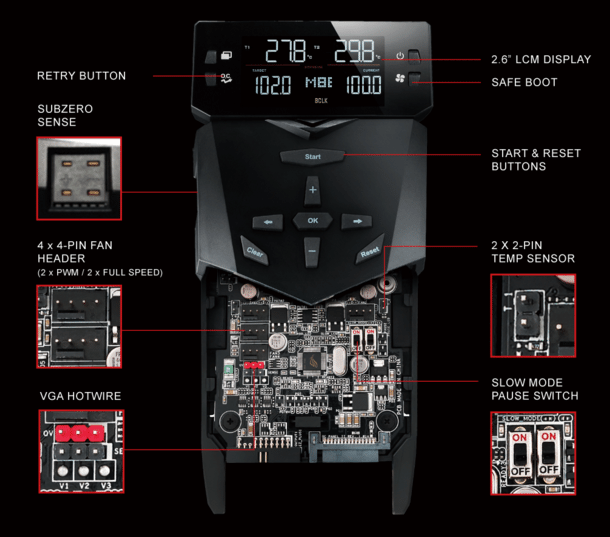 Starting with what is arguably the coolest motherboard feature ever OC Panel 2 serves as a drive bay monitoring panel or a stand alone OCing handheld. Featured up top is the Retry button, Safe boot and the 2.6″ LCM screen Then there's the SUBZERO SENSE Connector, two 4 pin fan headers (2 PWN – 2 Full Speed) Start and reset buttons plus and minus buttons left and right and an Ok button. If that's not enough for you there are two 2 pin Temp sensors for the probes ASUS included in the bundle, a slow mode and pause button and a VGA HOTWIRE, With VGA hotwire you solder two wires to your GPU then clip the wires into the VGA HOTWIRE  and you can further OC your GPU by overvolting from the OC Panel II.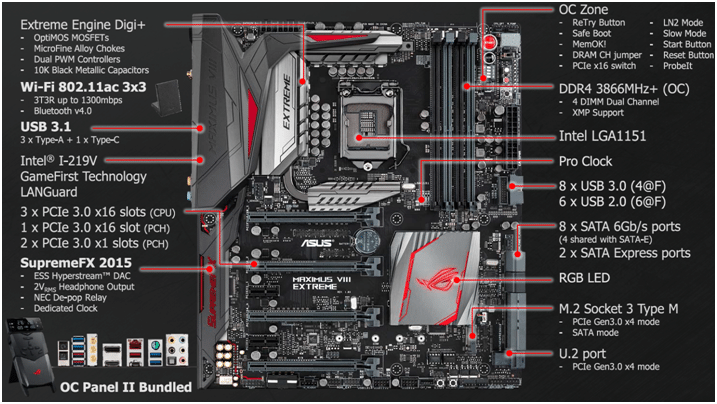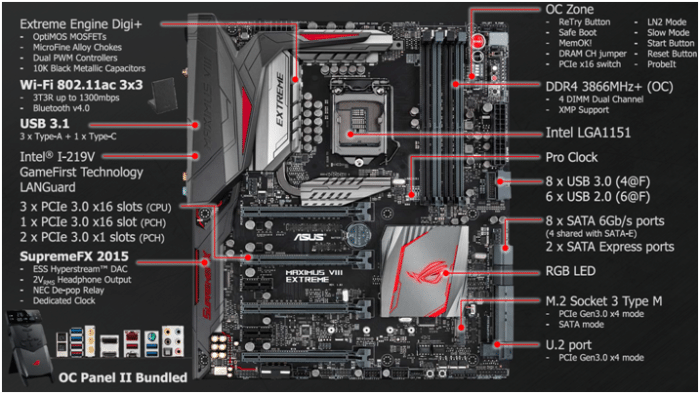 The overview graphic shows Extreme Engine DIgi+ with the OptiMos MOSFETs dual PWN controller and the 10K Black Metallic capacitors. Wi-Fi is 802.11AC 3xe3T3R up to 1300mbps and built-in Bluetooth v 4.0. Want some more geek goodies how about Intel I-219V Gamefirst Technology and Languard, THe Graphics slots are spaced for 4 Video Cards but ASUS is using the standard Z170 layout on the PCI-e slots and you only get one Video Card running at 16x is you run two it's 8x8x three cards run at 8x4x4x. We've see other flagship boards with a PLX chip and lac of a PLX chip for 16x 16x graphics operation is hrd to overlook on a $500 flagship board,
The SupremeFX 2015 with ESS Hyperstream DAC and 2v headphone amp NEC DE-pop relay and a dedicated clock then toss on some fine gold NICHICON capacitors and you have a well-rounded well thought out sound system.
We've touched on the OC Zone which is a bank of buttons and switches and once you learn the function of each its a head slap moment "Why don't more boards have this".  In the OC ZONA you have a Start, Reset, Retry, Safe Boot, Memok!, DRAM CH Jumper, PCI-e X16 switch, LN2 mode, Slow Mode and ProbeIt all reside in one small area giving you everything you need to make your OCing life easier.
Your memory can run at up to 3844MHz on this monster board with 4 DIMM slots handling up to 32GB of DDR4 Dual Channel ram. There are 8 USB 3.0 ports 4 at the front panel and 6 USB 3.0 all front panel. ASUS really went all out on the USB the back panel is all USB 3.0 and USB 3.1 and if you are USB junkies like most enthusiasts this is the first board we've seen that satisfies our USB needs. The ROG logo went true RGB but we found it hard to allow ourselves to set it to anything but ROD red. We went ahead and ran the RGB logo through its paces and it does it's job drawing the eye but just to the right of the ROG logo / heatsink is 4 small wires going into a header and they are micro-fine wires so you'll have to be careful when working in proximity to that connector, We find a single M.2 socket 3 Type M that is PCI-e gen 3.0 x4 mode or runs in Sata Mode. Then lastly on the overview you have a U.2 port for a NVMe (Non Volatile Memory Express). We've seen some convert M.2 to U.2 adaptors but this is the first we've seen U.2 built directly on a board.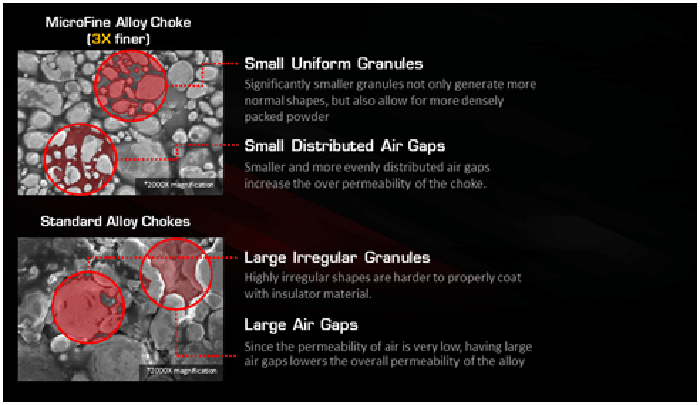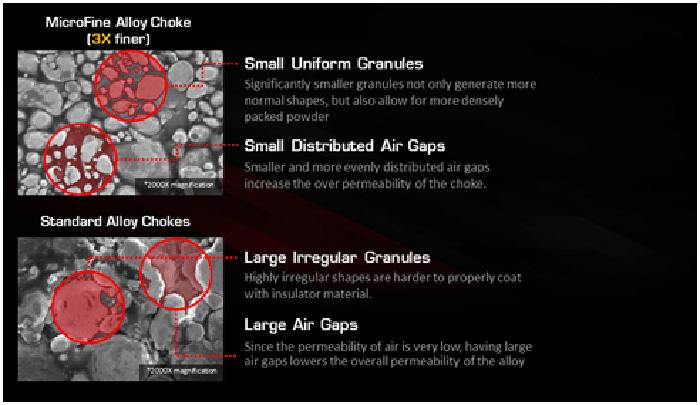 At the component level ASUS uses MicroFine Alloy Chokes with small uniform granules which grant High permeability, reduced induction roll off, a large current capacity and High Efficiency.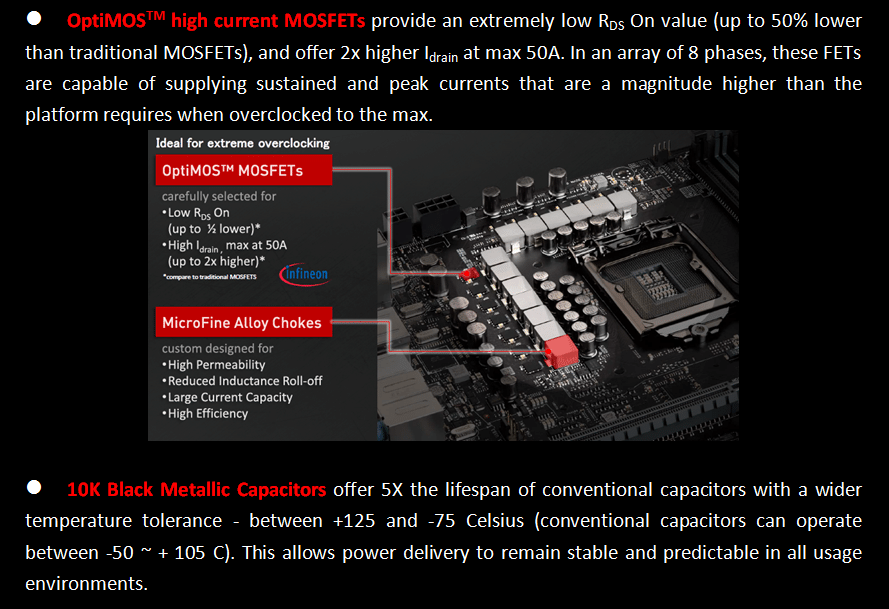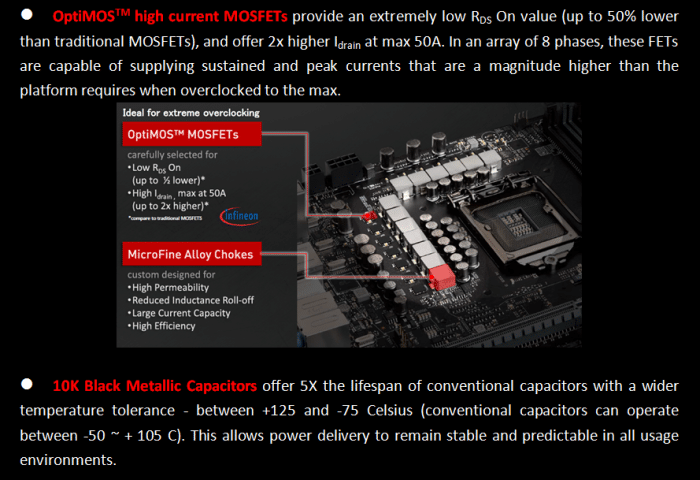 ASUS went with OptiMOS MOSFETs to compliment the MicroFine Alloy chokes and black metallic 10K caps and in case anyone is wondering the OptiMos high current MOSFETs come from Infineon Technologies making a somewhat over engineered Digital VRM setup but if you insist on the best it's not over engineering it's a highly refined Digital VRM setup that will spread the heat across more chokes reducing the heat load on each and lower heat loads mean more stable OCing.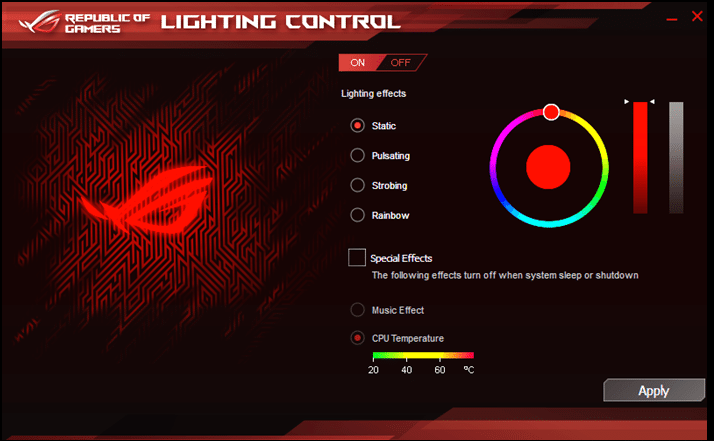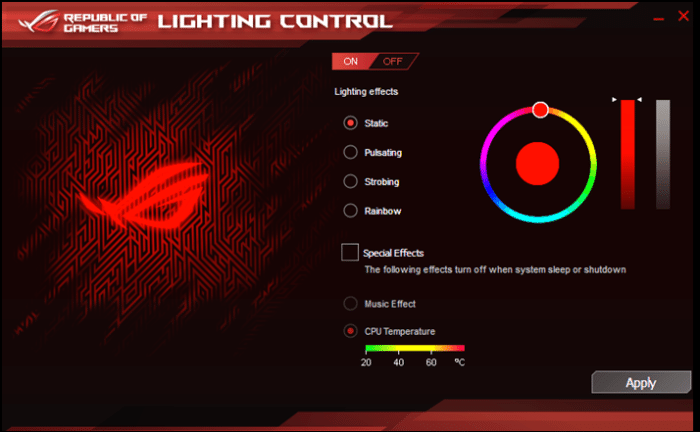 The Logo on the PCH Heatsink is RGB and offers over a million colors and can be set to static, pulsating, strobing and rainbow there are two special features that let the LOGO change colors with CPU heat increase / decrease and can pulsate to music.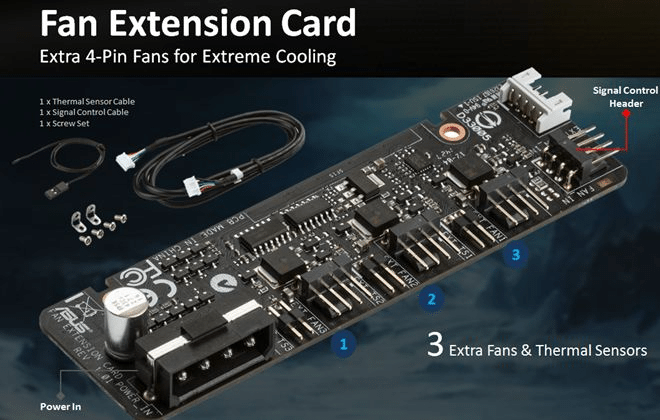 ASUS put in 7 fan headers on the motherboard itself then tosses in 3 more on the Fan Extension Card making 10 but use the capabilities of the OC Panel II and there's 4 more headers so you find the unsurpassed capability for 14 fans in one system without having to buy external controllers and to top that off ASUS throws 3 probe headers on the Fan Extension Card.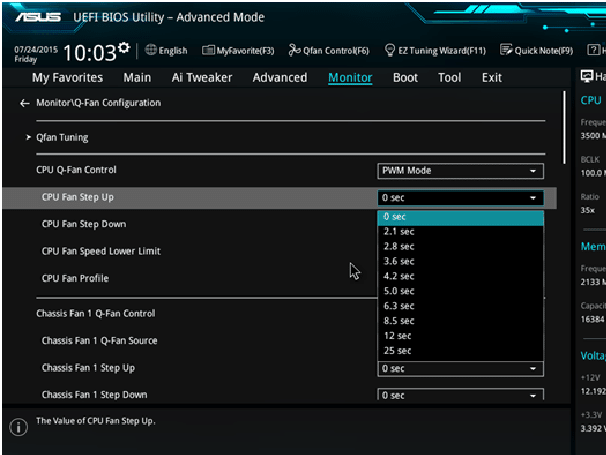 Along with the prolific fan headers in the UEFI Bios ASUS gives you the ability to control each fan to set a custom profile for all the fan headers on the MAXIMUS VIII EXTREME. The extreme detail ASUS went to is almost mind bending and includes fan spin up, fan spin down for the CPU fan and detailed setting for the rest of the fans in your system. You can just about utilize all the features on the ASUS MAXIMUS VIII Extreme around the time the Maximus IX is released!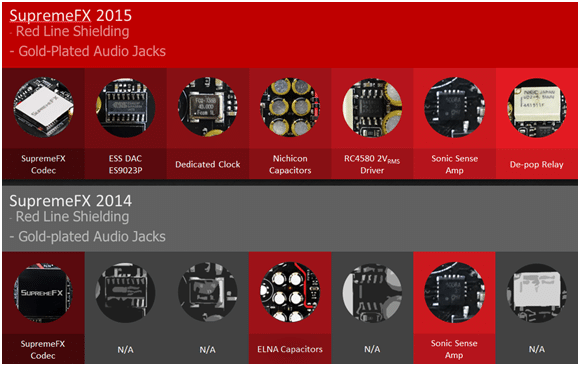 SupremeFX underwent some tweaking since last year showing ASUS's commitment to quality and improving their product year to year. The ESS DAC ES 9023P is new this year as is the dedicated clock and they switched from ELNA Caps to NICHICON Capacitors and added a 2V RC4580 headphone amplifier and finally added a De-pop circuit. Now we've heard it argued back and forth which is the best SupremeFX or Sound Core 3D and we've listened to both extensively and can find no real audio differences so it's likely a matter of preference as to the one you prefer.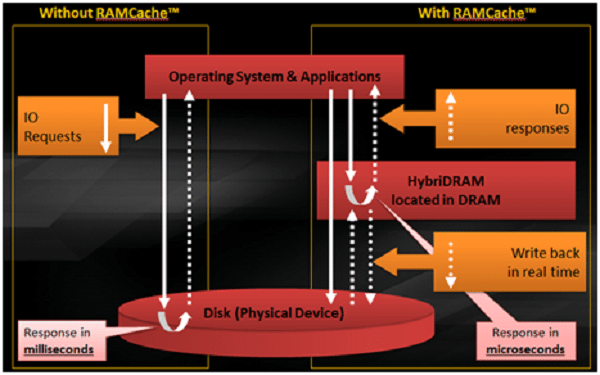 RamCache is a new addition we haven't seen and it takes a portion of your RAM and dedicates it to an active cache which can decrease response time. Any of the dedicated cache not being used is released back to the operating system dynamically so none goes to waste.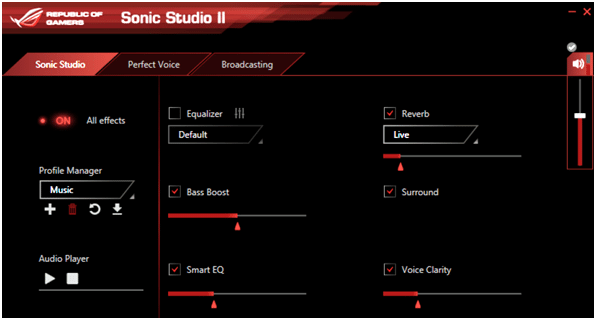 Sonic Studio II is a new sound tuning suite that can produce virtual 7.1 surround sound even on Dolbly 2.0 speakers or headphones and has 6 effects you can layer on Reverb, Bass Boost, Equalizer, Voice Clarity and Smart EQ.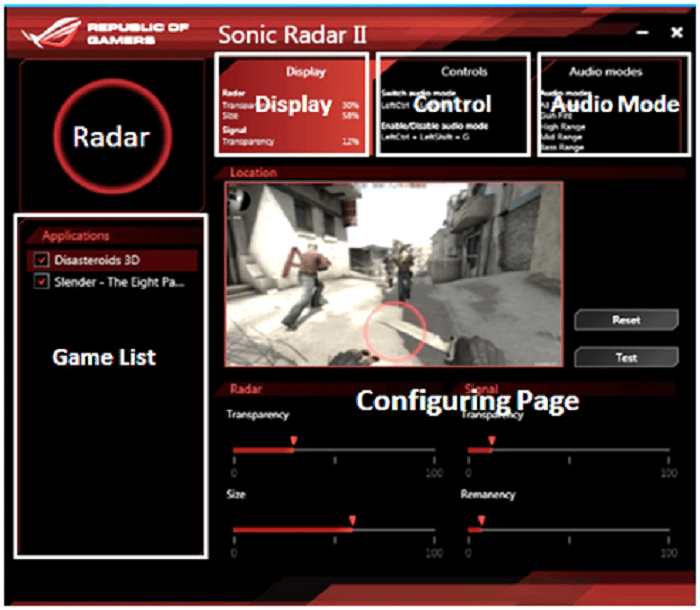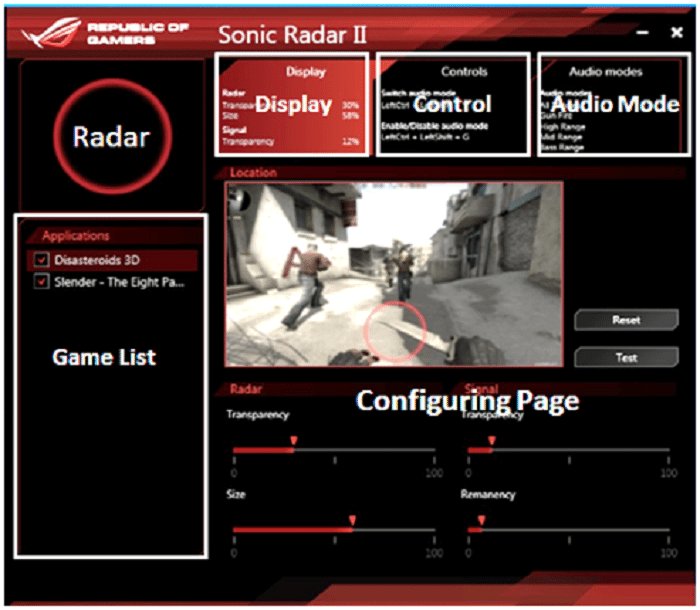 This next portion is straight from Asus, we don't quote often but this is quote worthy.
"Designed for first-person shooters (FPS), Sonic Radar II displays a stealthy overlay that shows what opponents and teammates are up to. See the precise direction and origin of in-game sounds such as gunshots, footsteps and call-outs, and practice your enemy-pinpointing skills — the exclusive Audio Enhancement feature further improves in-game sound for superb hearing awareness. The all-new Sonic Radar II includes a redesigned control panel with a customizable game list!"
Now we aren't sure if it's quite cheating or not but Sonic Radar II is designed for the popular FPS game genre and will give you precise direction finding capabilities to noises, gunshots, footsteps and call-outs. What we can tell you is if you're not using it and someone repeatedly tracks you down for a head shot you might want to thin about turning it on. Microphone technology has progressed that far in real life with microphone arrays that can give you the direction of gunfire quickly and accurately so maybe we'll be seeing that simulated in games.