Test Rig & Overclocking
Testing we turn off any internet connection and reboot the machine to ensure Windows 10 pesky updates don't skew numbers. Once rebooted we disable the internet open the task manager and wait about 10 minutes for any background tasks to finish. Once the CPU usage is at or below 1% we proceed with our tests. Each test is ran three times, we then average the three tests and report that score here. Should we run into any anomalous tests we toss the abortion test and run the test again.
Test Rig
"Quadzilla"
Case Type
CPU
Intel Core I7 6700K 4.0 – 4.2GHz
Motherboard
Ram
CPU Cooler
EKWB L360 (EK-Kit L360)
Hard Drives
Optical
Liteon DVD Burner
GPU
Asus Strix R9 390X Gaming 8G OC
Case Fans
1 x 180mm Mosfet / CPU / Ram cooling fan
1 x 120mm PCI-E Cooling Fan
Docking Stations
None
Testing PSU
Legacy
None
Mouse
Keyboard
Any Attempt Copy This System Configuration May Lead to Bankruptcy
Overclocking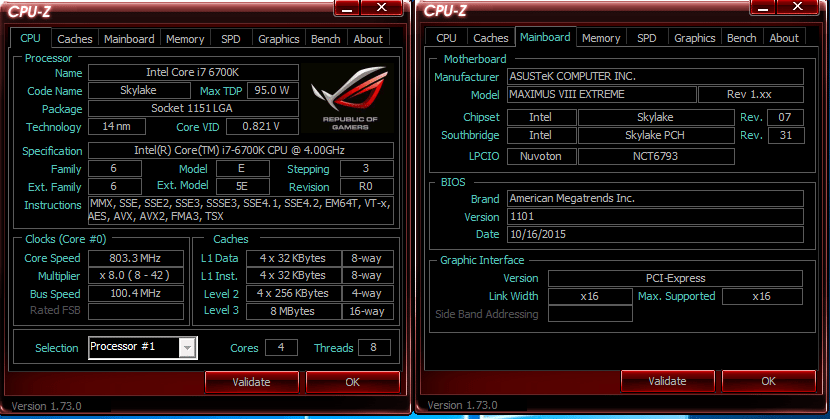 Here's our stock shot of CPU-Z showing the Core I7 6700 and ASUS MAXIMUS VIII EXTREME then we immediately started OCing! Actually after we got the ASUS Driver disk installed we started OCing it's the MAXIMUS VIII EXTREME OCing is what you start with!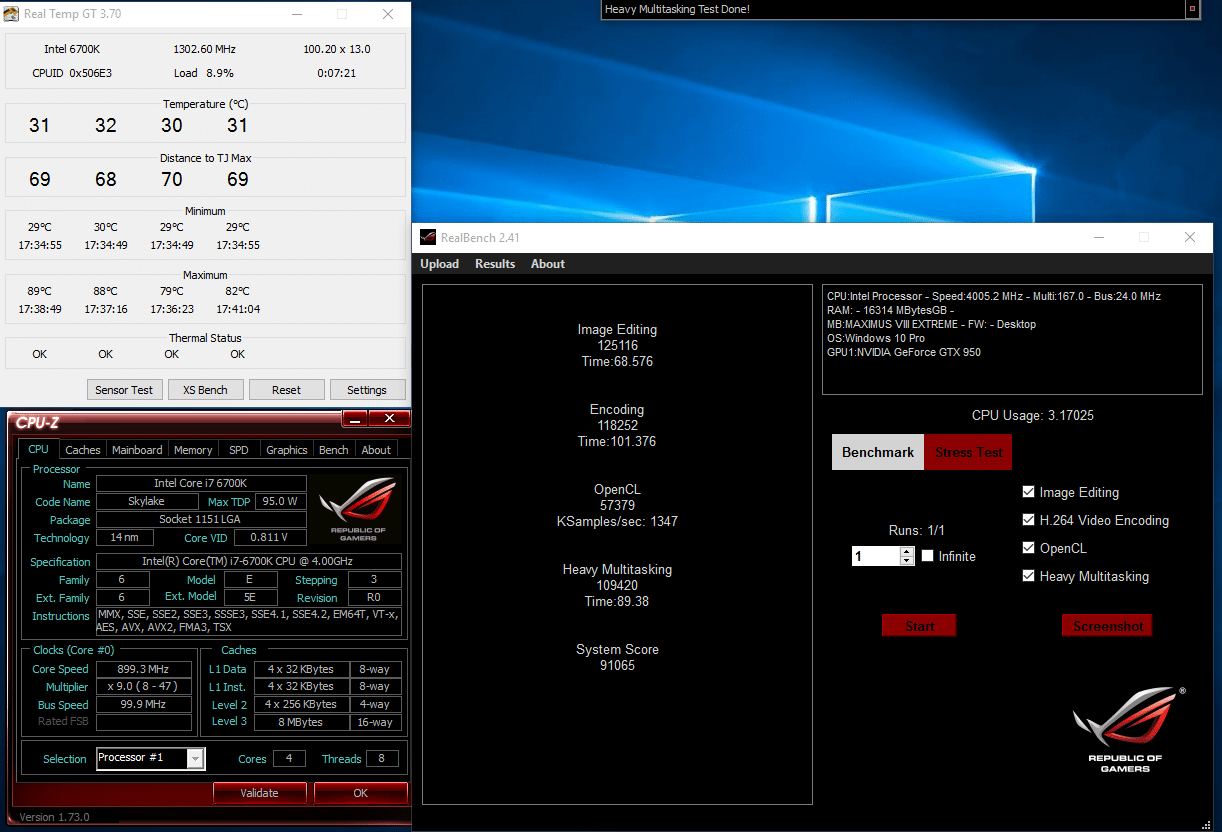 We hit 4700K pretty easy and RealBench and some other benchmarks we ran were all stable. Even with a EK Triple Radiator and waterblock our temp maxed out at 89°C but we felt like the board had more to give.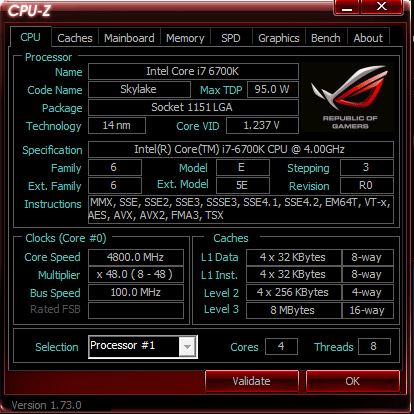 We put the crank to it and the ASUS MAXIMUS VIII EXTREME is the first and only board to give us a stable 4800MHz OC.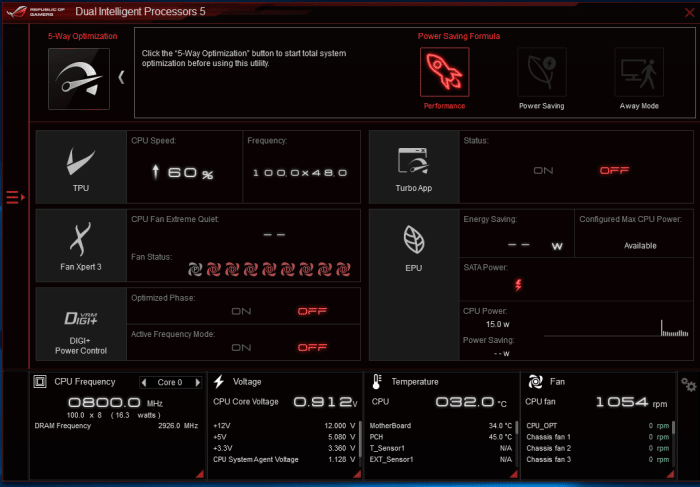 We figured what the heck we'd try the Dual Intelligent processor 5 on it and it tossed us a 4.8GHz stable OC at which point several lab techs fainted.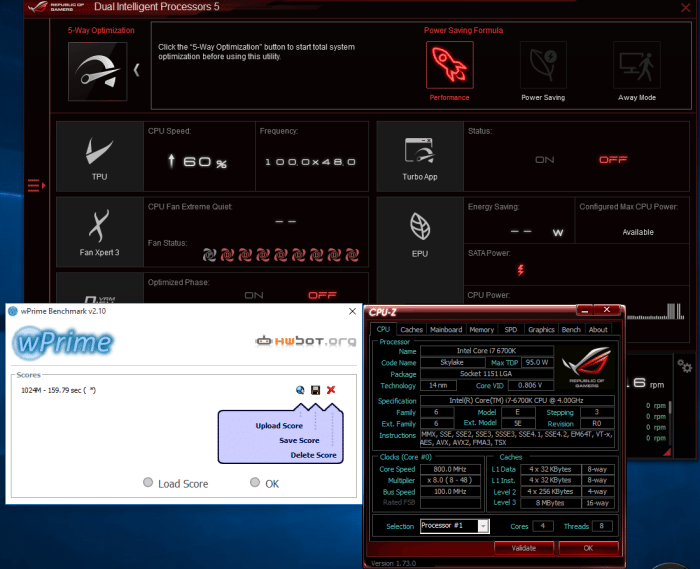 We ran a WPrime at 4800MHz and it completed so we ran a battery of tests and the AI overclock was stable.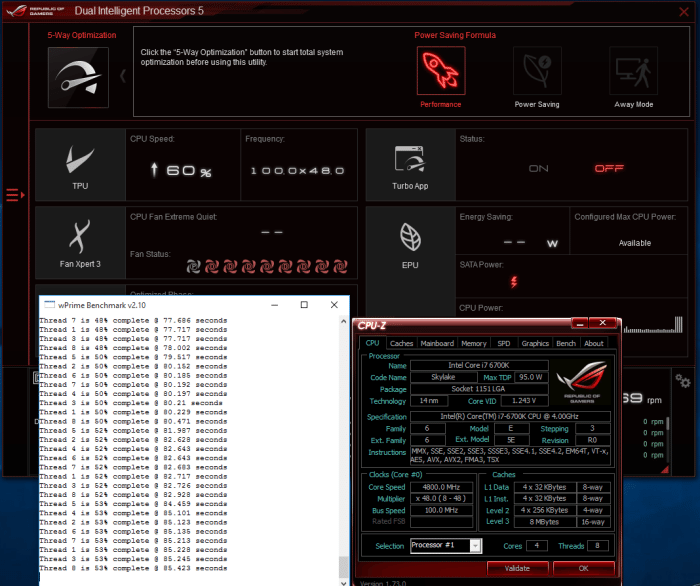 Finally here's our shot of WPrime running with CPU-Z confirming we are running at 4800MHz. The ASUS MaXIMUS VIII EXTREME was the easiest board to OC of all the boards we tested and far more forgiving on voltage settings.