XFX R9 Fury Pro Triple Dissipation


"XFX dares to go where the competition would like to, but can't. That's because, at XFX, we don't just create great digital video components—we build all-out, mind-blowing, performance-crushing, competition-obliterating video cards, power supplies, and computer accessories. And, not only are they amazing, you don't have to live on dry noodles and peanut butter to afford them. 
XFX is a division of PINE Technology Holdings Limited, a leading manufacturer and marketer of innovative solutions for the worldwide gaming technologies market. Founded in 1989, PINE designs, develops, manufactures and distributes high-performance video graphics technology and computer peripherals. The company's dedicated research and development team are continually pushing the limits to meet the demands of the ever-growing and performance-driven community. Headquartered in the Hong Kong Special Administrative Region (Hong Kong SAR), PINE has more than 1,000 employees worldwide with 16 offices around the globe. PINE also maintains four state-of-the-art research and development facilities in the Asia Pacific region and two factories in Mainland China."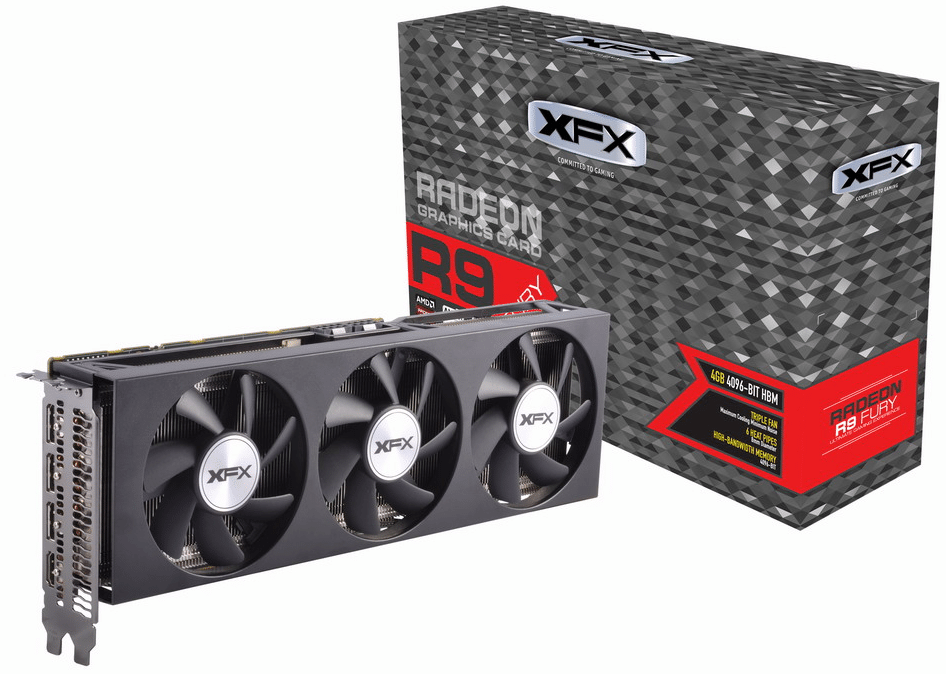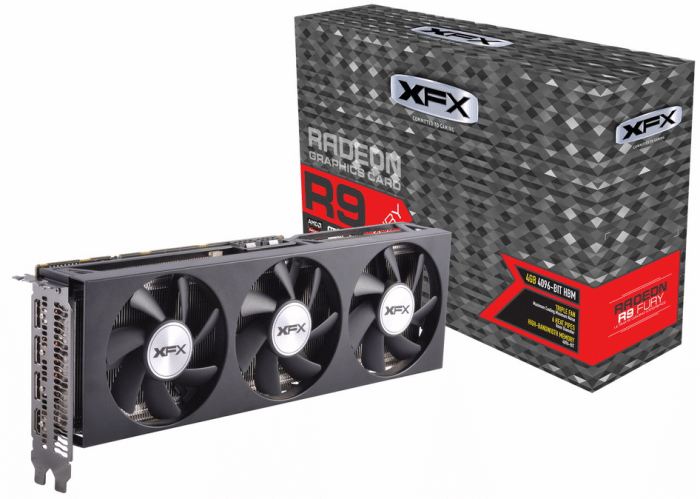 Leave it to XFX to take the R9 Fury and put the XFX twist on it and produce a massive Triple Dissipation cooling solution that gives the card the classic XFX look and pushes it to market with style. The XFX R9 Fury Pro Triple Dissipation features a Fiji core variant called Fiji Pro using a 28nm process packing 8.9 Billion transistors onto a large 596 mm² Die. The stylish XFX R9 Fury Pro Triple Dissipation was released quietly on September 21st 2015 with a PCIe 3.0 x16 connector and is fully DirectX 12 capable, OpenGL 4.5, OpenCL 2.0 and Shader Model 5.0.
The Fiji Pro core on the XFX R9 Fury Pro Triple Dissipation is clocked at 1000MHz with a memory clock of 500 MHz (1000 MHz Effective) and has an amazing 3584 Shader Units, 224 TMUs, 64 Rops, 56 Compute Units capable of a Pixel rate of 64.0 GPixels, 224 G Texel/s and a floating point performance of 7.168 GFLOPS.
AMD birthed the introduction of HBM (High Bandwidth Memory) on video cards on the R9 Fury and equipped it with an almost generous 4GB of HBM running across a 4096 bit  which up until HBM was unheard of and far beyond the capacity of conventional un-stacked memory. We say almost generous amount of memory but we are entirely sure that equipping it with 6 GB of HBM would have driven the card beyond proper placement in the price / performance scale. The memory bandwidth on this fledgling technology is 512 GB/s which is noticeably higher than the bandwidth seen on the GTX 980 Ti which has 384 GB/s. While the fledgling technology of HBM is probably the next step in memory technology for video cards, when launched, it wasn't the game changing punch many people expected but it is a first for technological achievement in video card technology and AMD is ahead in the HBM integration field. Unfortunately HBM yields on the production of HBM by Hynix  weren't high enough for AMD to be able to field the technology on the R9 300 class video cards across the board so AMD used it on its Flagship Fury line.
Video Card Comparison Chart
Video Card Comparison
Radeon
R9 390X
GeForce
GTX 980
Radeon
R9 Fury
XFX R9
Fury Pro TD
Radeon
Fury X
GeForce
GTX 980 Ti
Shader Units
2816
2048
3584
3584
4096
2816
ROPs
64
64
64
64
64
96
Graphics Processor
Hawaii
GM204
Fiji
Fiji
Fiji
GM200
Transistors
6200M
5200M
8900M
8900M
8900M
8000M
Memory Size
8192 MB
4096 MB
4096 MB
4096 MB
4096 MB
6144 MB
Memory Bus Width
512 bit
256 bit
4096 bit
4096 bit
4096 bit
384 bit
Core Clock
1050 MHz
1126 MHz+
1000 MHz
1000 MHz
1050 MHz
1000 MHz+
Memory Clock
1500 MHz
1750 MHz
500 MHz
500 MHz
500 MHz
1750 MHz
Price
$430
$480
$549
$550
$650
$650