Final Thoughts & Conclusion
Having spent quite a bit of time with the Mushkin Striker as a primary boot drive and using it on a daily basis for a couple of weeks it's not hard to recommend the drive

. The Striker utilities the state of the art Phison PS3110-S10 quad-core 8 channel controller which is one of our favorites and a highly technologically advanced controller used in ultra high performance SSD's.
It's hard to score SSD's if you use them exclusively on a day-to-day basis so we keep a 2TB drive loaded with Windows 10 and run it gaming and general computing for an hour or so prior to writing the conclusion of SSD reviews and it gives us perspective on the performance gains using SSD's. Having gone back to the well and ran a high-end platter drive and going back to the Mushkin Striker 480GB SSD there's just no good comparison it's like going from the stone age of computing to the light speed stage of computing. Boot times are greatly reduced, program load times and run times are greatly reduced and the test system just has a more snappy and responsive feel. Platter drives still have a large role to lay in overall storage of large amounts of data but their day as the first choice of boot drives is long over and it's time for computer manufacturers to acknowledged that and put in SSD's as primary boot and a platter drive as secondary storage.
All the technology tossed into the Mushkin Striker with the Phison PS3110 controller, Smart ECC, Trim, Smart, SmartRefresh and SmartFlush produces a top tier ultra performance Sata 3.0 SSD that runs as fast as any top-tier SSD out there and Mushkin does it for $199.99 which is pretty competitive for top-tier 480GB SSD's. The 3 year warranty doesn't hurt our feelings any and Mushkins long time commitment to quality makes us feel even better about the Striker 480GB SSD.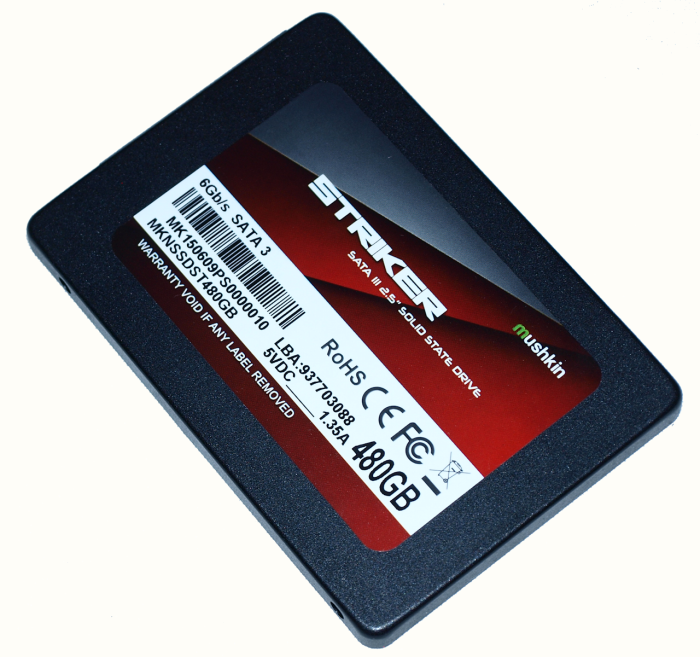 Mushkin hit an out of the park home run with the Striker 480Gb SSD which impressed us on every level of performance in the 2.5 in SSD category.