Mushkin Striker 480GB SSD, Mush On!
Mushkin has been around since 1994 and become an industry leader and recognized for its high quality performance products and their design philosophy of continual innovation and delivering product "Wow" through quality products and unparalleled customer service. In their continual drive to innovate Mushkin announced the Striker line of SSD's at CES 2015 promising improvements over their Chronos line of SSD's. Delivering the Striker 480GB SSD with the Phison PS3110-S10 Quad core 8 Channel controller the 7mm drive is rated to run at 565MB/s read and 550MB/s write. With those specifications Mushkin is delivering blazing speeds as fast as any Sata 3.0 (6Gb/s) drive on the market and doing so in a more universal 7mm form factor than most.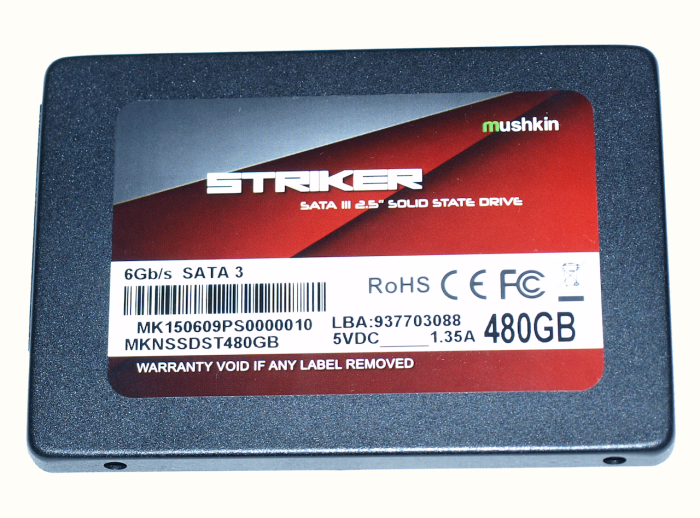 Offered in a traditional 2.5″ form factor the drives dimensions are 7mm x 69.85mm x 100mm but no drive adapter is shipped with the drive so make sure you have a 7mm drive bay in your laptop or pick up an inexpensive adapter if you require slightly larger dimensions. We've had no problems using 7mm drives in larger drive bays, in most cases the hard drive cage holds it solid.
The Phison PS3110-S10 Controller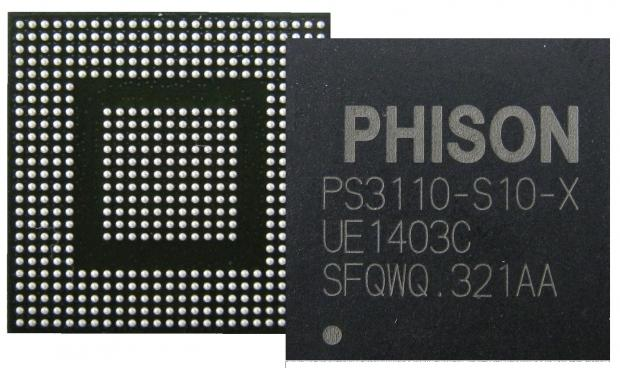 The Phison PS3110-S10 controller is a fairly recent admission to the high-end SSD controler lineup and features a Quad Core 8 Channel controller Sata to Flash microcontroler for various kinds of SSD's and Nand flash devices. Even as advanced as we are with today's hardware we tend to forget that the Sata interface was designed for platter drives and in order to use Nand flash drives on Sata controllers you must have the Sata to Nand flash controller. We would almost have expected some motherboards to strip away the Sata Express and embed Nand Flash controllers capable of controlling several simple Nand flash packages without having to use embedded controllers on the drives themselves. That would of course need to be an upgradable module to account for future controllers but would be a more elegant solution that continually redesigning drive controllers. One motherboard embedded controller could then handle several Nand Flash packages which would be at a more consumer friendly price because the controller would be embedded on the motherboard.
Features of the Phison PS3110-S10 controller:
Compatible with SATA specification Version 3.2
Compatible with SATA I/II/III 1.5Gbps, 3Gbps, and 6Gbps interface
Configurable with 2Gb/4Gb/8Gb DDRIII Cache
Built-in enhanced up to 120bit/2KB ECC circuit (BCH)
Program RAM (Program Upgradable)
Physical Characteristics:
Fabricated in 55 nm CMOS process
Available in 521-pin FBGA package
Operating Voltage : 0.9V~3.6V
Built-in Regulator that supports 3.3V/1.8V Flash I/O
NAND Flash Support:
Supports 1x/1ynm flash
Supports interleave, 4-plane and 8-channel Flash access
Supports MLC/TLC large block (8k/16k page) NAND Flash Memory
MLC sequential R/W speed up to 565/550 MB/s
 Other Features:
Built-in static and dynamic wear-leveling
Power saving implemented
End-to-End Data Path Protection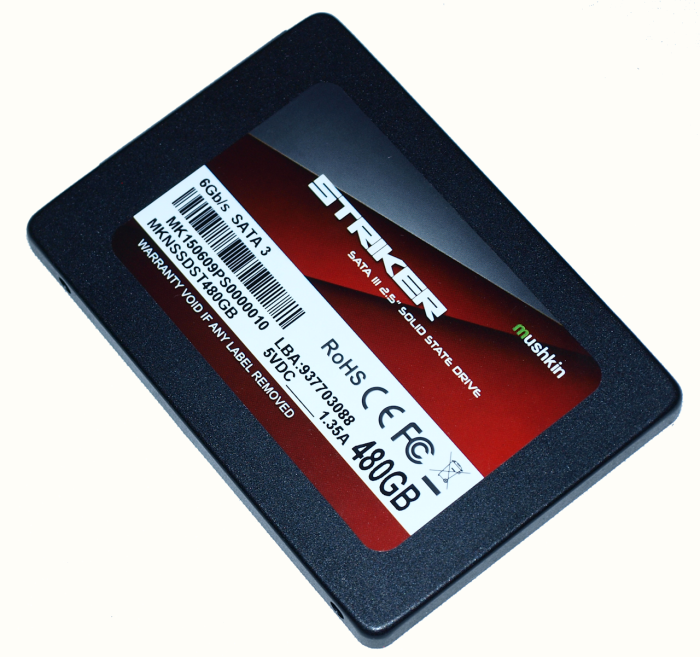 Now to top all that off the Mushkin Striker 480GB SSD is also a state of the art ultra performance drive with End to End Data protection which insures data integrity from the beginning of the data insertion to the finish. Now many people probably don't understand that while data is being shifted around data bits can be unnoticably corrupted in older SSD controllers and that's what End to End Data protection prevents.
Smart Flush might sound like some overseas toilet in a water deprived country but in terms of the Mushkin Striker 480GB SSD it's the built-in capacity for the drive to police its own cache with Smart On-the-Fly (SOF) and Smart Triggered Flushing which minimizes the time data spends in the cache thus enhancing data loss prevention.
Smart Refresh combats Read Disturbing (why do we get the urge to make a Smart Flush Read Disturb joke at this point?) which prevents your reads from being disturbed. There are two triggering schemes to Read Disturb, Run-Time Media Scan (RTMS) and Idle-Time Media Scan (ITMS). RTMS looks for the ECC Bit during read operations and ITMS scans the disk during idle times. Once the ECC has exceeded the acceptable threshold then the controller will reallocate data to other spare healthy blocks.
All that being said what we hear is state of the art data protection delivered at ultra performance speeds from a drive designed and distributed by a long-established and well trusted company, Mushkin.
Specifications
Specifications

Capacity
480GB
Dimensions
7mm x 69.85mm x 100mm
Temp. Range
0-70°C
Read Speed
up to 565MB/sec
Write Speed
up to 550MB/sec
MTBF
2 million hours
Controller
Phison PS3110-S10
Interface Type
SATA 3.0 (6Gb/s) interface (backwards compatible with SATA 3Gb/s and 1.5Gb/s)
Warranty
3 years limited
IOPS
88,000/91,000 (4K random read/write)