Razer FireFly Let There Be Light
The Razer FierFly Hard Gaming Mouse Mat is another addition to Razers Chroma Collection, capable of 16.8 Million LED colors your mouse pad can add a little bling to your gaming shrine.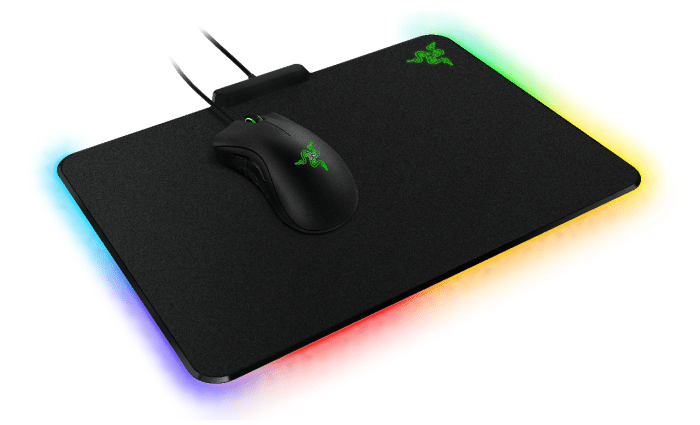 Pictured with the Death Adder Chroma the Razer FireFly Hard Gaming Mouse Mat compliments the Death Adder and using Razer Synapse Software which unifies the Razer Family of products you can synchronize the color of your mouse, Mouse mat and Keyboard (if you have the full set of Chroma Gear). Here at the lab we have one gaming station setup and it must have a miniature Razer Blackhole at its center. All the Razer Gear tends to gravitate to the Gaming Station and most often to find  pieces of Razer Gear you have to trespass on the gaming station.
Before we get any further lets take a little look at a short Video of the Razer FireFly effects then get back to the still pictures and features and specifications junk.
Now doesn't that cover about a thousand words worth of description in 33 seconds. Lit along the left, right and bottom of the hard mouse pad are LED lights.  Just like the BlackWidow keyboard, the Firefly also features wave, spectrum and reactive lighting patterns. Through Razer's Synapse software, users can also sync the Firefly to match colors and patterns with other Chroma products.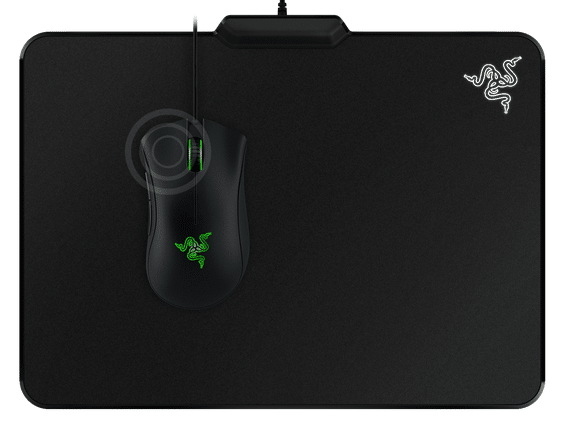 Powered by a 7 foot cloth braided cable with a surface area of 13.98 x 10.04 inches (L x W) it's not the largest plot of real estate we've seen for your mouse to graze on. Even with the lighting bells and whistles it still comes in at under a pound. To get the lighting effect the desired Razer had to elevate the Mat from the surface of the Desk but top to bottom the FireFly only measures 4 mm. The Rubber also helps prevent slipping and sliding on your desk.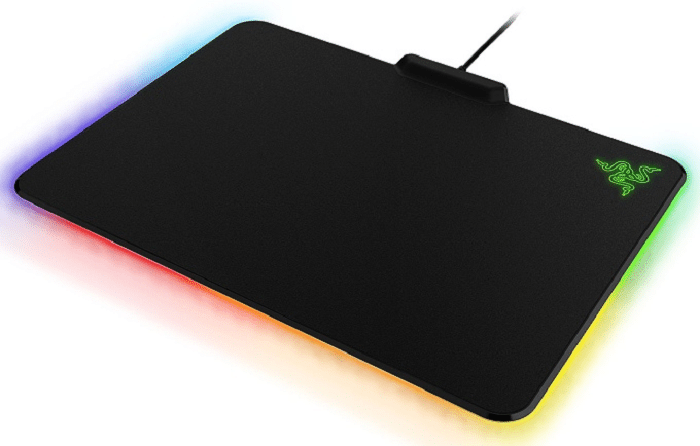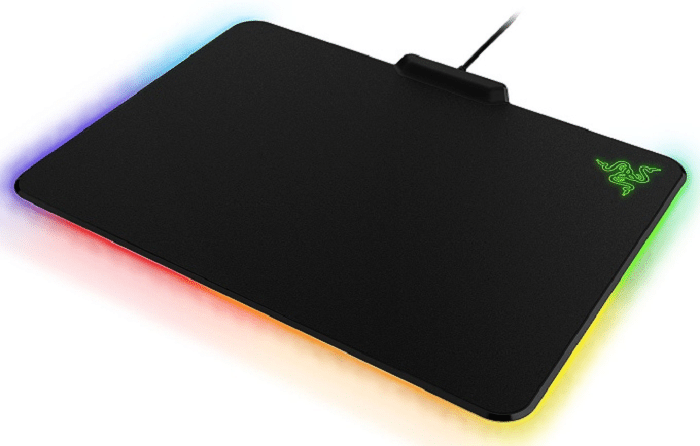 Most mouse mats run a little more expensive than mouse pads but with its 16.8 million colors the Razer FireFly will set you back a cool 60 bones. It does feature a lot of mouse mat technology, as well as being probably the coolest mouse pad in existence but at least give us a break Razer. Bundle the FireFly with any of your high-end Razer Gaming mice and knock $20 bucks off the retail bundle because that $60 clams is hard to shake out of most people's pockets.
No pun intended Razer is banking heavily on the Chroma Lineup and way out in front of the competition who only have RGB keyboards as yet. Of course the effect is most pronounced on keyboards but the Razer FireFly has drawn a lot of eyes in the lab, most give us a knowing nod then ask how much and where. The how much part is easy $60 smackers on Amazon. At the time of this review it's free shipping on the FireFly so that takes a little sting out of the price.
Specifications
Micro-textured finish for balanced gameplay
Optimized surface coating for highly responsive tracking
Chroma customizable lighting
Inter-device color synchronization
Coming soon: Reactive and wave
Non-slip rubber base
Razer Synapse enabled (for Chroma customizable lighting)
Gold-plated, USB connector (to power the Chroma customizable lighting)
2.13 m / 7 ft lightweight, braided fiber cable
Approximate size: 355 mm / 13.98 " (Length) x 255 mm / 10.04 " (Width) x 4 mm / 0.16 " (Height)
Approximate weight: 380 g / 0.84 lbs
System Requirements
PC or Mac with a free USB port
Windows® 8/ Windows® 7 / Windows Vista® / Windows® XP (32-bit)/ Mac OS X (v10.8-10.10)
Internet connection
100MB of hard disk space
Razer Synapse registration (requiring a valid e-mail), software download, license acceptance, and internet connection needed to activate full features of product and for software updates. After activation, full features are available in optional offline mode.
Now don't get us wrong we love most Razer Products but " internet connection needed to activate full features of product and for software updates. After activation, full features are available in optional offline mode" is going a little to far. If Razer wants to go that far with online activation they should include a disk with Synapse and a box that says "Offline Activation" (Warning your product will not be registered if using this option).
Offline mode shouldn't be optional, online mode should be optional and that will cost Razer some convenience points on their product. A Mouse, Keyboard and for that matter Mouse Mat should be fully functional when plugged in even if you have never hear of the internet, period that's the way it is.