Introduction
Generally speaking two bay or four bay NAS devices are dominated by ARM SoC while higher capacity unit for SOHO or enterprise devices are using x86 Intel Atom or Core processor. Atom was originally designed for Netbooks with its low power usage. However, the first Atom processor is just not fast enough to really deliver a good computing experience. Luckily for Intel, Atom processor found its way into the NAS systems where combining the lower power consumption than typical desktop/laptop CPUs and higher performance than ARM SoCs yield a much better experience for Home/SOHO NAS devices.
While Intel dominated the high-performance NAS market, the other big x86 player, namely AMD, has not shown any interest until now. The QNAP TVS-x63 marked the world's first NAS featuring AMD processor. AMD's new strategy is targeting the markets with high profit return and the company is returning to the server market. NAS, by extension, is like a small scale server, so it makes sense to see AMD putting their processors into these devices.
I wonder why it took AMD so long to decide to put its processor into NAS. While NAS market is not as big as desktop, laptop, or smartphones, it is growing market. Our computing usage has shifted to mobile and portable devices where people are moving away from the desk. As a result, there is a greater demand for cloud storage and centralized data storage. This is where NAS steps in where it is no longer for small business and enterprise market but can be a very useful tool for home users.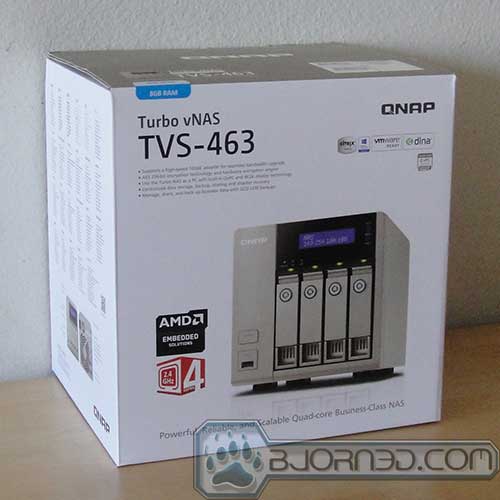 In fact, NAS is no longer just a storage server as it is armed with more powerful hardware. NAS can do a lot more where it can acts as a media server/streaming device, data backup station, surveillance system, virtualization machine, and much more. And this where it makes sense to have the AMD processor inside the NAS. AMD APU/SoC has always been able to deliver a balanced CPU and GPU performance. As more multimedia contents are created, the demand for higher GPU performance and this is an area where AMD has an edge. So it is great to see finally see AMD processor being implemented into NAS systems.
AMD G Series SoC Powering the TVS-x63
Powering the TVS-x63 is AMD embedded G-series SoC where it combines not just the CPU and the GPU but also the I/O controller onto the same chip. Specifically, the TS-x63 is powered with the 25 watts AMD GX424-CC based on the Puma microarchitecture that is fabricated with 28nm process. The quad-core, 64-bit, x86 SoC is clocked at 2.4 GHz with 64K per core L1 cache, 2MB shared L2 cache and memory support is single channel DDR3-1866.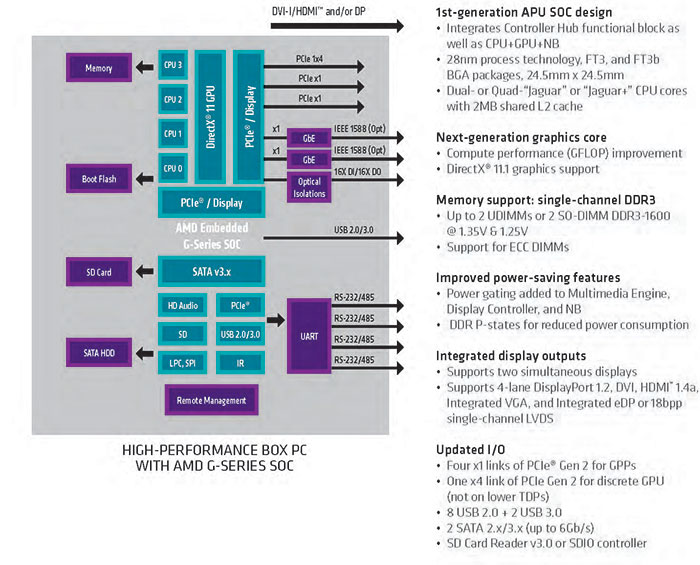 Puma core supports MMX, SSE, SSE2, SSE3, SSSE3, SSE4a, SSE4.1, SSE4.2, AVX, F16C, CLMUL, AES, BMI1, MOVBE (Move Big-Endian instruction), XSAVE/XSAVEOPT, ABM (POPCNT/LZCNT), and AMD-V. The AMD-V is essential feature for the TVS-x63 since QNAP NAS takes advantage of the hardware virtualization support with its QvPC (more information on this later).
On the GPU front, the SoC features 128 stream processor based on GCN Radeon GPU and is clocked at 497 MHz. The GPU supports DirectX 11.2, OpenGL 4.2, OpenClL 1.2, UVD 4.2, and VCE 2.0. It supports maximum of two displays via DisplayPort 1.2, DVI, HDMI 1.4a, and VGA. Gaming is not going to be the biggest usage for NAS, especially considering the SoC that is used. Though, QNAP leverages the dedicated hardware assist video decoder on the GPU to help with transcoding. The VCE 2.0 can assist encoding HD video streams to H.264 (main profile), MPEG4, VC-1, and MPEG2 to help reduce the CPU consumption. Additionally, the dual display support up to 4096×2160 at 40 Hz and 24 bpp allows QNAP to turn the NAS into a powerful streaming device that can output content to 4K monitors.
The SoC supports four Gen 2 x1 PCIe for general purpose port and one Gen 2 x4 for discreet GPU. Eight USB 2.0 and two USB 3.0 ports are supported, two SATA 6 Gbps ports, and SD cared reader v3.0 or SDIO controller is also built in.
Closer Look at the QNAP TVS-x63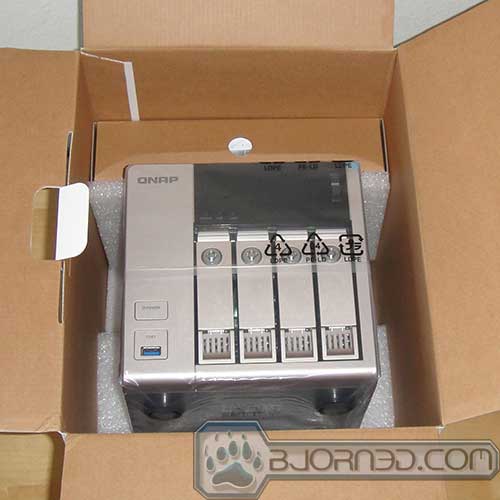 QNAP ship the NAS in a very attractive box with tons of information detailing what the unit is capable of. Inside, we can see that the NAS is surrounded with padded foams to protect it during the shipping. The accessories and power cable are placed in a separate box.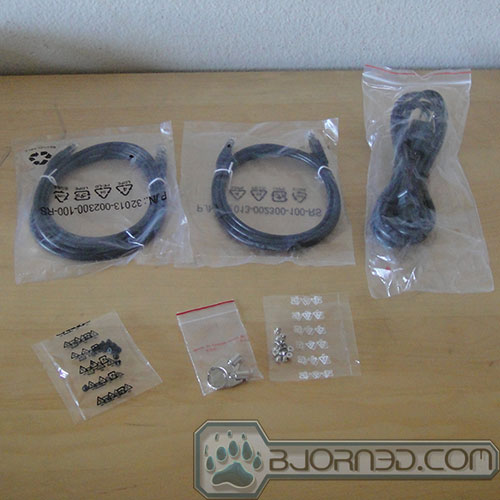 QNAP ships the unit with two Ethernet cables, a power cable, a bag of screws, and two sets of keys for the hard drive.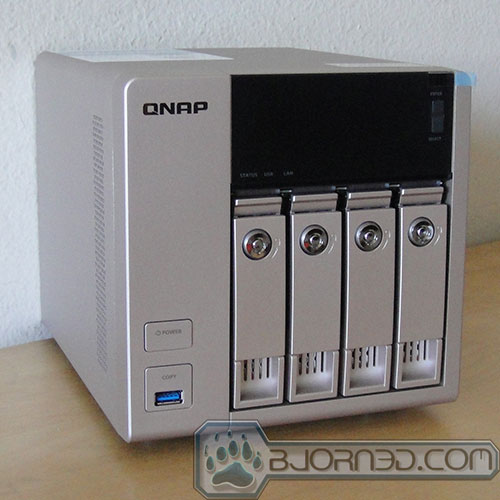 QNAP has always use high quality material with their NAS. Most of their high-performance home and small office NAS are constructed with a metal casing that adds the durability and helps with the cooling. The overall looks of the TVS-x63 has largely stayed the same as other NAS devices that QNAP has offered over the years. However, the TVS-x63 takes the aesthetic a bit further by not only enclosure the unit in the metal case but it has a very subtle gold color that just make the NAS rather attractive.
The QNAP TS-x63 comes in 8 bay (TVS-863+ and TVS-863), 6 bay (TVS-663), and 4 bay option (TS-463).
Model
TVS-863+
TVS-863
TVS-663
TVS-463
BAYS
8
8
6
4
Memory option
8GB/16GB
4/8
4/8
4/8
CPU
AMD GX424-CC quad-core SoC at 2.4GHz with Radeon™ graphics
Flash Memory
512 MB DOM
LAN ports

2 Gigabit1-port 10GBASE-T NIC pre-installed

2 Gigabit ports
expandable with add-on PCIe card for one additional 10GB or two additional Gigabit ports

2 Gigabit ports
expandable with add-on PCIe card for one additional 10GB or two additional Gigabit ports

2 Gigabit ports
expandable with add-on PCIe card for one additional 10GB or two additional Gigabit ports

Weight (kg)
7.83
7.83
6.18
3.65
Power Supply
ATX 250W
Power Consumption HDD Sleep Mode
48.21
46.21
41.56
37.77
Power Consumption Typical Operating Mode
77.6
70.45
58.81
50.38
Power Off (S3)
2.84
2.35
2.19
2.26
Cooling
2 x quiet cooling fan (12cm, 12V DC)
2 x quiet cooling fan (12cm, 12V DC)
2 x quiet cooling fan (9cm, 12V DC)
1 x quiet cooling fan (12 cm, 12V DC)
Windows Upload/Download (MB/s) (via 4x GbE Link Aggregation)
444/448
444/448
445/448
425/425
AES Upload/Download (via 2x10GbE)
302/691
302/691
288/680
268/686
RAID support
0, 1, 5, 5+spare, 6, 10, JBOD, single disk
As you can see, every model of the TVS-x63 uses the same quad core AMD SoC. They come with 512 MB DOM flash storage for the operating system, two DIMM slots for RAM. The default configuration would be 4GB or 8GB except for the TVS-863+ which comes with either 8GB of 16GB of RAM. Every unit comes with 2 Gigbit Ethernet ports. The TVS-863+ goes even further by including a PCIe add-on card (via the x4 PCIe slot) for an additional 10Gb Ethernet port. Other units can install such card for the 10Gb support or use the x4 PCIe slot for expanding two additional Gigabit ports.
The port selection and the overall design are identical across the entire line. All together, the TVS-x63 comes with five USB 3.0 ports, IR receiver (RM-IR002) that supports MCE remotes, power button and reset button. LED light indicator for power status, LAN, USB, and hard drives. There is even a front LED display. The AMD SoC only supports two USB 3.0 ports, so QNAP relies on third party controller for the three additional USB ports via the PCIe x1 interface. The Ethernet ports are also serve by a bridge chip as well and they support port-trunking and link aggregation. They support UPnP and Bonjour and VLAN support. In addition to the option to add a 10Gb Ethernet, you can also use the PCIE x4 for a wireless add-on card.
As expected, wide range of protocols are supported with the TVS-x63. The system supports SMB/CIFS, NFS, and AFP for sharing file across Windows, Mac, Linux/UNIX. The Windows AD and LDAP service is also supported so system administrator to configure user permissions by using existing Windows AD server, LDAP server or built-in LDAP service.
Since the SoC only natively support two SATA ports, the TVS-x63 would require third party chip courtesy of Marvell 88SE9215 for the additional storage. The system supports EXT4 file system for the internal drive and external drive will support EXT3, EXT4, NTFS, FAT32, HFS+ filesystem. The system supports RAID 0, 1, 5, 5+spare, 6, 10, JBOD, single disk. The AES 256 full volume encryption with built-in anti-virus, RAID recovery, Online RAID capacity expansion, Online RAID migration are all supported. The AES encryption and decryption is hardware-assisted so it should not have a huge impact on the system performance compare to the software based encryption.
Plenty of backup solution are supported that includes real-time remote replication, NetBak Replicator in Windows, USB One Touch Copy, Apple Time Machine support, Real-time remote replication (RTRR) is also supported where data can be backed up to a remote Turbo NAS, FTP server, or to the Cloud. At the moment Amazon® S3, Amazon Glacier, Microsoft® Azure, ElephantDrive®, Dropbox® and Google Cloud Storage.
Closer Look at the TVS-463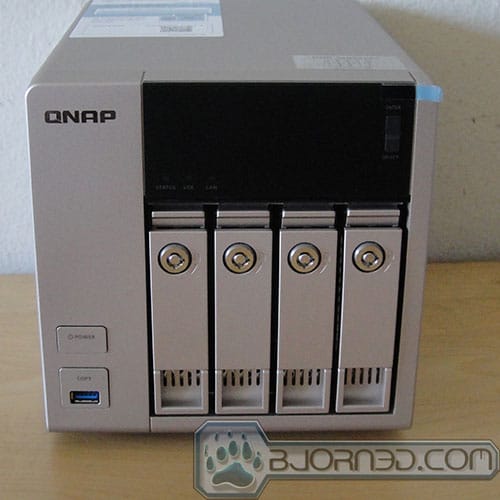 We received the TVS-463-8GB model for the review. The front of the unit, we have a power button and a single USB 3.0 port. A dedicated USB copy button surround the USB port for quickly copy the content off the USB drive to the NAS. A handy mono LCD display with backlight support that not only shows the status of the NAS but can be used to configure the device via the two buttons: enter and select. There are status LED for each drive bay and also for the system Status, USB, and LAN.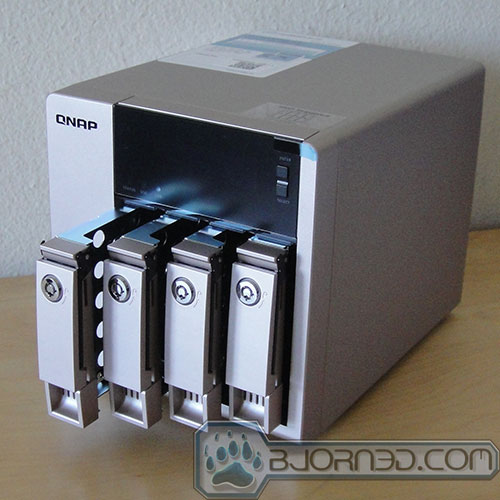 QNAP has been using the same design with the drive tray for as far as we can remember. The metal tray is very durable though it lacks some sort of noise-dampening material to help to reduce hard drive operating noise. The tray are removable and even interchangeable across all of the QNAP NAS devices. They are easily removed from the NAS by just lift the handle on the front and pull it back and the tray with the hard drive will slides out the unit. Each drive can be locked with the included keys.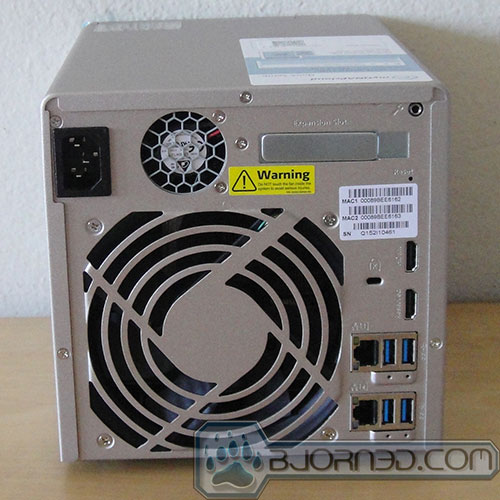 The rear is where we will find four more USB 3.0 ports, two Gigabit Ethernet ports, two HDMI 1.4a ports, Kensington Security Slot, Reset button, PCIe expansion slot, console port, and the power connector. A noticeably omission here is the eSATA port that we used to find in many four bay NAS. Though, eSATA is dying technology so it is probably not something that most of us would be missing. Here we can see the large 12 cm and the fan grill. Above that, we can see a small PSU fan. We are not a huge fan of the fan grille as it is a tad wide. While this allows maximum cooling performance, we are a bit worried that it can cause small object to fall into the NAS or if you are trying to connect a device without looking, you could poke the fan by accident.
The two HDMI ports ensure the NAS will be able to deliver 4K content to your ultra high def TV at 4096×2160 at 24 Hz or 3840×2160 (Ultra HD) at 24 Hz/25 Hz/30 Hz. Obviously, lower resolutions will be supported. Unfortunately, due to the limitation of the refresh rate, the 4K resolution is only good for display icons onto your TV as the unit will not be able to playback video at 4K and transcoding is also not supported at 4K. While 4K is still in its infancy, we are a bit sadden to see the lack of such support.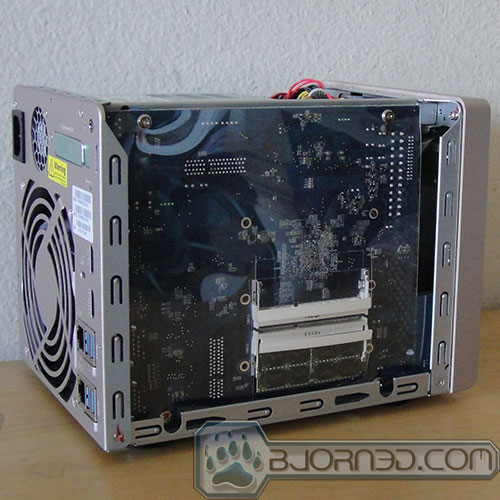 Open up the NAS is fairly easy as we only need to unscrew three screws on the rear. Inside, we can see that our unit comes with a single 8GB SODIMM DDR3 and there is another slot empty for additional memory. The system supports up to 16GB of memory and since the SoC supports single channel memory, there is no need to install two identical sticks. Installing both memory is extremely easy as both slots are located on the rear of the PCB board so they are readily accessible once you remove the cover.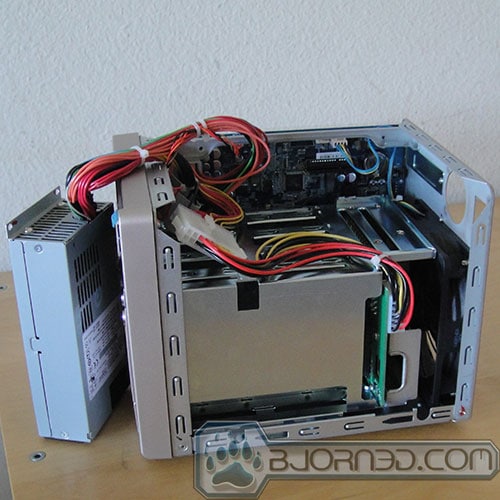 The power supply can be removed quite easily in order to install add-on card to the PCIE x4 slot. The unit comes with rather generous 250W power supply.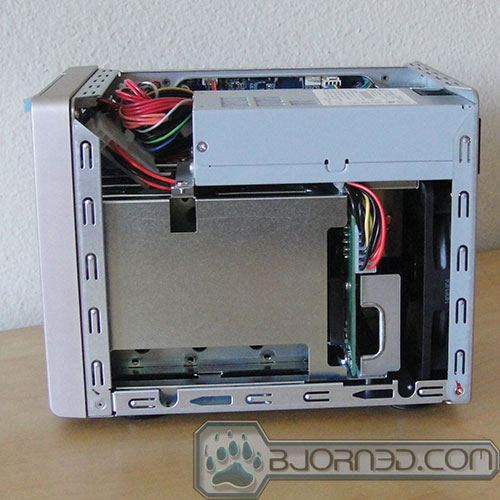 Unfortunately, this is pretty much as far as you have access to the internals as QNAP's latest NAS models are harder to take apart without removing every single components. To really get into the motherboards, you would have to remove the PSU and the hard drive cage. Not completely impossible but definitely need some time and patience as you would have to remove quite a lot of screws.
QNAP backs the NAS for 2 year warranty and offers optional extended warranty up to three additional years. You must purchase the extended warranty within 60 days from the date of purchase. In addition, there is also option to purchase advanced replacement program which allows QNAP to send the replacement unit to you along with a prepaid return label. There is option to purchase the advanced replacement program for 2 year or 5 year and like the extended warranty, it must also be purchased within 60 days from the date of purchase. Unfortunately, the two programs are separated so you do not automatically get the extended warranty if purchase the advanced replacement program. Both programs only applies to the US and Canadian users at the moment. AS for the pricing, they are not cheap. The extended warranty for our TVS-463-8G is $103 (1 year), $215 (2 years), and $387 (3 years), and the the advanced replacement would cost you $364 (2 years) and $770 (5 years).