Final Thoughts & Conclusion
The VisionTek 240 GB Go Drive churns out great speeds utilizing a SandForce 2200 SSD controller and fits in the competitive price range of $139 for the storage and


speed. That works out to 57.5¢ a GB so it's not the least expensive SSD storage but you need to consider longevity when figuring price. A drive designed with DuraWrite Technology and destined for a long speedy life if worth a few cents more per GB.
The latest ruckus with SSD's has been Compressible data VS In-compressible, Unless you are busy copying video, music or pictures all day compressible vs in-compressible really shouldn't be an issue. Average data are about 46% compressible due to the large amount of images in computing today. Given a balanced load of data the VisionTek 240 GB Go Drive performs as well as any other drive we've seen in its class.
Real world testing we cloned a Laptop Drive (Core I5 Quad 2,2 GHz) and installed the Go Drive in the Laptop, The same laptop used to code this review and the same daily driver laptop we use on an ongoing basis. That gives us a good wide field of experience with the laptop and its normal operation speed. After installing the VisionTek 240 Gb Go Drive the boot time decreased from 53 seconds to 22 seconds so immediately we see the benefit of booting to an SSD. Previously the Laptop was using a 500 GB 7200 RPM 9mm platter drive so the VisionTek 240 GB Go Drive really perked up performance and responsiveness.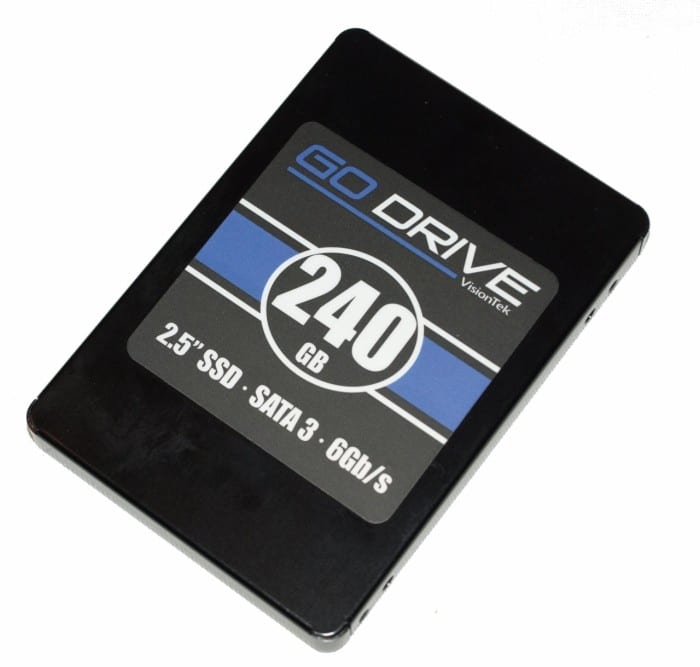 The Bear Facts: The VisionTek 240 Go Drive held up under testing and uses the tried and true SandForce 2200 controller which provides blazing speed, dependability and affordability. Running on the Sata 6 Gb/s interface you are going to be hard pressed to find a drive that runs faster, handles error correction more effectively at this price point. We've seen more expensive SSD controllers driving prices up for a gain of maybe 10 MB/s using compressible data but the difference in price doesn't justify that small gain in speed. A good VisionTek 240 GB Go Drive breathed new life into the Samsung lab laptop and when hooked to a platter drive desktop super charged it as well. If you are looking to get a boost in performance it's hard to beat a VisionTek 240 GB Go drive.
Pros:
Cons

Strong Performance
Saturates Sustained Sata 6G Controllers
3 year warranty
Good Balanced Performance Across Various Types of Data
Good Performance Boost To The Lab Laptop
SandForce 2200 Tested And Trusted Controller

Not The Absolute Fastest But Not The Absolute Most Expensive