Benchmarks
ATTO
As the industry's leading provider of high-performance storage & network connectivity products, ATTO has created a widely accepted Disk Benchmark freeware utility to help measure storage system performance. As one of the top tools utilized in the industry, Disk Benchmark identifies performance in hard drives, solid state drives, RAID arrays as well as connections to storage. Top drive manufacturers, like Hitachi, build and test every drive using the ATTO Disk Benchmark.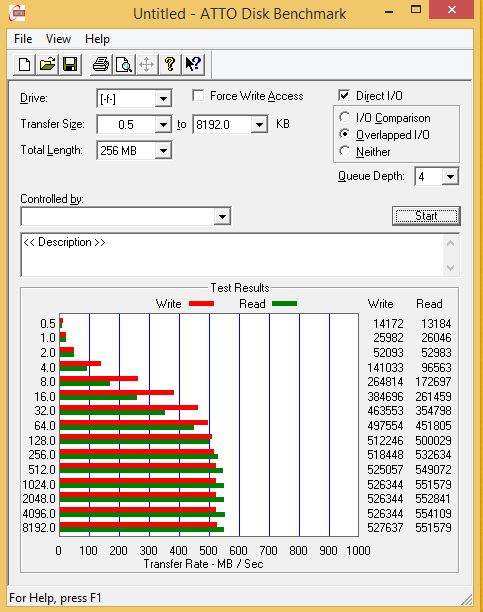 In ATTO Direct I/O with Overlapped I/O produces the best benchmark numbers and in general is the test used by most major manufacturers to gauge the speed of their drives. ATTO uses compressible data and gives the manufacturers good benchmark numbers and as you can see the read speed turned in here is 551MB/s and the Write is 527MB/s so the VisionTek 240GB Go Drive reaches it's advertised speeds on the first shot out of the gate.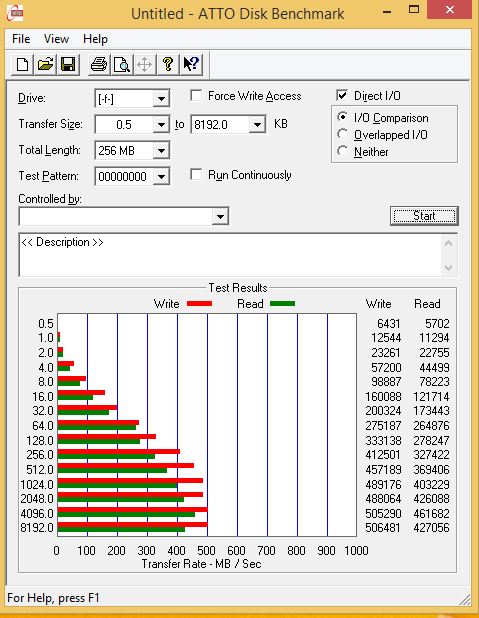 The I/O comparison setting slows the drive down a bit and affects Read more than Write so Read comes in at 506 MB/s and Read comes in at 427 MB./s and the test writes and reads blocks of pre-defined data then compares the accuracy of the data read and written. If there's an inconsistency a dialog box will appear and inform you of that. We got no Dialog box so the drive reads and writes true.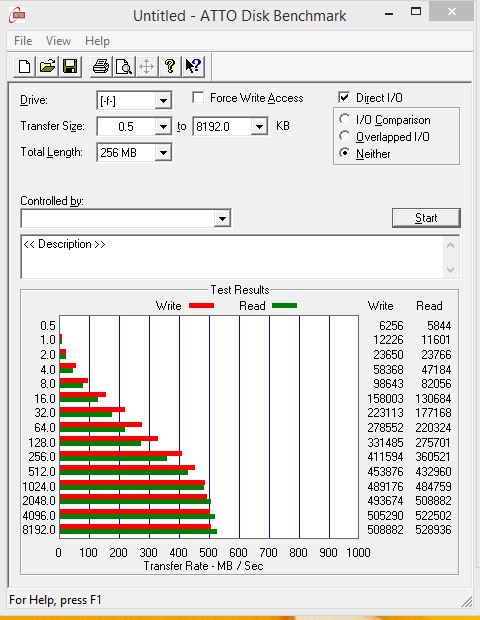 The Neither selection does not perform overlapped I/O or I/O comparisons and the results fall between I/O Comparison and I/O overlapped and hits 508 MB/s Wrote and 529 MB.s Read.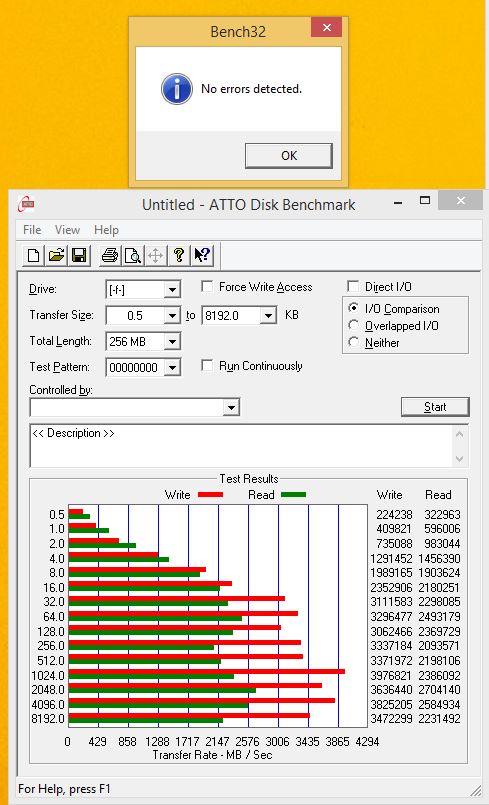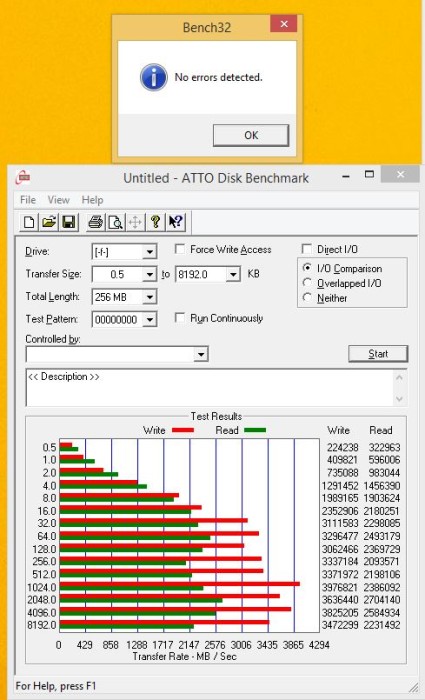 ATTO with No Direct I/O is just a test of the drives accuracy, it reads a predefined set of data, writes the data then checks the written and read data for errors. After the test a dialog box pops up telling you if errors were found, Our VisionTek 240 GB Go Drive had no detected errors but dismiss the actual numbers for data read and writes as technology isn't carrying us at those speeds (yet).
Anvil Storage Utilities
Anvil's Storage Utilities is a lightweight application developed specifically for helping you perform benchmark tests for assessing the performance of a solid-state drive (SSD) or hard disk drive.
Since this is a portable program, it is important to mention that it doesn't leave any traces in the Windows Registry. You can copy it on any USB flash drive or other devices, and take it with you whenever you need to test the performance of your SSD or hard disk drive on the breeze.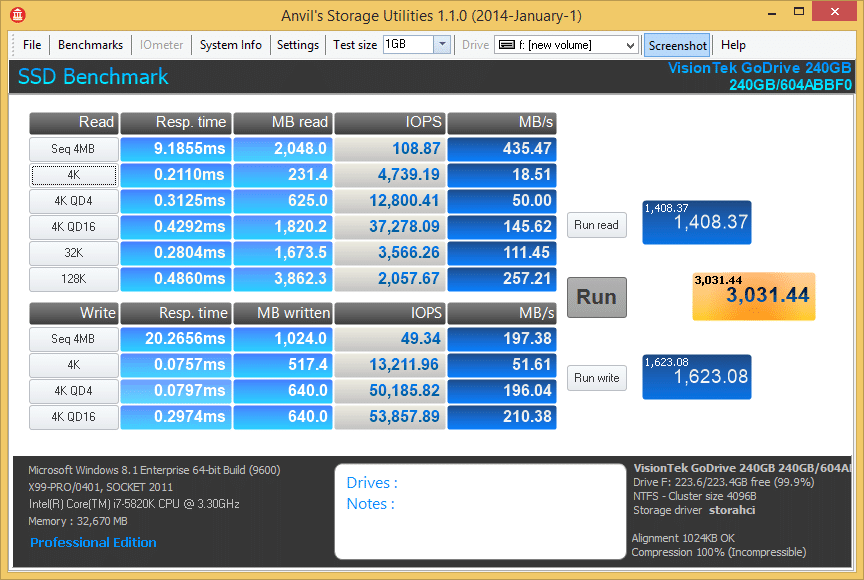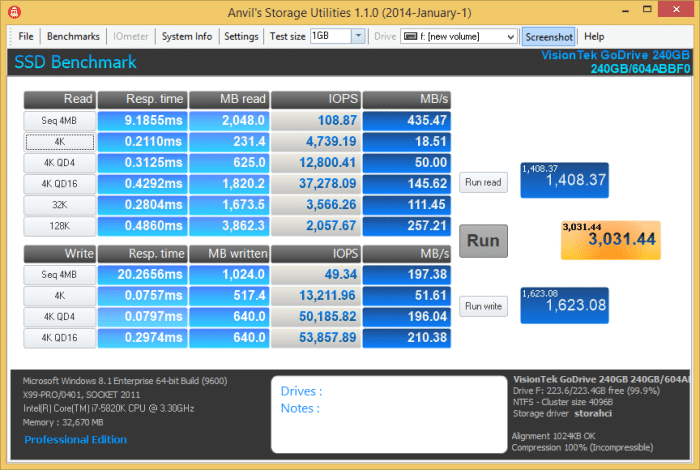 Using a Stock setting on Anvil top end Read speed on the VisionTek Go Drive was 435.47 with 108 IOPS. The Drive started hitting it's stride at 128k sized blocks and turned in a 257,21 MB/s at that block size. Fastest Write on the test was 210 MB/s on the 4K QD16  (Que depth 16), sequential hit 197 MB/s. At default settings Anvil is set for 100% in-compressible so the SandForce Controller has no opportunity to leverage it's compression techniques resulting in a low Write Score. A case like this would be all Images, Video or Music which is already compressed.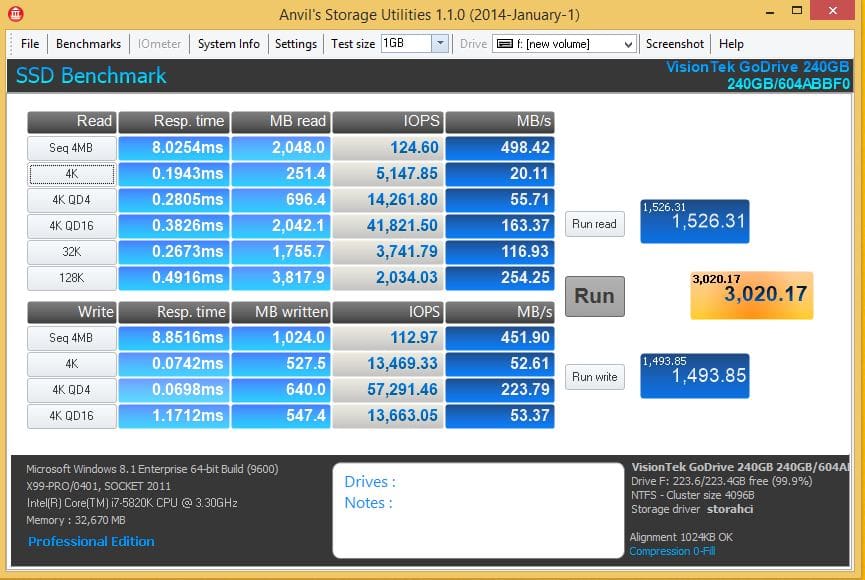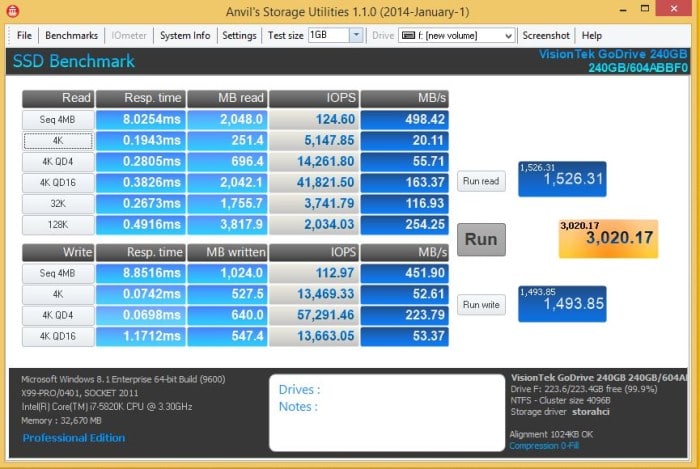 This Run is 0 Fill or totally Compressible data and the Read speed jumps about 60 MB/s from the previous test but the Wrote speed more than doubles to 451 MB/s as the Sandforce Controller utilizes it's compression abilities.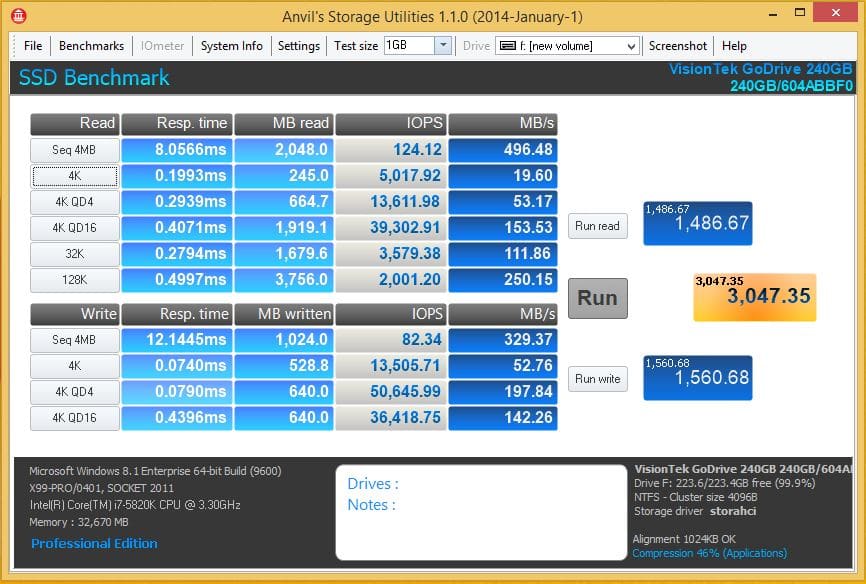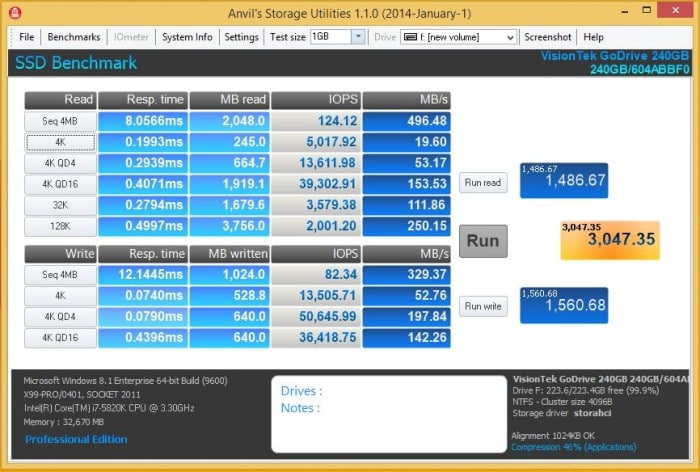 Now the tell of the tale, it's estimated that normal everyday day and application usage it 46% compressible which is where this test is set at and it represents the most real life representation Anvil has to give. Read speeds are still an amazing 496 MB/s running mixed data and Write Speeds are at 329 MB/s. FOr realistic data loads mixing compressible and in-compressible the VisionTek Go Drive turns in some pretty impressive speeds.
CrystalDiskMark
From Crystal Dew World: CrystalDiskMark is a disk benchmark software.It measure sequential reads/writes speed,measure random 512KB, 4KB, 4KB (Queue Depth=32) reads/writes speed,select test data (Random, 0Fill, 1Fill),provide theme support and Multi-Language support.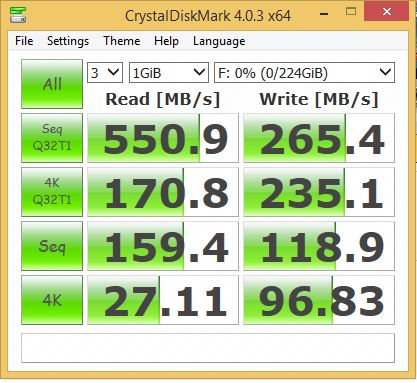 This is the In-Compressible data run in CDM and the read speed is 550.9 MB/s while the Write Speed is 265,4 MB/s so lets take a look at CDM set for 0 Fill Compressible.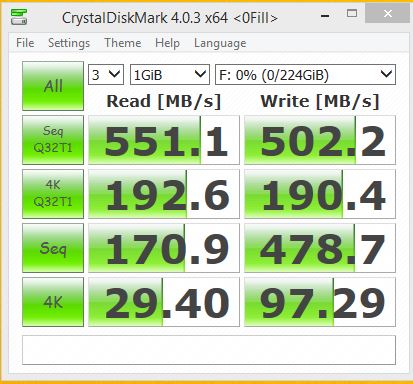 Running completely compressible data the VisionTek 240 GB Go drive easily hits above 550 MB/s Read and 502 MB/s Write. CDM has no setting for mixed compressible an in-compressible data so we are stuck with the absolutes.
DiskMark
DiskMark to clarify is not any part of CrystalDiskMark but an entirely different benchmark.
If you are curios about your hard drive's performance, DiskMark can provide you with the information you need. This lightweight utility can benchmark your hard disk, to determine its reading and writing speeds. It lets you make a few simple configurations, but it does most of the work for you.
The application is absolutely free and you can have it up and running in just a few seconds, on Windows 2000 or any later edition, up to Windows 8. It provides support for both 32 and 64-bit operating systems and it doesn't have any special requirements. Also, the application does't use a significant amount of resources, so it works even on older machines.
The compact user interface displays two graphs which are filled automatically once you start a benchmarking process. The application writes and reads certain data packages to determine the hard disk's performance and it lets you choose a size for this package, as well as the number of rounds and runs it should make.
When launched, DiskMark will immediately display the options for targeting a drive, setting a package size and so on. Besides local drives, the application is capable of benchmarking removable drives as well. Once your settings are done, which should take only a few seconds, you only need to click a button and the test will start right away.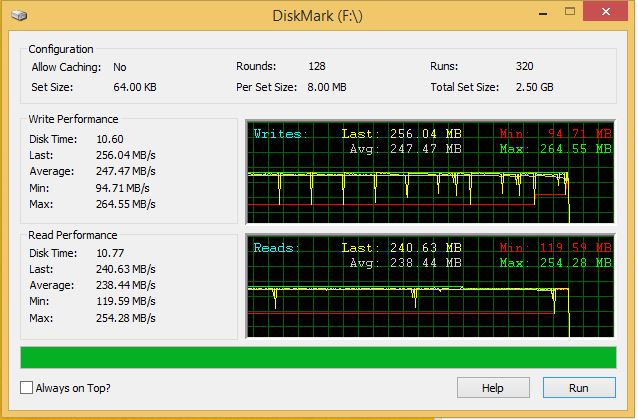 DiskMark is one of the newer benchmarks we've been trying out and you can set caching, set size (size of blocks to be written), Per Set Size (in this case 8 MB per set), and the total set size which is 2.5 GB for this run. 64KB is a pretty brutal set Size and the VisionTek Go Drive churns through the savage test turning in an average 247.47 MB/s while reads come in at 238.44 MB/s.
There are no options we could find for any setting partially compressible or totally compressible so were stuck with the default totally In-compressible data and it seems most of the benchmark writers lack the imagination to conceive the need for adjustments to proportional Compression mixed with in-compressible.
DIsk Thruput Tester
Disk Thruput Tester (DiskTT) measures the throughput of any disk under Windows. It measures sequential read/write and random access speeds in megabytes/sec. You are able to set the size of the test file, the folder on the target disk to which test data will be written, cache settings etc. Existing data on the target disk is not affected at all.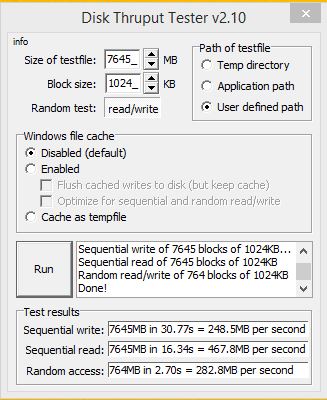 Disk Thruput tester is another of the In-compressible data only testers and using a 1024KB block size we got a 248.5MB block size and for Read we got 467.8 MB/s.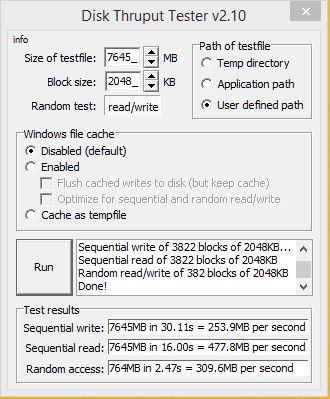 We doubled the block size to 2048KB/s and got a Write Speed of 253.9 MB/s and a Read Speed of 477.8 MB/s while random access turns in a 309,6 MB/s speed. Considering we normally write Data once and read many times those are pretty respectable speeds for the VisionTek 240 GB Go Drive.