Crystal Disk Mark and PCMark 7
Crystal Disk Mark
To keep my testing simple, and to better test the PCH controller of both tested motherboards, I decided to test the Crucial SSDs in RAID 0. These drives are the M4 128 GB SATA 6Gb/s drives. Testing these drives in an individual manner didn't really give us any real differences in testing, as they were performing close to one another.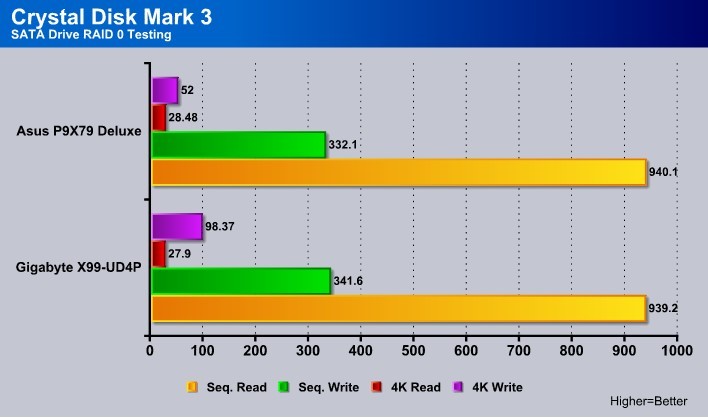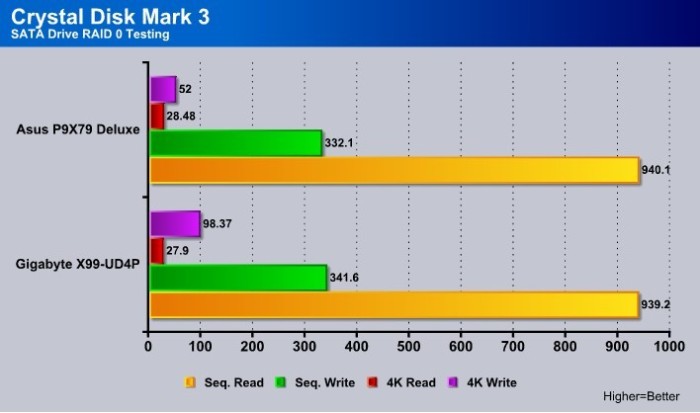 Looking at the chart above, we can see that on the Sequential Read portion of testing, both motherboards tested pretty close to one another. Things start to change on the Sequential Writing portion of Crystal Disk Mark, as we see almost a 9MB/s increase on the Gigabyte X99-UD4P motherboard compared to the ASUS P9X79 Deluxe motherboard. Turning our attention over to the 4K Read test, once again both motherboards performed almost identically. Now what has us scratching our head on the write portion is that the Gigabyte X99-UD4P has higher performance: a 46MB/s increase over the ASUS P9X79 Deluxe motherboard. We reran this particular test a few more times to ensure the accuracy of this result. And we kept getting roughly the same result, each set of runs we performed. Things that make you scratch your head.
PCMark 7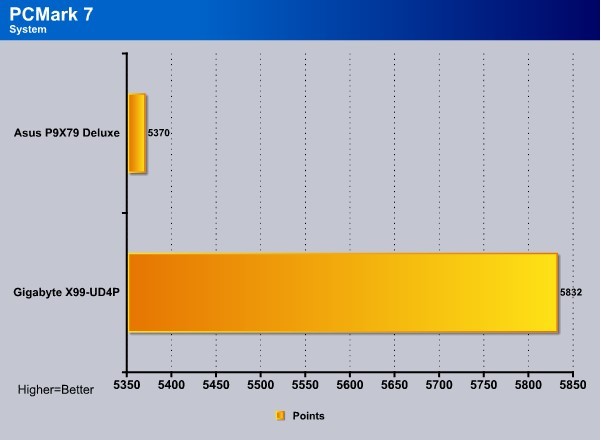 Considering that we gave PCMark 7 four more threads to use, and a bit faster subsystem, these numbers are not far from what I was expecting to see between the two tested motherboards.