ATTO & AS SSD
ATTO
As the industry's leading provider of high-performance storage & network connectivity products, ATTO has created a widely-accepted Disk Benchmark freeware utility to help measure storage system performance. As one of the top tools utilized in the industry, Disk Benchmark identifies performance in hard drives, solid state drives, RAID arrays as well as connections to storage. Top drive manufacturers, like Hitachi, build and test every drive using the ATTO Disk Benchmark.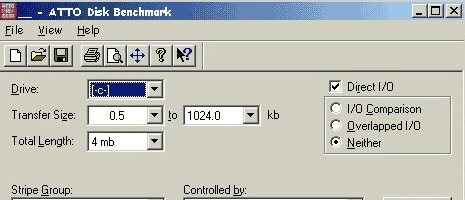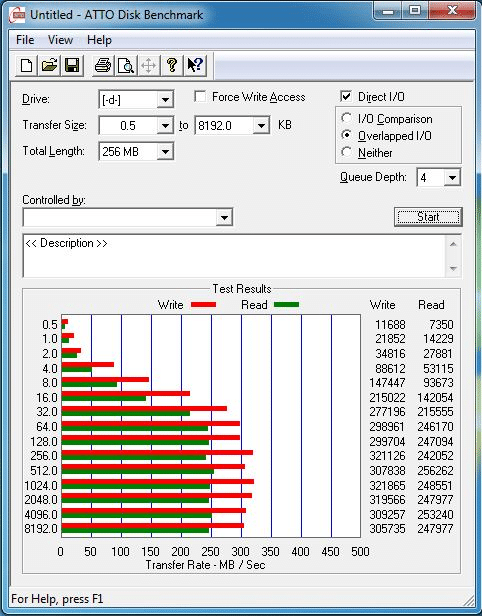 ATTO 4k shows the VisionTek USB 3.0 Pocket SSDoff to a good start. Up around 32k blocks of data write speeds are already up around 277MB/s write and 215MB/s read which is at least 2x as fast as any normal USB 3.0 Drive I've seen. Move down to the 4096B (BYTES) blocks and the speed creeps up to 309MB/s Read and 252MB/s Write.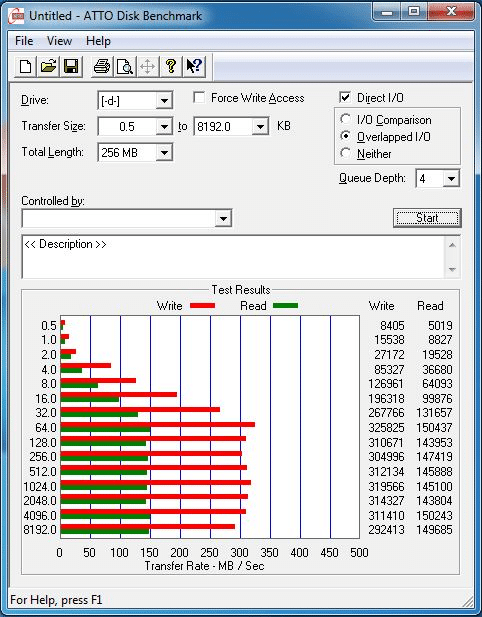 The 512K test in ATTO sees the maximum speed of the VsionTek Pocket SSD as 318MB/s Write and 147MB/s Read so we aren't reaching advertised speeds but we haven't optimized the system to run the VisionTek Drive not have we reformatted it to 4K blocks. We did reformat the drive to 4K blocks and achieved speeds over 440MB/s both read and write but the benches presented here are the 512K blocks the drive was delivered with.
AS SSD
Test the sequential or random read/write performance without using the cache. AS SSD Benchmark reads/writes a 1 GByte file as well as randomly chosen 4K blocks. Additionally, it performs the tests using 1 or 64 threads and it determines the SSD's access time.
Two extra benchmark tests examine the drive's behavior when (1) copying a few big files, a lot of small files and a mixture of file sizes by using cached copy functions of your OS as well as (2) reading/writing data depending on the data's compressibility.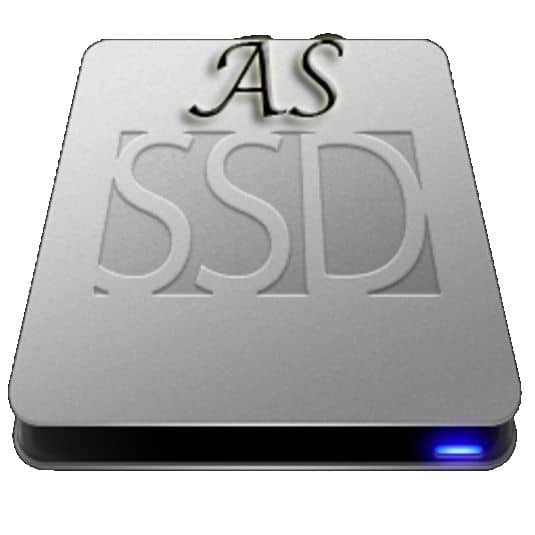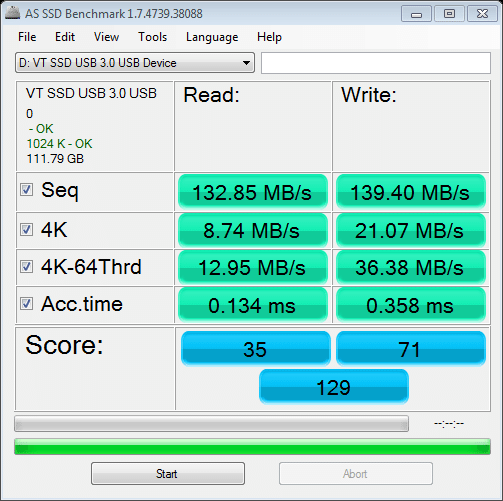 AS SSD sees the sequential read at 132 MB/s and Write at 139MB/s with the speeds dropping from there. AS SSD didn't seem to favor the VisionTek USB 3.0 Pocket SSD very well which was a little disappointing but reformat the drive to 4k blocks and optimize your machine for it and it's a totally different story. We doubt that if you walk up to your bosses computer and ask to optimist it that your request will be met with "Sure go ahead and mess with the BIOS" so our tests are a little more realistic.
Review Overview
Performance - 8
Value - 8.5
Innovation - 9
Features - 8
Quality - 8.5
8.4
The VisionTek USB 3.0 performed well but to perform at full speed requires a re-format to 4k sectors. Even using legacy 512K sectors performance was high and the drive is durable enough to survive the toughest road warrior.