Want the speed of an internal Hard drive in a pocket portable size? The VisionTek USB Pocket SSD (120GB) might be what you're looking for.  Rated at speeds up to 455MB/s Read and 440MB/s write the VisionTek USB pocket SSD should not only meet your speed needs but also your size requirements. Sporting a generous 120GB usable space the drive is actually 256GB but uses 16GB for true SSD features like Trim.
VisionTek USB Pocket SSD 120GB Pocket Sized Speed Demon

The Early Years
VisionTek was founded in 1988.  Originally based out of Gurnee, Illinois, the company developed, manufactured, and supported a broad line of peripheral and memory products for computers. VisionTek designed products in the Gurnee engineering offices throughout the 90's. The first 10 years in business, VisionTek grew to company of over 500 employees with a world-wide revenues exceeding $300 million in annual sales.
VisionTek Now
Currently, VisionTek is focused on expansion of new products to diversify, compliment, and balance our core AMD product lines. VisionTek continues to offer state-of-the-art, graphics cards, memory, solid state drives, power supplies, candyboards, gaming network cards, TV tuners, and more to the computing industry, with branded products still found at major retailers, distributors, PC system builders, and e-commerce sites across North America.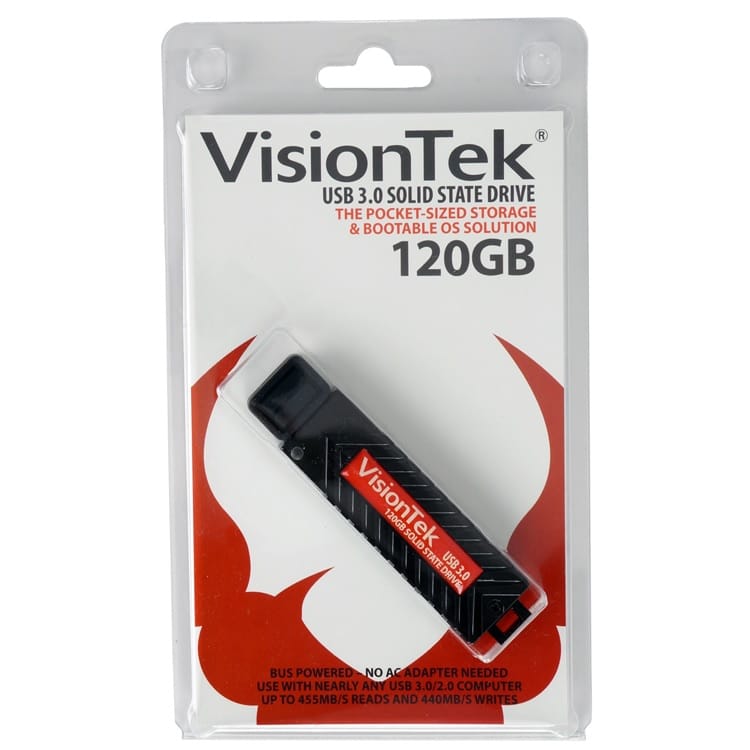 While the VisionTek USB 3.0 Solid State Drive looks like a normal Thumb Drive the resemblance ends there,  leveraging a SandForce SSD controller it delivers full external SSD speeds. Offering speed, reliability, and storage capacity that rivals factory installed internal SSDs, the VisionTek USB 3.0 SSD can be used with nearly any Windows®, Mac® OS X®, and Linux® based system with a USB 3.0/2.0 interface. While the VisionTek USB 3.0 Solid State Drive uses a USB 3.0 port inside it's a true SSD. Inside the aircraft grade aluminum casing the SandForce controller provides almost 2x the speed of USB 3.0 Thumb drives.
Compatible with almost any computer system you can enjoy its speed on Windows, Mac OS X, and Linux Based Computers, the drive is so fast you can install an operating system on it and use it as an on the go computing solution taking your own customized OS with you either on the road or merely moving office to office at work.  Boot up your hard customized OS, bring your own files along and avoid network administrator hassles and insecure Cloud Storage.
While other USB thumb drive manufacturers will tell you that thumb drives are not built for the daily rigors of having an operating system installed on them the VisionTek USB 3.0 Solid State Drive is more than 20 times as durable as a Thumb drive and comes with a 2 year Warranty.
Lets think about what the different implications for an External SSD are. You can mobile office on the go and carry your own backup OS on a thumb drive in case of catastrophic drive failure on your laptop. Install Acronis on your VisionTek Pocket SSD and you can not only re-install your operating system but all the files on your hard drive. That's a capability your Laptops automatic restore can't do for you. So you're a computer repair guy, how about the luxury of plugging your drive into a virus infected machine booting to your VisionTek Pocket SSD and cleaning the viruses or malware off the clients computer without the usual having to niggle with a buggy operating system? How about doing hundreds of dollars of data recovery off a non-bootable drive prior to re installing the operating system?  Recover a careless businesses accounts receivable using the VisionTek USB 3.0 Solid State Drive and you have a customer for life.
How about school, tired of those drab Computer labs where the most interesting thing about the machines is the lockout program keeping you away from Solitaire,  Plug in your own operating system and do your schoolwork your way. The possibilities are literally endless and while most of them can be done with an external USB 3.0 drive enclosure, no external drives I've seen can offer you this speed. In a time is money world the VisionTek USB 3.0 SSD will give you more time to make money and pay for itself in no time at all.
Specifications
Controller: LSI SandForce 2281 Series with 7% Over Provisioning
Capacity: 120GB (256GB total flash memory with 16GB dedicated to real-time redundancy and error correction)
Performance: up to 445MB/s read, up to 440MB/s write
Random 4K Performance: Up to 39,000 IOPS
Interface Type: USB 3.0 (backward compatible to USB 2.0)
Dimensions: 3.66″ x 0.94″ x 0.47″
Weight: 2 ounces
Compatibility: Windows XP and higher / Mac OS X 10.4 and higher/Linux
Warranty: 2 years
Key Features
Built for rugged portability: No moving parts and an aluminum housing safeguards your data from drops and impacts.
SuperSpeed USB 3.0 performance: Up to 455MB/s reads and 440MB/s writes…up to 10x faster than USB 2.0!
UASP mode support: enables multiple simultaneous commands for faster and more efficient transfers as well as lowers CPU utilization
DuraClass™ Technology: Ultra-efficient block management & wear leveling offers maximum drive and data reliability.
Bus powered: No need to carry a bulky power adapter…powers via computer
Use with nearly any computer: Compatible with Windows, Mac, and Linux systems with a USB 3.0/2.0 interface.
Keychain grommet: allows the drive to easily attach to a set of house/car keys.
US Made & Supported: Designed and built in the US with the highest quality components and backed by free lifetime US-based Tek support.
TAA Compliant: Assures government contractors and government buyers this product is assembled in the U.S.A and is in compliance with the Trade Agreements Act.
Durability Technology
LSI DuraClass Technologies offer world-class SSD reliability, performance, and power efficiency
DuraWrite™ extends the drive endurance by 20x or more compared to standard SSD controllers
Advanced Wear Leveling & Monitoring distributes data evenly across the entire drive
Advanced Read/Disturb Management safeguards against data corruption by spreading read/write cycles across the flash components
Intelligent garbage collection "recycling" maintains optimal write speeds by clearing blocks of unneeded data during off-peak usage times
RAISE™ (Redundant Array of Independent Silicon Elements) protects the data on your drive from flash block failures without typical RAID inefficiencies
Superior error correction (ECC) protection for longest data retention and drive life
Review Overview
Performance - 8
Value - 8.5
Innovation - 9
Features - 8
Quality - 8.5
8.4
The VisionTek USB 3.0 performed well but to perform at full speed requires a re-format to 4k sectors. Even using legacy 512K sectors performance was high and the drive is durable enough to survive the toughest road warrior.