MobileLite G2MobilLite G2 Bundle
The Kingston MobileLite Wireless G2 is a small media reader that broadcasts a WiFi signal that just about any WiFi enabled device can receive. You can plug-in various storage media and have your files easily accessible to most WiFi capable devices. The MobileLite G2 will also piggyback your internet WiFi so you are both connected to the Media Reader portion and the Internet.
Kingston MobileLite Wireless G2
Once in a while you see a product that makes you do an instant face palm move, it's so simple and elegant in its design and solves so many of the problems that you've worked around and taken for granted that it's hard to wrap your mind around. The Kingston MobileLite Wireless G2 is one of those products.  I think everyone that has embraced technology or grudgingly accepts it as an evil necessity all have storage issues. You have music you need on your phone and would like to access it on your desktop and tablet. Maybe a movie or two for those boring moments during a commute or some work files that you are constantly having to sync across 35 devices and wondering if you have the most updated version. The Kingston MobileLite Wireless G2 solves many of those problems and more, I hate to go cliché on things but it is truly like having a personal Cloud in your pocket but avoids all the "Cloud Hassles".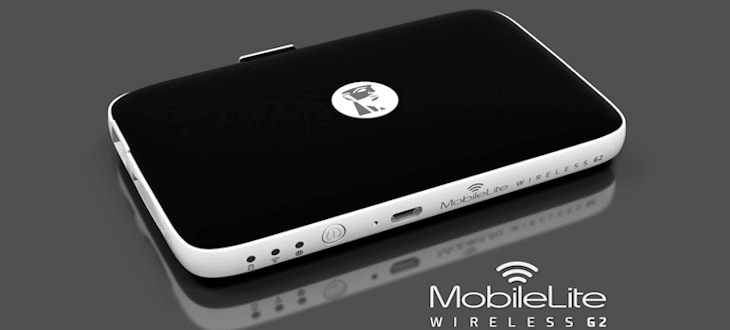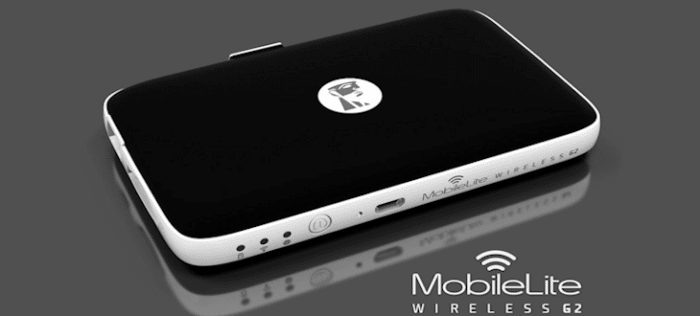 Lets jump into some deceptively simple specifications and benefits, a little later you will see why I say deceptively simple.
FEATURES & BENEFITS
Unload content to a card or USB drive
Send pictures to your favorite social media platform
Stream different content to multiple devices at once
Charge your smart phone up to 2 times from a full G2 battery
Supports SD/SDHC/SDXC and microSD/SDHC/SDXC
Supports standard USB drives
Features Ethernet port for broadband Internet on the go
These are the "Kingston Listed" features and benefits so lets address the elephant in the list first. "Features Ethernet port for broadband internet on the go", if you need an Ethernet port is it really broadband on the go or is it broadband on the stop? I suppose if your device isn't WiFi Capable you could link it to an Ethernet patch cable and access the Internet that way but we would simply recommend a Ninja Blending system test on the non WiFi device and a quick trip to the 21st Century to pick up a WiFi device.  I guess if your WiFi decided to go postal on you and a driver got corrupted it would be handy, or perhaps as a home streaming media reader setup. Like I mentioned earlier the device encompasses so many potential problems it's hard to get your head wrapped around it.
Once the link to the Kingston MobileLite Wireless G2 is established it's a true two-way connection you can read the files on it and upload files to it so it becomes the equivalent of a Man Purse for files. It rather reminds me of the Data Disks on characters backs in Tron. I tried streaming media to 8 devices simultaneously from various spots as far away as 60 feet and had no problem with streaming to any of the 8 Devices. The problem I have now is the "Is that little WiFi device plugged in" questions from coworkers and family. I have one simple answer for them, "It's mine all mine you can't have it go buy your own".
Not only does it provide WiFi Streaming and upload capacities it will also sacrifice itself and charge your Smart Phone up to two times, freeing you from being a Wall Hugger in the Airport concourse. By itself the built-in rechargeable battery will operate the Kingston MobileLite Wireless G2 up to 13 hours, charge your cellphone and that duration will be impacted but in today's connected world if your cell phone goes down you may as well don an animal skin loin cloth and hunter gather dinner.
Kingston lists mainly USB drives and forms of SD cards as supportable media and in the next sentence; the MOST DEVIOUS AND UNDERSTATED ONE, it says supports standard USB drives. What most of us are going to think is that it will support Micro SD cards and Flash drives. It may be an undocumented feature (at the time of writing I have feelers out to Kingston to see if using external hard drives is an undocumented feature) but I connected several self-powered USB 2.0 and USB 3.0 large storage capacity devices (from 1 – 4 TB) and the device took a second or two to index the drives then like a champ gave me tons of local storage broadcast on a secure personal WiFi Network. I also tested non powered external (2.5 inch) drives and the Kingston MobileLite Wireless G2 merely sneered at me and said "Here's your files".
Technical Stuff
Supported file systems FAT, FAT32, NTFS, exFAT
Dimensions 129.14mm x 79.09mm x 19.28mm (about the size of a small Smart Phone)
Weight 171g
Wireless network interface Wi-Fi 802.11g/n
wireless security (WPA2)
WLAN Ethernet port to function as a mobile router
Rechargeable battery up to 13 hours of continuous use; built in
Li-ion 4640 mAh 3.8v battery
Local storage wirelessly transfer files to and from the
MobileLite Wireless app and the MobileLite Wireless hardware
Camera Roll support allows users to move photos from their
mobile device to MobileLite Wireless in order to free up space
Cable USB to micro USB cable included
Operating temperature 0–40°C (severe cold will degrade battery capacity)
Storage temperature -10–45°C
Guaranteed two-year warranty, free technical support
Customisable device name (SSID) User-selectable Wi-Fi
priority list when there are multiple APN/keys available
File support3 MobileLite Wireless can store any file type.
Playback and viewing are based on the files supported by the
mobile device
General file format support
Audio: MP3, WAV
Video
m4V, mp4 (H. 264 video codec)
Document: pdf
Just a couple of minor things to touch on here. I believe Kingston is saying that those type files are native supported on the Mobile device software. I stored every file type I could find in my extensive collection on the drive and those files played on mobile devices but it accepted any file I wanted stored.
Wireless security is not the default option and I highly suggest you enable it. I will show you where to activate it a little later on.
The Included cable is a USB to Camera connector and used to charge the Kingston MobileLite Wireless G2 so a USB Wall charger would have been a welcome addition to the sparse bundle. Yes most of us have or can get a USB wall charger but it is a glaring omission from the Kingston MobileLite Wireless G2's bundle. Most of us prefer to find everything we need in box not have to scrabble through the kitchen junk drawer to find a charger or use a PC USB to charge the device. The whole point of the Kingston MobileLite Wireless G2 is to free us from that type of connectivity. (I am quite possibly the only human in a first world country that doesn't own a USB wall charger)
Review Overview
Value - 8.5
Performance - 9
Quality - 9
Features - 8
Innovation - 8
8.5
The Kingston MobileLites' Wireless G2's Bundle was a little Sparse but what it lacks in bundle it makes up for in functionality. I would recommend (and have recommended) the Wireless G2 to anyone that wants WiFi access to extend storage, as a Media Server or File Server or simply to extend your WiFi signal to the corner of your man-cave (or Woman-cave).