With the Maxwell-based GTX970 and GTX980 Nvidia undoubtedly have hit a homerun. These two card have rocked the GPU-world and basically made both the older GTX-GPU's but also AMD's offerings almost obsolete in one swoop. The only problem though has been the price. Don't get us wrong, The GTX970 offers a tremendous value for the money but it still is above the budget of many users. In fact, according to Nvidia the number one type of card in Steam's monthly hardware survey has been the more mid-level cards like GTX460, GTX560, GTX 660 and GTX760. Unfortunately Steam Hardware Survey is bugged as we write this so we cannot check these numbers but it does make sense since a card for around $200-$250 will sell better than cards from $350 and up. In fact the Steam hardware survey also tells us that a majority of gamers still game on a GTX660 or older so there is a big market out there for a new mainstream card.  Nvidia of course knows this and today it is time for them to introduce the Maxwell-version of these affordable gaming cards, the GTX960. Here to represent the new GPU in a review is the Zotac GTX960 AMP! Edition.
The GTX 960
Before we go into the actual card let us talk GTX960 a bit. As this is yet another Maxwell-GPU we now know what to expect from it. Our GTX980-article gives you information about the GPU but here are the highlights.
MFAA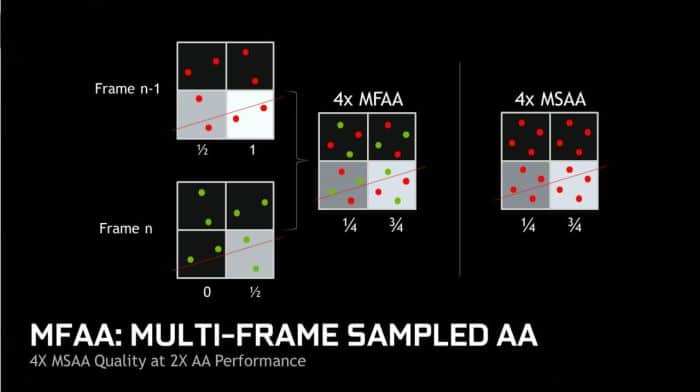 MFAA is a new AA which allows for extreme performance as stated above while still offering awesome image quality. Obviously we all know that enabling or cranking up AA can really bog down your graphics card so Nvidia has been actively pursuing new AA techniques to lighten the load on the graphics system while still offering good performance. One great thing about MFAA is it allows per pixel changes rather than much larger areas whcih means a much better finite level of control over the smoothing of edges and a better overall picture quality while still offering less load on the card and better framerates.
Dynamic Super Resolution (DSR)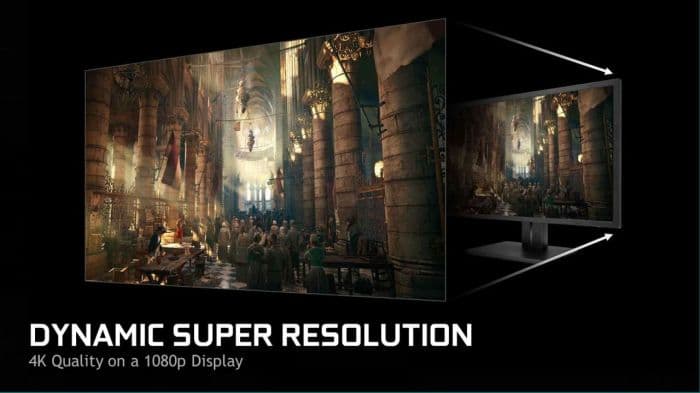 Dynamic Super Resolution or DSR as I will call it going forward mostly because im too lazy to keep typing that, is a very interesting new thing which some gamers have been trying to do via hacking drivers, but now Nvidia opened it up as a possibility now with a direct setting withing GeForce Experience. First thing I would like to do a brief intro into what DSR is exactly and that is basically telling your GPU to render in 4K similar to if you have a 4K display and then you basically are taking that 4K image and pushing it to the 1080P display giving a much finer image on a 1080p display which really does make a noticeable difference on some of the finer details such as foliage and other small items which would normally have the broken stick look.
Here you can see the comparison and while its not the best showing of it due to the zooming in of the image you can see that the tall grass on the left has the broken stick look I was explaining almost like a bunch of small straight lines staggered together. On the right you can see its much more uniform and carries a cleaner line which now visually represents the landscape item it was supposed to be.
NVIDIA G-Sync
Together with a special chip in the monitor Nvidia G-Sync promises to make tearing and "judders" in the image a thing of the past. We've tested it on one of Asus latest monitors and it was a really cool experience. Our reviewer thought it transformed his gaming making it a much nicer experience.
The Zotac GTX960 AMP! Edition
As is the tradition with Zotacs AMP!-Edition cards the Zotac GTX 960 AMP!-Edition is a pre-overclocked card.
Reference GTX960
Zotac GTX 960 AMP! Edition
GTX970
GTX980
CUDA Cores
1024
1024
 1664
 2048
Base Clock
1127 MHz
 1266
 1050
1126
Boost Clock
1178 MHz
 1329
 1178
 1216
Memory Config
2GB/128-bit
 2GB/128-bit
 4 GB / 256 bit
 4 GB / 256 bit
Physical Memory Speed
Effective Memory Speed
7.0Gbps
9.3Gbps
 7.0Gbps
 7.0Gbps
Power Connectors
6-pin
 6-pin
6 + 6-pin
 6 + 6-pin
TDP
120W
 120W
 145W
 165W
Outputs
2x DL-DVI
HDMI 2.0
Displayport 1.2
 DL-DVI
HDMI 2.0
3x Displayport 1.2
 DL-DVI
HDMI 2.0
3x Displayport 1.2
 DL-DVI
HDMI 2.0
3x Displayport 1.2
As you can see the Zotac GTX 960 AMP! Edition is overclocked from the start and has a 13% higher boost-clock that the regular GTX 960. We also see that it is basically a GTX 980 cut in half with half the number of CUDA-cores and just 2 GB/128-bit memory interface. The TDP though is very low at 120W. Zotac has decided to offer two DP-connectors instead of two DL-DVI-connectors and  we think it is a wise choice as more and more monitors offer a DP-connection.
The cooling solution of the card is set up so the fans stop spinning when the load is low thus keeping it even quieter than usual. Not that this is a noisy card. on the contrary. Zotac calls this "FreezeTech".
Review Overview
Performance - 7.5
Quality - 8
Features - 9
Value - 8.5
8.3
The Zotac GTX 960 AMP!-edition might not break any speed-records but still offers great performance at 1080p making it a perfect upgrade for users with older GTX760 and GTX660-cards.