Performance
So how does the Zotac GTX960 AMP!-Edition perform? First of all it is important to manage the expectations. This is a mainstream-card for around $250 and it will of course not perform as well as a 350 or a $600-card. This is a replacement for the GTX760, the GTX660 and older cards. The card was tested on this plattform:
Test Rig
 
Case
Thermaltake Level 10
CPUs
Intel Core i7-3930 @3.2 Ghz
Motherboards
ASUS P79X Deluxe
Ram
32 GB
CPU Cooler
Corsair H100
GPU
Zotac GTX 960 AMP! Edition
Zotac GTX 980 AMP! OMEGA Edition
Zotac GTX 970 AMP! Extreme Edition
eVGA GTX 780 TI
Zotac GTX 760 AMP!-Edition
Gigabyte GTX 770
Unfortunately we did not have a GTX660 anymore in the lab but if you have one of those you know what you can get in games and can still compare it. The Zotac GTX 760 AMP!-Edition-card was also tested with older drivers which can affect performance slightly.
3DMark 13

The Zotac GTX 960 AMP!-edition easily beats the GTX 760 AMP! and almost scores as well as the Gigabyte GTX770. Compared to the GTX980 it gets about 50% of the performance, a figure we will see over and over again and which is expected as it has half the CUDA-cores and half the memory bandwidth.
Metro Last Light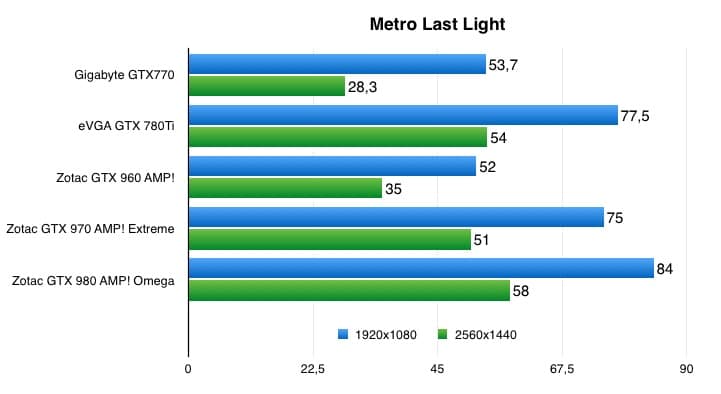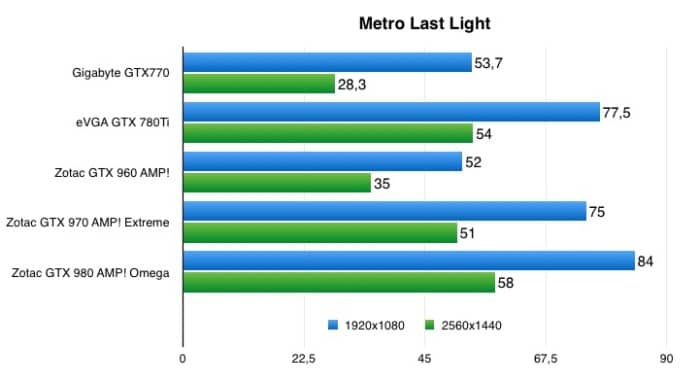 Setting: Very High, 16xAF
In Metro:Last Light, a very demanding game, we might not be able to game comfortably at 2560×1440 but can do it at 1920×1080 without any issues. If you want to hit the magic 60 fps just turn down the quality settings a notch. Again the Zotac GTX960 AMP!-edition manages to go toe-to-toe with the Gigabyte GTX770.
Bioshock Infinite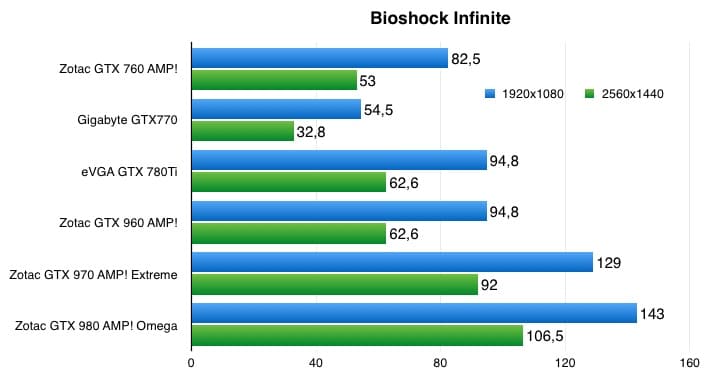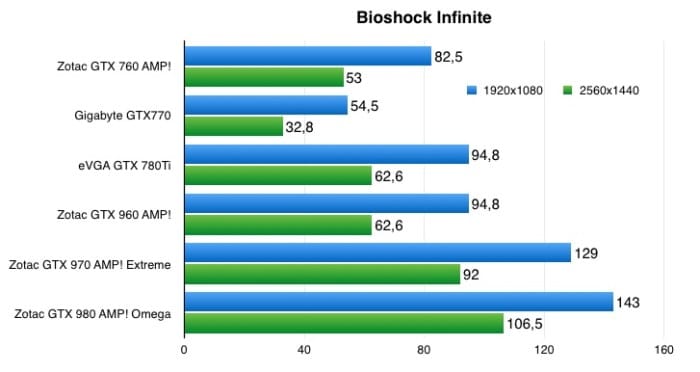 Setting: Using Adrenaline Benchmark Tool: Ultra, 16xAF
A solid performance again easily beating the GTX760 AMP!. (yes, the Gigabyte GTX770-scores were odd so probably disregard them). NOTE! We just noticed the GTX780Ti-scores are missing. That card scored 137,8 fps (1920×1080) and 101,1 (2560×1440). The chart will be updated later.
Sleeping Dogs
Setting: Using Adrenaline Benchmark Tool: Ultra, 16xAF
You might not hit 60 fps at 1080p although you can just lower the settings a bit but it still is fast enough for most gamers. This is a game where the Gigabyte GTX770 manages a bit better performance.
Shadow of Mordor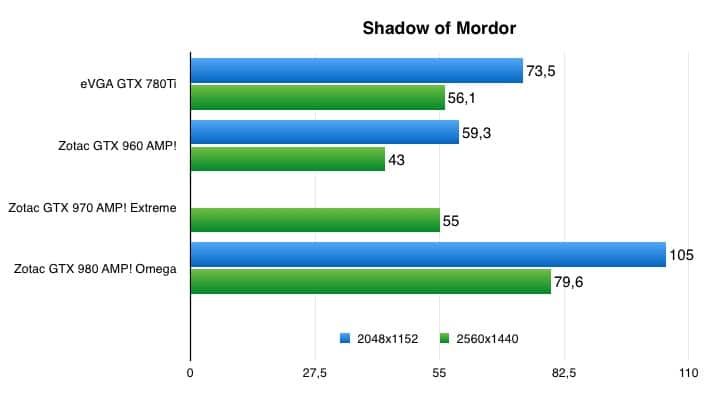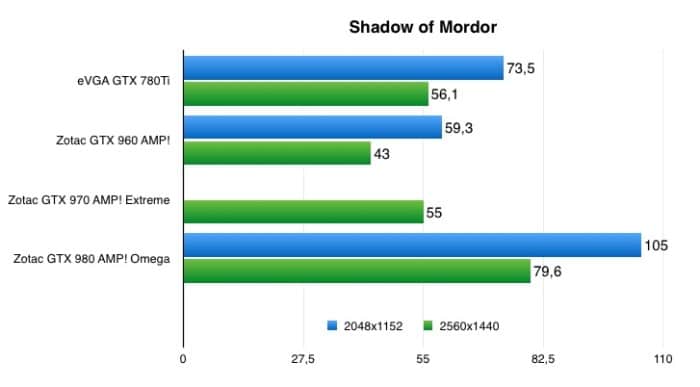 Setting: Very High
Shadows of Mordor looks great and runs great on the Zotac GTX960 AMP!-edition at 1080p. For an ever better experience just turn on DSR /Dynamic Super Resolution) and let GeForce Experience set the optimal settings.
Power consumption
| | | | |
| --- | --- | --- | --- |
| | Zotac GTX 960 AMP! | Zotac GTX 970 AMP! Extreme | Zotac GTX 980 AMP! OMEGA |
| Idle | 98W | 125W | 117W |
| 3DMark 13 | 252W | 366W | 356W |
Measured at the wall for the whole system except the monitor.
The Zotac GTX 960 AMP!-edition does not need a lot of juice even when under load.
Noise-level
Quite frankly this is a very silent card. We could not hear it over any other fans we had in the system. As we mentioned before it even shuts down the fans at times of low load.
Overclocking
Nvidia claims the GTX960 is a great overclocker and that there is a lot of head-room. Zotac already overclocks the card over 12% so we were not sure how much we would get out more. Zotac does include overclocking software, FireStorm.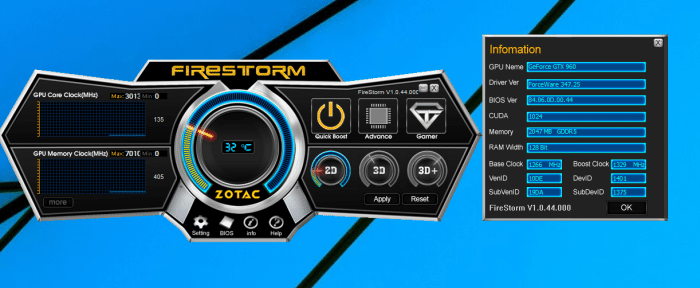 This software has a lot of possibilities letting you both monitor but also change settings on your gfx-card in various levels. We though had an issue where what-ever we set for the core-clock it didn't seem to be set. In the end we quickly switched to MSI afterburner where we could get the card up to 1520 MHz in Boost-clock which is another 14% overclock compared to the already overclocked boost-clock and a whopping 30% higher boost-clock compared to the stock clock.
Review Overview
Performance - 7.5
Quality - 8
Features - 9
Value - 8.5
8.3
The Zotac GTX 960 AMP!-edition might not break any speed-records but still offers great performance at 1080p making it a perfect upgrade for users with older GTX760 and GTX660-cards.