Data security is an ever increasing concern yet many people consider a thumb drive "secure enough", at least until it's lost.  Kingston's DataTraveler Locker+ G3 offers Password protection, 256-bit AES encryption and requires a re-format on the drive after 10 failed password attempts. Need that crucial data safe but easily accessible Kingston's DataTraveler Locker+ 3G will provide safe storage and piece of mind.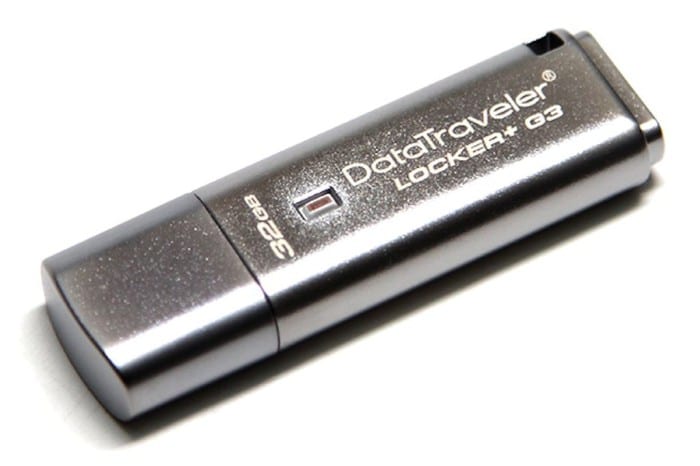 Kingston DataTraveler Locker+ G3
Face it. Identity theft is a real concern these days, 14% of people over the age of 16 have experienced identity theft. According to CBS 10.7 million cases of identity theft were reported in 2014. (as of July 1st 2014) (*1). Data security concerns are at an all time high.  Ever lost a Flash drive?  The need for secure data storage and protection is stronger than it has ever been.  Kingston's DataTraveler Locker+ G3 effectively and securely addresses data and identity loss concerns.  The DataTraveler Locker+ G3 encrypts your stored data with a 256-bit AES encryption and provides secure password protection. If anyone tries to guess your password 10 times incorrectly the drive will format itself wiping your vital data off the drive and away from prying eyes.
Worried about data retrieval speed with all that heavy-duty protection? The DataTraveler Locker+ 3G is a USB 3.0 drive that (depending on the size of the drive) delivers speeds from 80MB/s read to 135MB/s (Read).  It's also backwards compatible with USB 2.0 but using USB 2.0 will be limited to 30MB/s (read). Your data will be secure, encrypted, easy to access and delivered at blazing speed. The metal case and key-ring loop combined with the rock solid security make it the first choice in carry along flash drives!
(*1 Identity theft figures )
Specifications
Hardware encryption: 256-bit AES encryption
Password protection: User creates a password (password is enforced)
Easy to use: Plug and Play  (No driver install on compatible systems)
Versatile: Mac OS X and Windows compatible
Secure: drive locks down and reformats after 10 invalid login attempts
Stylish: Aluminum casing for durability
Convenient: Key Ring loop helps keep the drive right at your fingertips
Co-Logo Program available: Put your logo on drive(s) for promotional purposes
Supports: Windows® 8, Windows® 7, Vista®, XP & Mac OS X
Guaranteed: five-year warranty with free technical support
Capacities: 8GB, 16GB, 32GB, 64GB
Speed Varies: Backwards compatible with USB 2.0

USB 3.0 speed:

8GB: 80MB/s read, 10MB/s write
16GB: 135MB/s read, 20MB/s write
32GB–64GB: 135MB/s read, 40MB/s write

USB 2.0 speed:

8GB: 30MB/s read, 10MB/s write
16GB–64GB: 30MB/s read, 20MB/s write

Dimensions: 60.56mm x 18.6 mm x 9.75 mm
Minimum System Requirements:

USB 3.0 compliant and 2.0 compatible
Two (2) free consecutive drive letters required for use

Operating Temperature: 32°F to 140°F (0°C to 60°C)
Storage Temperature: -4°F to 185°F (-20°C to 85°C)
Sporting a sleek small footprint design, 32GB of storage and 256-bit AES data encryption the DataTraveler Locker+ packs a large storage and data security punch for under $35 (Amazon price at the time of post $32.95). With enforced password protection and if desired auto Cloud backup you will be amazed at how much Technology is packed into such a small package.
Compatibility
Operating System
USB 3.0
USB 2.0
Windows® 8.1
Yes
Yes
Windows® 8
Yes
Yes
Windows® RT
No
No
Windows® 7 (SP1)
Yes
Yes
Yes
Yes
Windows XP (SP3)
Yes
Yes
Mac OS X v.10.6.x – 10.9.x
Yes
Yes
Review Overview
Value - 10
Performance - 8
Quality - 9
Features - 8.5
8.9
The Kingston DataTraveler Locker+ 3G offers affordable storage with solid security. If you carry mission critical or confidential information the Locker+ 3G is a no brain-er choice.