INTRODUCTION
Outside of typical PC components like CPUs, motherboards, and video cards, it seems like the fastest growing segment of PC-related consumer electronics is the network attached storage (NAS) field. NAS units are often found performing the duty of their namesake; storing files that are accessible via either a LAN or WAN network connection. While most dedicated NAS devices use some form of customized Linux distribution for their operating system, Thecus has teamed up with Microsoft to deliver the Windows Storage Server line of NAS units that run either the Standard or Essentials version of Windows Storage Server 2012 R2, depending of the target market for the unit. This partnering of the two companies has brought the hardware side of Thecus together with the software side of Microsoft.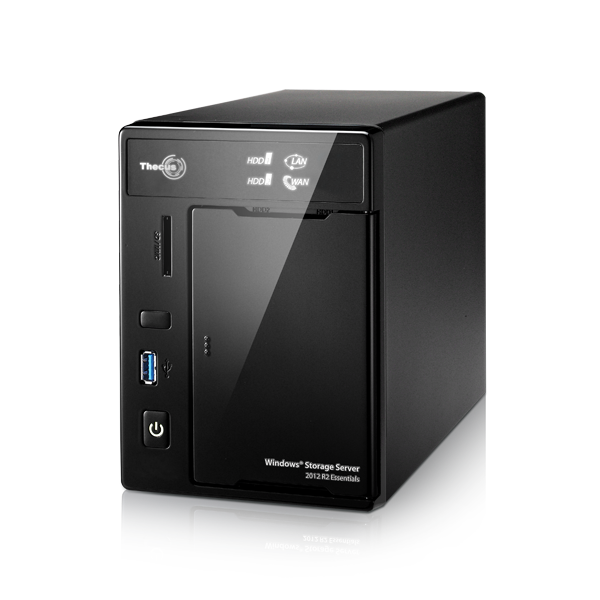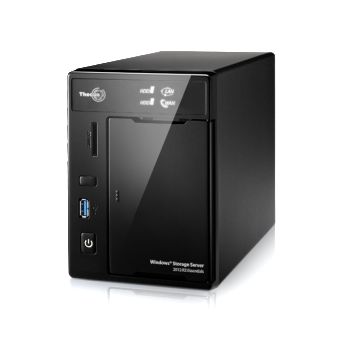 The W2000+ is a 2-bay NAS designed with small businesses in mind, as is evident with the inclusion of the Windows Server OS. Most NAS units are capable of connecting to a small business or even corporate network, but the W2000+ is designed to take on a more authoritative role in the network. Active Directory Domain Services provides a solid base for account management among other things, and the additional features of the included OS allow for a fully functioning server. While we typically look at devices aimed at consumers, it never hurts to get your feet wet in other areas such as the small business arena. While the W2000+ probably won't be able to replace an established server environment, it can provide a great starting block to work from when moving from a pieced-together environment to a more organized and capable structure.
Does the move from a Linux-based appliance NAS to a "mini-server" like the W2000+ fit the bill for you? Read on to see how the Thecus W2000+ performs.
STANDOUT FEATURES
While there are many great features that can be found on the Thecus W2000+, the two that really stood out to us were the inclusion of an SSD, and a pre-installed copy of Windows Storage Server 2012 R2 Essentials. While most NAS units feature a Linux-based OS that is installed on some form of local storage, Thecus upped their game and provided fast storage and a premier operating system.
Enhanced Boot Drive: Embedded SSD: Thecus has gone above and beyond by providing an SSD as the installation base for the pre-installed Windows Storage Server 2012 R2 Essentials. While the included SSD isn't a high-end model, it does provide a fast base to build from. This provided storage not only allows you to utilize the full capacity of your installed drives, it also adds quite a bit of value to the W2000+.
Windows Storage Server 2012 R2 Essentials: Included, and pre-installed, with the W2000+ is a fully-licensed copy of Microsoft's Windows Storage Server 2012 R2 Essentials. This latest version of Storage server is designed for small businesses that want to take advantage of cloud services with a NAS appliance. Thecus has a great intro page with a ton of information here: Thecus Windows Storage Server
SPECIFICATIONS
Below is the specifications table as provided by Thecus. Of note is the System Memory section, which notates both a 2GB W2000 model, as well as a 4GB W2000+ model. Both of these devices are identical, other than the W2000+, which we are reviewing, having an extra 2GB of system memory. While 4GB of memory isn't anything to get excited about, it did seem to provide us with plenty of room to work with in our testing, and is the maximum that the included licensing for the Essentials version of the OS supports.
Item
Spec
Processor
Intel® Atom™ Processor (2.13GHz, Dual-Core)
System Memory
2GB DDR3(W2000)/ 4GB DDR3(W2000+)
LAN Interface
RJ-45×2: 10/100/1000 BASE-TX Auto MDI/MDI-X
WOL supported
USB Interface
USB 2.0 host port x2 (back x2)
HDMI Output
HDMI port (back x1)
VGA Output
VGA port (back x1)
Disk Interface
2 x SATA for internal
1 x eSATA for external
Power Supply
External power adapter
PCI-e x1 Slot
1 (1 lane)
Thermal/Fan control
Thermal sensor on processor temperature
System FAN speed controlled by temperature
System Clock
Battery-backed up system clock
Power Management
Auto power on after shutdown due to power loss
Buzzer
Adjustable frequency alarm
Buttons
Power button
Environment
Temperature: 5°C to 40°C
Humidity: 0 ~ 80 % R.H. (Non-condensing)
Chassis
Tower Metal Chassis
Dimensions (HxWxD)
163.8 x 115.4 x 217.6 (mm)
Weight
2.88(Kgs)/6.35(lb)(NAS only)
2. Software Functions
Item
Spec
File System
Native NTFS support, FAT32, EFS, ReFS
Disk Management
Data Deduplication
Storage Spaces:
1.Create pools of storage using industry standard hard disk drives
2.Enables data redundancy with mirroring or parity
NTFS Online Scan and Repair (CHKDSK) intelligently repairs unexpected corrupted data.
Network Support
Protocols : IPV6 / Multiple NICs / DNS / DHCP & WINS
Support for multiple subnets / Multiple IP addresses
File and Block Storage Protocol Support
File : SMB 1.0, 2.0, 2.1, 3.0 / NFSv2, NFSv3, NFSv4.1
Block : iSCSI Target Server, iSCSI , SATA, and USB
Directory Services / User Management
Seamless Active Directory integration with any existing Active Directory Domain
Active Directory for authentication and authorization
Active Directory (Domain Controller, Certificate Services, Federation Services, Rights Management)
Windows Client integration via Launch Pad
Agent deployed on client, one click connection to NAS appliance.
Performance
NIC Teaming – aggregates bandwidth of multiple NICs
SMB Multi-channel- multiple transport sessions in a single NIC
Secure Remote Access
Secure Remote Desktop Services with Encryption and Authentication
Remote file access via FTP/FTPS
Remote Web Access via HTTPS
Licensing
Client support for up to 50 users or devices
No Windows Server Client Access Licenses ( CALs) required
Single processor socket / Up to 4 GB of memory
Printer Server Support / FAX and Scan
Full Windows print services support – Local printer connection
Print Server & Document Services (Distributed Scan Server)
Health Reporting / Notifications
Full Windows print services support – Local printer connection
Integrated health monitoring and reporting
Send health report to chosen email address on a customizable schedule
Media Pack for Streaming
Stream music, videos, and pictures with the included Windows Server Essentials Media Pack.