CONCLUSION

At a first glance, the Thecus W2000+ appears to be your typical 2-bay NAS device. The small footprint that the W2000+ has is great for space savings when it is deployed in an environment where available space is at a premium. The front panel provides very basic LED indicators to give a quick representation of the status of the device, and has a few connectivity options for additional storage and peripherals. While most NAS appliances function off of some form of embedded storage for their custom OS, the W2000+ comes equipped with a 64GB SSD that is pre-loaded with Windows Storage Server 2012 R2 Essentials. The licensing for Windows Server 2012 R2 Essentials by itself is $560. Considering that the W2000+ has a retail price of $378 USD, this combination of the OS, SSD and hardware is an exceptional value. Thecus is really aiming for the small business market with up to 50 users with the W2000+, as opposed to the home user.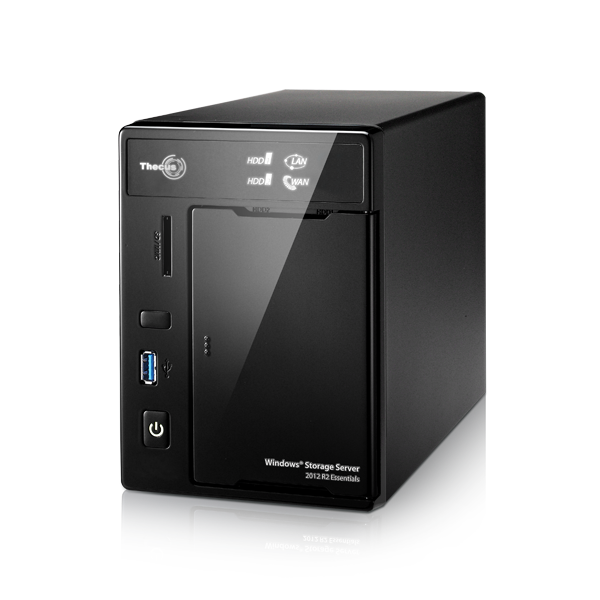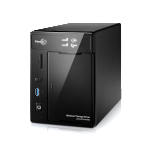 A the heart of the W2000+ is the Windows Storage Server 2012 R2 Essentials operating system. While this operating system functions very closely to other current Microsoft operating systems like Windows 8 and Windows 10, the added inclusion of Active Directory and integrated cloud storage services make this a whole different beast. Gone from the W2000+ is the Linux-based UI that most users are accustomed to using in a NAS device, and in its place is the fully-featured Storage Server 2012 environment. We do want to caution users that are unfamiliar with Windows Server operating systems. Even though most users will be able to find their way around the OS just fine, it is quite a bit more complex than the client-oriented Windows environment or the more consumer friendly GUI's from Synology and Qnap. The fact that this is still Windows though means that we have an almost infinite pool of software that can be installed on the NAS.
The performance of the W2000+ is on par with what we were expecting from an Intel Atom processor and 4GB of RAM. Like we mentioned earlier the W2000+ would be best tasked with basic Active Directory administration along with printer and storage sharing. Putting anything more CPU or RAM intensive than that on this mini server will probably result in a bad time. That's not to say that this unit can't function as a small media server or player, and the included HDMI output allows for just that. The low processing power of the W2000+ also means that the power needed to operate this Thecus offering is quite low. Under a load on both the CPU and the disks, we were well under 40 watts. The low power usage also translates into low system noise and heat output, which is often important when a device like this may not reside in a dedicated server room, but on a desk next to someone's workstation.
Overall, the Thecus W2000+ has provided us with a great introduction into the Windows Storage Server realm. We can't believe the value that the combination of Thecus and Microsoft is able to provide in this Windows Storage Server line of products. Not only do you get a 2-bay storage appliance for around $500, but the operating system ($500+ by itself) is loaded on a traditional SSD ($40) for snappy OS operations. While we wouldn't place this device at the top of our list of 2-bay units for home users, we would definitely recommend that small businesses with a need for the offerings that Windows Server can provide take a look. It's tough to beat the hardware and software value that is provided in the Thecus W2000+ NAS, which is why we are awarding it the Bjorn3D Best Bang for the Buck Award.
Thecus W2000+ Pros
Thecus W2000+ Cons

Fully licensed Windows Storage Server 2012 R2 Essentials included
64 GB SSD pre-loaded with OS
Low power usage
Quiet
Full of value for the price (SSD, Windows Server OS)

Windows Storage Server environment may be daunting for some users