Valve have been hinting about some big Linux Steam-news this week and today the first of three announcements (the rest coming on Wednesday and possibly on Friday) was unleashed: the birth of SteamOS, their own Linux-based OS that is supposed to support game streaming from a Windows or Mac PC.

The details are still kind of sketchy as this is just the first of three announcements but the goal is to create an OS that will sit on a box by your TV and offer multimedia and gaming capabilities. Valve talks about 4 features:
In-home Streaming
This will allows you to stream a game from a Windows or Mac PC to a "SteamOS"-machine and play it on your big screen. Those of you who have been following the news lately know that game streaming now seems to be the next big thing. Not only do companies like OnLive alread exist but Gaikai is bringing some kind of streaming to the PS4, Nintendo WiiU already has streaming to their game controller and we of course cannot forget the Nvidia Shield which already today is using Valves Steam to stream games from a gaming PC to the Nvidia Shield.
Music, TV, Movies
"We're working with many of the media services you know and love. Soon we will begin bringing them online, allowing you to access your favorite music and video with Steam and SteamOS." What does that mean? Well, hopefully it means that services like Netflix, Hulu, HBO and others will be available on the box. We of course expect it also to play local media from the local network.
Family Sharing
This feature already has been announced earlier. It will allow you to share games with "family" and take turns playing it earning your own achievements.
Family Options
Since Valve hopes a SteamOS-box will sit at the livingroom TV they will soon add features for families where you can select what games are visible for each family member.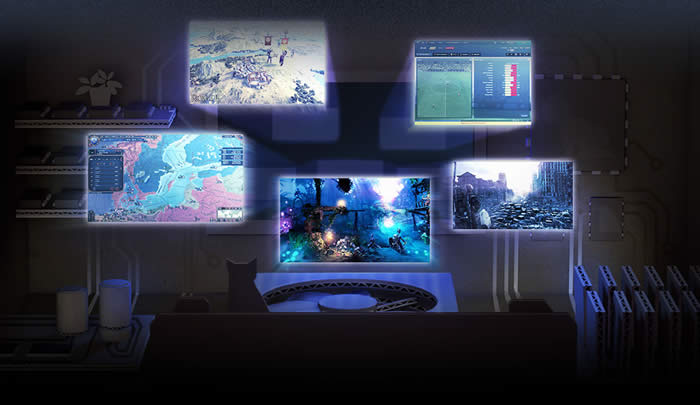 It is almost certain that Valve will announce some sort of hardware together with SteamOS later this week, maybe the fabled SteamBox, but you will also be able to just download SteamOS and build your own computer.
It will be interesting to see how Valve will get the game streaming to work. They are certainly not the first to think that game streaming is the future and if they can solve any lag issues, get it to work on more video card hardware than Nvidia's solutions and come out with a nice solution for controlling the games then they might be on to a winner.
What do you think? Are you excited about a Valve-OS? Can this OS challenge Windows as a game-OS in the future with Valve and Steam behind it?