Overview of the Diamond BV750
The packaging for the BV750 is very simple and plain but since it is made strictly for offering the dual-display capability to smaller system users you cant really hold that against them since its not made as a gaming card but I bet it still can play some.
Here is a list of all items included in the accessory pack:
Installation Disc

Quick Start Guide/Manual

DMS59 to Dual DVI Y adapter
2x DVI to VGA adapters
The accessory package is simple and has everything needed to connect this card to a system and get it running. There is no power adapter as this card gets all of its needed power from the PCIe slot itself.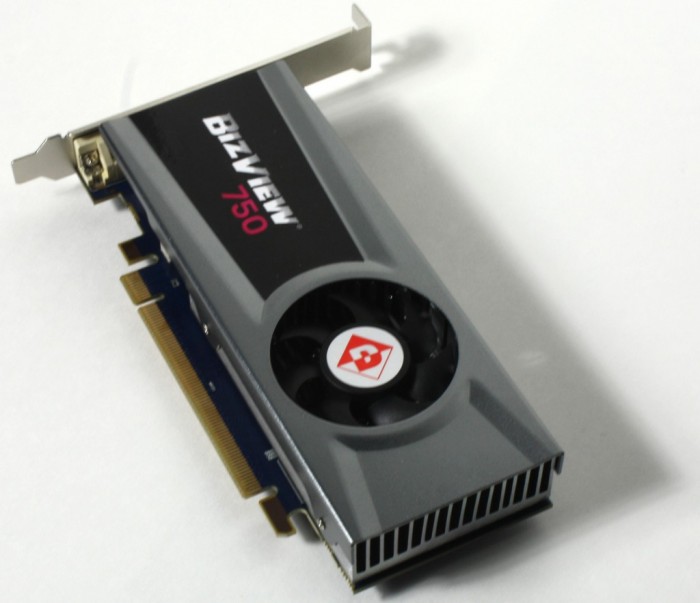 Click Images to Enlarge
Here you can see the card and it is simple with a very sleek yet simple designed cooler shroud covering a aluminum block/fin style cooler array.

Click Images to Enlarge
The rear IO supports multiple connectivity options including:
DMS59 (2x DVI via adapter)
Mini-DisplayPort
This connector arrangement allows for a nice multi display setup for home or office productivity.
Click Images to Enlarge
The card was rather easy to pull apart as there were a mere 4 screws holding the cooler on, and one those are removed it comes off and reveals the whole PCB which the card and shroud covers. Also once removed you can see the tight PCB space diamond had to work with, but they managed to fit the tiny 7750 GPU and full 1GB of VRAM on the front.