Today we have the new XFX take on the HD7790 model with the R7790 Black Edition. As some of you may know, "Black Edition" means "overclocked" and a pretty awesome cooler as well, so let's open this thing up and see what it can do.
Introduction – XFX R7790 Black Edition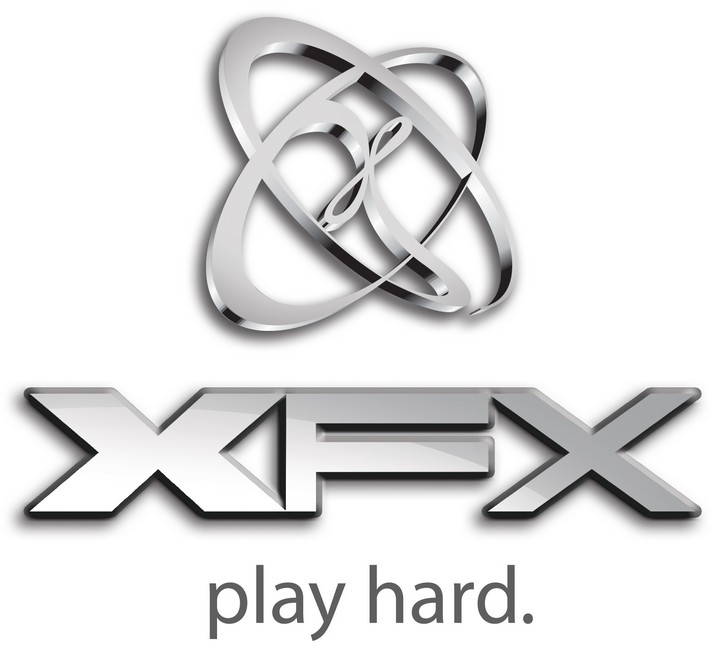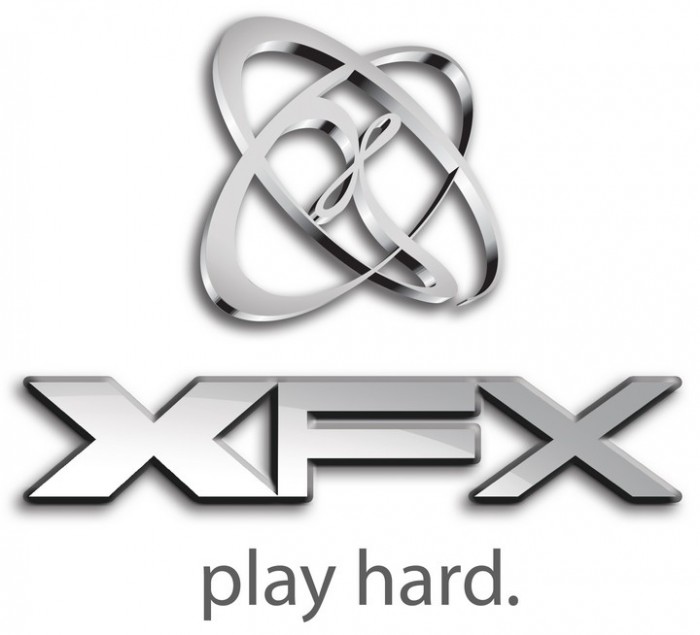 XFX has been a player for some time and used to be Nvidia only until some years back when they started doing ATI/AMD based cards. They seemed to have moved from Nvidia completely, and have now come full circle, offering Nvidia based cards once again on a somewhat smaller scale. Well today we are looking at the XFX offering for the HD7790 lineup with the Black Edition overclocked model R7790.
One thing worth noting here is that all manufacturers for some reason went with a 1075MHz clock speed; with that we have seen a performance difference of about 0.5 – 1% from card to card. This because all of the components are virtually similar and the GPU has proven it is quite consistent and pretty powerful for its positioning.
There are some feature advantages which do vary from card to card which are normally based on cooler styling and performance.

The thing we have to remember is that while enthusiast cards are very high priced, in terms of raw numbers, there are far more of the midrange and mainstream cards sold. These cards form the company's bread and butter. We can see why AMD would want to make sure that gap between the 7700 and 7800 series is filled well to allow for a broad selection no matter the budget.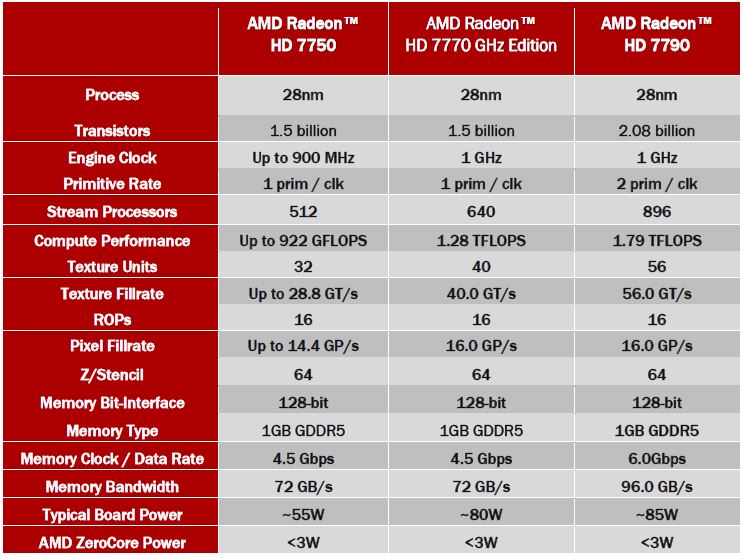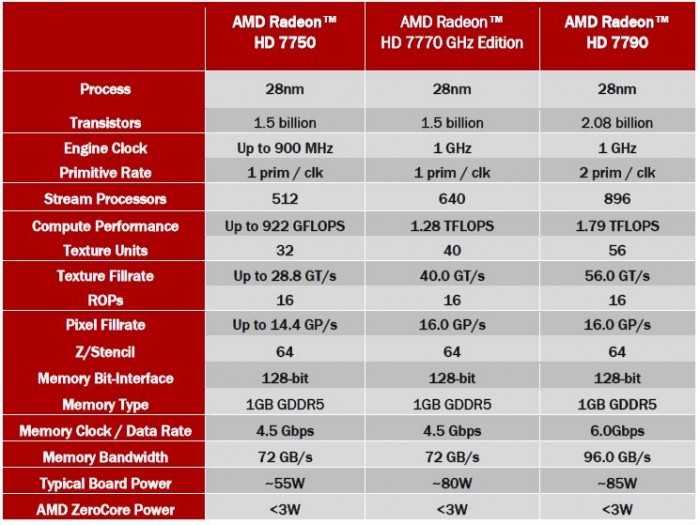 Here you can see that the new Bonaire GPU offers some serious muscle from the over 2 billion transistors and much higher texture units available. The much higher speed 6Gbps memory data rate definitely will help blast data along as well which all adds up to a very strong card for those gamers on a budget.
It is worth nothing that the HD7790 does fall into the AMD Newer Settle Campaign which means buyers are elligible to be bundled witha  copy of Bioshock Infinite from participating retailers, so that could be a pretty nice added bonus for anyoen looking at picking up the newest Bioshock offering.
Lastly the current street price for the XFX R7790 Black Edition model card is $149.99 which places it right in the middle of the group with all of the other cards we have tested with only a few select 1GB and of course the higher slotted 2GB variants.
Key Features
New "Bonaire" GPU
The new HD 7790 is powered by a 28nm GCN architecture GPU similar to all of the other 7000 series GPUs. Unlike other 7700 series card which were Cape Verde models. This once again is very similar to the recent 7870 models which did not use Pitcairn GPU like other 7800's and opted for a Tahiti LE model.

As you can see the Bonaire GPU die is a new design in between 7700 and 7800 series which is larger and as we have already seen carries some definite capabilities for a gaming system.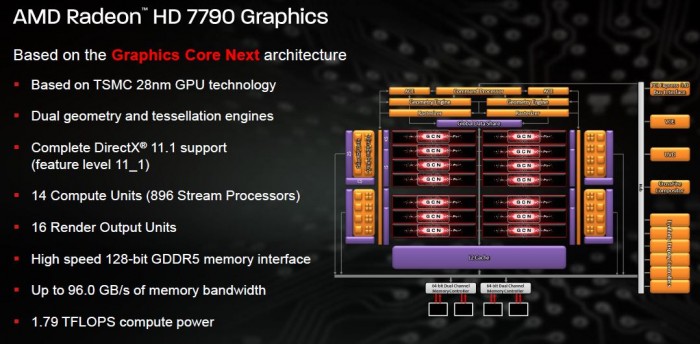 AMD PowerTune with Boost
The HD7790 supports full dynamic clocking of the GPU speed according to limits of thermal and power envelopes depeding on teh loading of the card. This could allow for a much higher clock for even better gaming performance .
XFX double dissipation Cooler w/Ghost thermal technology
XFX definitely wants you to know they mean business with their cooling solutions with the Dual Dissipation cooler which basically means its a cooling fin array with dual fans blasting heat away. These solutions tend to always work very wekk but XFX stepped things up a bit here witha  very nice aluminum fan shroud to ensure the card has a very quality feel to it.
Here you can see a cutaway as we mentioned which shows the airflow through the fans and fin array and the fact that the dual dissipation relates to cooling nut just the GPU but the PCB surface components as well to ensure you have an even more stable and better functioning card overall even in tougher heavy loading environments.
Here you get a comparison showing what they label as "Others dual fan" and also "other single fan" to show off exactly how efficient their cooling solution is at removing thermals from the card compared to other solutions. As always it would be nice to have some sort of reference for what cooler was used for these comparison charts, and what model component and even what stress level or program.
Duratec Professional Grade Components
Here you see that XFX takes build quality very seriously as they highlight what they call "Duratec professional grade" which speaks to the quality components used for the build on their graphics cards. This includes the baord level components such as the Caps and mosfet components to the Dust free fan units and even the specially designed high flow XFX IO cooling bracket.
PCI Express Gen 3 Capable
Like all 7 series AMD GPU's the HD7790  fully supports PCIe 3.0 for higher speed throughput and better overall bandwidth.