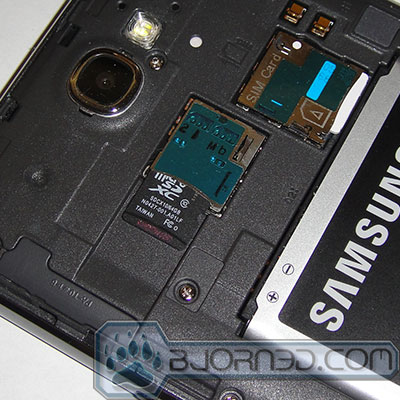 Promised to deliver at least 10 MB/s, the 64GB Kingston microSDXC card packs plenty of storage space for your mobile devices. For a 64GB microSD expandable storage for your mobile device, it also priced quite competitively at $60, and the included SD adapter makes it versatile so that you can share it with other devices such as PC. Can the card deliver? Let's find out.
Introduction
The MicroSD card is currently the standard expansion storage for a growing market of the mobile devices. In 2009, the SDXC standard was announced to eliminate the storage limitation of 32GB on the previous standard, SDHC. The SDXC uses exFAT file system (a Microsoft's proprietary and patent format) which pushes the SD card storage capacity beyond 32GB with a maximum theoretical capacity up to 2TB. The new standard also brings faster transfer rate up to 312MB/s (UHS-II). 
Physically SDXC and SDHC are identical, so any SDXC host device will be able to read and write to either format as it is backward compatible to the older standard. The SDHC host devices can read and write if it is version 3.0 but it may need to be formatted to FAT32 as many larger storage capacity are pre-formatted as exFAT. If you have a slightly older device or if your card reader officially supports SDHC only, it is possible to still use it to read and write the SDXC card but do not expect excellent performance. It is also possible that in order for the SDXC to work with your device, you may have to format the card to FAT32 file system. 
Kingston is one of the leading manufacturers in the computer industry specialized in memory related products. They are well respected with their SSD, PC memory modules, and flash memory. Their latest 64GB SDXC is rated to achieve minimum 10 MB/s for those who need additional storage on their mobile devices without sacrificing the performance and spending a tons of money for the UHS-I models.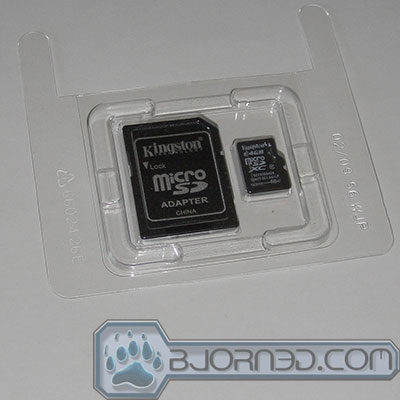 Retailed at $60 for the 64GB model, the card comes in a minimal package. We like how Kingston packages the card. Rather than heat-sealed plastic, Kington just uses the a clamshell design to lock the two pieces of the flap together. This makes it so much easier to open the plastic. Additionally, it also let us keep the plastic to secure the spare card if you wish to do so.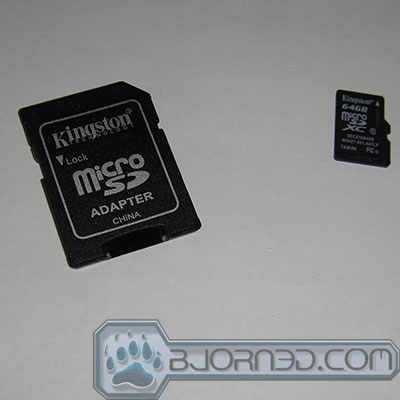 Kingston is nice enough to include a MicroSD card adapter so that you can use it in your laptop or card reader. The adapter comes with a handy lock switch which is pretty neat.
Specification
Capacities: 4GB, 8GB, 16GB, 32GB, 64GB
Speed2: Class 10: 10MB/s min. data transfer rate
File System: FAT 32
Compliant: with the SD Card Association specification
Compatible with microSDHC/SDXC host devices only
Reliable: lifetime warranty
Dimensions: 0.43 x 0.59 x 0.039 (11mm x 15mm x 1mm)
Operating Temperatures: 13ºF to 185ºF (-25ºC to 85ºC)
Storage Temperatures: 40ºF to 185ºF (-40ºC to 85ºC)
Voltage: 3.3v
In addition to the 64GB version of the microSDXC card we hae here today, Kingston also has storage capacity in 4GB, 8GB, 16GB, and 32GB.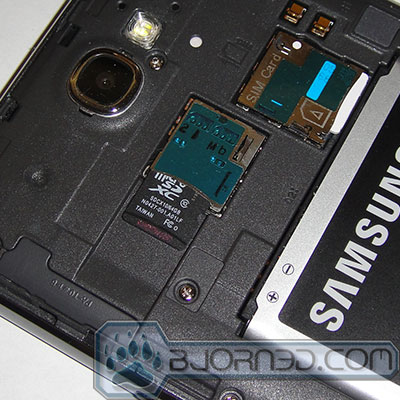 Despite the specification says that the card is formatted as FAT32, our review sample is formatted as exFAT. We presume that the lower capacity cards are formatted to the FAT32 for wider compatibility between devices and operating systems. We had no trouble getting the card to work with our Galaxy Note II and Asus Zenbook UX31E with the included adapter. We also used a generic brand microSD-USB card reader and were able to get our PC to read and write the card without any trouble. Keep in mind that our testing system are running Windows 7 and the Galaxy Note II that we have here runs Android 4.1.2 (Note II). Both OS supports exFAT natively. If you are using older Operating Systems such as Windows XP or older Mac OS prior to 10.6.5, you may need a software update or format it to FAT32.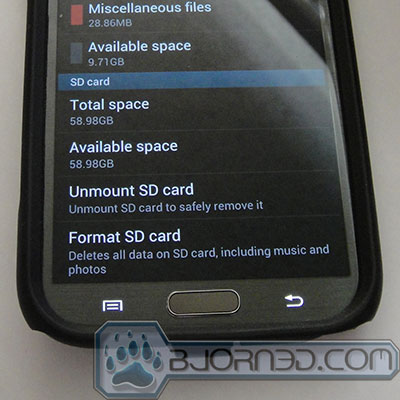 The SDCX10 is being recognized in the Samsung Galaxy Note II with a total available space of 59.98GB. 
Testing and Results
Since the card reader and the microSD reader in our Asus Zenbook UX31E are both USB 2.0, the maximum bandwidth that we expect to see roughly 35 MB/s. This is plenty for us to test the write performance of the microSD but it is possible that we may hitting a bit of bottleneck with the read performance. Despite the fact that the card is not rated with the faster UHS-I rating, the SDCX10 is guaranteed with a minimal rating of 10MB/s. This speed should be fast enough writing HD 1080p  video files. 
Kingston SDXC10 (left) and SanDisk Ultra microSDHC UHS-I (right) 
Performance-wise, the Kingston SDXC performs rather well at hitting 26 MB/s read and close to 12 MB/s write. We can see that the card starts to hit the rated 10 MB/s transfer speed at 16 KB transfer size. 
Kingston SDXC10 microSD (left) and SanDisk Ultra microSDHC UHS-I(right) 
With the CrystalDiskMark, we can see that the Kingston card reached 28 MB/s sequential read and 12.28 MB/s sequential write. The card is slightly better read than the SanDisk Ultra microSD card. The write speed is also competitive as well on the card. However, The SDXC10 seems to struggle a little bit with the 512K write where it only achieved 0.5 MB/s as oppose to the 2.174 MB/s on the SanDisk. The 4K random read and write is comparable between the two microSD cards with the Kingston card having a tad edge on the read department.
Kingston SDXC10 microSD (left) and SanDisk Ultra microSDHC UHS-I(right) 
We also install the card in the Samsung Galaxy Note II and tested with the SD Card Tester downloaded from the Play Store. The default setting for the SD Card Tester transfers 300MB of files and the Kingston's write speed falls just a tad under the promised 10 MB/s at 8.13 MB/s. For the read speed, it scored 29.88 MB/s.
Conclusion
The Kingston SDXC10 performs just as it promised. The card delivers over 10 MB/s write speed, which is fast enough for storing contents to your tablets, smartphones, and digital camera. It is perfectly fine for HD video recording and recording of HD still images. Unless your particular device supports and demands UHS microSDXC card, there is really no need to spend the extra money for a UHS rated card. The inclusion of the microSD to SD card adapter is appreciated. With lifetime warranty, the SDXC10 64Gb Kingston microSDXC offers plenty of storage and performance at an affordable price. 
One thing to note since the card is pre-formatted as exFAT filesystem, be sure to check your device to see if it is compatible with SDXC cards. If not, you may have to format the card to FAT32 first in order to use it.
OUR VERDICT: Kingston SDXC 64GB MicroSDXC
| | |
| --- | --- |
| Performance | 9 |
| Value | 9 |
| Quality | 10 |
| Features | 9 |
| Innovation | 9 |

We are using a new addition to our scoring system to provide additional feedback beyond a flat score. Please note that the final score isn't an aggregate average of the new rating system.

Pros
Cons

Good performance

64GB of storage

Price

Includes SD adapter

Lifetime warranty

 

None
Summary: The 64GB microSDXC delivers minimum of 10 MB/s write speed and 28MB/s read speed.  It offers plenty of storage with good transfer speed at decent price. For its performance, it earns the Bjorn3D Golden Bear Award.