Overview of the XFX R7790 Black Edition
The packaging or the R7790 from XFX is rather subdued with just a mechanical or metallic feel from the XFX logo to the background. This adds to just a clean feel overall even with the key award logos and even the small advertising graphs on the front panel.
Here is a list of all items included in the accessory pack:
Installation Disc

Quick Start Guide/Manual
Crossfire Bridge
XFX Door Hanger
XFX "Black Edition" Case Badge
The accessory package is simple and to the point, it helps get the card started along with many promotional items for their PSU's which is always nice in case that was maybe your next course of upgrade. 
 Click Images to Enlarge
Here you can see the card out of the box and ready to roll. The aluminum cooler frame really does add to the unique look and feel of the card which makes for one excellent and beefy feeling unit when we first took it out of the box. The dual fans are quite thin we would say approximately 8-10mm deep at most but this is about standard for most fans on dual fan GPU coolers. the card utilizes a single 6 pin PCIe connector for a total possible card power of 150W which from my testing with other models is more than enough even at max clock.

Click Images to Enlarge
The rear IO supports multiple connectivity options including:
DVI (x2)
HDMI
DisplayPort
This connector layout is standard for 7790 and allows for the full array of legacy (Via VGA adapter) to newest displays to be easily connected. Also note the XFX logo'd IO panel which allows nice free airflow.
Click Images to Enlarge
Stripping down the card was rather easy honestly although it did take a bit of figuring out which screw was where as the aluminum shroud is actually a separate piece and works very well for a card stiffener. It also adds a definite few points to the appearance factor. Once removed you can see the fan/fin array which is nice and you can also see the copper midplate which is the interface between the heatpipes and the GPU itself.
A closer Look at the R7790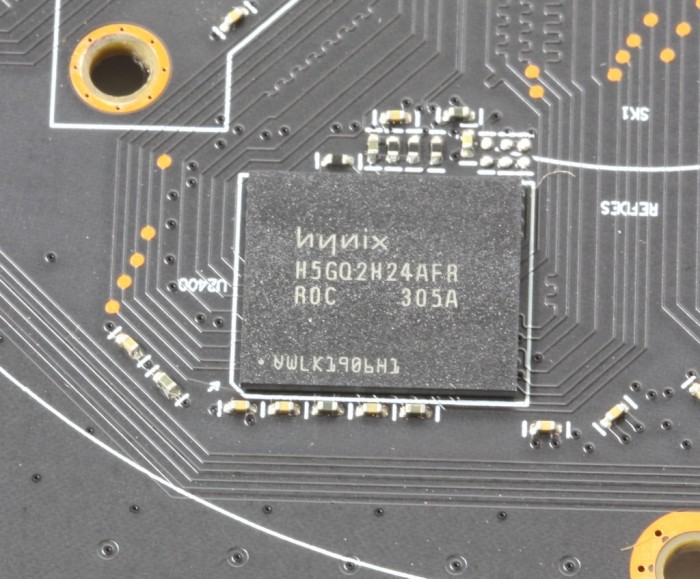 Click Images to Enlarge
The Hynix IC's used here are rated for up to 6GHz which we have seen before and usually they have huge headroom above that. For example this card is set at 6400MHz right out of the box.
Click Images to Enlarge
Here we see the power circuitry which is a pretty standard layout and design but with usage of XFX chosen board components all around to ensure the same quality level you come to expect from XFX. The single Crossfire Bridge is in place to allow for up to dual card operation for a extra performance boost with linking two cards.