Introduction

Patriot being in the memory game for some time always has some tricks up its sleeve so to see them join the "Low profile" game is really cool. Now to clarify obviously these are not the low profile spec in terms of PCB or sub 18mm sticks, these are simply low profile heatspreaders compared to the standard version viper series. This low profile cooler design does shave 11mm off the total height giving over 25% smaller module which should mean good things for those running larger air coolers as we all know what happens when 2 pieces of matter attempt to occupy the same space.
Just like the Black Mamba kit I looked at recently these sticks are MFR modules as well so i will be putting this on my Haswell based rig to see exactly how far it can go. Being that its a 4 stick high density kit I don't exactly have super high hopes as honestly higher density DIMMs are always a lot more limited with overclock headroom but after dealing with many Patriot BOM's at this point I can say with a fair amount of certainty that the quality is there I just have to hope the MFR ICs are in the mood to play nice.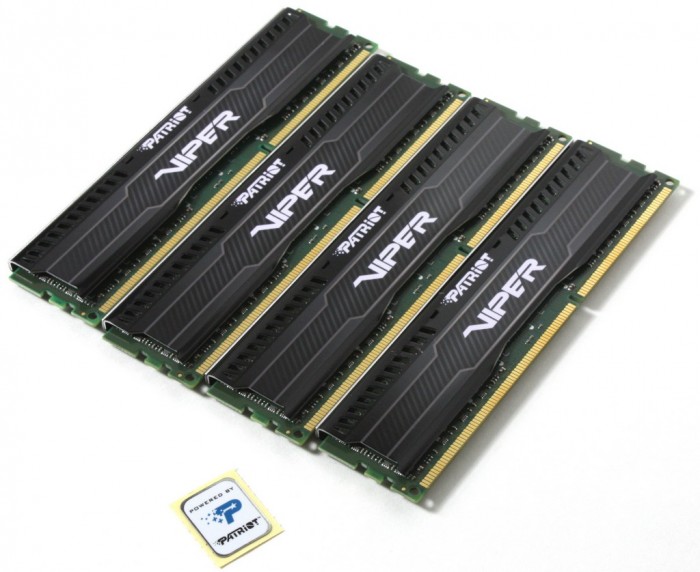 The Viper Low profile 32GB 2133MHz kit comes to market at a MSRP of $370.00 but at this time I could not find it for sale anywhere although it should be hitting the market very soon.
The price puts it in a tough position as there are many 32GB 4x8GB kits out there at similar or even quite lower price points. The BOM quality assurance and the nice timing set helps some but if you look there are still some models available at a price point with similar timings that are a bit cheaper.
Pictures & Impressions
Click Image to Enlarge
This modules come like so many we have seen before in a blister pack with an outside box cover to allow some marketing or logo placement.
Click Image to Enlarge
The modules come in two separate blister packs each holding two modules, and as they are lined up you can also see that they include a much smaller case badge style sticker as opposed to the much larger lightning bolt sticker we got before. The smaller case badge definitely seems more tasteful and probably will see use from more users so overall not a bad choice from the Patriot team.
Click Image to Enlarge
41mm vs 30mm is the name of the game here as the new low profile modules are noticeably far shorter than the standard Viper models actually a little over 25% shorter which will please many air cooling manufacturers. The usage of the name "Low Profile" carries some stigma with some users as there is actual low profile modules available that are below 18mm and well this kit does not fit that but more denotes the smaller heat spreaders but some users have already started to call foul on this naming as soon as I saw the PR hit the web some time ago.
To me its not that big of a deal as anyone who spends a second looking at their product line would get the point, and honestly many other manufacturers have done the same thing a la "Vengeance Low Profile"…
Click Image to Enlarge
The part number as printed on the modules is PVL332G213C1QK and also you will see here these modules are spec'd at 2133MHz CL11 at only 1.5V which is nice. also to the side you will see a show showing the spreader thickness which is not huge but it is solid quality feel so it should have no issues with bending, however with the stacked design at the top you will notice that the sides where they come down on the PCB is about 1mm different from side to side, not a major deal but something that tweaked my OCD side quite a bit.
| | |
| --- | --- |
| M/B Chipset | Intel 6,7,8 Series |
| CAS Latency | 11-11-11 |
| Capacity | 32GB (8GB x 4) |
| Speed | DDR3-2133 (PC3 17000) |
| Test Voltage | 1.5 Volts |
| Height | 30 mm / 1.18 inch |
| Registered/Unbuffered | Unbuffered |
| Error Checking | Non-ECC |
| Type | 240-pin DIMM |
| Warranty | Lifetime |
| Features | Intel XMP 1.3 (Extreme Memory Profile) |
These modules as you can see are XMP profiled for 2133MHz which is quite good for high density modules such as this but with many manufacturers creating new BOM's this is getting more prevelant and some manufacturers have now even pushed to teh 64GB mark much like the Kingston HyperX Beast 64GB kit we looked at some time ago.
Testing & Methodology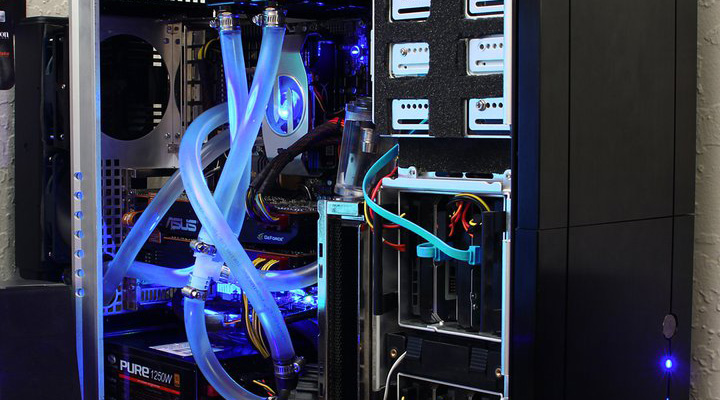 Memory testing can be tough at times as most look at a number (the frequency) and think the higher the better, but in our testing experience we know that many times there are other numbers at play. Factors such as the timings and subtimings can have anywhere from a minimal to a drastic effect on what kind of performance we see from the system when tweaked to the max. Also price can be a determining factor as well and this is why we will run through a few benchmarks to see how this kit affects system performance running at SPD, XMP and custom tweaking to ensure we get a good idea of exactly what kind of value the end consumer can expect for their money.
Overclocking
Overclocking memory can be kind of a hit or miss sometimes and even more so when you're talking a huge amount like this. but either way we wanted to give it a go as just to see what the maximum number we could hit. You do need to realize that relative performance many times when pushing for huge frequency increases usually does not scale and you can actually lose performance compared to a slower tighter kit. As it stands in most all real world applications anything above 1866-2133 will simply net little to no gains. This in things such as gaming is very common as present platforms simply are not bottlenecked so much as to cause a performance increase by opening up the memory data pipeline.
The 32GB kit being MFR I knew had some promise and I was able to get them to settle in just under 2600MHz stable, anything higher with even small BCLK bumps simply were not stable completely and during testing would fail. D note that the 1.5V rating had to be adjusted to 1.65V which is still considered safe in order to reach this speed. but also the timing set had to drop to CL13 which to me is simply not worth the speed increase as the much looser memory settings will cause a lesser performance level.
Overall while the memory can almost push 2600MHz stable the 2133 setting is plenty good on the Haswell platform as the increase and speed and increase in timings simply offer no real world gain, and you are better suited to utilize the lower speed, voltage and timings which make for a much better performance option for everyday usage.
CAUTION: Overclocking can damage components, void warranties and cause all kinds of other unforeseen issues. Perform at your own risk and understand the settings we may list are from our own testing risking my own hardware so it is in no way a guide on how you should overclock your system or components.
Test Rig
Test Rig

Case
Open Air Test Bench
CPU
Intel Core i7-4770K
Motherboard
ASRock Z87M-OC Formula
RAM
8GB Patriot Viper III "Black Mamba" 2400MHz (2x4GB)
CPU Cooler
Swiftech H20-320 Edge HD
Hard Drive
Western Digital Velociraptor 300GB
SSD
Kingston HyperX 240GB SSD
Optical
ASUS BD-ROM
GPU
Intel HD 4600
Additional Cards

N/A
PSU
Thermaltake Toughpower XT 1475W Gold
Mouse
Tt eSPORTS Theron gaming mouse
Keyboard
Tt eSPORTS Meka G1 mechanical gaming keyboard
Test Suite
We will use the following applications to test the performance of the memory. Benchmarks
SiSoft Sandra 2011
AIDA64 Extreme
Superpi
3DMark 11
Sniper Elite V2
SiSoft Sandra 2011
"SiSoftware Sandra (the System Analyzer, Diagnostic and Reporting Assistant) is an information & diagnostic utility. It should provide most of the information (including undocumented) you need to know about your hardware, software and other devices whether hardware or software. It works along the lines of other Windows utilities, however it tries to go beyond them and show you more of what's really going on. Giving the user the ability to draw comparisons at both a high and low-level. You can get information about the CPU, chipset, video adapter, ports, printers, sound card, memory, network, Windows internals, AGP, PCI, PCI-X, PCIe (PCI Express), database, USB, USB2, 1394/Firewire, etc."
Here you can see that moving from the 1600MHz SPD to 2133 gives a nice gain, and moving to 2666 of the much lower density set can do better, this is why you need to analyze your usage to see which kit would best benefit you.
AIDA64 Extreme
"AIDA64 Extreme is about one of the most comprehensive system information utilities I have used. The integrated memory benchmark is aso very cool as it gives me a repeatable bandwidth and latency result which can then be used for comparison."
AIDA64 shows similar results as the jump is huge from the SPD default to XMP profile. and the smaller higher speed kit can pull somewhat better numbers but with the marginal gains you simply need to address whether you can utilize this much memory to figure out what would make your biggest benefit.
Superpi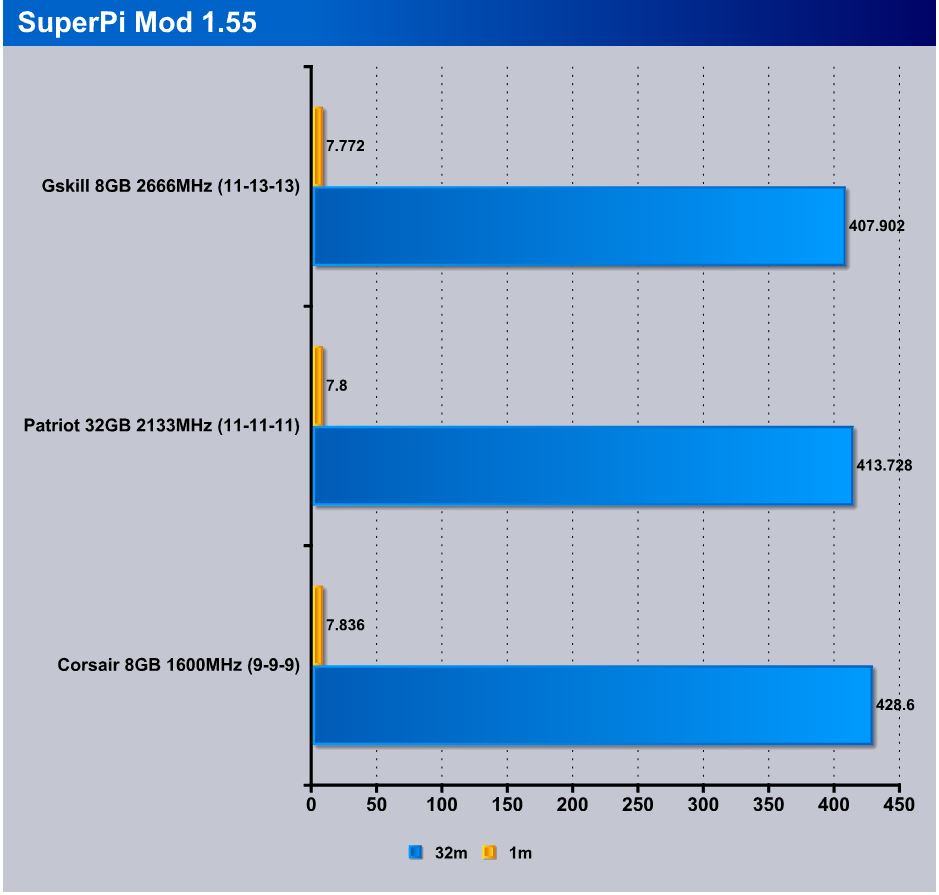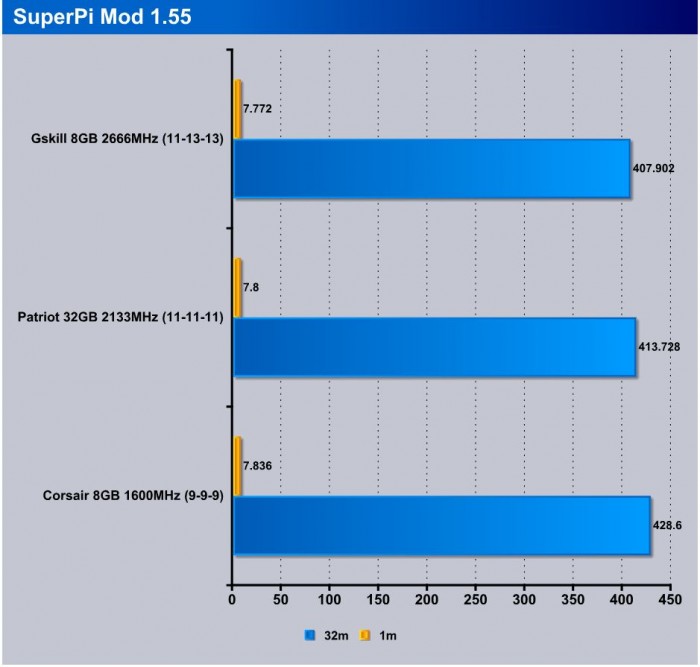 Here we have SuperPi which does very well for testing efficiencies and also stability of a platform. The 1M test is the short and dirty test with very minor gains from tweaking memory. However in the long 32M test you can see that the small tweaks in memory can make a pretty big difference in things like render jobs where data will be consistently processed for a long period, it can save you quite a large amount of time depending on the job possibly even minutes which if it is a production system that can save huge money as well by getting work done faster.
3DMARK 11

3DMark 11 is the newest in futuremark's suite of benchmarking utilities. Its a fully capable DirectX11 benchmark which also stresses and analyzes the system performance as a whole to simulate a heavy rendering environment such as a high end game or other app the end user may run. This benchmark was run with Performance settings 5 times and all runs were averaged for the result below.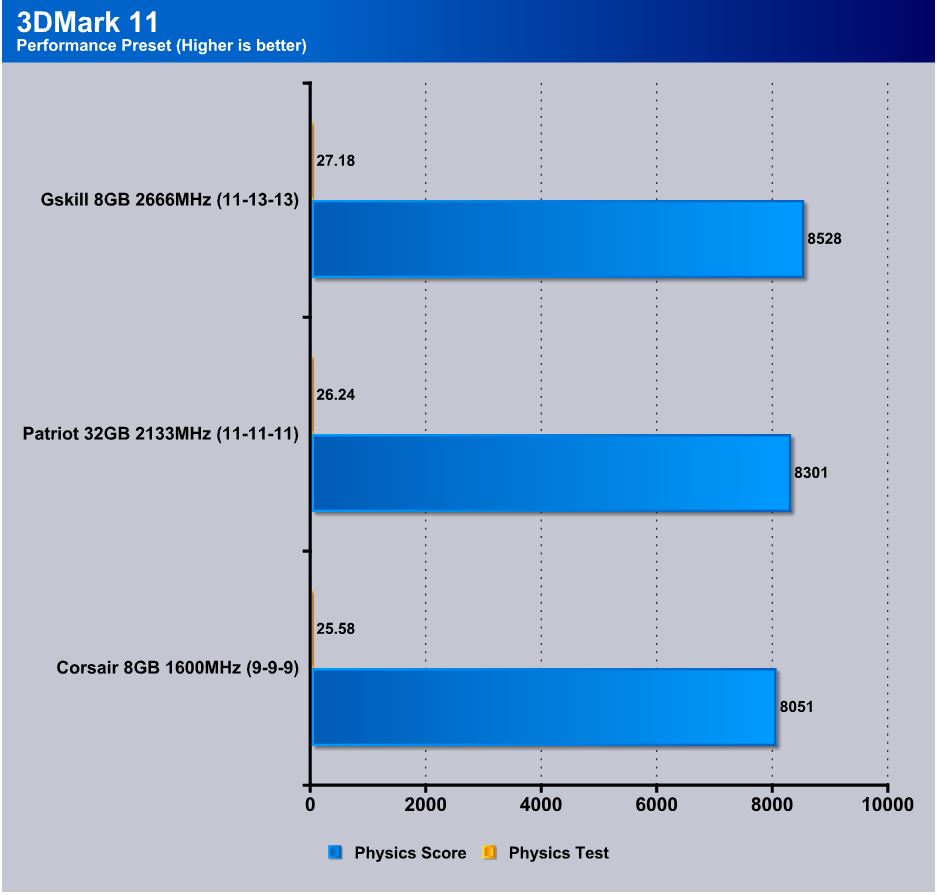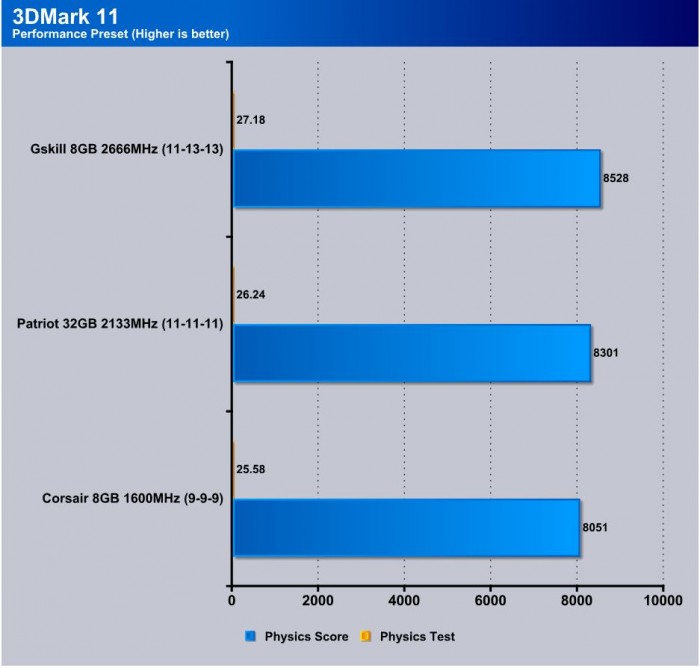 3DMark 11 is a nice synthetic benchmark which represents 3D gameplay. For this we are using the integrated HD4600 running at performance preset and we am only interested in the Physics score and test results. This is a CPU bound test and there is some gains seen by the increases of memory speed and also tightening up the timings where available.
Sniper Elite V2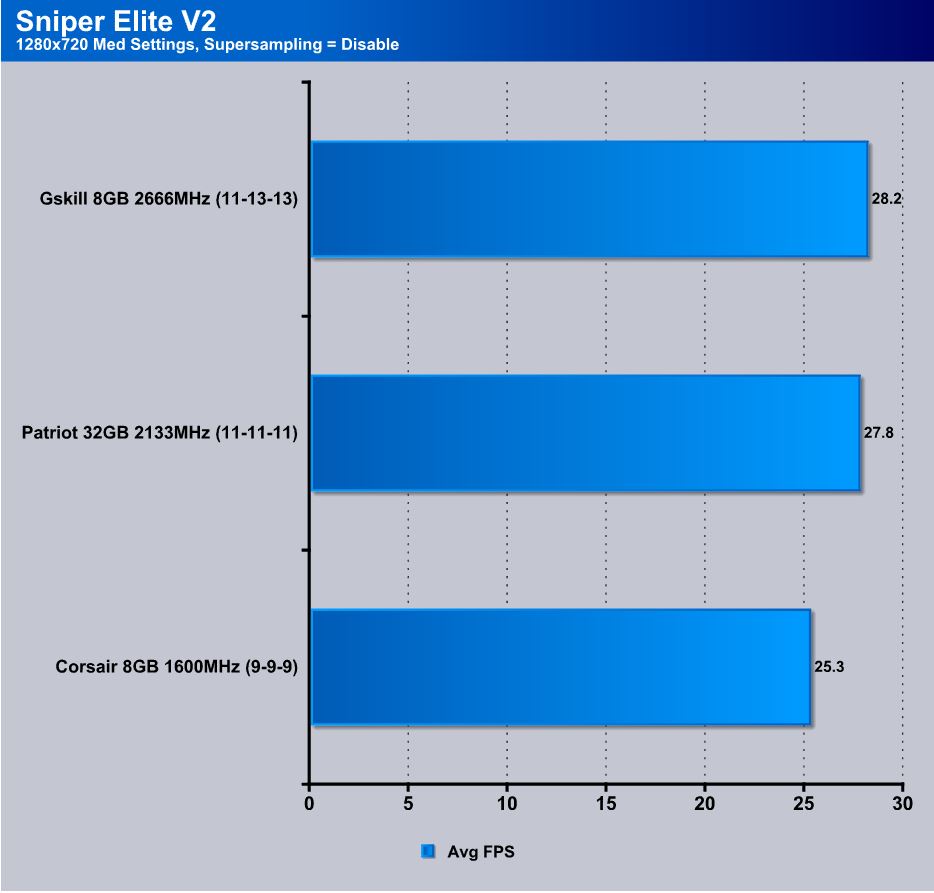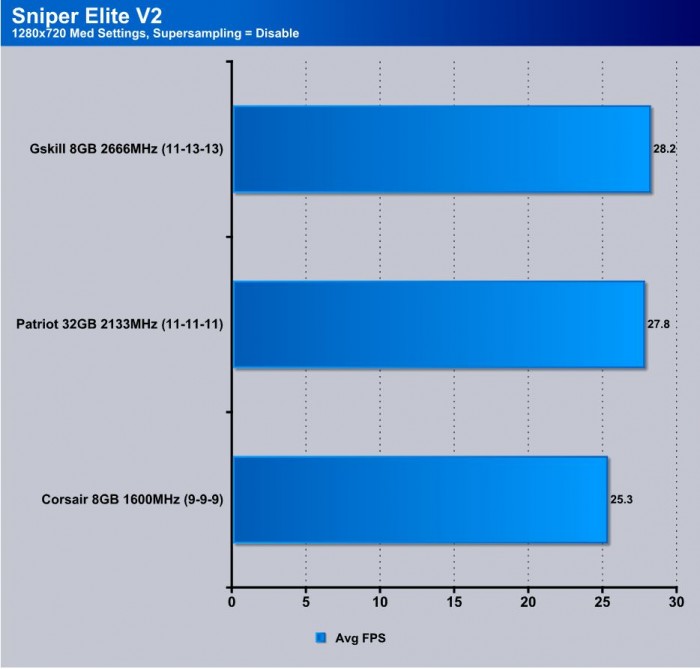 Sniper Elite V2 is a newer game we just recently added to our testing, so we went ahead and threw it in here just to see if it added any performance in real world gameplay. Using the iGPU you can see that once again you get some nice gains from upping the memory performance since the iGPU uses that system memory as VRAM as well you are technically overclocking your graphics card as well. If you are a gamer using integrated graphics for some more basic gaming I could see this being an advantage to you as you are simply getting free performance with buying higher performance memory.
Our Final Thoughts
Patriot has always made amazing memory kits and the introduction of the "Low Profile" Viper models means no matter the cooling being used fitment is very unlikely to be an issue due to memory clearance height.
The thing you have to consider here is what do you need for your system? If you are a gamer then you can probably get along just fine with a 8-16GB memory kit as I have yet to see a game use anywhere near that much, however for productivity apps such as Photoshop, premier or after effects can really load up some memory. Lets not forget about the idea of RamDisk as well as that can be a very worthwhile endeavor as well depending upon your usages.
The overclocking capabilities are nice if you like to see a number but at the end of the day as they come out of the box is your best 24/7 option for good performance and thermals.
The Patriot modules have a nice speed and timing set and reliability you can trust but on the other side there are some comparable speed models available at a lower cost so this could be a tough sell as most users would prefer a value over all else recently.
As the parts hit market I would like to see a real street price as I am betting this MSRP is a bit above what you will actually see when available.
Pros:
Cons

Strong Performance
Good overclock ability
Nice looking low profile heatspreader
Nice Timing set
Quality build with good ICs

Not available on market yet
Some models are found cheaper
Review Overview
Performance - 9
Value - 8
Quality - 9.5
Features - 8.5
Innovation - 8.5
8.7
The new Low Profile Viper series is very nice and guarantees great fitment with most any cooler, now just a slightly lower price tag and it would be a killer!