Pivos XIOS DS Media Player Review
Testing & Methodology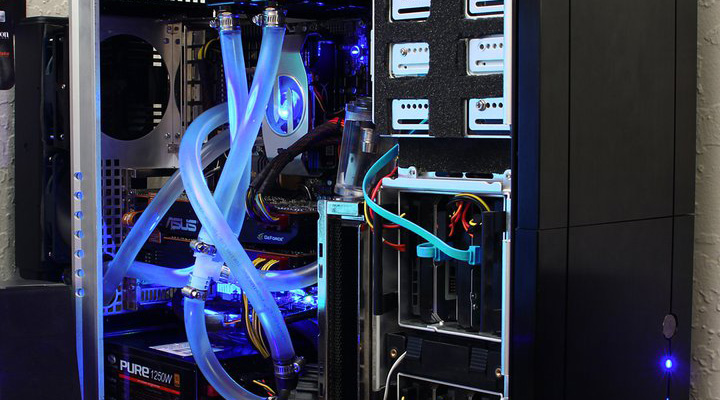 Testing a device like this is a bit different than a computer component as testing would be very dependent on how a user plans to employ it within their normal day to day life. Devices like this I treat very much like a Android tablet since in essence and therefore we will base it on some of the basics  you would do with these devices.
For setup the device was connected both wireless and wired to a ASUS RT-AC66U Gigabit Wireless AC router. Video output was to either an ASUS 24″ LED Display and also a LG 40″ LED Television.
Video Playback
Lets start with what this device was technically made for and here it does a very good job. If you are like me and you rip all of your Blu Rays on to your home storage for playback through the whole house, well this device can definitely meet your needs. However if you are using WiFi and far enough away from your router and trying to play a 12-20GB MKV or MP4 you can run into some stutter here. but for the most part playback even via WiFI was a awesome and quite smooth experience except in extreme situations where WiFI signal was quite weak which would cause such issues or even audio sync issues of up to .5 sec. wired connection showed no issues like this as it had a solid and steady throughput to work with.
Google Play Store
Well anyone who has ever used a Android based device usually starts here as it simply is where you find anything for your android device. However those who are well versed in android know that standard installer packages or APK's are available all over the web for various other programs that may not be found on the Marketplace. but either way any app can be installed either via the Marketplace or loading them onto the MicroSD card or USB drive to install via the APK installer app.
Internet/Web Surfing
The included Chrome V8 and HTML 5 capability means that web browsing is an effortless task although in comparison there is a bit more lag in response from the android based browser when compared to browsing via a desktop computer but nothing that totally kills the experience. Also be sure to test other browsers as I found less lag with the Dolphin browser and even the Firefox browser depending upon the webpage or viewing environment. 
Android Gameplay
The hardware is more than capable to handle most any android game I play regularly although I quickly found that the lack of a touchscreen can definitely have an affect on this. Games such as angry birds and the common single touch apps are not an issue as a mouse can do the job but when a game requires two separate touches it can become a quick issue here.
No tilting or rotation
Some apps or games require a vertically or portrait mode in order to function and well since my TV does not have the capability to rotate let alone the gyro to tell the OS that it had done so this is out of the question so you must stick to the landscape based apps. Believe me I play the game Candy Crush Saga on my tablet and phone, and so naturally I wanted to try it on here and I quickly found that my head sitting at 90 degree angles can get tiring. This is not necessarily a limitation of the device as the application in general.