Overview of the Pivos XIOS DS
Click Images to Enlarge
The packaging of the XIOS DS is clean and covers the simple things like a few icons on the front that tells you what it can do. Of course a little XBMC logo on the page turn at the bottom lets you know this thing is ready to rock with one of the most popular home video streaming apps out there. Flipping to the rear you can see all of the supported connectivity along with some basic support information as to which codecs and resolution are supported.
Click Images to Enlarge
Here as you look at each edge. There is a lot of information once again in regard to support and especially they want to make sure you know that the XIOS DS is the only official XBMC platform of this type. That in itself is one awesome accomplishment and definitely helps to put users at ease that new development of XBMC releases and improvements will have some tailoring to the Pivos devices such as the XIOS DS. 
Another side shows off the small form factor of the device: at a mere 3.3×3.3 square and only 0.6″ thickness this is one of the smallest media units we have used by easily half an inch in thickness alone. Lets also not forget that the XIOS DS is powered by Android 4.0 ICS which has proven to be an excellent and quite smooth Operating system. Besides that this also enables and connected TV to be a Smart TV as you can surf the web or stream online media directly from the XIOS DS device.
Click Images to Enlarge
Once the box is opened you can see the device along with a warning that you want to flash the newest firmware to ensure the best support and performance from the XIOS DS device, so we did this straight away.
Upon removal you can see on the flip side that the bottom rubber coating has a small hole marked update. This will allow forcing an update from the MicroSD card should there ever be an issue with the device you can force it to recover from a new firmware image which could mean less likelihood of a bricked device.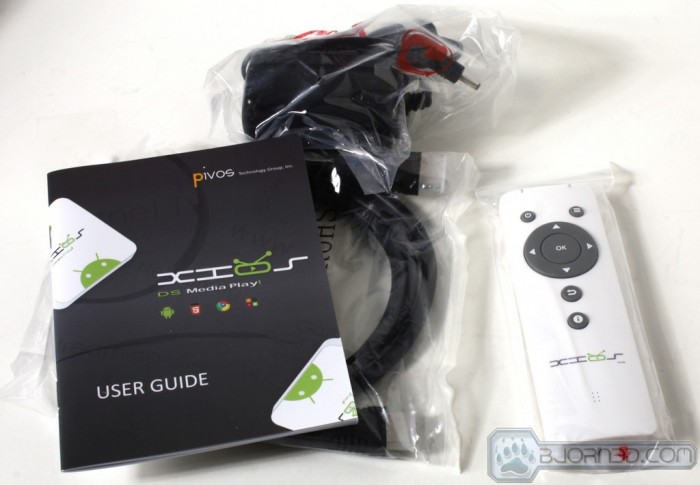 Click Images to Enlarge
Here is a list of all items included in the accessory pack:
Installation/User Manual

HDMI Cable
Power Adapter
Remote control
The accessory bundle is enough to get the unit working and even a HDMI to get it connected to your display of choice.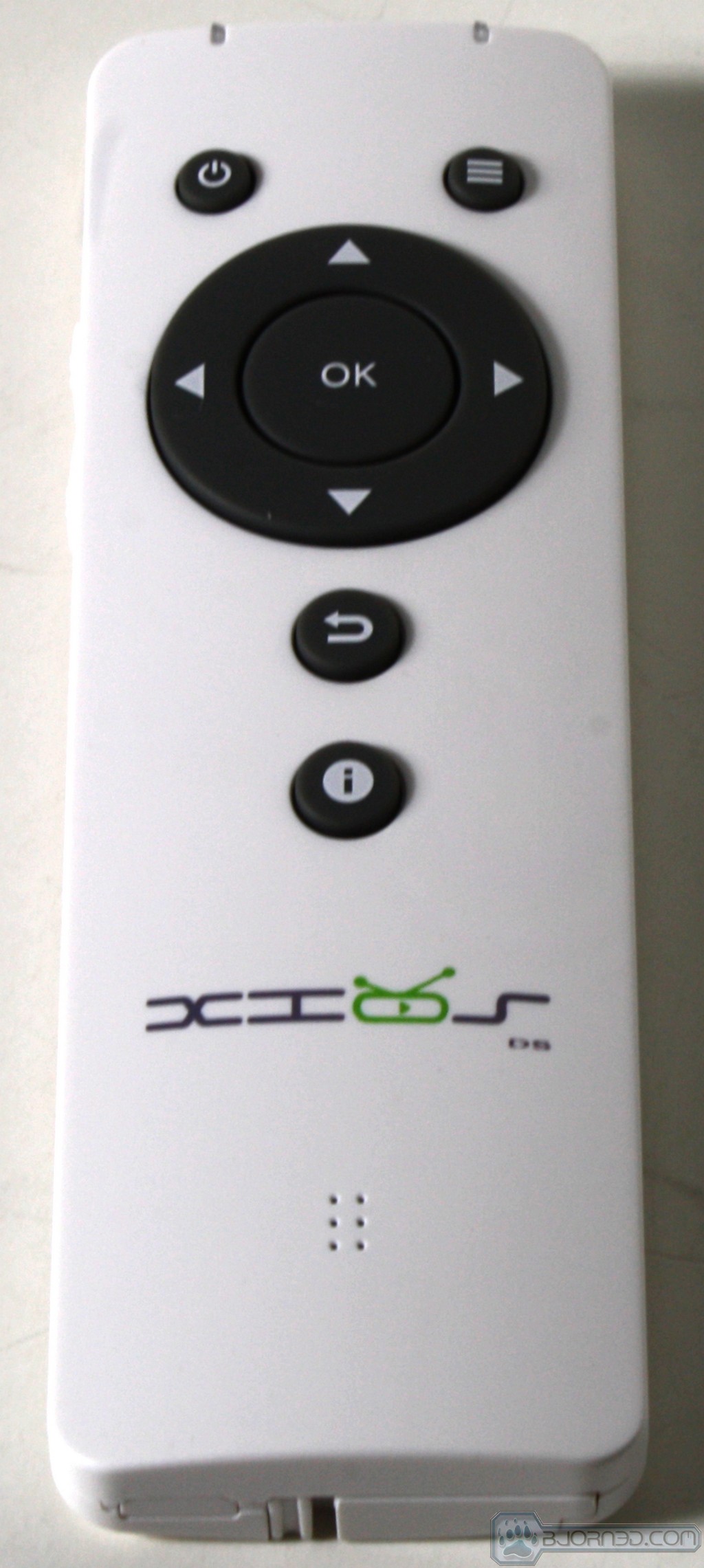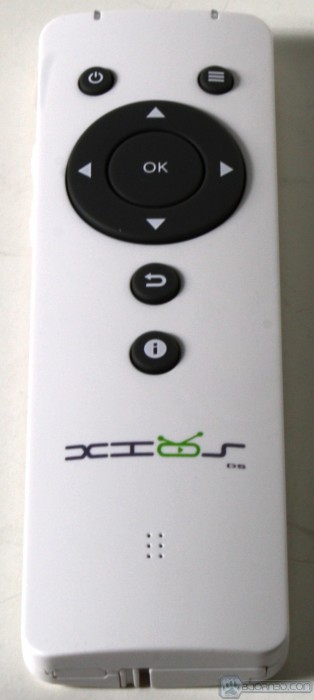 Click Images to Enlarge
The included remote control allows complete control of the XIOS DS with the following fucntions:
Power
Menu
Directional (up, down, left and right)
Center (ok) button
Back button
Information/notification button – Brings down the notification or similar to sliding down from the top on your android smartphone or tablet.
Volume Rocker (On side) – allows volume adjustment directly from the remote.
The remote is nice and easy to use although navigating the OS for the first time took some getting used to as we are very well versed with the Android OS, and this one on the XIOS DS is basically a stock Android experience except built to work with the XIOS DS device. Once you get used to it, navigating is not bad at all but hooking up a wired or wireless keyboard/mouse combo make the experience much more like a HTPC experience. Not to mention with a mouse navigating the menus and android app store much quicker.
Click Images to Enlarge
Checking out each edge of the XIOS DS you can see the notification LED's along with the receiver eye which works at quite an impressive angle. The remote could be held almost at 160 degrees to the side and was able to be controlled, and this is good so that you do not have to be aimed directly at the device or sitting right in front of it. 
The side has a really thin slot made for insertion of a MicroSD card which when inserted has a press effect to lock it into place. After it is positively engaged it then has to be pressed again to be removed. In this we placed a 32GB UHS-I Sandisk MicroSD which expanded the internal storage in the XIOS XD from its standard 500MB to 32GB so that I can load more apps or media locally on the device. Also there are two USB 2.0 ports on this side for connection of peripherals or storage devices. This is where we placed my Bluetooth receiver and allowed control and interaction with the device from any location within receiving distance.
The rear of the XIOS DS has a 10/100 LAN port along with another USB2.0 port, a HDMI port, Power input and lastly a soft off power switch. Not seen is that the device internally employs a wireless LAN/WAN conenctivity via a WiFi controller which means I can stream media from my in home wireless network