ASUS AiCloud: A Fresh Face for Networking
The AiCloud Experience
Test Setup
The testing setup includes a standard 2 bedroom house layout with full furnishings along with standard installation at the location of the incoming Modem device in the main living room area. The router is positioned in the standing upright position as with the appearance most users will probably opt for this positioning to save horizontal space when installing it into their home network with limited space. This will however affect vertical space as you are now transitioning this to a more vertical heavy installation so you will need to ensure proper clearance above the router including antennae if you plan to install this standing in the same way. 
The network attached is a external cap of 60Mbps up/down and averages 63Mbps down with 61Mbps up. this will allow for optimal testing conditions for full functionality of HD Streaming capabilities and  high speed file transfers. Most home networks will vary in connection speed with many being more toward the 10Mbps range but that just means you may have to adjust what media you view remotely in accordance with your bandwith limitations.
USB Storage – Patriot Autobahn 32GB 
When we decided to test the local storage capability we wanted to ensure we had something with enough size to fit needs of most users but also something that would be practical. For this we called upon the Patriot Autobahn as the ports are USB 2.0 spec so we stuck with a 2.0 drive since using a more expensive 3.0 would not really net any available gains here.
Besides this the Autobahn offers another very nice advantage. As you can see below its actual size is only a few millimeters past the standard USB port opening which means that we have enough of it we can grab to remove it but it is also close enough to the port that should be accidentally knock over the router or something goes horribly wrong the chance of breaking the drive or port is significantly reduced sue to its small size.
Here you can see that the power jack itself is actually about 1mm further out than the Autobahn Flash drive. On a side note it really does impress us how small 32GB can be now days. 
Test Rig#1 Local Static
Test Rig
Case
Thermaltake Level 10 GT
CPU
Intel Core i7-3770K
Motherboard
ASUS Maximus V Formula

Ram
16GbpsB Patriot Viper Xtreme 2400MHz +
CPU Cooler
Swiftech H20-220 Edge
SSD
OCZ Vertex 3.20 240GB
Optical
ASUS BD-ROM
GPU
ASUS GTX 680 DirectCU II TOP
Additional 

Patriot Autobahn 32GB USB Flash Memory
PSU
Thermaltake Toughpower XT 1275W Platinum
Mouse
Tt eSPORTS Black gaming mouse
Keyboard
Tt eSPORTS Meka G1 mechanical gaming keyboard
For the PC side as you can see we have this more than covered with a very capable system. This will be used for the internal network testing and connectivity both wired and wirelessly. 
Test Rig#2 Remote Notebook
Test Rig
Model
Cyberpower Fangbook
CPU
Intel Core i7-3630QM
Ram
16GB Corsair Vengeance 1600
SSD
Intel 520 Series 60GB
HDD
Seagate Momentus 750GB
Optical
MSI Slim DVD Multi
GPU
Nvidia GTX675MX W/Optimus – Intel HD4000
WiFi

Killer Wireless-N 1202 802.11 a/b/g/n
The notebook is used internal to the network and also for some external testing such as FTP transfer and media streaming tests. 
Test Rig #3 Mobile device (Cell Phone)
Test Rig
Model
LG Optimus G
CPU
1.2GHz Quad core Krait
Memory
2GB Ram – 32GB ROM
GPU
Adreno 320
OS
Android Version 4.1.2
 The cell phone we have added as many users could see benefit of being able to access data on their internal network from any location, and taht in itself if it can be done on your phone really opens up the possibilities for implementations for the end user.
Test Rig #4 Mobile device (Tablet)
Test Rig
Model
ASUS Transformer TF300
CPU
1.2GHz Quad core Nvidia Tegra 3
Memory
1GB Ram – 32GB ROM
GPU
Nvidia GeForce 12-Core
OS
Android Version 4.2.2

 The tablet like shown above is growing quite a lot in popularity so it is a natural fit for testing right along side the phone for showing the potential for this kind of feature in your network setup.
Getting started
The Setup
The first thing you need on your venture into the AiCloud setup is a compatible router. While right now the pickings for AiCloud are select, ASUS is working to increase coverage to even older models not just new ones coming but a free and pretty nice upgrade to some users who purchased ASUS routers previously. 
The models of routers which presently support AiCloud are as follows:
RT-AC66U (our test sample)
RT-N66U
RT-N65U
RT-N16
RT-N14U
Now while this list is select we have word from ASUS that this will be expanded for as many models as they can make it happen. This is due to the wonders of firmware and that the AiCloud function is largely a firmware based component. Adding the most current firmware is also a must for AiCloud function on currently supported devices to ensure optimal functionality. It is also worth noting that the AiCloud feature is considered in BETA even though it is running quite well but ASUS is still working on fine tuning it. Knowing ASUS, even though it's beta, it will be more polished in BETA than some software is at release phase.
Now like we said earlier, the firmware has to be updated, the router has to support it, otherwise there's not a lot else required besides some wireless or wired devices to connect to it. Once connected you have to setup the router as seen below in the quick on screen prompts.
As you can see the initial router setup is very very easy, and also the page you see here closely resembles the actual firmware screens on the router, so unlike some model routers which have a very institutional look this one is very clean and even sleek looking with a  very nice GUI. If you have ever used an ASUS motherboard than you know what kind of craftsmanship go into ASUS model firmwares. Navigating this routers firmware is probably as easy if not easier than any router we have used. While we are not experts at networking, we do have quite a lot of experience with routers so the sheer number of features on this router's firmware may seem daunting but many do not need to even be touched for most users.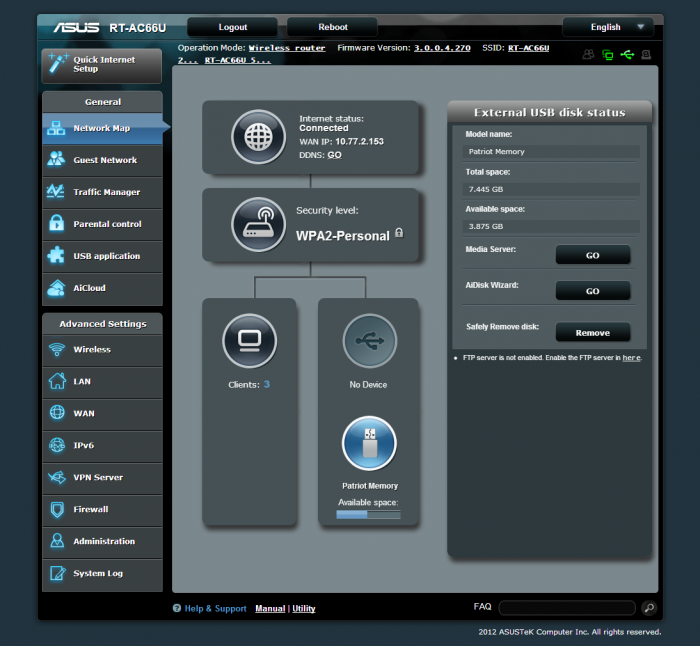 Here you can see the main Network Map page and as you can see there are many informational areas here, and you can see that we have a Patriot flash drive plugged into the USB and this can be shared to any connected device. Also the router can even have the FTP function enabled so that any USB connected flash drive or hard drive can be accessed via FTP for even more options for deployment.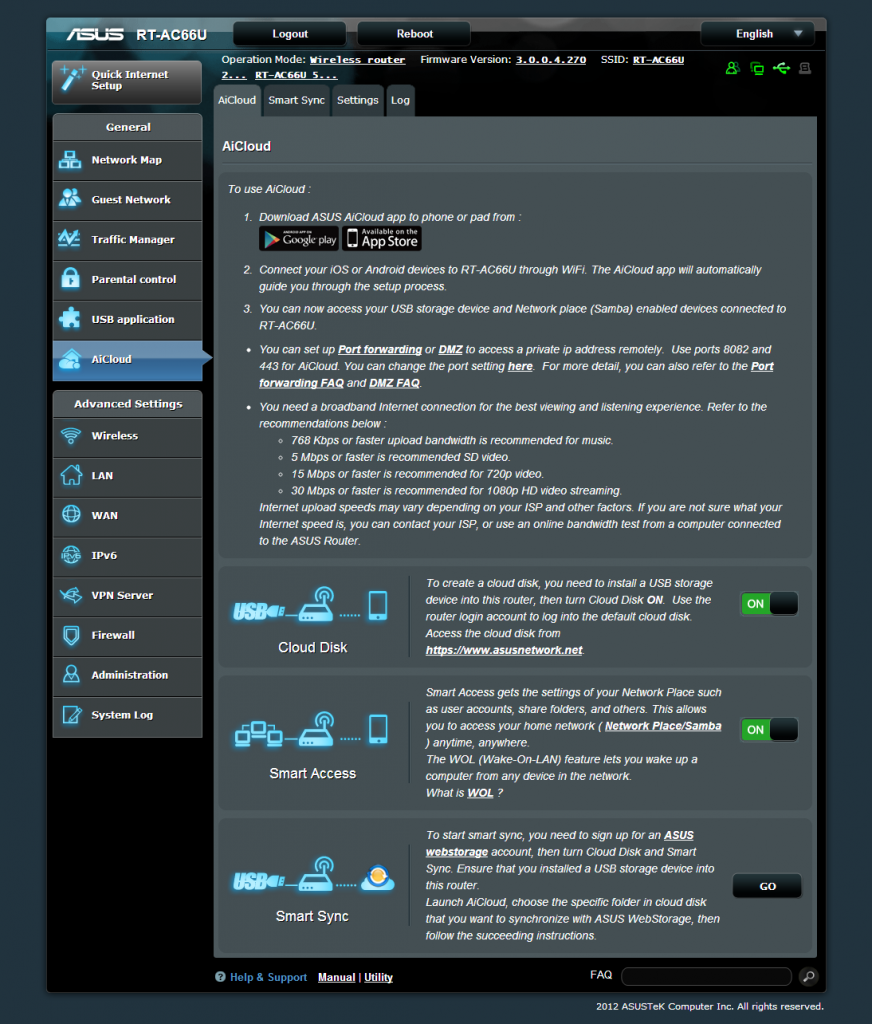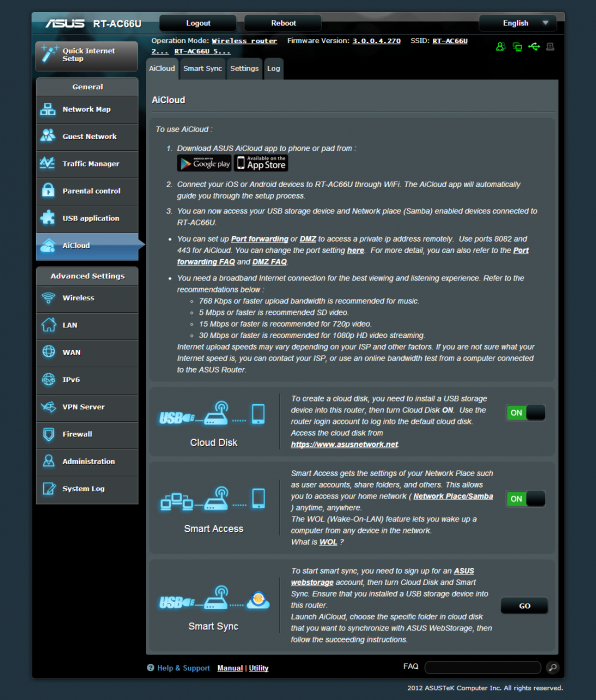 Here is the next step which as you can see is the AiCloud section and this is where you can enable, disable or setup the various functions of the AiCloud feature set.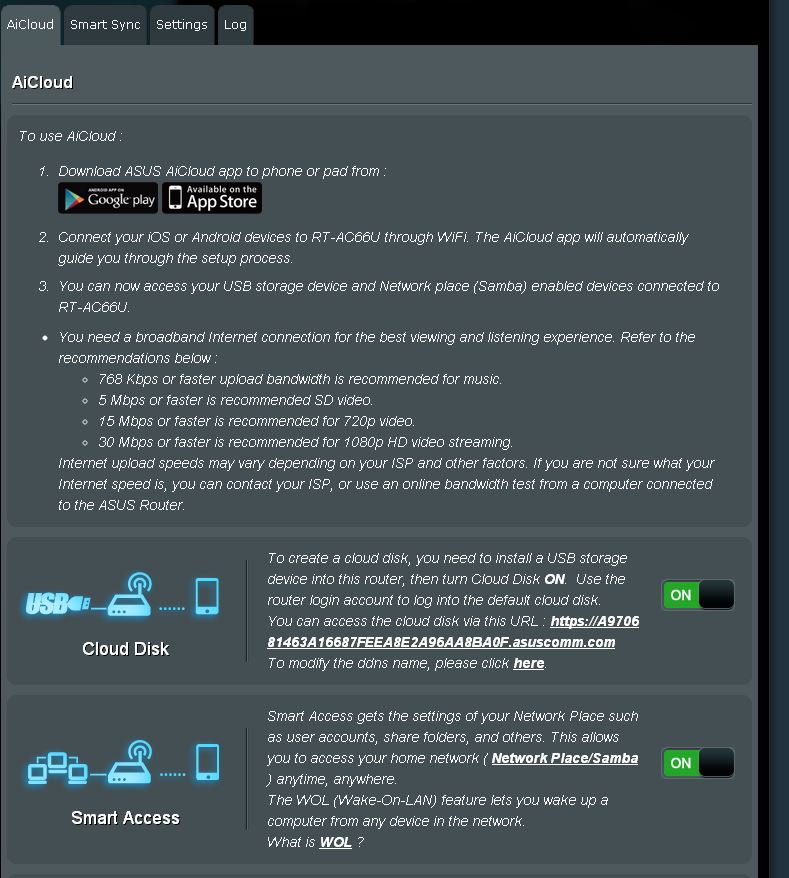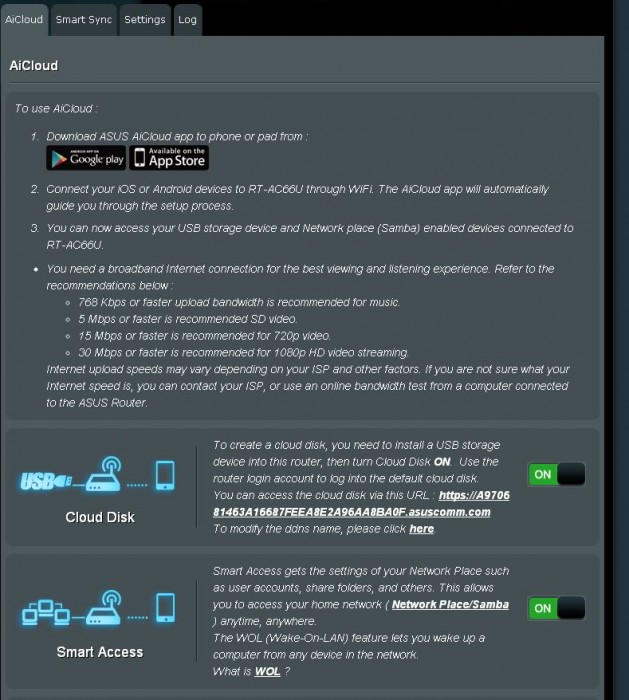 Here you can see the very long string given to the cloud disk followed by asuscomm.com, now this can be changed to something much more reasonable to remember. Once this is set though this will be the unique identifier for your home network that you can access by simply entering that address into the URL bar of your of your browser. Once entered you will need to enter the login and password you setup for your router to gain access to the network shared devices
 Here is what the web interface for AiCloud looks like from a browser based access of the network. As you can see when we tried to connect to the N5550 NAS it asked us for the username and password in order to login. Once entered correctly you can view, stream or use files as needed directly from your network from anywhere in the world that you have a internet signal.
Here you see the interface from a mobile device, now this is a bit different because you want to set it up while withing the network to connect to the router with AiCloud before you go on a journey expecting to have constant access to your network.  Once connected, you can see and access data on any connected and active device, much like viewing data on your own SD card. You will also notice that devices that have been connected to the network and are offline presently. This is important to note as you can also wake up any wired devices as well but compatibility for this is not guaranteed on all systems.
File Transfer
The ability to transfer files via multiple interfaces including FTP makes this a cool feature and definitely an asset to people on the go who want the ability to drastically extend storage space or even access network stored data. 
 The ability to not only access but add or download files from the in network devices while at remote locations proved very useful from all of the mobile devices even our cell phone and we inadvertently wound up needing the access while on a short trip so without even meaning to we had created a need for such connectivity just by being on the road with a file I had left on our desktop.
Media Streaming
The AiCloud feature allows for streaming of your media whether it be music or video directly to your laptop, desktop or mobile device from any remote network. 


 Here you can see the recommended bandwidth depending on file type for music and video to be streamed. Needless to say if you only have 5Mbps up on your home network we wouldn't try streaming Blu Ray rips from your home storage as you will be in a constant state of buffer.
We happen to rip all of our Blu Rays to our home storage so that we can watch them from anywhere in  the house, andwe have very good up speed (60Mbps), so watching any of our high def blu rays even on our phone at a remote high speed network was not only stutter free but also excellent quality. Running on standard 3G we were also able to stream our music library from our home server with no issues and that was a very cool feature as we now do not have to bog down the storage of our phone with multiple gigabytes of music when we can just stream it from home.
Do keep in mind that some ISPs have bandwidth caps so don't start remotely streaming your whole Blu Ray library from work as that could quickly eat up some serious bandwidth.
Cloud Syncing
The Cloud Sync feature is probably one of the features which is still in its infant stages. The ability to sync your storage to ASUS WebStorage is very cool but once again we have information from ASUS that they will be adding support for many public cloud based clients such as Dropbox among others in the future. but this upon testing worked very well as a setup ASUS WebStorage account can be syncd directly to the unit and any changes of data are sync'd instantaneously to your webstorage account.
What Does the Future Hold for AiCloud?
We have some confirmed inforamtion from ASUS which we have already mentioned such as:
Planned Dropbox or other public cloud software support integrations
Planned Facebook Integration (Not really sure how, but we will find out im sure)
Router to router AiCloud sync features to keep local storage in sync between locations or friends
Multiple AiCloud support for iOS and android Apps
Trickle down support for most models of ASUS routers (as many as they can make support it)