ASUS has had some recent success in the networking side of the industry and much like they do in the motherboard market they are now expanding the network devices to do so much more. This comes to us today to showcase the newest addition in the AiCloud feature so let's see what it has to offer.
Introduction – ASUS AiCloud

ASUS is very well known for motherboards or GPUs but we were honestly surprised when they entered the networking arena. ASUS has a flair when it comes to creating new standard feature offerings that would seem like kind of a strange fit in something like the buttoned down networking world. In reality however, that is exactly what the market needs: someone to come in and shake things up, to stimulate innovation so that different products have unique features, rather than just being carbon copies of each existing ones.
ASUS has done just that with very stylish looking routers, but more importantly with feature sets that really expand how you can use your router. One of these is the AiCloud software package. AiCloud is a bundle that comes with owning selective models of ASUS routers, listed later on in the review.

The router we are using to demo the AiCloud function is the new ASUS RT-AC66U which is a very new model supporting not only AiCloud function but also the newer super high speed AC standard with support for speeds up to 1.75Gbps. This is just the tip of the iceberg as it also supports many technologies such as the following:
AiRadar – AiRadar is a feature which allows ASUS to target connected devices and provide optimized signals based on device positioning for better and more consistent signal strength for your wireless devices.
Superior cooling – With the help of an internal high density Aluminum fin array the RT-AC66U stays consistently cooler to allow even under heavy loading situations the router and its components can stay more stable and cooler for consistent operation.
Two USB Ports – There are two integrated rear USB ports which can be used for external storage devices or even printers or multifunction devices to be connected and shared to any device on the network. This is a huge plus especially with an external storage as it can offer extra shared storage within the whole home or office as needed.
256MB Internal RAM – This memory allows for optimum stability and performance as data is transferred through the network and is really most noticeable under extreme loading scenarios.
128MB Flash – This is where the operating firmware is stored for the router, and the bigger the better as it allows for even bigger updates and features in the future as ASUS may add them much like AiCloud function is in the works for routers that were sold previously and were never even advertised for it.
Features
Cloud Disk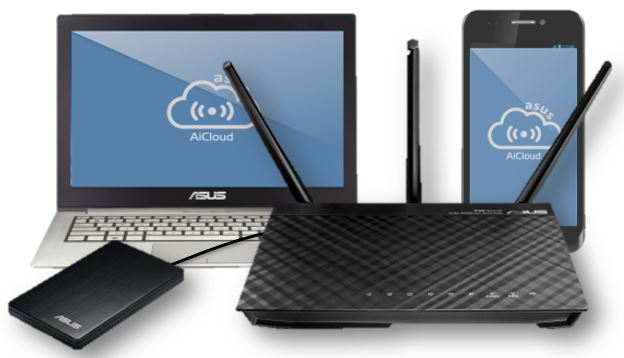 The Cloud disk feature is part of the three main features and has to do with the ability to hook up a USB storage whether it be a USB flash drive or even a HDD enclosure. Once connected and enabled the files on this device are ready to be easily accessed both on the local network but also externally from a outside network via the secure AiCloud service link or app. This allows for reading or writing data to your USB connected drive from anywhere you have a network signal even on mobile networks, of course we would avoid doing larger transfers until you are on a faster speed connection.
Many users have though about network storage such as the NAS units which we have worked with on many occasions. This is a good solution in itself but with some ISP's blocking specific ports or other possible issues the AiCloud feature allows much easier external and internal network connectivity to your storage space. This is not to say that the AiCloud fits every application but for regular users who simply want to plug in and go solution without a bunch of extensive setup the AiCloud Cloud disk feature is definitely a viable option.
Smart Sync


 Smart Sync is very much like some we have seen with programs like Dropbox or Copy, in which the files can be shared across multiple systems or even mobile devices. However there are some limitations  to this as it requires a specific app for just that single public web based cloud storage. The ASUS Smart Sync allows for syncing to ASUS WebStorage which is similar to the others like Dropbox, but the Smart Sync also will soon support these other public cloud services as well so that all of your data can sync easily and quickly via the one service app.
Smart Access


The last of the three features is the Smart Access, and this one we do like a lot as it allows you to connect to your ASUS router and see your entire network attached to the router in your browser or mobile app for quick and easy access to any shared storage on any connected system or even NAS device.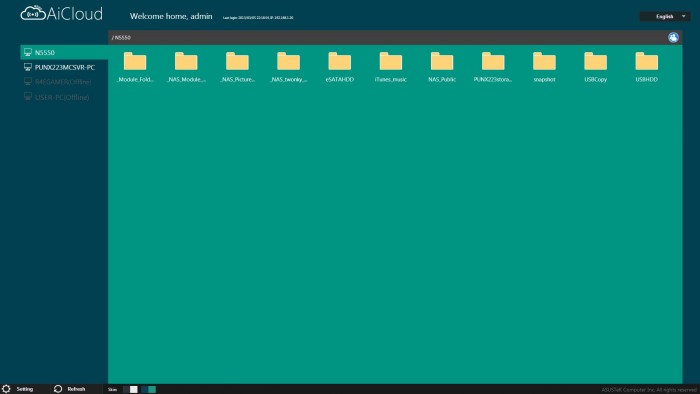 Here you can see connection to a home NAS device from a remote location over 40 miles from the home network. This allows also for reading or adding files and even streaming media pending your bandwidth from the upload on your home network is strong enough to support it.
One thing to note is that while a NAS is designed for remote storage you can also share folders on any connected device  wired or wireless no matter if it is a laptop or desktop and as you connect to the device you will see the shared folder. and from that folder you can copy or add files, stream media or anything else as if you were sitting at the machine looking at the file folder.
Another cool part is that if your attached system has a username and password to login you will have to enter this once connected to the AiCloud interface before you can access the shared system drives, this also applies to an attached NAS as long as anonymous access is not enabled. This simply adds another layer of security to your data through this interface