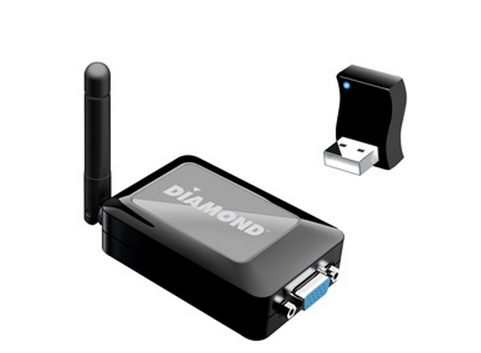 The Diamond VideoStream WPCTVPRO is a new device to help you setup a dual-monitor without a long wire connected to your PC. Using DisplayLink technology, the device communicates to your secondary monitor (TV for example) wirelessly through Ultra Wide Band (UWB). How does it perform? Does it live up to its promise? Let's find out. 
Introduction
Hooking up a desktop or laptop to your television has been a relatively simple task to accomplish. For many  years, we have been using a cable such as S-Video or HDMI to hook up to our TV set, but that has changed over the last couple of years. No one likes to have tons of wires going across the floor so lately there is a growing trend of outputting content from our computing devices such as PC, tablets, smartphones, and laptops to our HDTVs wirelessly. Not needing a physical wire linking the two devices is awesome: no more accidentally tripping on a wire or having your pets chewing on it is great.
On the PC front, WiDi and Miracast seem to be the two most dominant supported technologies, backed by various industry leaders such as Intel, NVIDIA, and Samsung. Using WiDi or Miracast is fairly simple provided that your HDTV is equipped with a receiver either built into the TV set or attached externally and your broadcasting device (laptop, desktop, smartphones, tablets) are certified to support it as well (ie has a transmitter that can send signal to the receiver).
What happens if you have an older system that does not support it and you still would want to display content to your TV wirelessly? This is where the Diamond VideoStream WPCTVPRO comes into the picture.
The VideoStream WPCTVPRO utilizes DisplayLink's technology to achieve the same result as WiDi or Miracast. We have previously reviewed the DisplayLink USB adapter with the HIS Multi-View II that extends the content on your PC to an external display via USB port. The way that the DisplayLink works is pretty simple. It takes the information generated from the CPU and GPU and compresses it with their proprietary technology based on the content, available CPU power, and bandwidth. The data is then transmitted to the receiver to be displayed on the attached monitor. 
The WPCTVPRO in essence is the same as any DisplayLink powered USB-display except that instead of having an USB cable linking the host PC to the adapter, a wireless transmitter is used that sends data to the receiver. The receiver then process the information and output the signal to the the display such as TV. Thus, a wire is no longer needed and the PC no longer need to be next to the display. 
Diamond VideoStream WPCTVPRO 
Packed in a rather attractive box, the Diamond VideoStream WPCTVPRO opens up diagonally to reveal the product and the drive disc. For a small device like this, the box is rather big but as you can see the product is well-protected in a cutout foam to secure it during shipping. Underneath the wireless receiver is where we find additional accessories.  
We get the wireless receiver with detachable antenna, USB transmitter, driver CD, HDMI cable, power suppy, driver CD, and a quick start guide. The power adapter is rated for 5VA (5V, 1A) output.  
Diamond opted to use external antenna with the WPCTVPRO as oppose to internal. While an internal antenna would improve the device's overall aesthetics, the external should help with its signal reception. The antennae can be detached from the device for easier storage if you ever need to carry the device with you. On the opposite side of the antenna is where we will find the VGA (D-Sub) connector.
The left side of the device is where we find the analog audio connector, an HDMI port, a micro-USB 2.0 port, and the power connector. Right next to the power connector is a tiny LED indicator . The right side is devoid of any ports.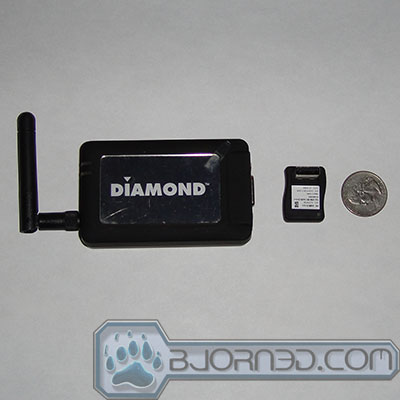 The USB transmitter that in included is angled at 90 degrees to make it less obtrusive. It is tiny, about the size of a quarter as you can see from the image above. Putting the device next to the receiver, we can also see that the receiver is not that much bigger either.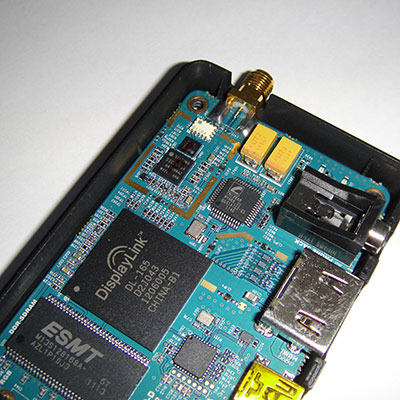 Opening up the WPCTVPRO, we can see that it uses DisplayLink DL-165 chip. It is not the latest iteration from the DisplayLink but it is more than enough to display up to a 1080p monitor. The chip includes support for DVI, VGA, HDMI, and LVDS outputs. The HDMI output supports 5.1-channel audio. According to the information on the DisplayLink's website, the DL-165 uses the company's dual core decode engines.
The Wireless connectivity is handled by the Samsung S3C2680A chip. The chip is a wireless universal serial bus (USB) that is developed using Ultra Wide Band (UWB) technology. The SoC allows transmission at an actual information throughput rate of over 200Mbps with power efficiency ten times greater than that of the 802.11g WiFi standard (source: Samsung) The Wireless USB operates at 3.1 to 10.6 GHz frequency and capable of sending 480 Mbps at distance up to 3 meters (9.8 ft) and 110 Mbps at up to 10 meters (33 ft). The use of 3.1 to 10.6 GHz frequency would avoid interference from commonly used 2.4GHz. The 480 Mbps just matches the theoretical USB 2.0 transfer speed. Typically, televisions are placed with viewing distance of around 3 to 5 meters, so theoretically, there should be plenty of bandwidth for transmitting full HD video. The 110Mbps transfer rate at 10 meter is probably just the best case scenario and in practice, we doubt that it would be able retain much signal given to all of the interference coming off from all of the electronic devices. 
On board is a CMedia CM108AH chip responsible audio. It dual-channel audio with headphone amplifier. We presume it is responsible for outputting the stereo audio through the headphone jack. 
Features ans Specification
Operating System :
WIN 8 , WIN 7 32 , WIN 7 64
WINVISTA32 , WINVISTA64
WINXP ,
System CPU :
Core2 Duo Processor
CPU Speed :
2.4 GHz
System Memory :
1024MB
Power Supply Instructions :
Recommended Minimum System Requirements Win7/Vista/XP for 1080P full screen 2.4 GHz Core2Processor 2GB System Memory Intel GMA X4500,ATI Radeon HD3xxx,NVidia GeForce 9xxx or better Graphic Card WEI Score 4.5 or higher
Hard Disk Space :
500 MB Free Space
CD DVD :
YES
BUS :
USB 2.0
Monitor :
HD Display with HDMI input
USB :
YES
Watch ANYTHING from your PC or laptop on a large flat panel TV
Simple and Easy installation
Supports 1080p Full HD
5.1 Digital Audio
3.5 MM 2 Channel Stereo
MULTITASKING – Watch TV while working on your PC or laptop
Stream presentations wirelessly to your HDMI or VGA projector
Stream photos, music library or Internet radio from your PC or laptop to your HDTV home theater
Up to 30 foot range
HDMI cable included

USB to HDMI wireless HD 1080 PC to TV transmitter and receiver
Setup
Currently, the WPCTVPRO only works for Windows based PC so no luck for the Mac users out there. Though we do know that the DisplayLink technology does support Mac system but Diamond's specification only has Windows listed. During our time of testing, we did not have a Mac system for us to test so we cannot confirm if it will work with Mac under OS X or bootcamp. For Windows, the device supports all versions that go all the way back to the Windows 98 and the current version Windows 8. Both 32-bit and 64-bit version of Windows are supported except Windows XP 64-bit. Since the device still rely on the host PC for all of the heavy lifting, the minimum requirement is Core 2 Duo processor at 2.4GHz, 1GB of RAM, and 500 MB free space (for driver and apps). This is not too demanding as it is the typical 5~6 years old PC setup so any modern PC should not have an issue provided that you have plenty of RAM and a free USB 2.0 port. 
Setting up the WPCTVPRO is slightly different that you may be used to as it requires installation of the driver first, then a quick reboot and finally plug in your device and let Windows search for the driver and software. This is different than what we used to from other driver installation where we first plug in the device and then install the driver. The simple setup guide from Diamond explains the process though the software installation procedure is a little bit confusing as when it had finished installation, it did not prompt for a reboot; luckily we read the manual before the installation so we rebooted and then plugged in the USB transmitter and it automatically detect the receiver and pair itself up in the extended screen mode. Be warned though that it is normal that the screen may go on and off a couple of times during the installation. The installation process is pretty smooth provided that you follow the instruction carefully. One thing to note is that if you ever need to update to a newer driver/software, you would require to first uninstall current driver first and then go through the whole process again before you can use it, which is slightly inconvenient. 
We installed the device with our Asus Zenbook UX31E that has Intel Core i7 2677M, 4GB DDR3, and HD 3000 graphics. The driver that is included with the disc is a slightly older version (7.0M) so we went to DisplayLink's website to download the latest version 7.1M1 and proceeded with installation. The process is smooth and took us about 5 minutes to set it all up. Everything worked well but we found out that the latest driver is not compatible with Chrome browser where we cannot access internet with Chrome. Internet Explorer 10 still works, so we revert back to the 7.0M from the discs for our testing. 
The software places a tiny icon on the Windows Taskbar that allows a quick access to various settings. Here we have the option adjust video and audio setting of our device as well as checking updates for the latest version. Interestly enough, both the DisplayLink Manager and Video Setup actually brings Windows default Display Screen resolution setting as oppose to a dedicated application. Same thing goes with the Audio setup that simply brings Windows Sound setting. 
Under the Samsung Audio/Video Device is where we have a quick setup menu to adjust settings such as Screen Resolution, Screen Rotation, Extend, and Extend To. A wide range of resolution is supported ranges from 640×480 all the way to 1920×1080. All the typical resolutions in 4:3, 16:9, and 16:10 ratio are here such as 640×480, 720×480, 768×576, 800×600 1024×768, 1280×720, 1280×1024, 1366×768, 1440×90, 1600×1200, 1680×1050, and 1920×1080. We have the option to rotate the monitor left, right, or upside down. It also lets us extend the display in all for direction: left, right, above and below. This would come handy if you are using the device for second monitor to extend the work space. We also get the option to extend display, set as main monitor, turn off the main display screen, and mirror the displays. We are not certain what the Optimized for Video option does as it does not offer much explanation but we do presume it probably prioritizes the data and bandwidth for streaming video over other workloads. The Fit To TV lets us adjust the screen size to match our television. 
Generally speaking the WPCTVPRO worked as it promised. When our laptop was placed about 2 meters (~6.5 feet) away from the receiver, we were able to stream content without any issue. We tested with 1080p movie encoded in MPEG-2 (DVD), a 1080p HD movie trailer on Youtube, and also a ripped Bluray file encoded in mkv format with 22.4 Mbps bitrates. The movies all played fine without any issue except the Bluray file where we did notice momentarily lag and stutter, though for the most part, it was smooth. When we extended the distance between the receiver and the transmitter to 3 meters (~10 feet), the signal issue became more apparent as we occasionally would have pauses during playback, especially if there was some obstruction between the transmitter and the receiver. Since most homes place the television about 2~3 meters away from the couch, the WPCTVPRO should not have much of an issue provided that the receiver is placed in a direct line to the light of the transmitter and there is no obstruction during playback. 
Conclusion
The WPCTVPRO offers an interesting solution for those who wish to stream contents from PC to HDTV without wire. The unit is easy to setup and its space saving design is also great. The ability to stream 1080p content wirelessly is great as it offers the ability to multitask where you can playback a movie on the big screen for your kids while working on the laptop in the background.
There are some minor quirks that you should be aware of before buying the product. If you can live with relatively short signal transmission range and occassional stuttering with high bitrate content, then you would enjoy the ability to have dual screen setup without a wire in between. Keep in mind that the unit also uses your main PC to do all of the heavy work of encoding and decoding, so you would also need to make sure that your PC is powerful enough to handle the workloads if you plan to do multi-tasks.
Retailed at $99.99, the Diamond WPCTVPRO is a tad expensive considering what it does. There are certain some potential usage scenario that the WPCTVPRO would be perfect for. However, if you are looking for just streaming HD contents to your TV, then it would be a much better option to choose a dedicated media player/streaming device like AppleTV. Of course, the functionality of a media streaming device certainly cannot compete against a full-blown PC in terms of software and media format support as well as the ability to do multi-tasking and more. If you need to do more than just streaming videos, then it is certainly worth checking out the WPCTVPRO if you do not want to mess with the hassle of cables.
OUR VERDICT: Diamond VideoStream WPCTVPRO
| | |
| --- | --- |
| Performance | 7 |
| Value | 7 |
| Quality | 8 |
| Features | 9 |
| Innovation | 8 |

We are using a new addition to our scoring system to provide additional feedback beyond a flat score. Please note that the final score isn't an aggregate average of the new rating system.

Pros
Cons

Small and portable

HDMI, VGA, USB output

Multi-monitor support wirelessly

Easy to setup

 

Relatively short signal strength
Summary: The VideoStream WPCTVPRO has some shortcomings regarding its signal strength but there are certainly some usage scenarios where it would be good, such as setting up dual-monitor without a cable.