Diamond Multimedia impressed us this year with their latest AMP2000 Android Media Player, and some of their latest computer hardware at CES 2013 this year. These products will be available no later than March or April this year! 

Diamond Multimedia AMP2000 Android Media Player
CES 2013 is now over and as always, there are way too many products to cover. We decided to take a look at some of Diamond Multimedia's products to give a bit of a variety between the products we've already covered. In the past few years, Diamond Multimedia kind of disappeared from our daily lives. We used to see them a lot, especially in the PC market, but now it seems that they are moving towards a different market, mainly towards the mobile users.
This year at CES, Diamond Multimedia showed off their latest AMP2000 Android Media Player. This is their 2nd AMP product to come to market, but we won't see it launch till about March or April. The AMP2000 is capable of connecting android based devices straight to your TV, or of course just use it as a TV Box with your favorite Android based applications. Netflix, VUDU and other streaming applications are also available that make it possible to stream movies without having to connect an HTPC to your current TV. The AMP2000 is running Android 4.0 Ice Cream Sandwitch OS but will come with 4.1 Jelly Bean at launch, and has an HDMI 1.4 interface that is fully compatible with Android apps and all modern TVs.
The AMP2000 also comes with a small handheld remote, that has both a keyboard and mouse built into it. The monitor like box in the middle is actually a mousepad, making it easy to navigate while two buttons on the left side of the remote make it easy to left and right click. We're hoping to test out the AMP2000 when it comes out to give you a better feedback about the product. 
XS71HD Audio Card
Diamond Multimedia is known for making some great sound cards. As a matter a fact, some of the most selling products are their sound cards. The XS71HD audio card is a new card that will be released sometime in March. The XS71HD comes in as their third major audio card, but the first to support 24 bit/192 Kbit audio with a powerful high-end 32bit audio engine. The audio card comes with built in headphone AMP, meaning that even power-hungry multimedia headphones should not have a problem outputting enough sound when the volume is turned up. The sound card supports up to 7.1 surround sound, with DHS audio support, and has an excellent signal to noise ratio of 120dB.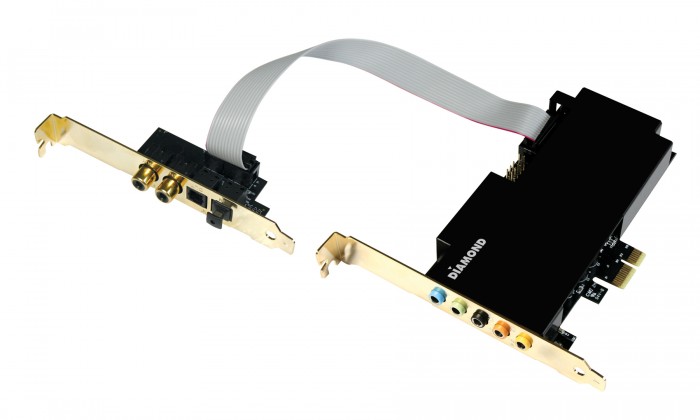 The XS71HD will come with the standard audio jack output connectors, along with some coaxial and optical output as well.
7750PE51GE Low-Profile Video Card (HD 7750)
The Radeon HD 7750 Low-Profile video card is Diamond Multimedia's response to users that need a good mid-range discrete video card for their system in a low-profile configuration. The performance should be up to par with the rest of the HD 7750 graphics cards, but due to the small profile, there is only a single DVI output on the card. Nothing to worry about, as they include a Y-adapter to split the signal to two monitors. This will allow the user to use up to two monitors with this low-profile HD 7750 video card.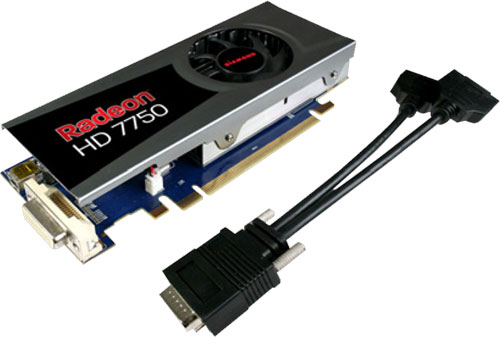 WR300NSI/WR300NR Wireless Range Extenders
Diamond Multimedia is also releasing two new wireless range extenders, the WR300NSI and the WR300NR. The WR300NSI coming in with Receive Signal Strength Indicator (RSSI) LED, and supports multiple options. As a 3-in-1 device, the WR300NSI can work as a standard Wireless Range Extender, Repeater, or also as a Bridge. Its compact design makes it very easy to plug into an outlet and get extra signal strength in areas where signal was previously very weak.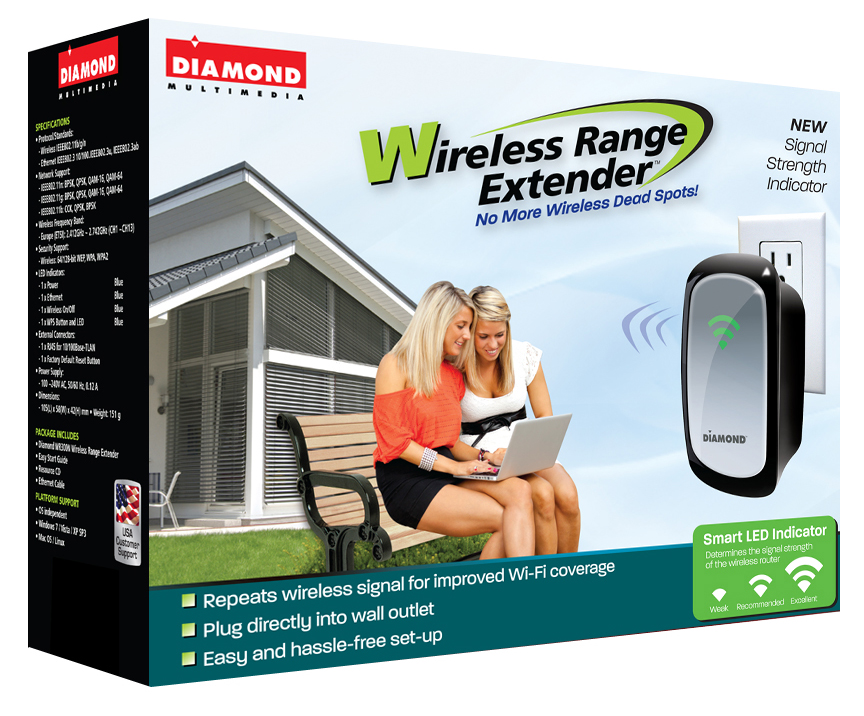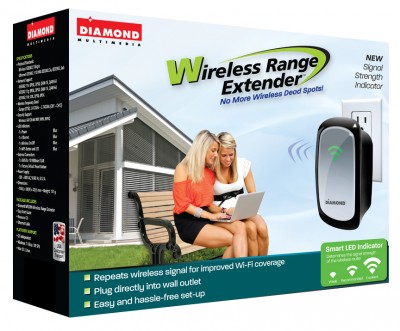 Both the WR300NSI and the WR300NR should be released in March of this year, but the WR300NR will come as the flagship model at a little bit higher price tag. The advantage of the WR300NR is that it will also have router functionality that the NSI does not have, so essentially it is a 4-in-1 device. It also comes with great WiFi protection for businesses and and easy installation with its WPS connection. The WR300NR can also be used as a router with the possibility to use LAN connection instead of the WiFi.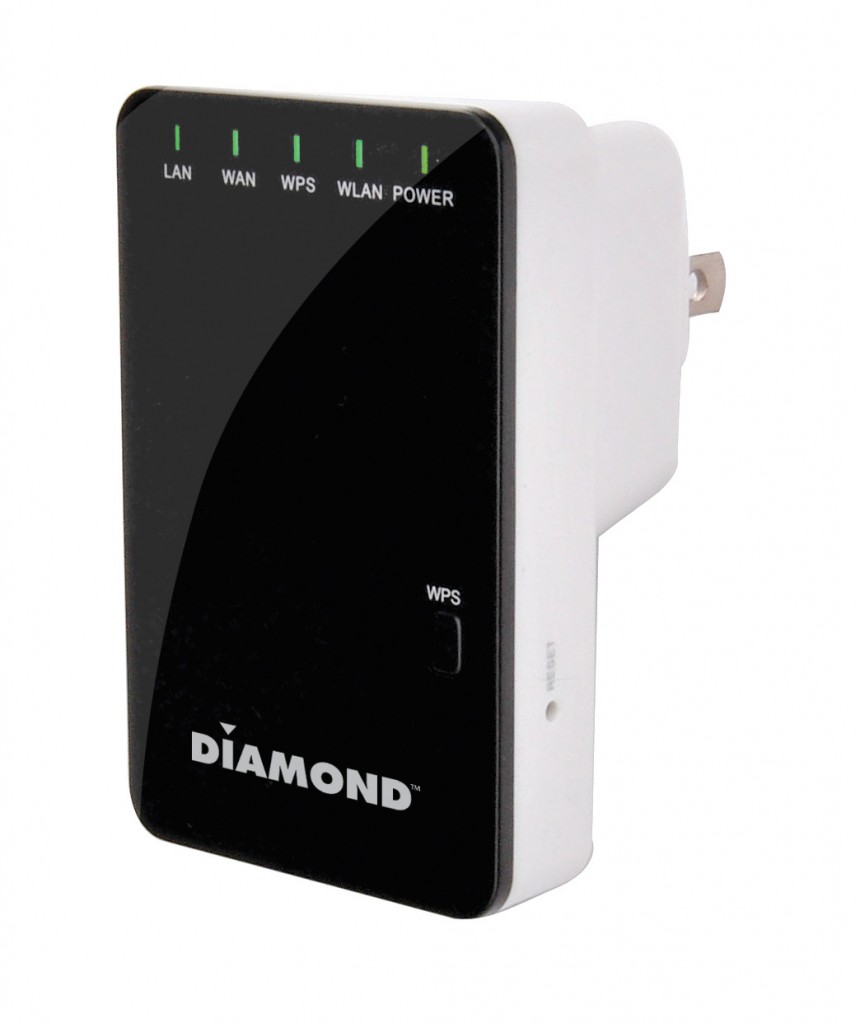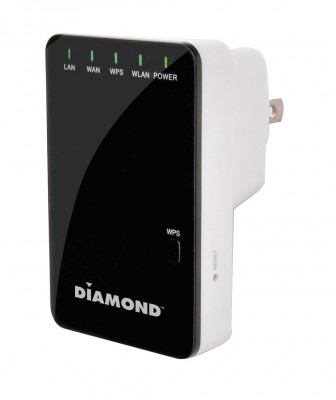 UE3000 USB 3.0 Ethernet Adapter
The UE3000 USB Ethernet Adapter is very interesting. We've seen many USB Ethernet Adapters at CES 2013 this year, but all of them came in a USB 2.0 form. The UE3000 is the first USB 3.0 Ethernet Adapter we actually got to check out capable of 1Gbps throughput. This small adapter is excellent for ultrabooks and even for Mac users using the new Macbook Pro Retina display systems, as these devices are too slim to fit a RJ-45 port. With the help of the UE3000, people can travel and get connected to the internet through a LAN connection, or even be able to transfer files between systems much quicker, because WiFi is still not 100% reliable and has a slow throughput speed.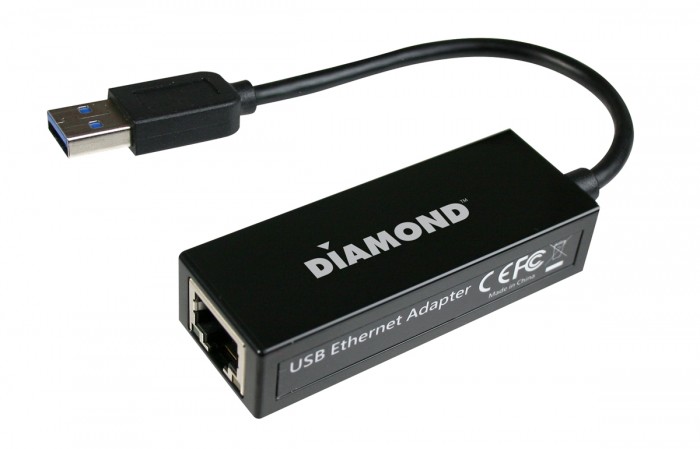 MSPBT300 Silver and Black External Speakers
Finally, Diamond Multimedia also showed us their latest MSPBT300 Silver and Black External Speakers. While we haven't had the chance to test out their current Mini Rocker speakers for mobile devices, these compact external speakers can usually put out quite a bit of noise at a fairly nice quality. We've tested Razer's mini speakers a while back and they came in a similar form factor, and they were actually quite good, so while we should put these speakers through thorough testing, for travelers and people on-the-go, it should definitely be a better option over notebook, tablet or mobile speakers.
The advantages of this specific mobile speakers are that they come with Bluetooth support, which makes connectivity very easy to any device supporting Blutooth playback, and it also comes with Micro SD TF card support. The buttons on the speakers allow for quick music changing, pause or play, and answering phone calls.