ASUS's innovation never fails to impress us. This year at CES 2013, ASUS shows us a Hybrid All-in-One PC/Tablet, their new RAIDR Express PCI-E SSD, and a new exciting Ultra-Wide 29″ monitor running at 2560 x 1080.

A New Twist on Tablets: An All-in-One Hybrid Tablet
ASUS Transformer AiO P1801
ASUS is not new to innovation. Their transformer tablet was the first tablet to come with a keyboard docking station. They were the first to launch an interesting combination of a phone and a tablet, called the Padfone. This time around, they are the first to show us an All-in-One PC which also detaches to become a Tablet. We'd like to call it the All-in-One Hybrid Tablet, the ASUS Transformer AiO P1801.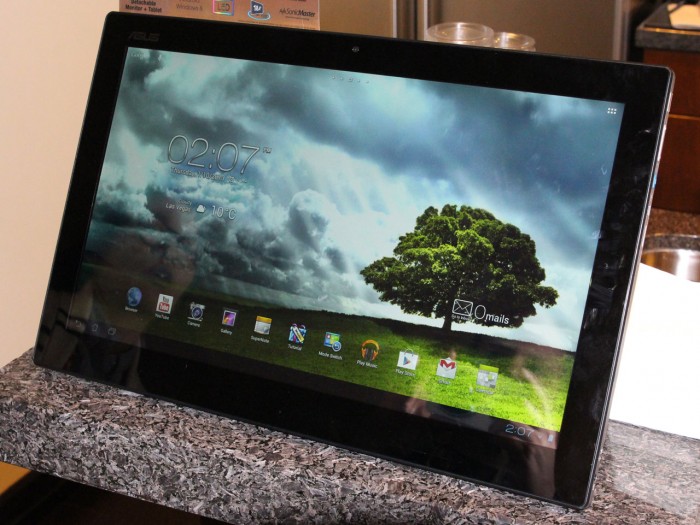 The Transformer AiO P1801 is an 18.4″ Full-HD 16.9 IPS LED Backlit PC/Tablet, that features both Windows 8 and Android 4.1 Jelly-Bean Operating Systems. Running Intel's latest 3rd generation Intel Core i7/i5 processor in the base system and Nvidia's Tegra 3 processor in the tablet, it becomes a Hybrid mixture as you can use Android on the tablet, while also use the tablet as an external wireless monitor for Windows 8, with just a switch of a button. Full specifications below:
Ivy-Bridge Processor (i7/i5)

Nvidia Tegra 3

18.4″ Full-HD 16:9 ISP 10-point touch Backlit LCD (1920 x 1080)

Discrete Graphics with 1GB VRAM

DDR3 1600MHz, up to 8GB

Tablet: 8GB EMMC

Base: SATA 500GB/1TB/2TB Hard Drive

Slot-in Super-Multi DVD

Tablet + Base: 376 (H) x 466 (W) x 162 (D) mm

Tablet: 2.5 kg / Base: 4.5 kg
The Transformer AiO P1801 is also very easy to use. At first it looked like a crazy idea, but after playing with it for a bit, we really started liking it. It's one of those things that grow on you as you use it, and after only playing with it for 10 min, we already wanted one for home.
The back of the Transformer AiO P1801 comes with a latch for easy carrying, along with a hinge like stand, that allows you to keep the tablet detached from it's docking station at a separate location. 
RAIDR Express PCI-E SSD
We've received the news that ASUS is not moving into storage with their ROG products. The RAIDR Express PCI-E SSD card should provide a much faster throughput than a standard SSD connected through the SATA III ports. This also means that no SATA III ports and lanes will be loaded to slow down overall system performance.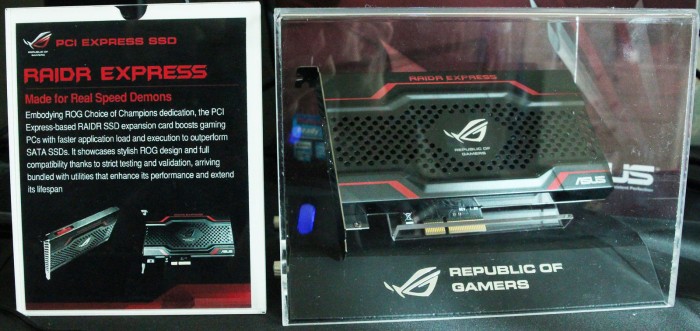 While no numbers were given yet about price or capacity, ASUS claims that because we're talking about a ROG product, the standards are also much higher to make sure quality and performance will be top-notch. The great part about the RAIDR Express is that it is not only compatible on ASUS boards, but should also work on other brand boards as long as minimum requirement are met. We're hoping to review the RAIDR Express as soon as it becomes available, so stay tuned for the full review later this year.
ASUS MX299Q Ultra-Wide Monitor
Many movies are shot in a much wider aspect ratio than 16:9, which is today's standard for Full-HD HDTVs and LCD monitors. With such trend becoming a standard for the movie industry, ASUS decided to built their own ultra-wide monitor. At a 21:9 aspect ratio, users can enjoy a 2560 x 1080 resolution on a 29″ diagonal LED monitor. Of course movies are not the only purpose for the monitor. An ultra-wide screen can make it a great experience to have two windows opened next to each other without covering up precious information.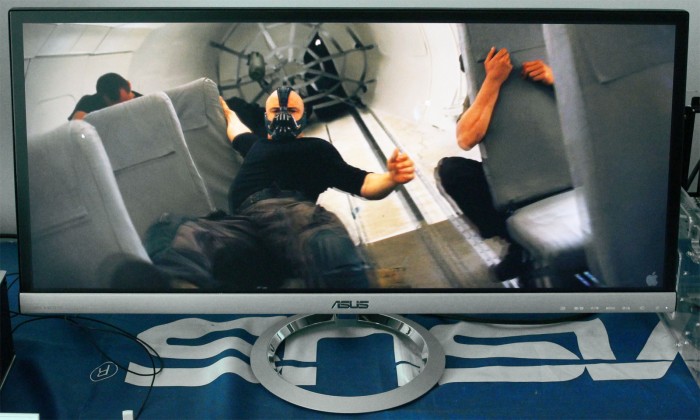 Most ASUS monitors claim a clear view within a 178 degree range vertically and horizontally, however after testing several of their monitors, while the image on the monitor is still visible, the colors and brightness do change, so we cannot agree with their rating. The picture quality and color on the other hand are very nice, and we would definitely like to have a few of these monitors at home to play with. The monitor will not be too cheap, as a matter a fact it will come at $599 and should be available Q1 of 2013, but then again, we don't know of any other monitor that comes with such resolution and aspect ration with a reasonable price.