Cooler Master came prepared for CES 2013. They brought plenty of new goodies to show us in almost every category of products they offer. From new gaming peripherals, new chassis, all the way to some new ultrabook and tablet accessories. Read on to find out if any of these products fit your needs.

CM's Latest Gaming Peripherals
There are no particularly interesting motherboards, video cards, or high-end hardware being released at CES 2013, however, Cooler Master does have a wide variety of new products to show off, including some kickass new gaming gear, cases, coolers and some gadgets for your portable devices.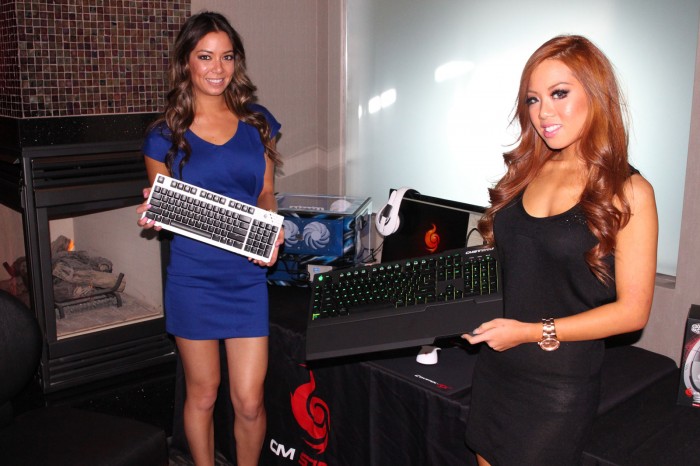 Starting off with the most interesting, Cooler Master has a very limited Green Switch keyboard available, the new Trigger Green Mechanical Keyboard. How does the green switch compare to other switches? If you're familiar with the blue switch mechanical keyboards, it's very much like it, but with more resistance. We find this actually quite nice and it makes the keyboard feel more sturdy and durable. As green switch keyboards are very limited, they do come with a slightly higher pricetag, but we do believe it is worth it in the long run.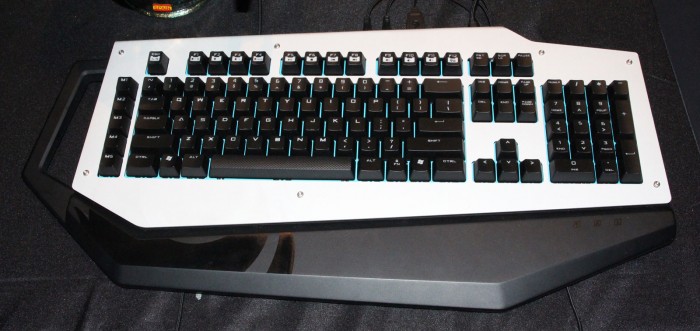 Here we have another mechanical keyboard which is not yet released, but we can expect it sometime this year. The white cover can be switched out to make customization much easier. This way gamers can easily order or get new designs and quickly detach and attach a new look to their gaming keyboard.
Mid-Tower Gaming Chassis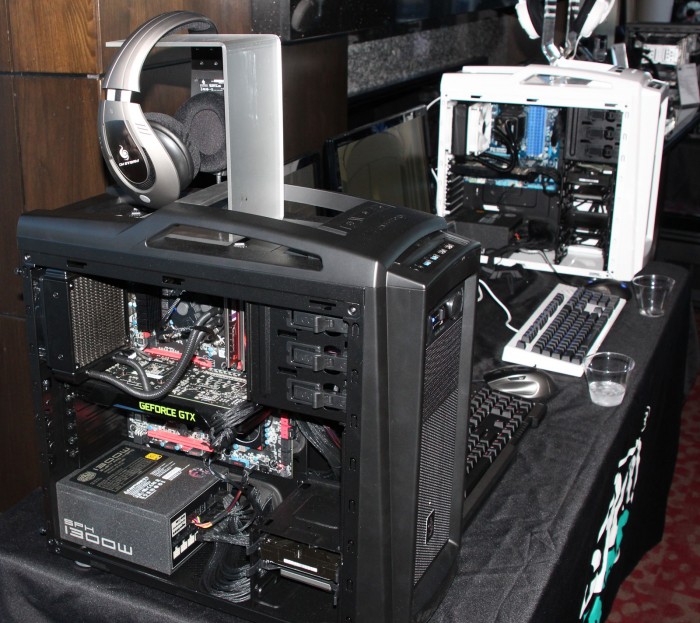 We noticed a few very interesting chassis at the Cooler Master Suite, such as the N200, which allows the user to install a 240mm radiator on the front of the chassis, without occupying precious space. Another chassis allows another slim 240mm radiator to be attached, such as the Eisburg 240L Prestige, without obstructing the 3.5″/2.5″ drive bays.
Of course we also saw a new redesign of the well known ATCS 840 Full-Tower Chassis, this one coming with the same simple but metallic stylish look, however, it does easily attract fingerprints. The new ATCS 710, also comes with easy fan filter cleaning and fan replacement. A simple push on the front unlatches the front fans.
New All-in-One Liquid Cooling Systems and Coolers

On the cooler section, 5 main products stood out the most, the Eisberg 120L, 240L, the Solo Prestige, water cooling units, CM's new Excalibur like fans that come with a fully rubberized build to prevent vibrations, and the V8 GTS air cooler.
The Eisberg 120L, 240L all-in-one liquid coolers take on a new look, with a completely redesigned waterpump. The Eisberg Solo Prestige waterpump is larger from previous pumps Cooler Master used on their all-in-one water cooling systems, however, this particular pump comes with an all copper design, rather than the standard aluminum design. The side of the pump also has a window to observe any stuck air bubbles for maintenance purposes. The nice part about the Eisberg water cooling units is that they are fully customizable. If for some reason the user would like to switch out the radiator, or add something to the loop, they can easily do that.
The V8 GTS air cooler is the next generation of the previous V8 cooler Cooler Master offered. This particular air cooler comes with a vapor chamber design copper base, which is the same technology as we have seen on Nvidia's latest Kepler high-end video cards cooling solutions. Within the vapor chamber, the liquid evaporates as the CPU heats up the vapor chamber, and quickly spreads the heat throughout the heatpipes on the cooler, making cooling a more efficient process.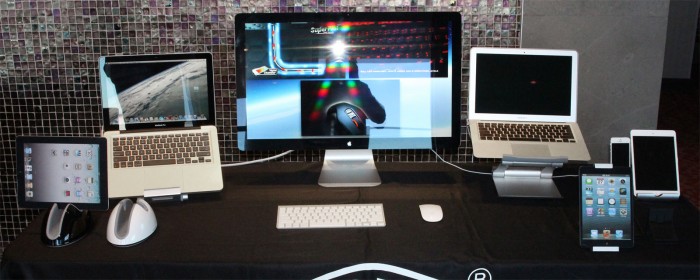 Finally, it was nice to see some mobile and hand-held device accessories from Cooler Master. Ultrabooks and portable devices such as tablets are on the rise, so it is understandable why many companies are coming out with lots of stands, cases, and accessories. We're particularly fond of the middle box like stand for laptops, ultrabooks, and tablets. All these products are rubberized to prevent any scratches being done to the devices. Unfortunately, these stands do not have any docking stations, so external power source will be required, but it can definitely clear up some space on your working desk especially if you're one of those people that have a hard time organizing everything around your working zone.