As our mobile devices gets more powerful, especially when we are talking about tablets, the need for a proper input device is increasing. There are options available for most devices, especially if you include the bluetooth keyboards but for the most part it is a pain in the butt if you have more than one device and want to use the keyboard for them all. The solution for this is to allow you to connect more than one device to the keyboard and just switch between them. This is what the Logitech K480 allows. It is a keyboard that allows you to connect up to 3 devices and with the flick of a switch switch between them. It supports IOS, Android, ChromeOS, Windows and Mac.
FEATURES AND SPECIFICATIONS
Height
20 mm (0.79 inches)
Width
299 mm (11.77 inches)
Depth
195 mm (7.68 inches)
Weight
820 g (1.81 pounds)
Colors
Available in white and black.
Bluetooth range
up to 10 m (30 feet)*
Battery life
2 years**
Other
On/Off power switch
Battery life indicator light
Supported OS
PC: Windows® 7, Windows® 8 or later
Mac: Mac OS X® or later
Chrome OS™
iPad® or iPhone®: iOS 5 or later
Android™ tablet or smartphone: Android 3.2 or later.
Let's be clear here. This is not one of those tiny keyboards (like the Microsoft Wedge) that are meant for mobile and also are kept small and light which affects how nice it is to use for longer typing sessions. This is a proper keyboard which is obvious right away as it is quite heavy.
One of the cool features of the keyboard is that it has full support for both OSX and Windows-keyboards as well as shortcuts for IOS and Android. So while you get alt-key and alt-gr key for Windows the same key alternates as cmd-pretzel-key making it possible to use the keyboard just as well on OSX and on Windows and feel at home.
The keyboard also has a groove for the phone/tablet so you can have it stand up while you are working.
CLOSER LOOK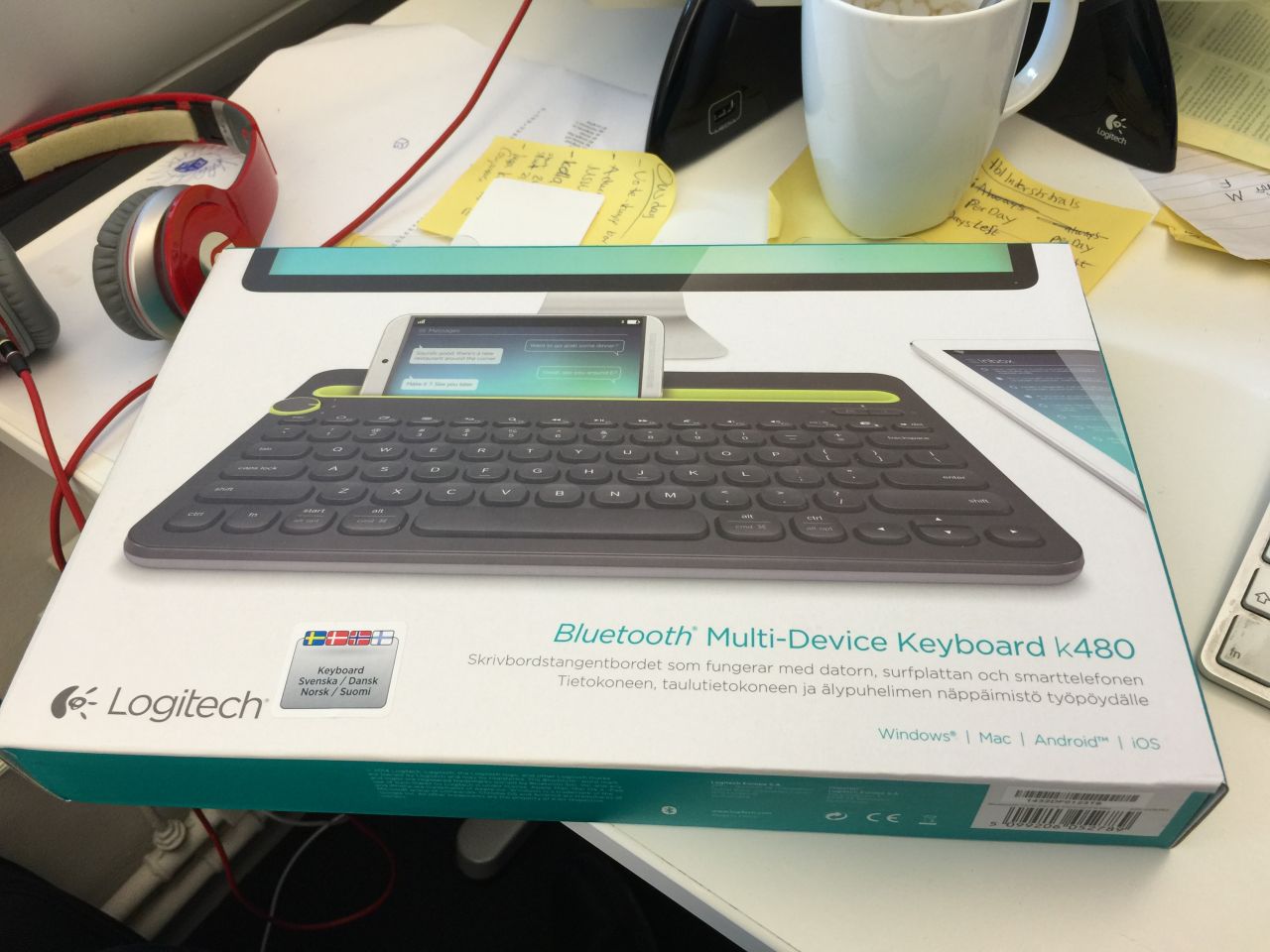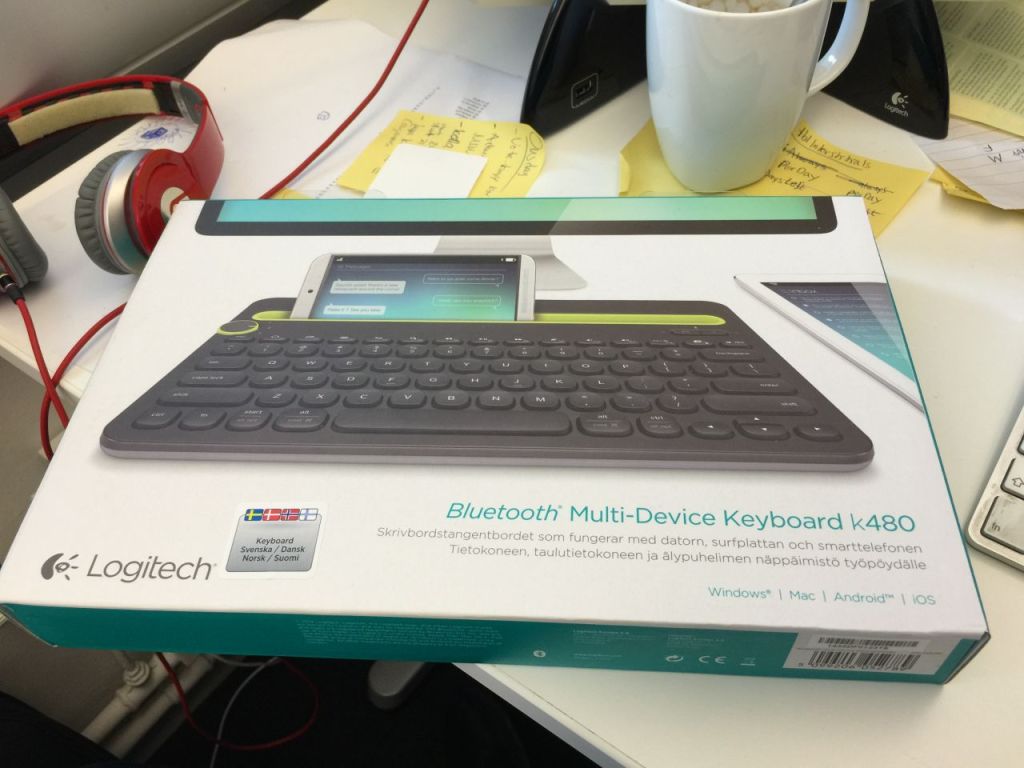 The keyboard comes in a regular Logitech white/green box showing the keyboard and a Android-phone on the front. When you lift it up you will be surprised of the weight. This is a really hefty piece of equipment. We are actually wondering if Logitech has given it some extra weight to make sure it won't tip with a big tablet standing in it.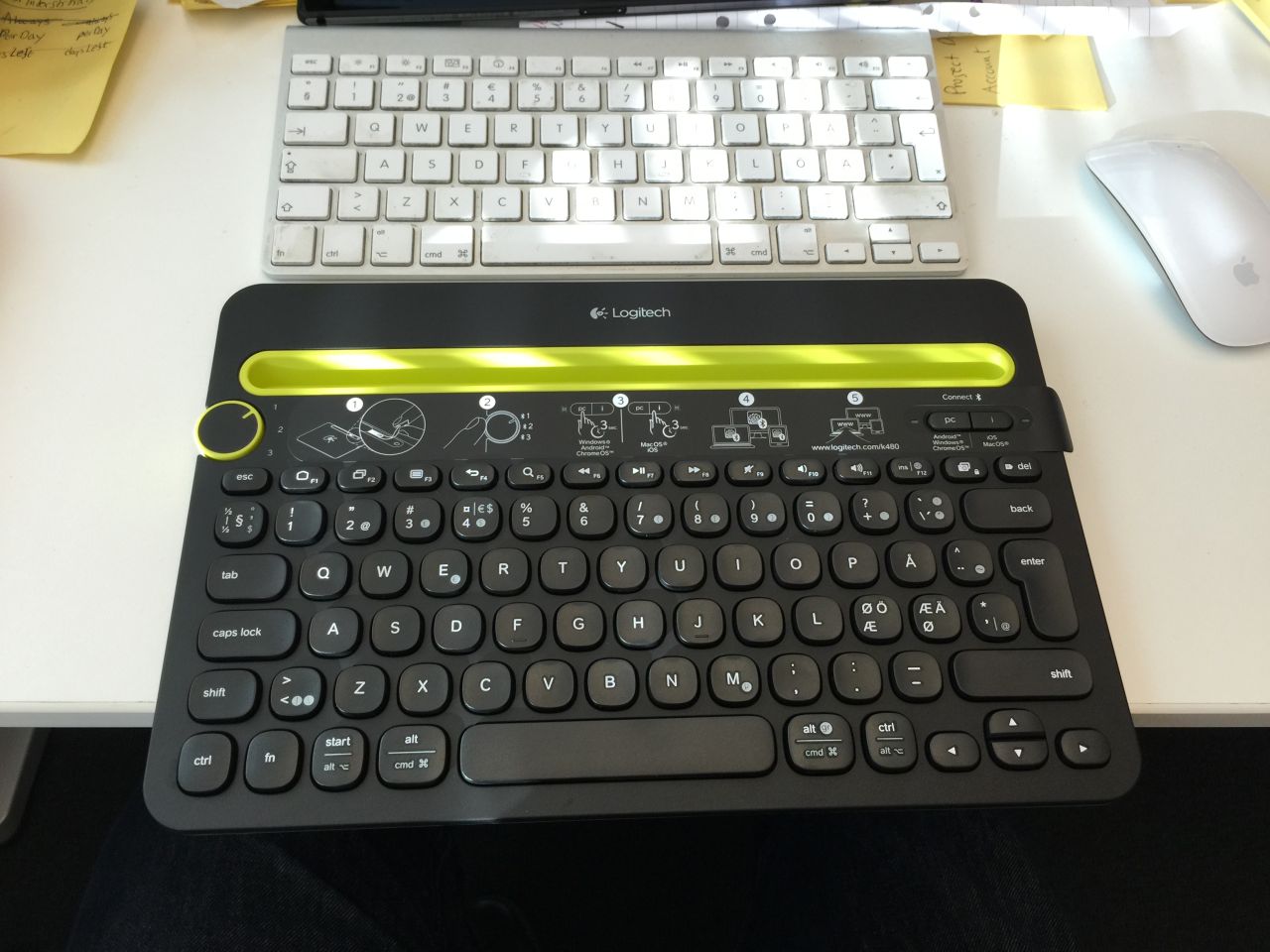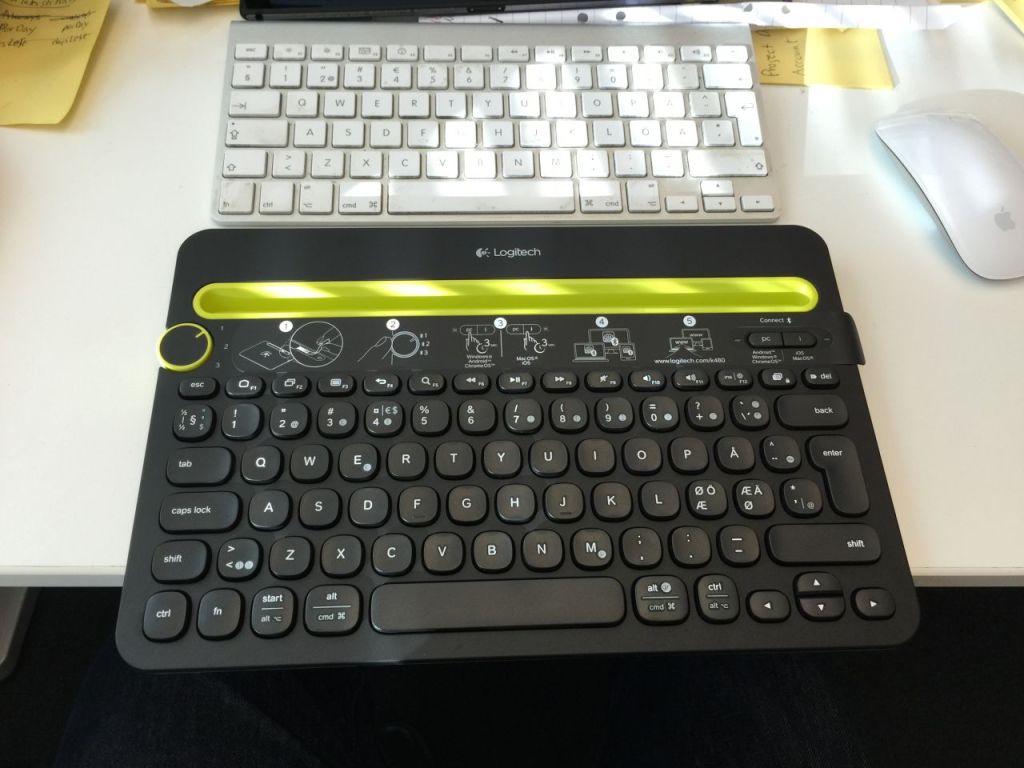 The keyboard is available in two colors, white and black. The black one as you can see from the photo has a groove for the phone/tablet in a pretty ugly dirty yellow color while the white one has a light grey color of the same groove. I would have preferred something like red, white or grey also on the black keyboard. The small images are part of a sticker that you remove.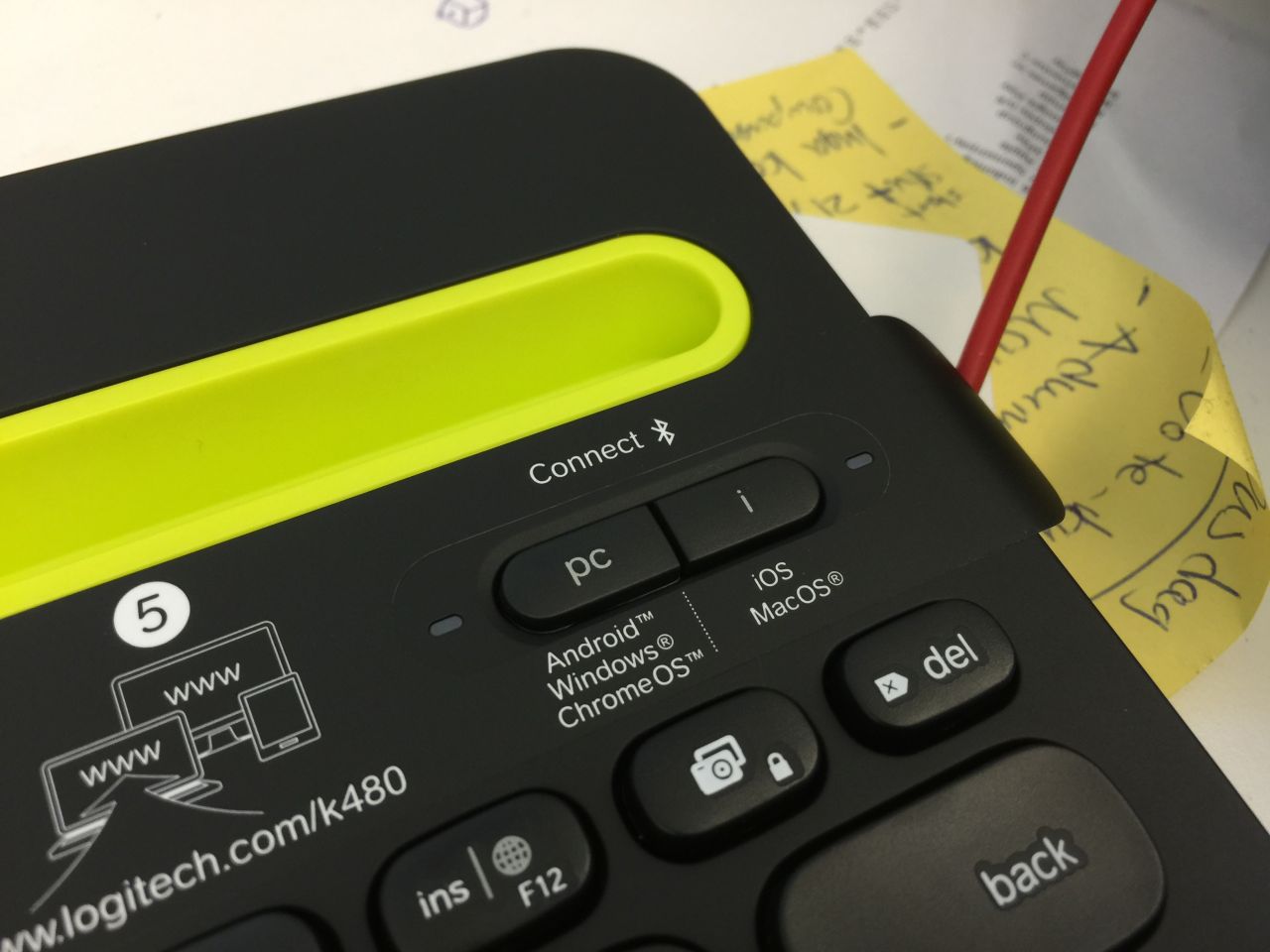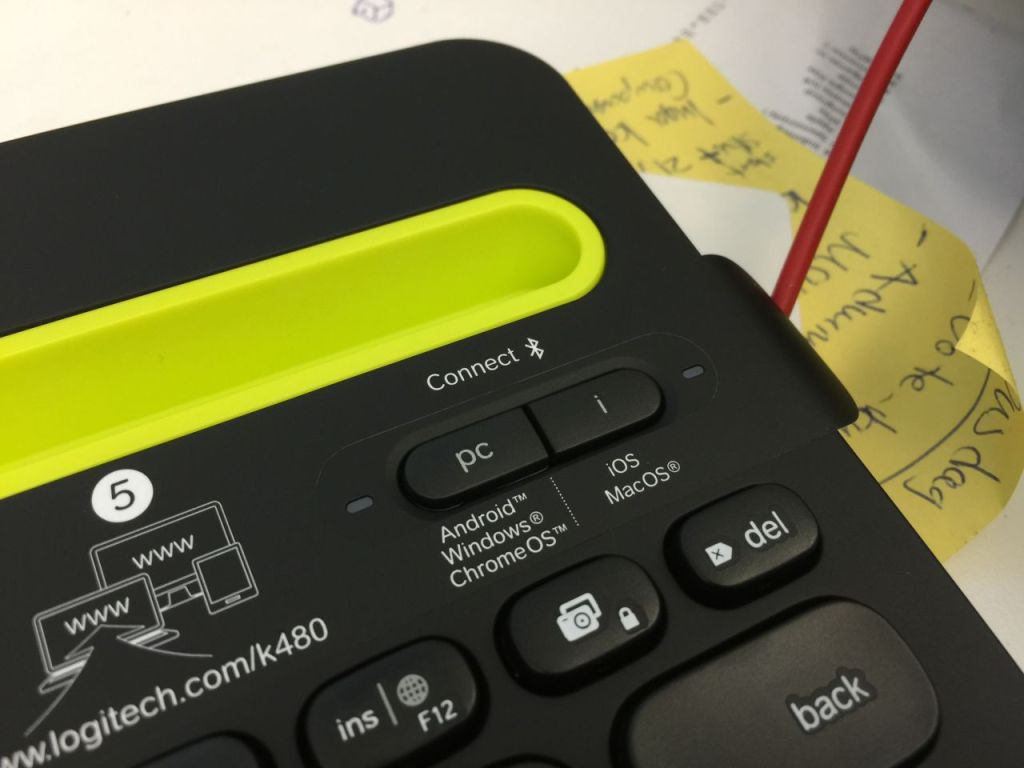 The groove has a rubber coating so it will not damage the phone or tablet. It is sloped so the device will be angled backwards. The angle is actually pretty steep so it certainly adds to the evidence that the weight of the keyboard is also used to stop the whole setup from tipping.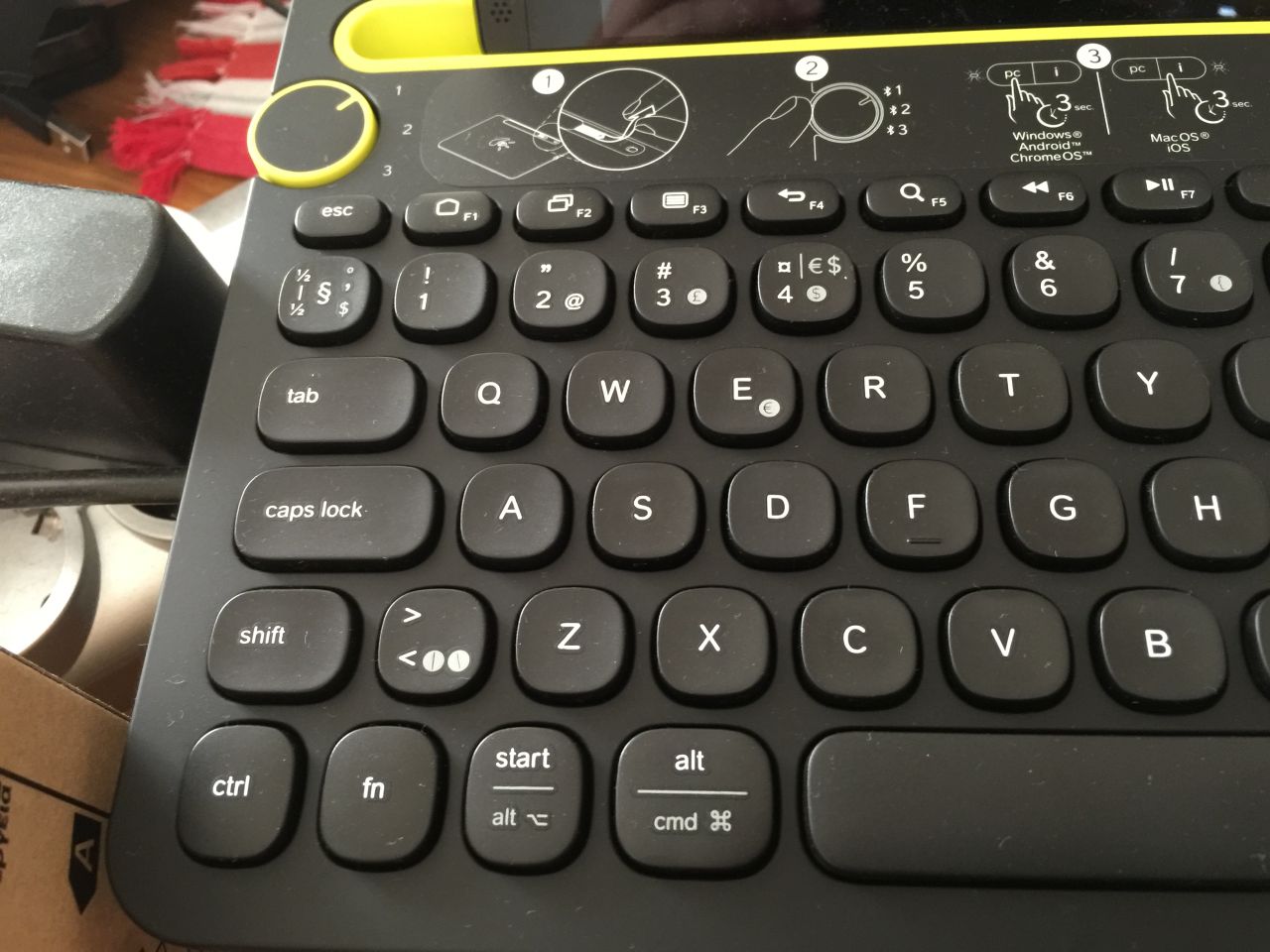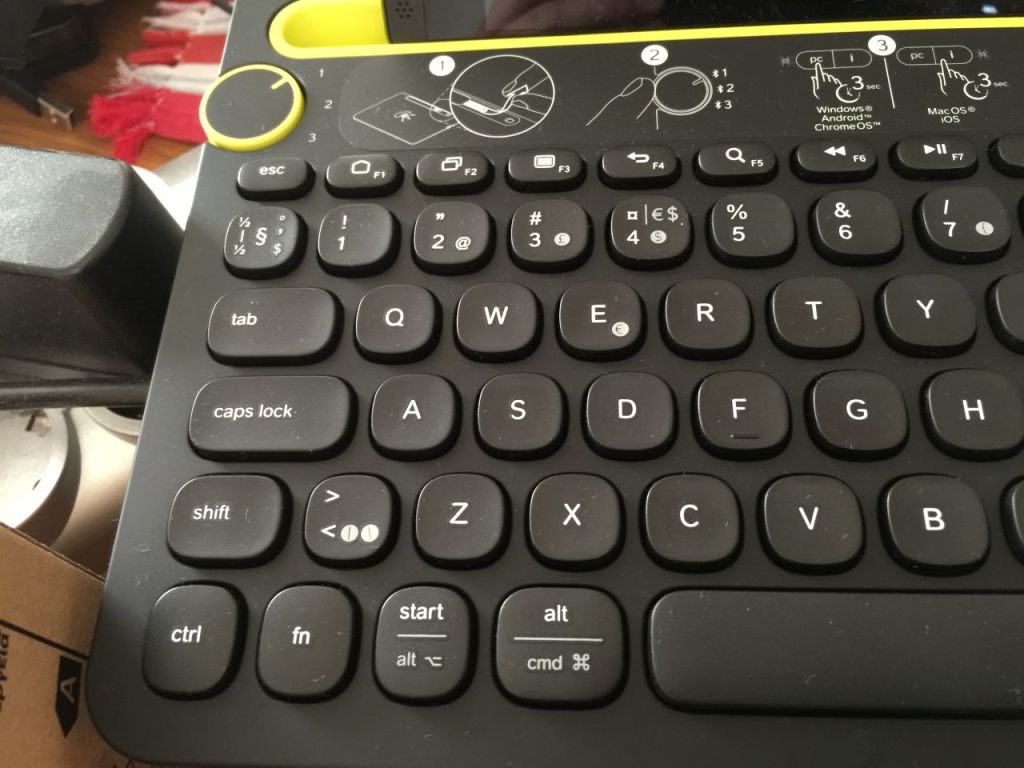 The switch allows us to switch between 3 connected devices. Since this is a larger keyboard than regular mobile keyboard we get more space between the keys and bigger keys. This helps typing a lot. The keys are all semi-round and do not need a lot of pressure when typing. They are also relative silent. The keyboard has a lot of alternative keys which work differently depending on what OS and device you are using it on.
Underneath the keyboard we find the battery compartment and rubber feet.
SETTING UP
We decided to connect the keyboard to a iPad Air 2, a Sony Tablet Z2 and a MSI Windows Laptop. Before we start we remove the slip of paper from the battery compartment so that the keyboard gets power.
Step 1 is to set the slider to the position we want to use for the device. After that we press the connect button 3 seconds to start broadcasting via Bluetooth. It really would have been nice with NFC-support for at least Android and some Windows devices but since Apple is nerfing their NFC-support in the new iPad's and iPhones I guess Logitech felt it was not cost-justified. When the keyboard is broadcasting the blue light next to the connect button will start to blink. You then head to your device and add it via bluetooth.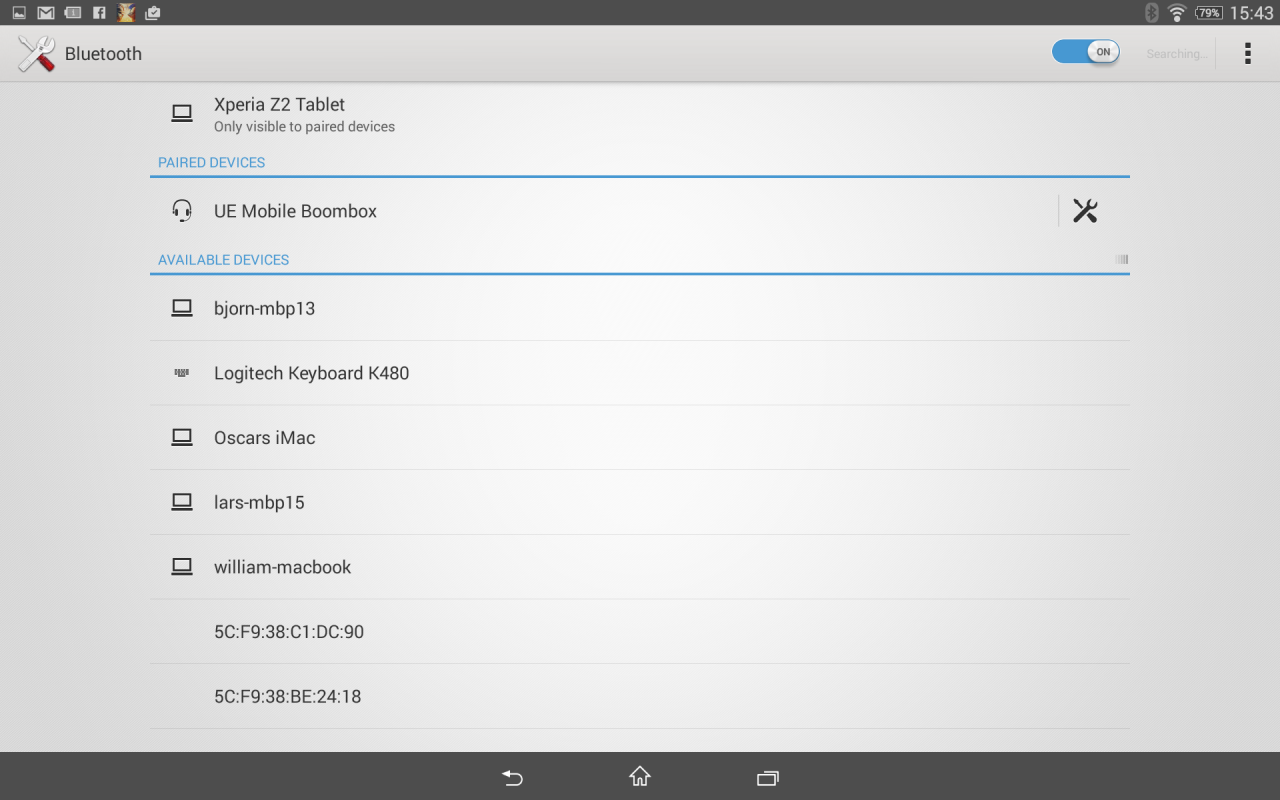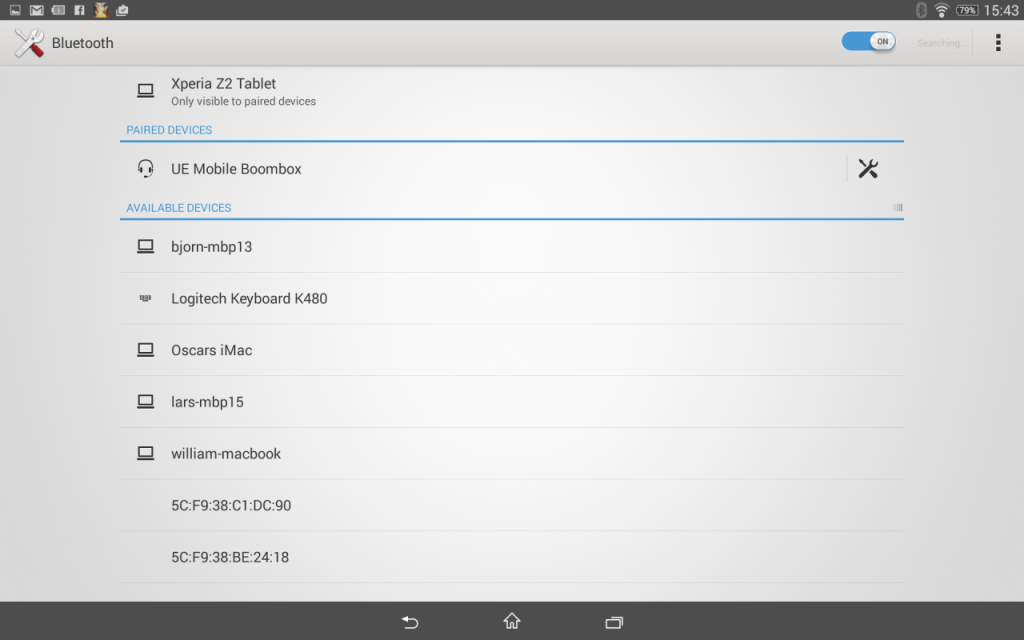 Adding the keyboard on the Sony tablet Z2 was easy. The Apple iPad Air 2 had some minor issues. At first bluetooth found a lot of devices quickly but I accidentally turned off the screen and when I turned it on again it had forgotten everything and it took ages to find all devices again. It seems to be an IOS 8 bug though so a quick turn bluetooth on/off worked wonders. Another weird security issue is that while we on Android had to verify the keyboard by typing a number on it before accepting the connection on IOS8 it just connected.
SOFTWARE
On Android, Mac OSX and Windows we also can install software to set up the keyboard.
Android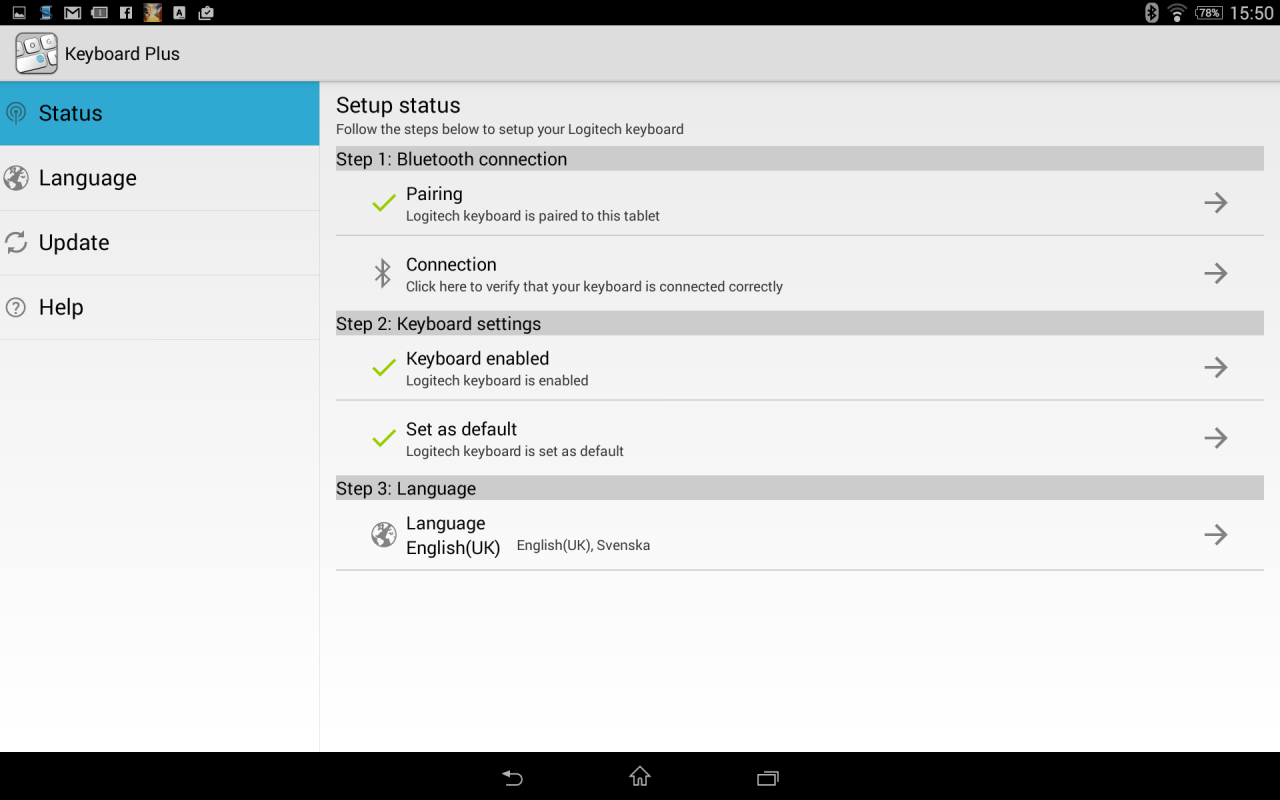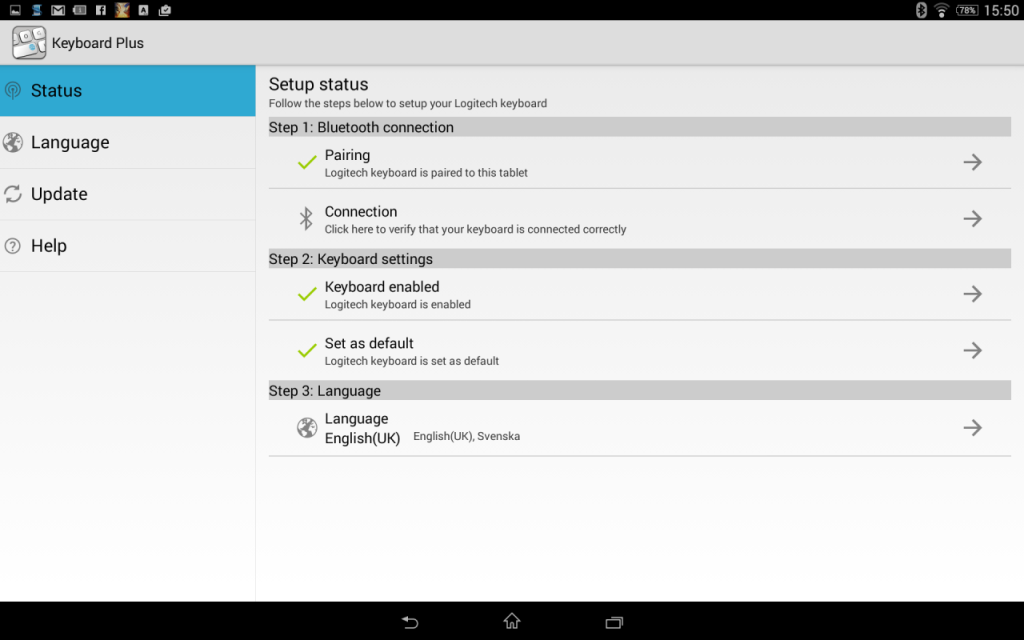 The settings on Android are really no more than making sure you set everything up correctly inside Android OS. It allows us to select a layout and makes sure the switching between the on-screen keyboard and the physical keyboard is initiated when you connect.
Windows and Mac
The Mac and Windows software allows us to configure some of the function keys to execute commands and start programs.
USING THE KEYBOARD
So how is it to use the keyboard. First of all it is a very nice feeling to be able to type stuff directly on a keyboard instead on an on-screen keyboard. Using the keyboard for Word and Pages on the iPad is nice and I can see myself using it to type longer texts (in fact I already have). Switching between devices also seem to work well. I started working on a Word-document on the iPad and then quickly switched to editing Google Docs documents on my Sony Tablet Z2 Android tablet without missing a beat. The keys feel a bit spongy but you get used to it quickly.
If we have a complaint it is that not all keys work as you expect with the various devices. For example we have the multi-task-key (F2 in the images) which you would expect bring up the list of running apps under Android but which instead brings up a different list trying that lets you step through all the open apps one by one, at least on the Tablet Z2. On the other hand on IOS the key performs a Page Up. The camera-key takes a screenshot in Android and is supposed to do something similar in IOS but nothing seems to happen. We also miss an indication if you accidentally pressed the caps-lock key which is easy to do as it is close to the shift-key. Last but not least we miss illuminated keys. After working in a darker room for a while you start to appreciate keys that are lit.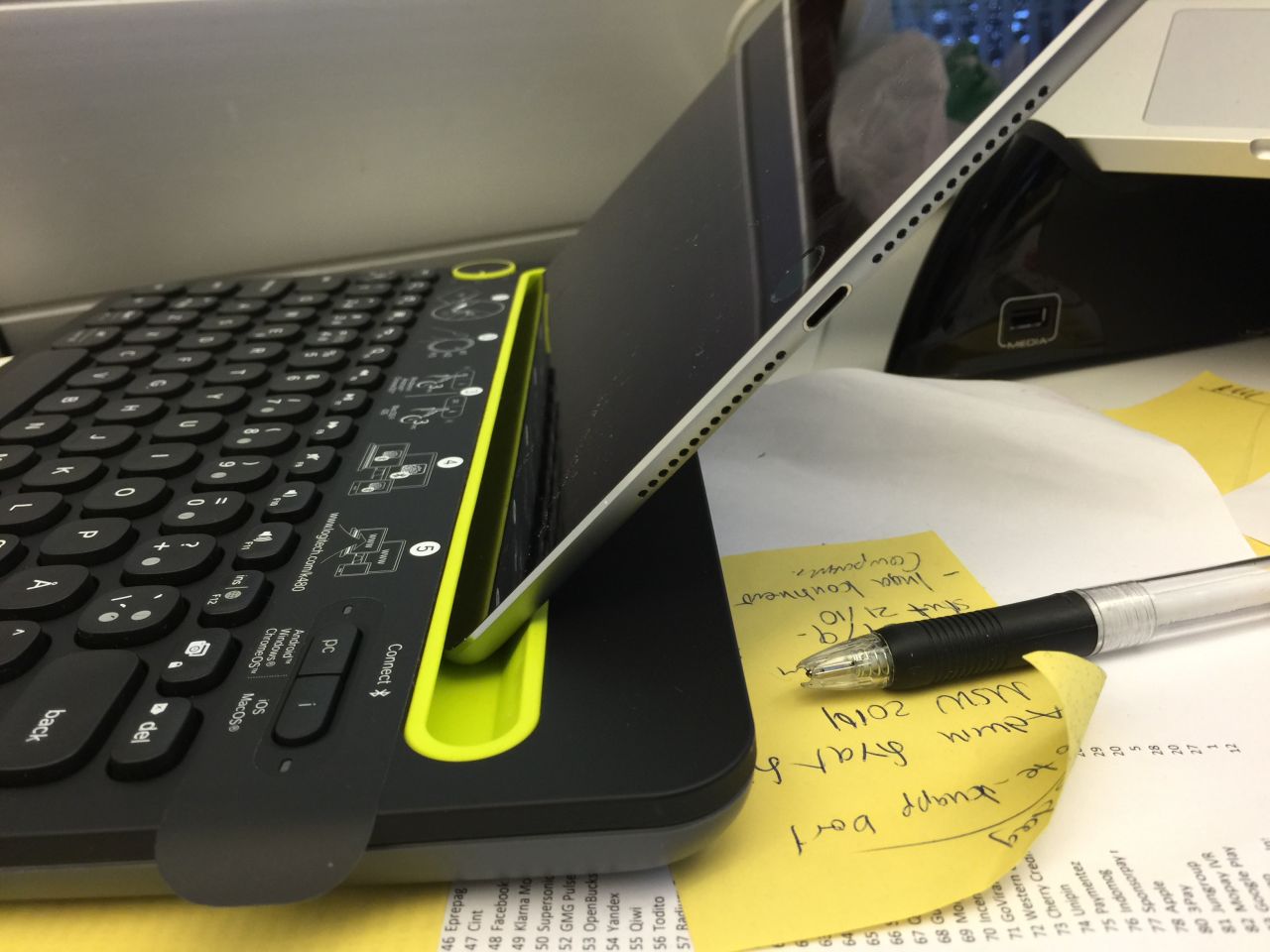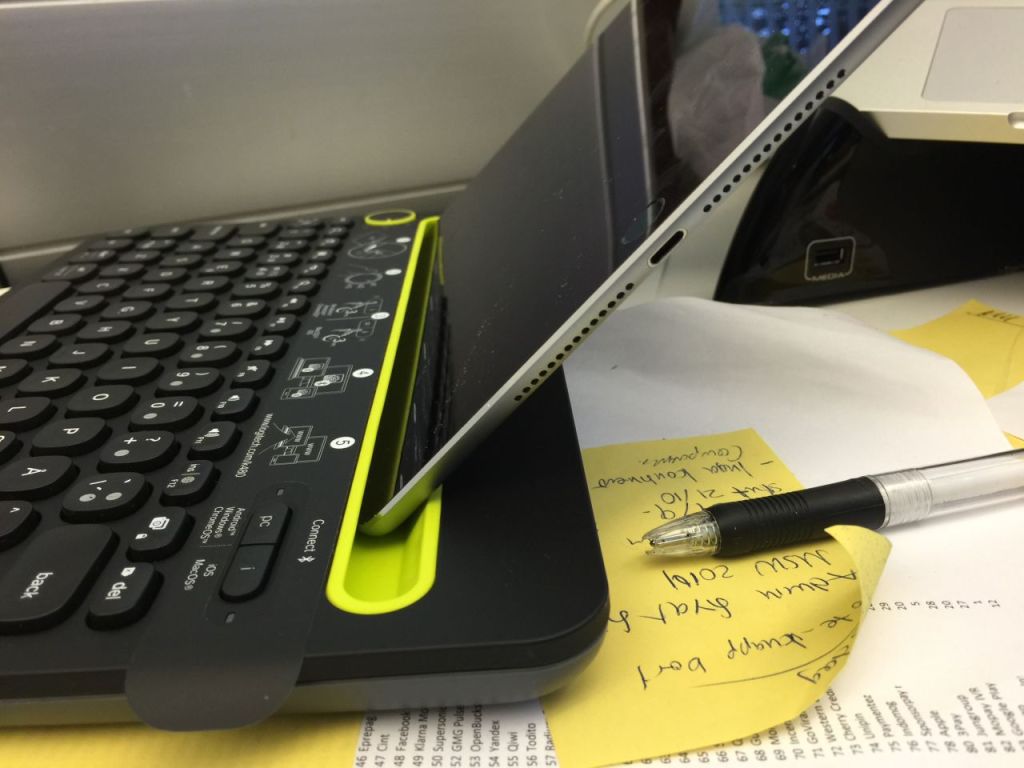 As soon as you place a tablet in portrait-mode you quickly realize why this keyboard is so heavy and big. It has absolutely no problems handling even larger tablets like the Sony Tablet Z2 in portrait mode without any signs of tipping. In fact, we could go around carrying it in one hand and it never felt like it was going to tip back. This is a sturdy keyboard that will keep your tablet safe.
CONCLUSION

The Logitech K480 Bluetooth Multi-Device Keyboard is an interesting keyboard. We really like the ability to easily switch between up to three devices. We also like the size of it as it gives us a much better typing experience, something that is important if you plan on using the keyboard for serious work.
Everything is not perfect though. The weight and size of the keyboard works in its favor when it comes to making sure it can handle a big tablet standing in portrait mode but it certainly makes it a lot less portable, something that is at odds with the fact that it is a perfect keyboard for a mobile product like a tablet and in some cases a phone.
A serious alternative to the K480 is the Logitech Bluetooth Illuminated Keyboard K810. This also allows you to switch between several devices but is much smaller and lighter plus has illuminated keys. The keys still are large and nice to type on. It is powered via a rechargable battery (charged via USB). I have tested this keyboard and while it is a very nice keyboard I did experience a bit more issues with the bluetooth switching that on the K480. It also cost almost double the K480. Last but not least it lacks the special keys for each operating system, especially OSX, which makes it feel as more of a generic keyboard that works on multiple devices but not is made for them.
At around $50 the Logitech Bluetooth Multi-Device Keyboard is not the cheapest keyboard that works with a mobile product but it is a more convenient one and also a keyboard that works much better for longer typing sessions than many of the smaller cramped dedicated mobile keyboards.
Review Overview
Quality - 8
Features - 8.5
Performance - 8
Price - 8
8.1
The Logitech K480 Bluetooth Multi-Device Keyboard is a good bluetooth keyboard that works great for users that need to switch between devices.