Today's market of RAM is pretty saturated, as we all know. This means that RAM manufacturers have to get creative to make their kits stand out. Not only that, but with prices being so low it's hard to offer top shelf stuff for lower prices. Patriot happens to do this with their Viper 3 kits, one of which we have right here. This is also their "Intel Extreme Masters" kit which one can assume goes through rigorous QA for the best compatibility and stability.
Introduction

Patriot has been around in the computer industry a long time, and that is saying something. They have been making quality product for reasonable prices and that is how you stay in the game.
We haven't had a Patriot kit in this machine since DDR2 was standard and therefore we are excited to review this kit. Today we have a nice Limited Edition kit to play with, which means we can only expect the best quality.
These kits are tested with the most compatibility in mind, and with XMP you are assured the best plug and play experience.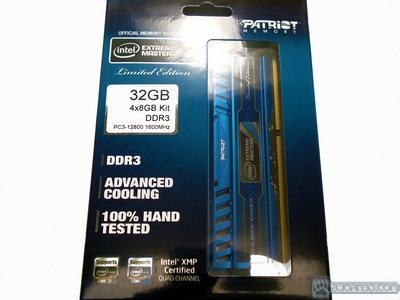 This kit we were sent is quite large compared to your normal mainstream kits and is intended for the X79 platform and quad channel. As of right now the kit is $189 on Newegg, and by the time this article makes it out you might see them cheaper due to holiday sales. This price point is a bit steep compared to other kits of this caliper, but the timings on this kit are also tighter. This means for a bit more you get a faster kit with the ultimate promise in compatibility with your Intel setup. Also, if RAM pricing keeps decreasing the way it does you may even be able to pick this kit or one like it up for closer to $125 later on.
Product Overview
Click Images to Enlarge
Click Images to Enlarge
Click Images to Enlarge
Click Images to Enlarge
Here we have the pretty box this kit comes in. Typically you receive RAM in the little plastic container which holds the modules together and protects them from shipping damage. Since this kit comes with 4 sticks, it requires 2 packages of which even though a box isn't necessary, they provide one anyways. This is good because you can see from the package almost any kind of information you would want right away. These sticks in all their glory look quite nice and would complement a blue accented rig nicely. The sticker design is flashy and the heatspreaders aren't overbearing. The PCB is also a darker color instead of your standard green ensuring a nice flush color mix with your motherboard. The heatspreaders are also not very tall, so they should be able to fit under most heatsink configurations. They also have a unique design to ensure maximum cooling capacity by allowing air to flow through the holes while still having a decent amount of aluminum. On the top they have Patriot so everybody can know what kind of RAM you are rocking at your LAN party.
| | |
| --- | --- |
| M/B Chipset | All DDR3 Platforms |
| Latency Timings | 9-9-9-24 |
| Capacity | 32GB (4x8GB) |
| Speed | DDR3-1600 (PC3 12800) |
| Test Voltage | 1.5v |
| Dimensions | .30" (D) x 5.2" (W) x 1.63" (H) |
| Registered/Unbuffered | Unbuffered |
| Error Checking | Non-ECC |
| Type | 240-pin DIMM |
| Warranty | Lifetime |
| Features | XMP 1.3 |
This particular RAM kit is rated at 1600MHz which is standard DDR3 frequency for today. That is fine, because in every day use anything much higher than that really isn't noticed. Especially with how fast CPUs have gotten and technology such as Solid State.
The timings are 9's (9-9-9-24) which for a 1600MHz kit is kind of normal, but compared to other 8GB sticks marginally tighter or nominal for the price. All in all, a well rounded kit.
Testing Methodology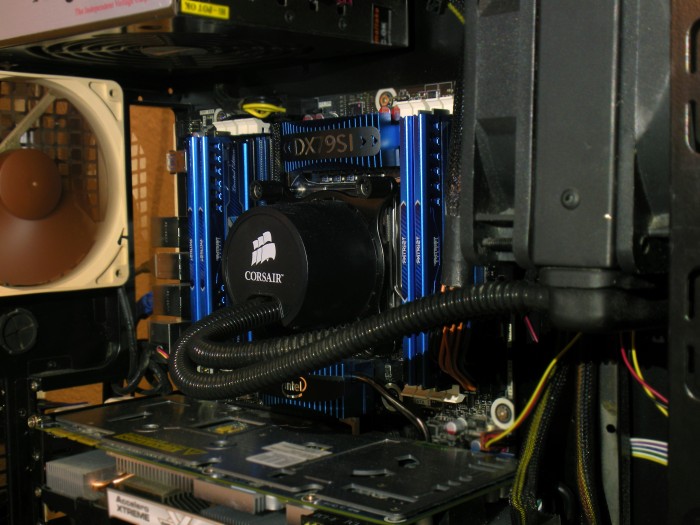 Test Rig
Test Rig
Case
NZXT Beta
CPUs
Intel Core i7 3960X (Sandy Bridge-E) @ 4.5GHz
Motherboards
Intel DX79SI X79
Ram

Patriot Intel Extreme 32GB (4x8GB) 1600Mhz 9-9-9-24 Quad-Channel Kit

G.Skill Ripjaws 8GB (4x2GB) 1600MHz 9-9-9-24 Quad-Channel

CPU Cooler
Corsair H50
Hard Drives
1x Western Digital 36GB Raptor
SSD
OCZ Vertex 2 120GB 3.5″
Optical
External LG DVD-RW
GPU
Galaxy GTX580 1.5GB
PSU
Corsair HX850w
Mouse
Logitech G700
Keyboard
Razer Lycosa Mirror Edition
Memory testing can be tough at times as most look at a number (the frequency) and think the higher the better, but in our testing experience we do know that many times there are other numbers at play such as the timings and subtimings which can have anywhere from a minimal to drastic affect on what kind of performance we see from the system when tweaked to the max. Also price can be a determining factor as well and this is why we will run through a few benchmarks to see how this kit affects system performance running at SPD, XMP and custom tweaking to ensure we get a good idea of exactly what kind of value the end consumer can expect for their money.
Synthetic Benchmarks & Games
We will use the following applications to test the memory.
Sisoft Sandra 2012
AIDA64 Extreme
3DMark 11
Skyrim STEP Modified
SiSoft Sandra 2011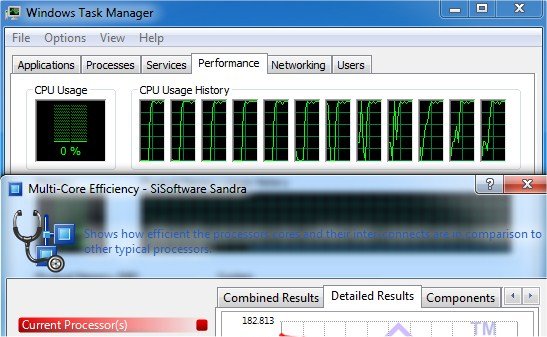 "SiSoftware Sandra (the System Analyzer, Diagnostic and Reporting Assistant) is an information & diagnostic utility. It should provide most of the information (including undocumented) you need to know about your hardware,software and other devices whether hardware or software. It works along the lines of other Windows utilities, however it tries to go beyond them and show you more of what's really going on. Giving the user the ability to draw comparisons at both a high and low-level. You can get information about the CPU, chipset, video adapter, ports, printers, sound card, memory, network, Windows internals, AGP, PCI, PCI-X, PCIe (PCI Express), database, USB, USB2, 1394/Firewire, etc."
Click Images to Enlarge
Click Images to Enlarge
Benchmarks here are in favor of the XMP profile clearly. They must have really done some extensive testing as in most tests the XMP profile actually bests the lowered timings. we suggest that if you get any Intel Master kit to just stick with the XMP instead of manually tweaking. Patriot seems to know what is up here.
AIDA64 Extreme
"AIDA64 Extreme is about one of the most comprehensive system information utilities I have used. The integrated memory benchmark is aso very cool as it gives me a repeatable bandwidth and latency result which can then be used for comparison."
Click Images to Enlarge
Click Images to Enlarge
Again same as Sandra, it appears the XMP profile really is pulling its work load. Tweaking to lower timings seems like a pointless waste of time as we only get marginal gains in one area besides the obvious latency test. With increased speeds with stock parts we can leave this stuff to benchmarking.
3DMark 11

3DMark 11 is the newest in futuremark's suite of benchmarking utilities. Its a fully capable DirectX11 benchmark which also stresses and analyzes the system performance as a whole to simulate a heavy rendering environment such as a high end game or other app the end user may run. This benchmark was run with Performance settings 5 times and all runs were averaged for the result below.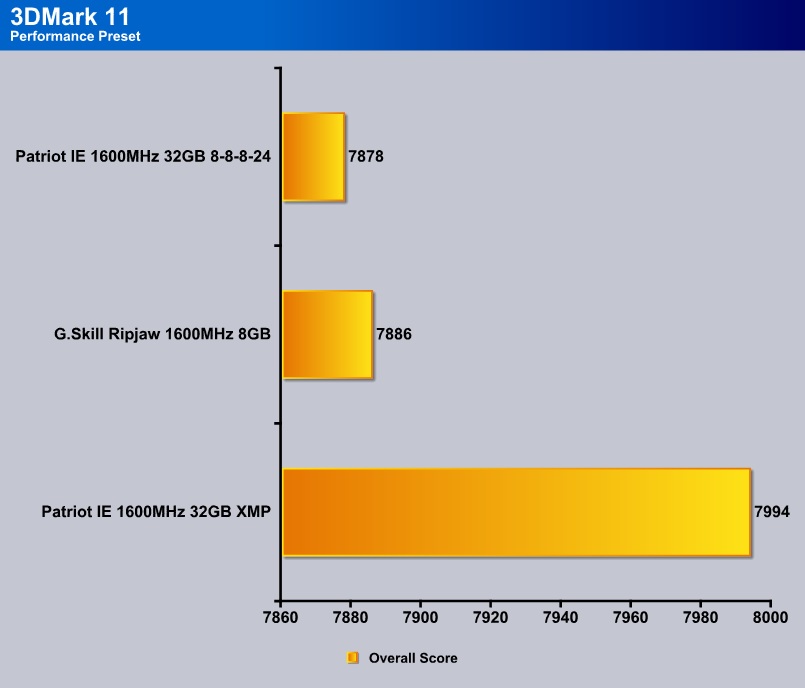 3DMark as we all know is a synthetic benchmark that is supposed to demonstrate your PCs gaming capability by a score. It tests all forms of shading, physics, tesselation, and lighting while properly loading CPU and GPU to emulate a gaming environment. We decided to record combined score to show over all how RAM effects total PC performance. Unfortunately we were not able to show the difference between overclocked scores, but Patriot's XMP profile is a good 100 points over its lower timings and the lower capacity G.Skill set. Not bad.
Game Benchmarks
TES V: Skyrim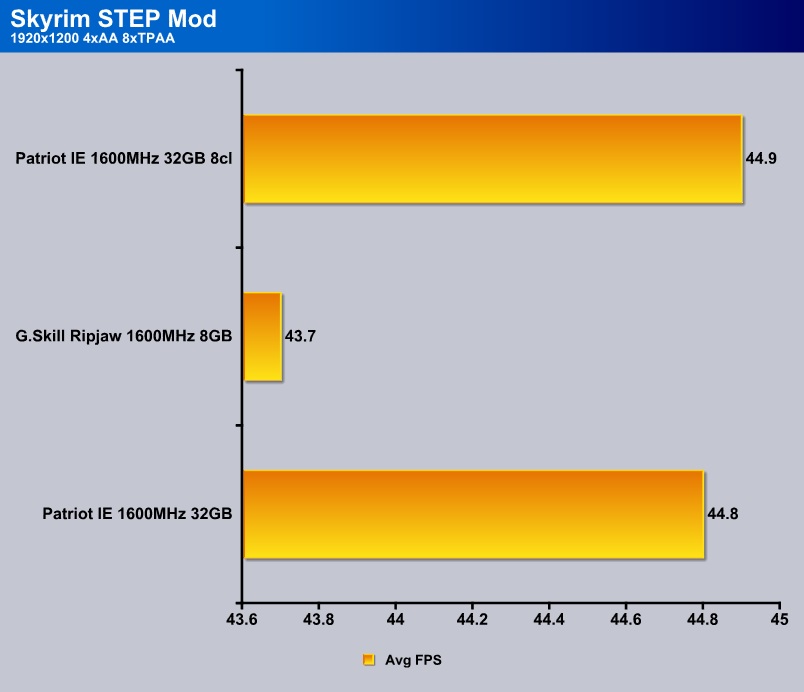 Skyrim in its vanilla form is much like a console game in terms of graphics. When you go through and modify it to the Skyrim Total Enhancement Project specs it really brings the game alive. After this mod is applied RAM usage spikes higher than any other game in my inventory and can bring a very strong PC to its knees. This made it the perfect game to test out a very large RAM kit. As we can see having a larger RAM kit helps, but only slightly. We believe this will be the case with any game on the market currently.
Overclocking

For most people reading this review this section probably won't matter, but for the others who try to get the most out of their money this is typically the section they go to. As we all know, a 2500k or higher with a memory frequency of 1600MHz is quite enough for everyday use and gaming. Overclocking can still squeeze out those extra FPS or shave a few seconds off some rendering. The latest Intel generation is no slacker in the memory bandwidth department or brute CPU power but for this particular test we brought our 3960X up to 4.5GHz to reduce any possible bottleneck.
As for this kit of RAM, we could not clock it at 1866MHz stable. We even tried 1.7v of RAM (which is potentially dangerous) with timings in the 11's, but it would not work. We also tried a high amount IMC voltage as well as many other tricks, but to no avail. The Intel board line just isn't the best in this department.
Fortunately we were able to reduce timings to 8-8-8-24 but that gave me less than satisfying results compared to Patriot's XMP profile. You can see this in the benchmarks previous.
CAUTION: Overclocking can damage components, void warranties and cause all kinds of other unforseen issues. Perform at your own risk and understand the settings I may list are from my own testing risking my own hardware so it is in no way a guide on how you should overclock your system or components. (silly I know but I dont want someone jumping up and down on my head because they messed something up)
Conclusion
Patriot delivers a solid kit for anybody looking for straight out-of-the-box dependability. You can either pop the modules in your PC and let auto do the work, or you can use their XMP profile which seems to make the kit come alive. With the "Intel Extreme Masters" label we would expect no less. The heatspreaders do their job well to keep the modules cool while still maintaining a sleek look and are still relatively low profile for larger air coolers. They also perform exactly as advertised and I'm pretty sure we can guarantee no Intel setup will have a problem running these sticks. They do leave a bit to be desired though.
When we see such a name as "Intel Extreme Masters Limited Edition" we expect a little more punch than the average run of the mill RAM kit. We aren't expecting elaborate overclocking for 8GB modules or anything, but with a slightly heftier price tag and such an extreme name, we expected something to make this kit stand out above the rest. As it stands, Patriot's Viper 3 kit has identical specs with red heatspreaders with a slightly lower price tag (Newegg.com) and a more simple name. With their quality we can deduct that the Viper 3 kit should perform equally with as much stability for about $20 less. So it kind of makes us wonder what exactly is Limited Edition about this kit besides some extensive QA.
All that aside, this RAM kit performed flawlessly with no hassle. Besides the price, we have really no complaints about this RAM and are glad to add them to the team. When your market is saturated it takes nothing more than a little marketing to put you above the rest with an extremely strong QA department. If it wasn't for the slightly above average price tag we would have no problems recommending this kit to the average Joe. We will just have to reserve for the people who expect only the most absolute stability.
OUR VERDICT: Patriot "Intel Extreme Masters" RAM
| | |
| --- | --- |
| Performance | 9 |
| Value | 7 |
| Quality | 9.5 |
| Features | 8 |
| Innovation | 8 |

We are using a new addition to our scoring system to provide additional feedback beyond a flat score. Please note that the final score isn't an aggregate average of the new rating system.

Pros
Cons

Excellent XMP Profile

Good looking heatspreaders

Flawless plug and play

High price for the performance
Summary: This Patriot kit performs exactly as was expected and flawlessly in XMP. It will be an excellent add on for anybody looking for a nice plug & play 32GB kit. For this, it earns the Bjorn3D Silver Bear Award.